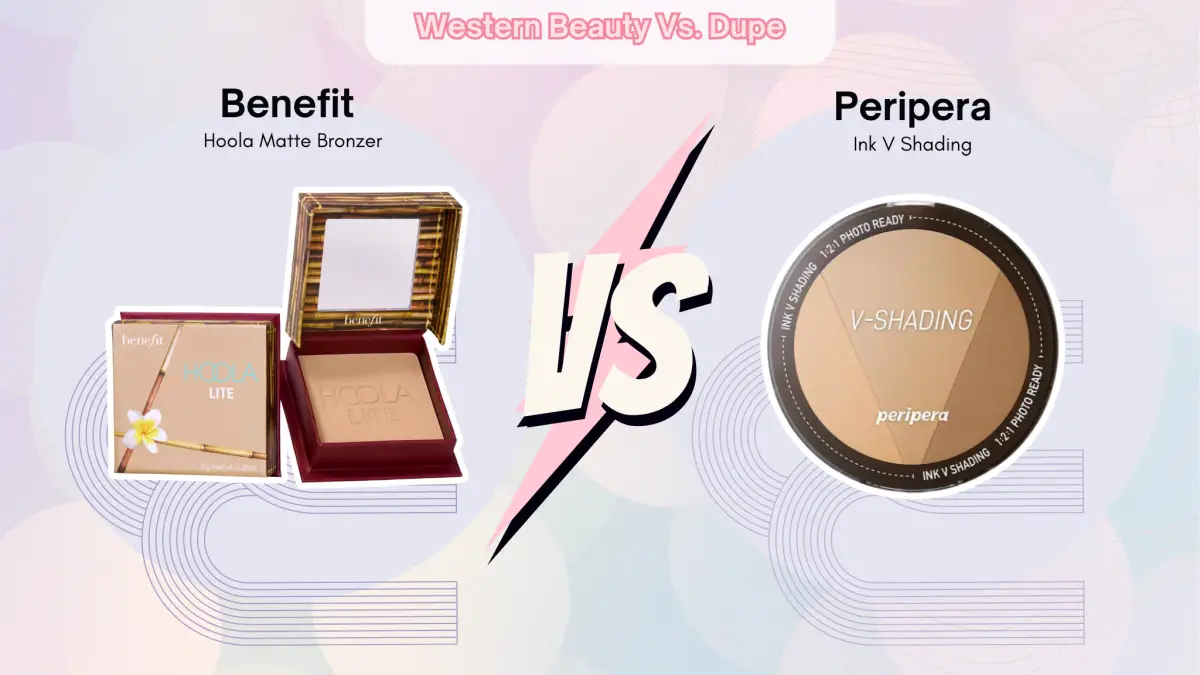 If you're like me, bronzers and contours might not be your go-to makeup category, and there's a simple reason for that. Finding a product that provides a natural-looking sun-kissed look without the risk of turning into an accidental "oompa loompa" can be a daunting task, especially for those with lighter skin tones. But, one product that really stands out in this category is the Benefit Hoola Matte Bronzer which has been a steady best seller for years. However, there's a catch – its price tag.
We've all been there, contemplating whether to splurge on a high-end product or search for a more wallet-friendly alternative. So, what if I told you that there's a Benefit Hoola Bronzer dupe that it's not only just as good, but also way less expensive? Allow me to introduce you to the Peripera Ink V Shading.
Peripera Ink V Shading is readily available at Yesstyle. Here's the cherry on top: if you happen to be a new customer placing an order totaling over US$35, you can treat yourself to an extra 10% OFF by entering the code 'YESSTYLE' during checkout. And for even more savings, be sure to apply the reward code 'KBEAUTYNOTES' as well, and you'll score an additional 2-5% discount on your entire order. It's a fantastic opportunity to snag this K-beauty gem at an even more affordable price.
What is the Benefit Hoola Matte Bronzer
The Benefit Hoola Matte Bronzer is an award-winning, silky-soft powder bronzer, known for its matte finish, which makes it ideal for contouring and adding warmth to the skin without any shimmer or shine. Benefit Hoola is often praised for its natural-looking, buildable formula that suits a range of skin tones, including lighter complexions. It's available in four shades: Hoola, Hoola Lite, Hoola Toasted, and Hoola Caramel.
K-Beauty Dupe: Peripera Ink V Shading
Peripera Ink V Shading is a tri-color contouring palette designed to help create dimension and definition on the face. The micro-fine powder and improved formula contribute to a seamless blending experience, ensuring that the shading effect appears exceptionally natural. With three available colors to choose from – 01 Almond Brown, 02 Cacao Brown, 03 Hazel Gray, it's versatile enough to cater to various makeup preferences and skin tones.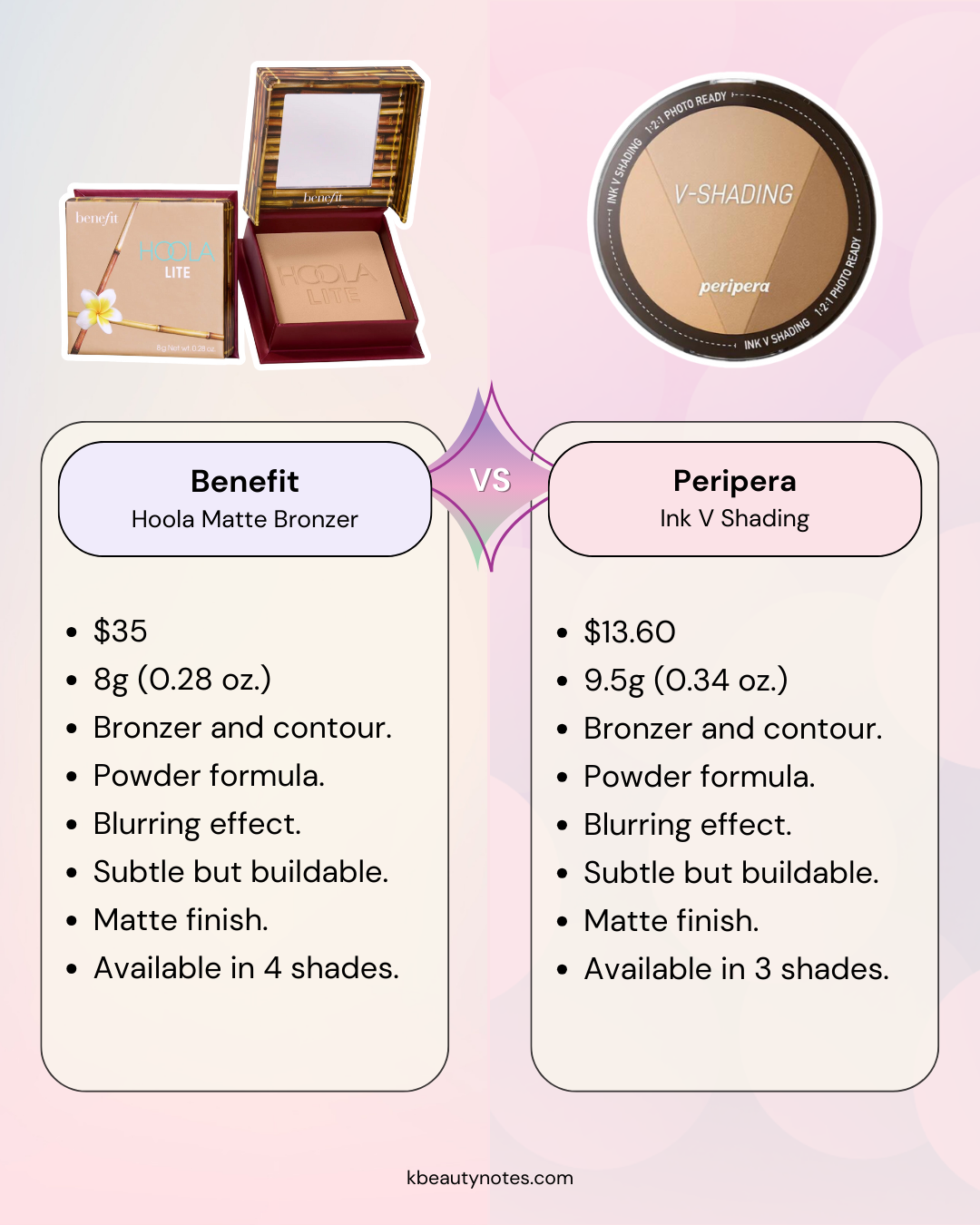 Texture and Finish
Wondering why we're comparing a bronzer and a contour product? Well, both these beauty essentials are incredibly versatile and can pull double duty, serving as both bronzer and contour depending on your needs. Even the lighter shades, while leaning slightly warmer, are adept at creating subtle contours on lighter skin tones without overwhelming the overall look. The one exception to this is Peripera's 03 Hazel Gray, which has cool undertone browns that are perfect for dedicated contouring.
Also, Peripera also holds a significant advantage over Benefit's bronzer in terms of versatility. With Peripera's palette, you're not limited to a single shade – you get a trio of shades in one compact. This means you can use the shades individually or mix and match them to perfectly match your skin tone and achieve your desired contour or bronzing effect.
In terms of texture and finish, both these products share some key similarities. They both offer a luxurious matte finish, delivering a natural, shine-free look. Plus, their pressed powder formulas make them easy to apply and blend seamlessly, while also providing a blurring effect for a poreless appearance. This shared matte finish and versatile texture make them essential additions to your makeup arsenal, ready to enhance your beauty routine in more ways than one.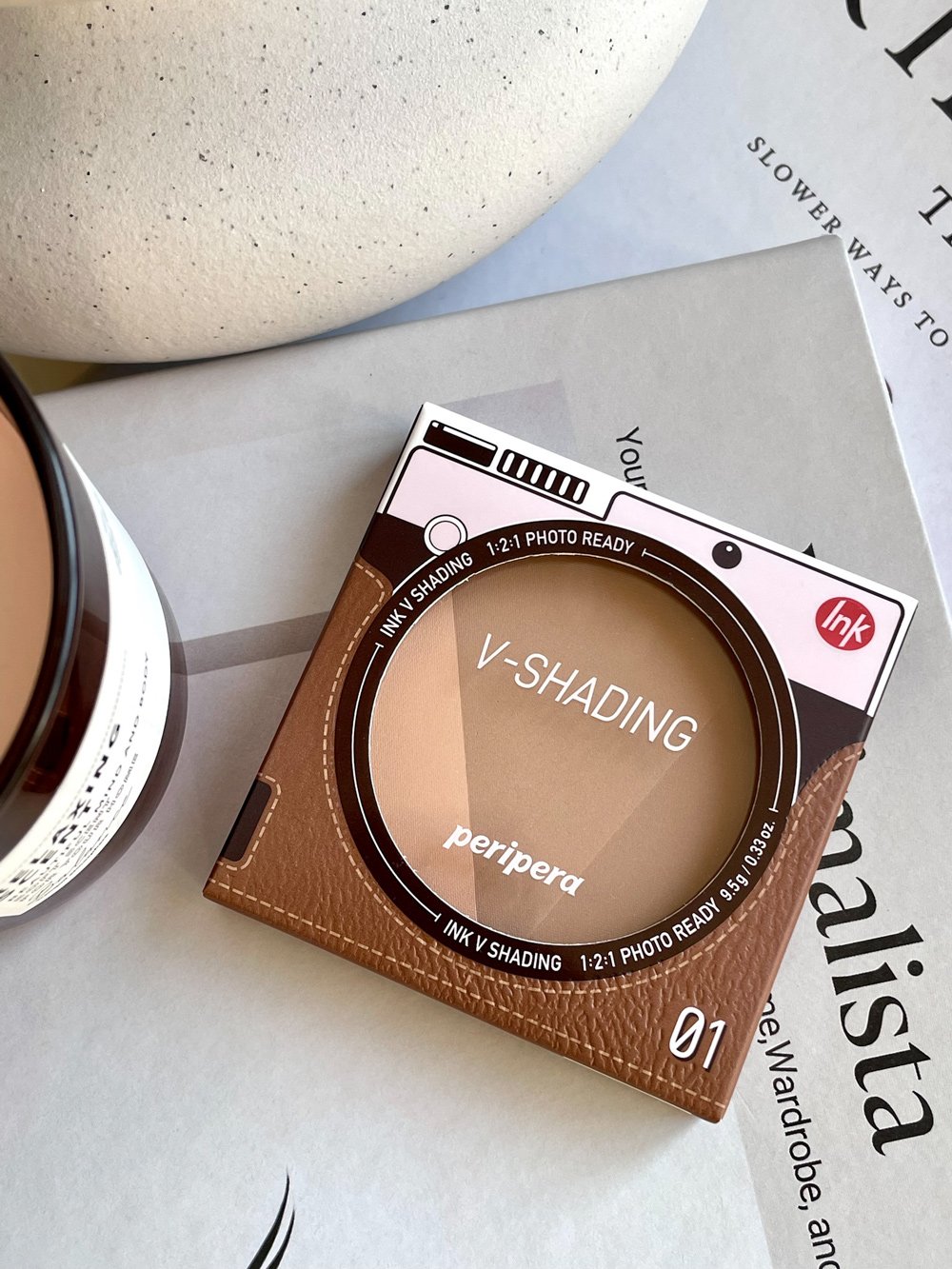 Packaging
The Benefit Hoola bronzer typically comes in a rectangular boxy compact, which is relatively small, making it easy to carry in a makeup bag or purse. Inside the compact, you'll usually find a built-in mirror for on-the-go touch-ups. It also includes a small brush that fits neatly into the compact.
The Peripera Ink V Shading is housed in a circular compact case. Its compact design makes it more convenient for on-the-go use and easier to carry around. Unlike Benefit Hoola, Peripera Ink V Shading doesn't come with a built-in mirror or brush. So, you'll need to use your own makeup tools instead.
In practice, most users tend to opt for their own makeup tools to achieve a more precise application either way, as the included brushes and mirrors are often considered less ideal for achieving the desired results due to their size, shape, or quality.
Also Read: Dior Backstage Rosy Glow Blush vs. The Saem Saemmul Single Blusher: Which Should You Choose?
Value for Price
Considering the value for the price, there's a notable difference between the Benefit Hoola Matte Bronzer and the Peripera Ink V Shading. Benefit costs $35 for 8g of product, positioning itself as a premium choice. It's worth acknowledging that bronzers and contour palettes often provide long-term value as they tend to last much longer than base products. Hence, the $35 price tag for Benefit is justifiable considering its reputation.
However, when you can achieve comparable results for a fraction of the cost, the appeal of the Peripera Ink V Shading becomes evident, offering a generous 9.5g of product at a remarkably affordable price point of $13.60.
Peripera Ink V Shading won't drain your wallet and still gets the job done. Plus, it's got a whopping 1000+ rave reviews on Yesstyle, so you know folks love it. At the end of the day, it really depends on your budget and whether you're up for getting fantastic results without splurging big bucks.
---
*Sponsored – by YesStyle, but opinions remain my own.
*Affiliate Links – It means I may earn a small commission when you purchase a product through the links I have provided, at no extra cost to you.
Related posts
Follow blog via Email
Get the latest posts from this blog delivered to your inbox!
About Me
Hi and welcome to Kbeauty Notes! :) I'm Ledia and I'm very passionate about everything skincare. I created this blog to share my thoughts and experience with many amazing and not so great products out there, hoping to help you make better decisions regarding your skin. I'm very happy to bring you on this journey with me and I hope you enjoy it! <3

My Skin Type: Oily, acne prone, dehydrated, a little sensitive, large pores.

Skincare Concerns: hydration, pore care, anti-ageing, PIE (acne marks), brightening.

Contact: kbeautynotes@gmail.com