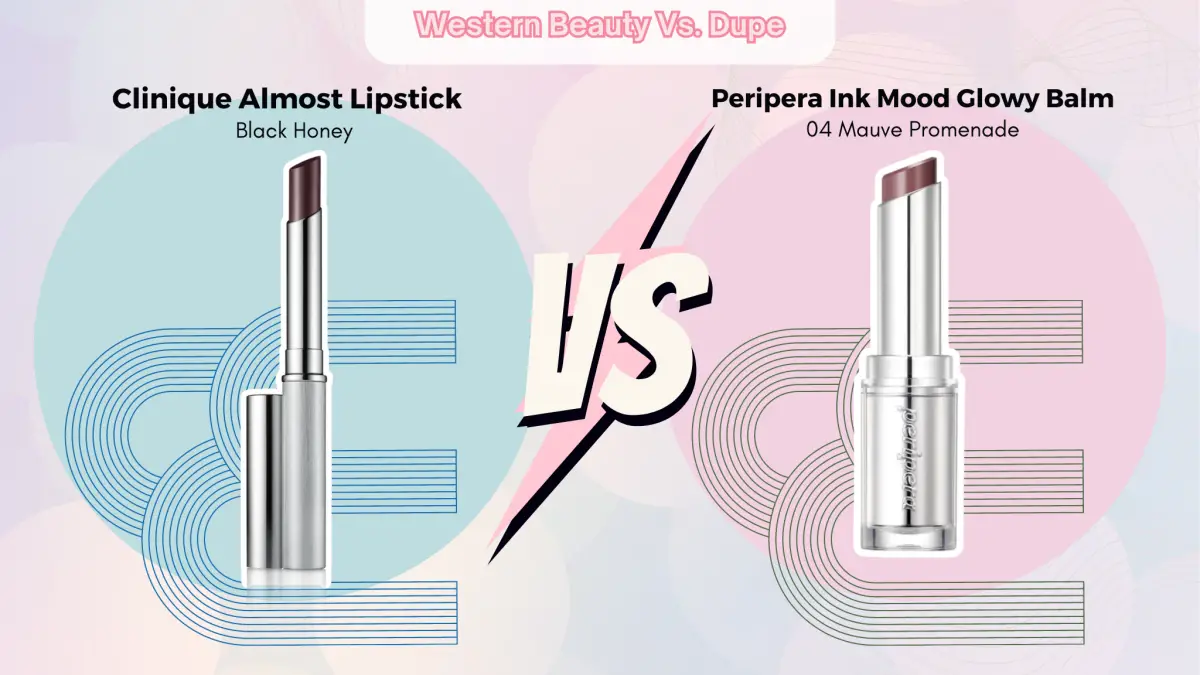 In this second post of the "Western Beauty Vs. K-Beauty Dupe" series, we're delving into the realm of lip essentials. If you're an avid beauty lover, the iconic Clinique Almost Lipstick in Black Honey needs no introduction. Revered for its sheer yet captivating berry tint, this lippie earned its rightful place in countless makeup routines. But hold on tight, because we've got an extraordinary K-Beauty contender that can be an excellent Clinique Almost Lipstick Black Honey dupe! And that is the Peripera Ink Mood Glowy Balm in the shade 04 Mauve Promenade.
Speaking of K-Beauty, here's something exciting: Yesstyle has an exclusive offer for new customers! Use the code "YESSTYLE" to get an extra 10% OFF for orders above $35. Don't forget to add the reward code: "KBEAUTYNOTES" for 2-5% extra discount!
This is the perfect opportunity to stock up on your favorite beauty finds, including the
Peripera Ink Mood Glowy Balm, and discover even more hidden gems from the world of K-Beauty.
What is the Clinique Almost Lipstick
The brand describes this as a hybrid that falls somewhere between a lipstick and a gloss, boasting a texture that feels more akin to a nourishing balm—making it a versatile addition to any makeup routine.
Almost Lipstick applies as a sheer, glossy layer of lightweight color and offers a sleek, moist finish that adds a touch of vibrancy to your lips. Its emollient-rich formula not only enhances the appearance of your lips but also provides nourishment for a comfortable wear.
K-Beauty Dupe: Peripera Ink Mood Glowy Balm
This is a moisture-rich lip balm that provides sheer color and soft shine. The cushiony formula glides on lips and its gloss-like properties enhance your natural lips for a healthy, radiant glow.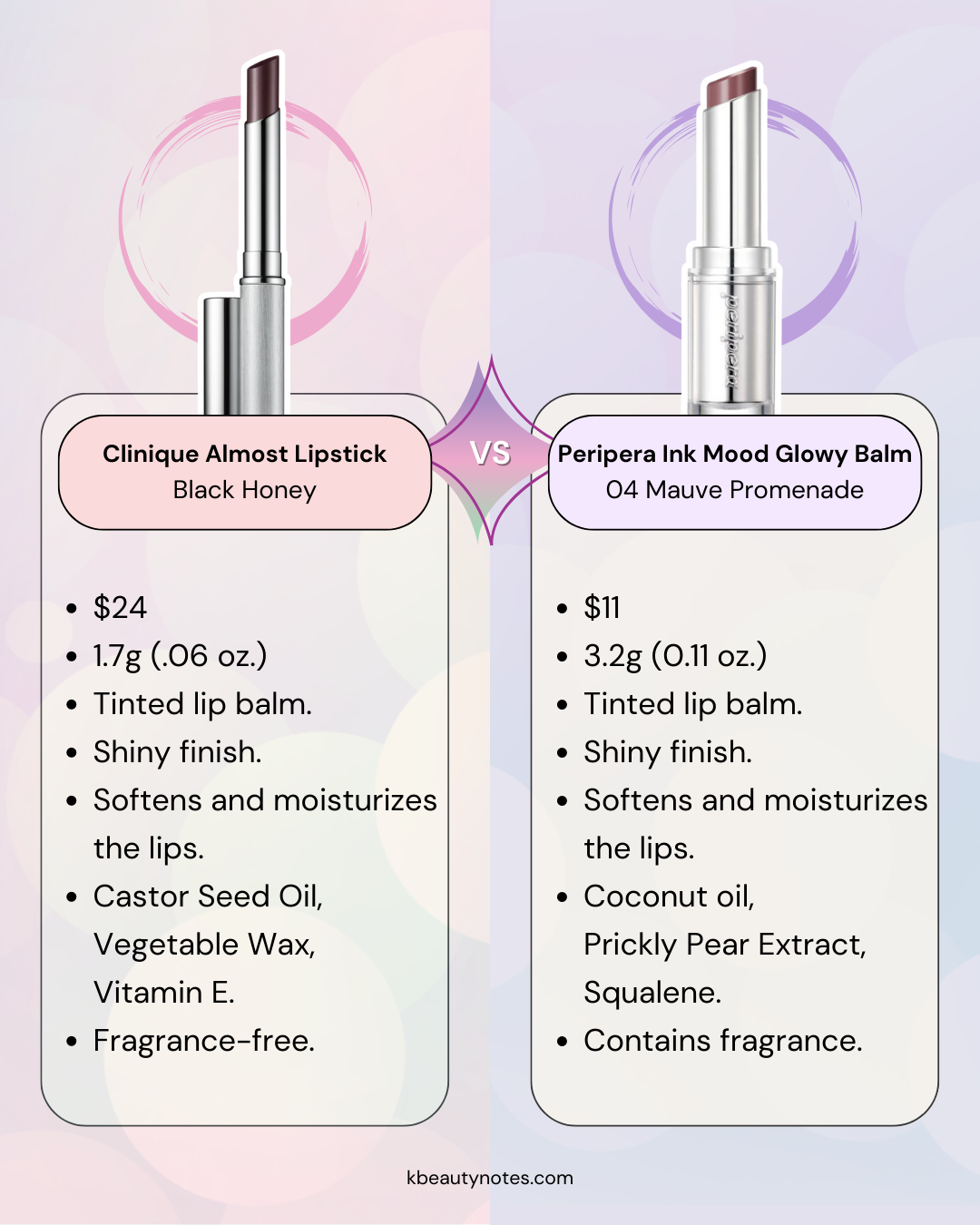 Packaging
The packaging of these two products shares a common thread – they both come in metallic-colored tubes. While the Clinique version is distinguishably taller and slimmer in comparison, both look sleek and elegant.
Texture and Finish
Clinique may refer to their Almost Lipstick as a hybrid, but both products essentially fall under the category of tinted lip balms. Both work to combat dry lips through their moisture-rich formulations. They create a protective barrier that prevents excessive water loss, ensuring your lips stay supple and hydrated even in in harsh environmental conditions.
In addition to their moisturizing benefits, these lip balms contribute a gentle hint of tint that gracefully elevates the natural appearance of your lips.
The final touch is a captivating sheen that leaves your lips looking soft and beautifully enhanced, without any sticky residue.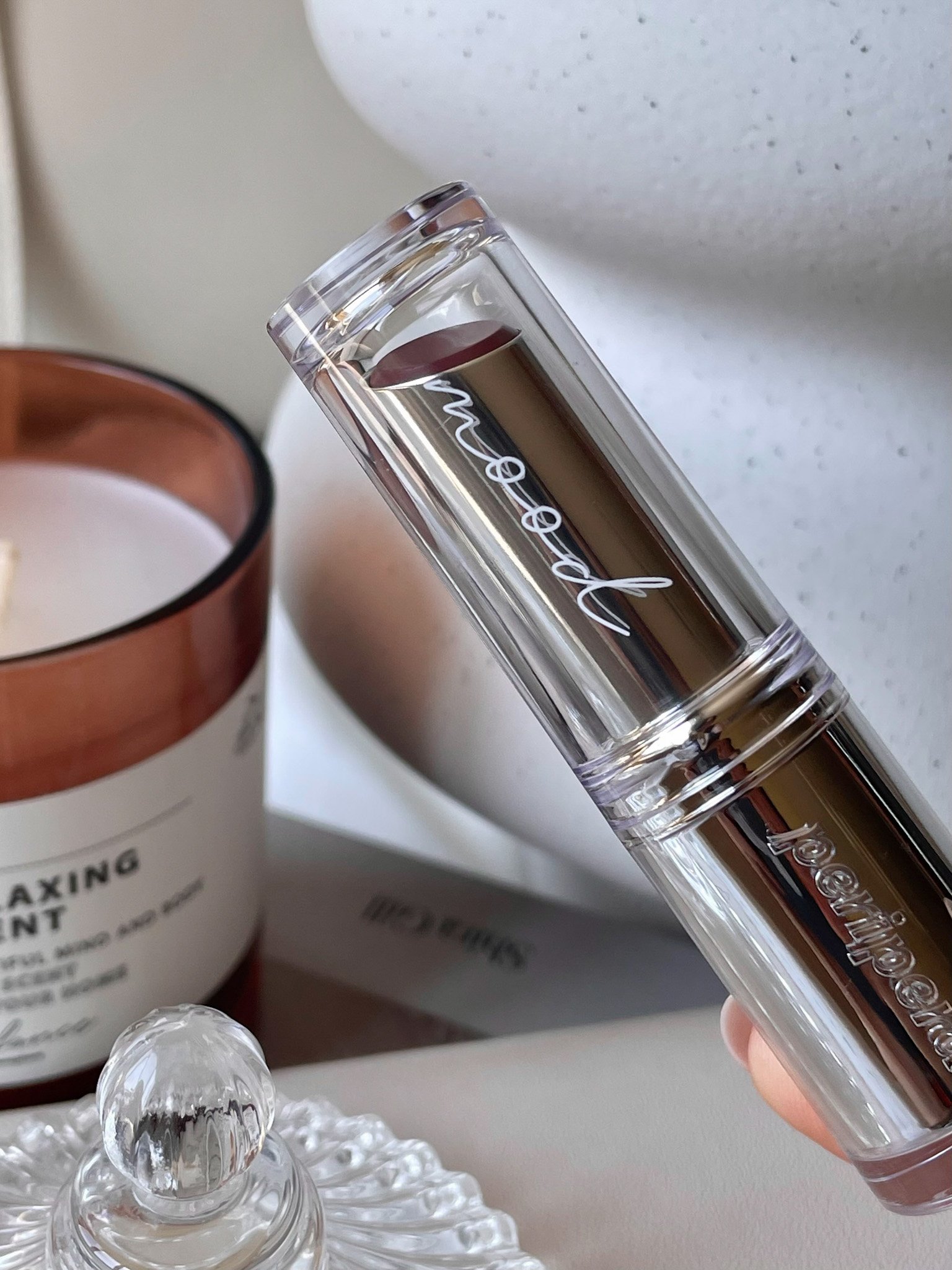 Application
The application process is straightforward as neither of these products needs any lip prep. They combine the benefits of lip care and makeup, simplifying your routine into one seamless step.
Furthermore, their versatile nature extends to layering. You can apply multiple layers and achieve the exact color intensity you desire, making it easy to transition from a subtle tint to a more intense shade. However, it's worth noting that there is a limit to how much you can build them up.
Also Read: Is iUNIK Centella Calming Gel Cream a Worthy Neutrogena Hydro Boost Dupe?
Their sheer and forgiving formulas make it easy to apply them without the need for a mirror. This convenience adds a touch of practicality to your beauty routine, allowing you to enjoy their benefits anytime, anywhere, with minimal fuss.
Shade
When it comes to comparing shades, figuring out the exact color of lip balms can pose a challenge. The reason? Lip balms are not opaque so your natural lip color will impact how the shade shows up on your lips.
Clinique says their Almost Lipstick in Black Honey adapts to a wide range of skin tones, appearing uniquely distinct on each individual. So, it can appear as a plum color, reddish pink, brown berry etc.
The same applies to the Clinique Almost Lipstick Black Honey Dupe – Peripera Ink Mood Glowy Balm, although the shade 04 Mauve Promenade does tend to maintain its distinct mauve sheen even as you layer it. Given that my lips naturally have a mauve undertone, this particular shade complements them beautifully.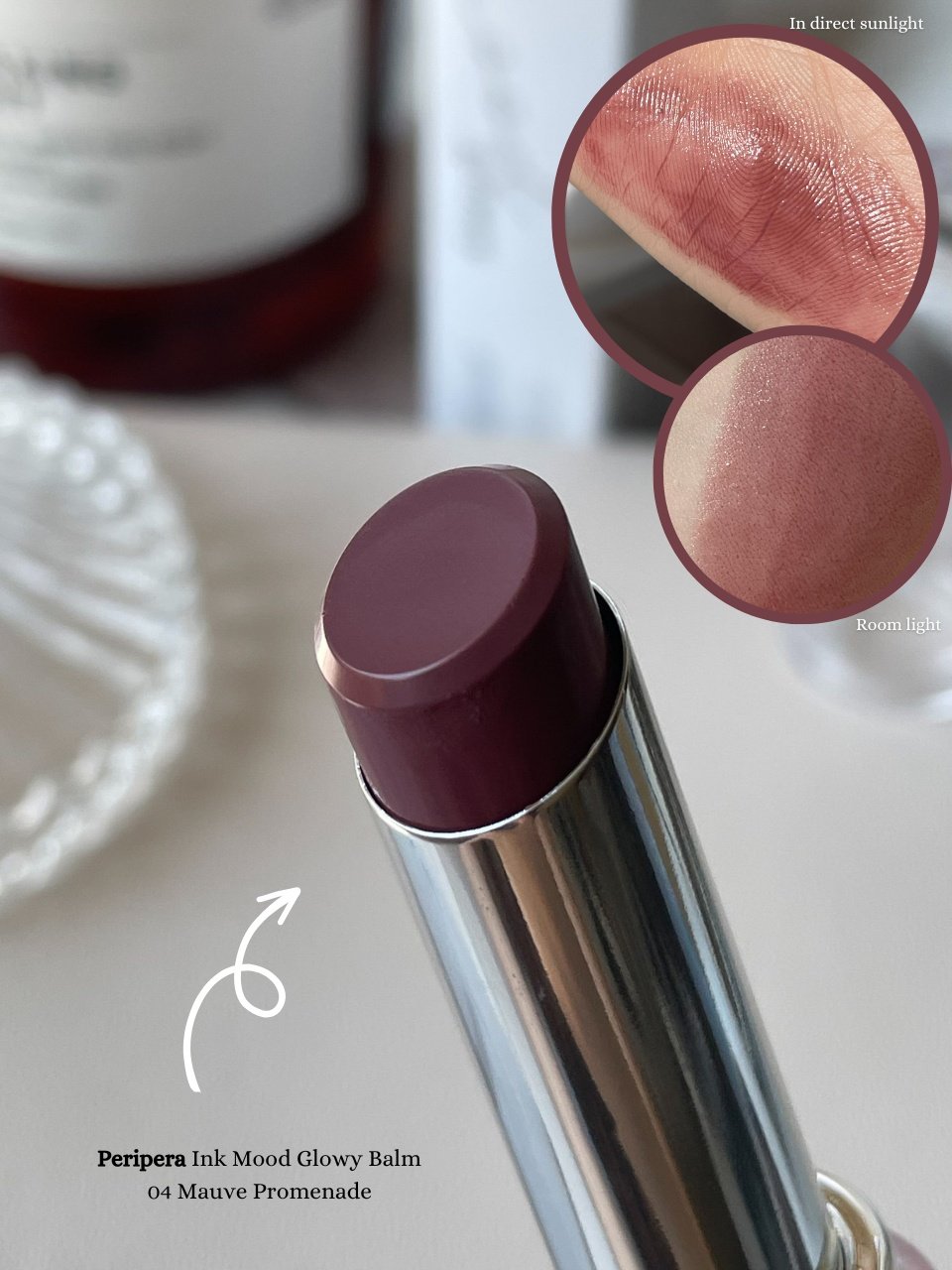 Ingredients
Regarding ingredients, the Clinique Almost Lipstick features a blend that includes Castor Seed Oil, Vegetable Wax, and Vitamin E. On the other hand, the Peripera Ink Mood Glowy Balm boasts a formula enriched with Coconut Oil, Prickly Pear Extract, and Squalene.
Value for Price
When we talk about getting bang for your buck, there's a clear contrast between the Clinique Almost Lipstick and the Peripera Ink Mood Glowy Balm. For $24, the Clinique Almost Lipstick offers 1.7g of product, whereas Peripera comes in at an affordable $11 and generously delivers 3.2g of product. Yep, you read that right – nearly double the product for a much lighter dent in your wallet.
One of the things I absolutely adore about K-Beauty is the fact that it offers exceptional quality at affordable prices. And the Peripera Glowy Balm is a prime example of that.
While Clinique's premium pricing might be justified by its long-standing name in the beauty game, Peripera's budget-friendly approach speaks to those of us who love a good deal without sacrificing quality.
So, which one will find a cozy spot in your makeup bag?


Did you find this post on Clinique Almost Lipstick Black Honey Dupe: Peripera Ink Mood Glowy Balm helpful?
---
*Sponsored – by YesStyle, but opinions remain my own.
*Affiliate Links – It means I may earn a small commission when you purchase a product through the links I have provided, at no extra cost to you.
Related posts
Follow blog via Email
Get the latest posts from this blog delivered to your inbox!
About Me
Hi and welcome to Kbeauty Notes! :) I'm Ledia and I'm very passionate about everything skincare. I created this blog to share my thoughts and experience with many amazing and not so great products out there, hoping to help you make better decisions regarding your skin. I'm very happy to bring you on this journey with me and I hope you enjoy it! <3

My Skin Type: Oily, acne prone, dehydrated, a little sensitive, large pores.

Skincare Concerns: hydration, pore care, anti-ageing, PIE (acne marks), brightening.

Contact: kbeautynotes@gmail.com