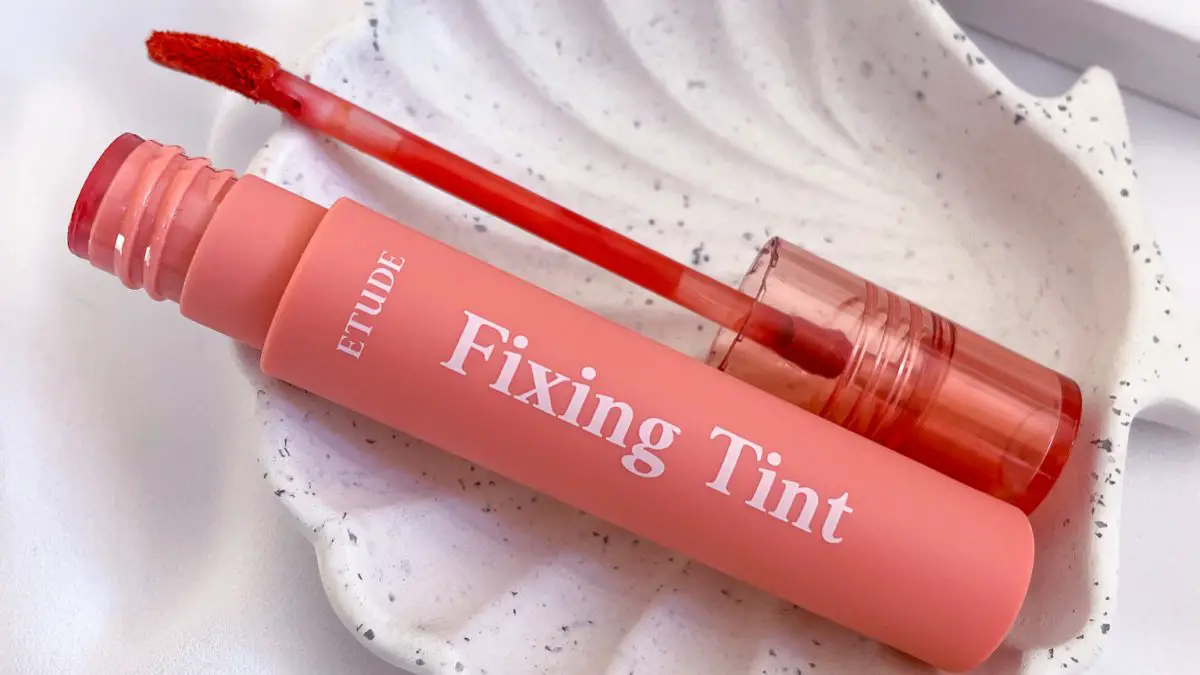 When the Etude House Fixing Tint came out it started to get so much attention that it sold out very quickly. This was on my wishlist for a long time and I decided to get it with my last haul. I'm hesitant with purchasing lip products online because they almost never turn out how I expect them to. I'm sure this has happened to many of you as well. You see the swatches of these pretty muted nude pink colors and then what you get is neon pink! However, this time I made up my mind and went for it.


Where to buy: You can find this at Yesstyle (You can use KBEAUTYNOTES for % off your order). Also available at Stylevana US Link / EU Link. StyleKorean Link, and Jolse Link.
Price: $7,59 – $11,20
Volume: 4g


About the ETUDE Fixing Tint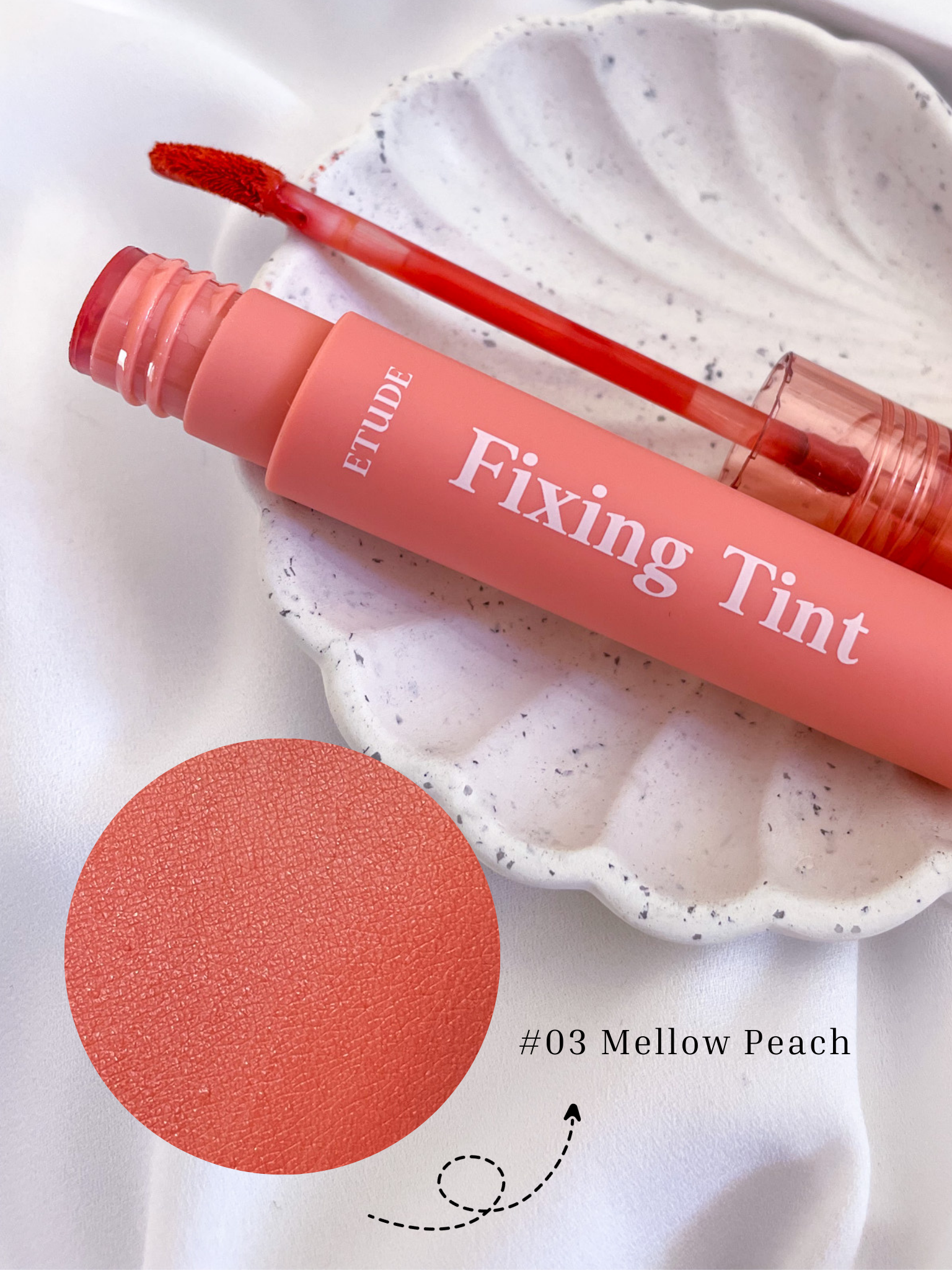 A hydro-matte formula that offers long-lasting wear. The lightweight consistency blends smoothly on the lips and doesn't transfer.


Applicator
The applicator is angled and tapered at the tip which makes the application very easy. It picks up a bit more product than needed so make sure to take some off before applying.


Texture
As Etude describes it, this has a hydro-matte texture (it's not powdery). It feels extremely comfortable on the lips without drying them out. Due to the lightweight texture, spreads very thinly which I really like and glides easily on the lips. This is hands down the best formula for a lip product that I've tried.


Finish
There's enough time to move the product around and smudge it to make it softer or create a gradient look. But after it sets, it won't budge! Until it sets it feels slightly sticky, but not at all in an unpleasant way. Not even close to how sticky some liquid lipsticks are if I were to compare them. The finish is completely matte, but as I said non-drying!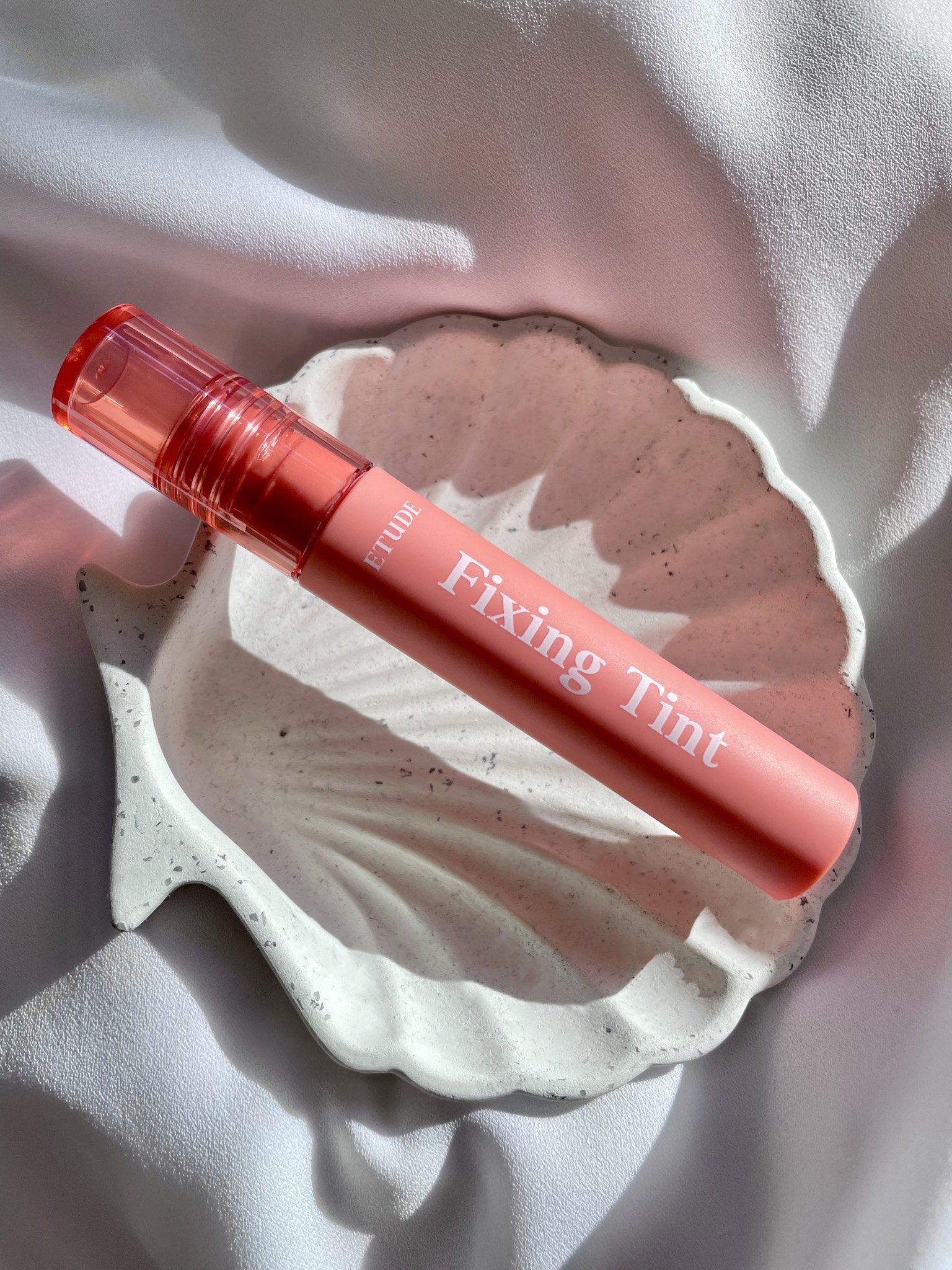 Shades
I got the Etude House Fixing Tint in the shade #03 Mellow Peach which is a coral peach color. I tried my best to capture the color correctly (swatch above) although it may look a bit different on different screens.
Please note: I think this shade will work better for those with warm undertones! This color at full intensity looks odd against my skin. Instead of harmony, there's contrast. Hence why I always smudge it to make it softer and more muted. Having said that, this is buildable without becoming heavy.
There are 8 shades of this lip tint. The last 3 were added recently to suit cool undertones more:
01 Analog Rose
02 Vintage Red
03 Mellow Peach
04 Ginger Milk tea
05 Midnight Mauve
06 Soft Walnut
07 Cranberry Plum
08 Dusty Beige


Does it stain? Stains the lips just a bit, but it's very easy to remove with a makeup remover/oil based cleanser.
Longevity: The tint stays on for hours, although it will get removed faster if you eat greasy food. It's also transfer-proof! This tint became very popular for this exact reason. It's safe to use under the mask as it won't stain it or come off.


Final Verdict on Etude House Fixing Tint
Except for the shade that's not the best match for my skin tone, I have nothing bad to say about this lip tint. It's just amazing and checks all the boxes: So lightweight it really doesn't feel like you have anything on. Non drying, buildable and has great adherence to the skin. It doesn't transfer and stays on for hours! What more can you ask for? Oh, actually you can ask for… MORE shades!
I have my eye on the 05 Midnight Mauve and #08 Dusty Beige now. I'll probably pick up one of these next, or both.


Did you find The Etude House Fixing Tint Review helpful? Have you tried this lip tint? What's your favorite color?

---

This post contains affiliate links. It means I may earn a small commission when you purchase a product through the links I have provided at no extra cost to you. I've bought this product myself and I will always share my honest opinion and experience. Sincerely thankful to all of you that support my blog! For more information, see Disclosure Policy.
Related posts
Follow blog via Email
Get the latest posts from this blog delivered to your inbox!
About Me
Hi and welcome to Kbeauty Notes! :) I'm Ledia and I'm very passionate about everything skincare. I created this blog to share my thoughts and experience with many amazing and not so great products out there, hoping to help you make better decisions regarding your skin. I'm very happy to bring you on this journey with me and I hope you enjoy it! <3

My Skin Type: Oily, acne prone, dehydrated, a little sensitive, large pores.

Skincare Concerns: hydration, pore care, anti-ageing, PIE (acne marks), brightening.

Contact: kbeautynotes@gmail.com