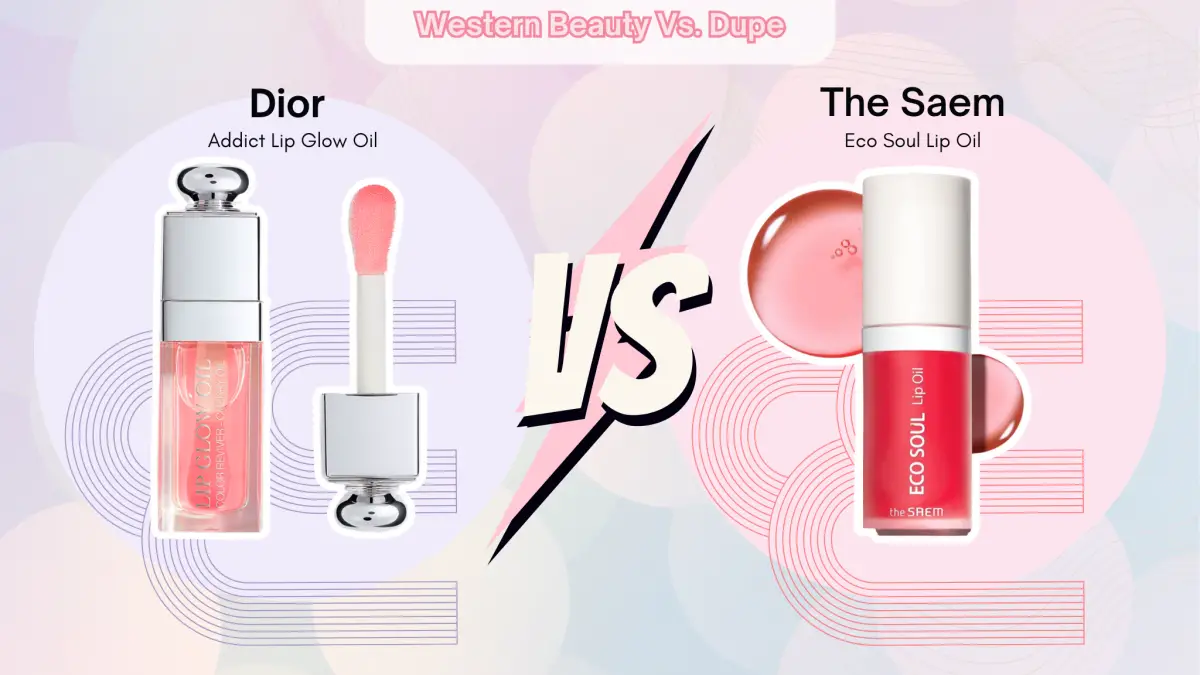 Welcome back beauty lovers, to the latest post of the "Western Beauty vs. K-Beauty Dupe" series. Today, we're diving into the world of lip oils. Over the recent years, lip oils have become very popular, and right at the center stage of this lip oil phenomenon stands the much-sought-after Dior Addict Lip Glow Oil. However, the allure of luxury often comes with a hefty price tag, which is where K-Beauty steps in to offer an enticing alternative. Meet the Dior Lip Oil Dupe, which is none other than The Saem Eco Soul Lip Oil.
If you're eager to explore The Saem Eco Soul Lip Oil, you can easily find it on Yesstyle. Plus, you're in for a treat, as Yesstyle offers an exceptional range of Korean skincare and makeup products.
New customers can get an extra 10% OFF after spending US$35 with the code "YESSTYLE". And don't forget to apply the reward code "KBEAUTYNOTES" during checkout as well to enjoy an extra 2-5% discount on your entire order!
What is the Dior Lip Glow Oil?
The Dior Lip Glow Oil is a luxurious lip product designed to provide both protection and enhancement to the lips while bringing out their natural color. It boasts a unique blend of ingredients, with cherry oil being a standout component known for its protective qualities against stress factors and drying.
The texture is non-sticky, non-greasy, rich, and balmy. It seamlessly combines the mirror-like shine of a lip gloss with the comforting care of an intense lip treatment. Additionally, the lip oil features a delightful minty-vanilla scent, creating a sensorial experience during application.
There are 11 different versions that you can choose from.
K-Beauty Dupe: The Saem Eco Soul Lip Oil
The Saem Eco Soul Lip Oil is designed to achieve long-lasting, plump, and irresistibly supple lips. This lip oil creates a moisture barrier, ensuring that your lips stay hydrated throughout the entire day, without any uncomfortable stickiness. The texture feels rich and hydrating but it's not heavy.
The formula contains 95% naturally derived ingredients and 7 botanical oils and extracts for nourishment and antioxidant effect.
You have the option to choose from three enticing scents: honey, berry, and grapefruit. It's important to note that these three don't really leave a noticeable tint on the lips. Not all Dior variants have a tinted effect either.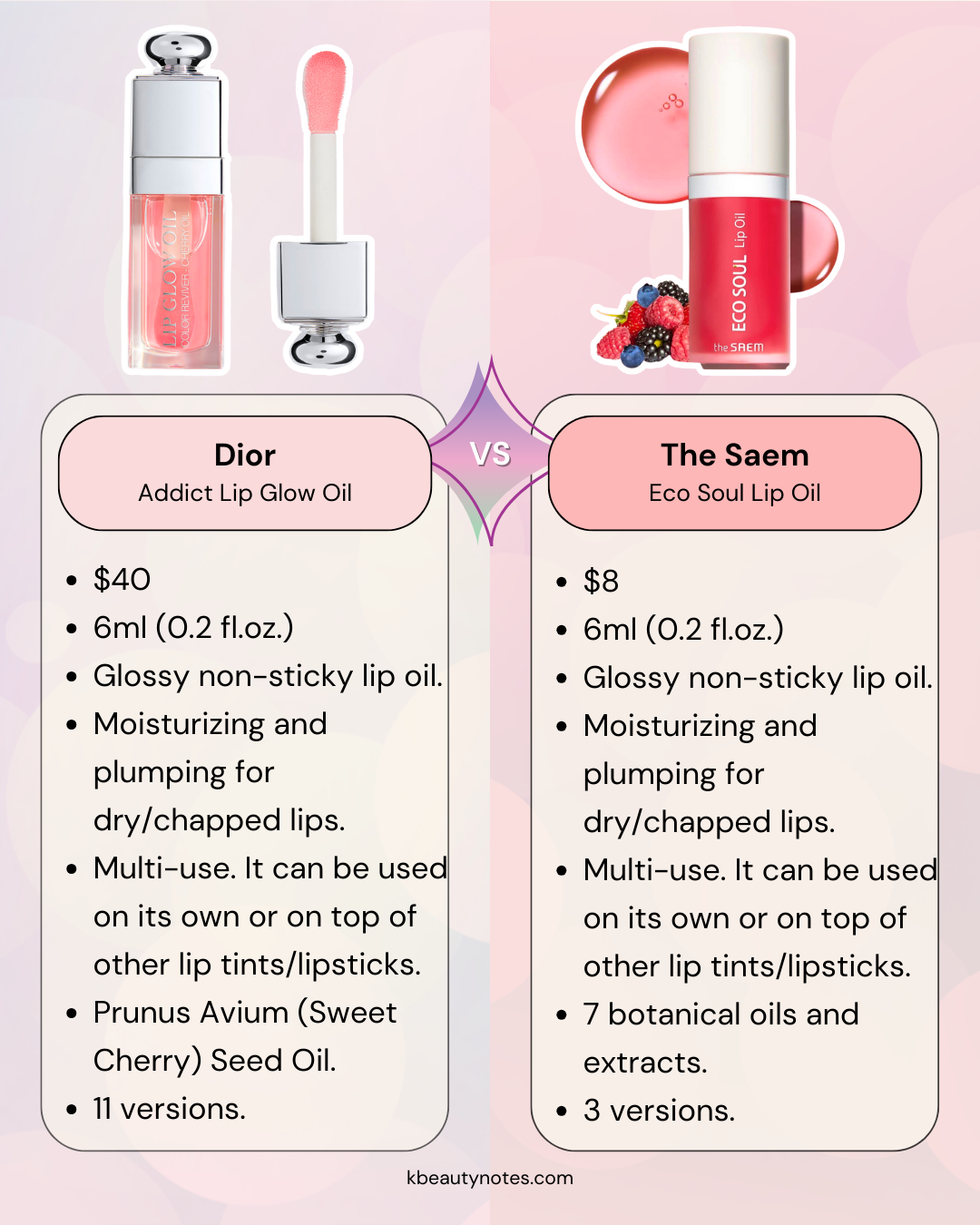 Packaging
Dior Addict Lip Glow Oil:
Dior is renowned for its luxury and elegance, and the packaging of the Dior Lip Glow Oil reflects this reputation. Typically, Dior products come in sophisticated, sleek packaging and the Lip Glow Oil is no exception. It often comes in a slim, transparent tube that showcases the beautiful color of the lip oil. The cap may be adorned with the iconic Dior logo or a stylish metallic finish.
The Saem Eco Soul Lip Oil:
In contrast, The Saem Eco Soul Lip Oil leans towards simplicity and practicality. Its packaging is usually more straightforward and functional. The lip oil often comes in a compact tube with a screw-on cap. The focus here is on ease of use and portability. While it may not boast the same luxurious aesthetics as Dior, it offers a practical and user-friendly design.
Application
Both products feature a high-quality, cushioned doe-foot applicator, making it easy to glide the lip oil smoothly onto your lips.
You can wear these lip oils on their own to add nourishment and achieve a glossy look for your lips. Additionally, they serve as an excellent top coat to enhance the shine and hydration of your favorite lipstick or lip tint, giving your lip color that extra pop.
For The Saem Eco Soul Lip Oil, applying it as a lip mask before bedtime is also a good idea. It will deliver intense hydration and nourishment, working its magic while you sleep. You'll wake up to beautifully soft and supple lips, ready to take on the day.
Also Read: Tatcha Water Cream vs. Make P:rem Hydrate Me Micro Tension Cream:
Which One Wins?
Value for Price
One of the most significant factors when it comes to beauty products is the value you get for your hard-earned money. In this comparison between the Dior Lip Oil and The Saem Eco Soul Lip Oil, let's take a closer look at the value for the price you pay.
Dior is a well-established luxury brand known for its high-quality products and glamorous packaging. However, this luxury comes at a premium price, with the Dior Lip Oil typically retailing for around $40.
On the other hand, The Saem Eco Soul Lip Oil is a shining example of K-Beauty's commitment to affordability without compromising on quality. With its price as low as $8, this lip oil is incredibly budget-friendly, making it accessible to a wider range of consumers.
Both products contain the same amount of product, which is 6ml. When you break it down, the Dior Lip Oil costs approximately $6.67 per ml, while The Saem Eco Soul Lip Oil costs roughly $1.33 per ml.
In terms of sheer value for your money, it's evident that The Saem Eco Soul Lip Oil provides a significantly more budget-friendly option. For the same amount of product, you could purchase nearly five times as much of The Saem's lip oil compared to Dior's.
Is The Saem Eco Soul Lip Oil a worthy dupe for the Dior Lip Oil?
The answer is a resounding yes, the Saem is undoubtedly a worthy Dior Lip Oil dupe, particularly if your primary focus is on value and product quality. The Saem Eco Soul Lip Oil not only offers a comparable lip care experience but also does so at a fraction of the price.
While Dior's Lip Oil may come with the allure of luxury branding and packaging, The Saem's offering stands its ground in terms of delivering the essential benefits of a lip oil. Both products provide hydration and a comfortable wear experience, which are the key attributes consumers seek in lip oils.
Of course, it's important to consider factors like brand reputation, packaging, and personal preferences when making your purchase decision. If you're a fan of luxury and are willing to invest in the Dior experience, the higher price tag may be justified. However, if you're primarily concerned with getting a good bang for your buck, The Saem Eco Soul Lip Oil is an attractive choice that offers excellent value without compromising on quality.
In the world of beauty, it's empowering to know that quality and affordability can coexist, allowing us to make choices that align with both our skincare needs and our budgets. So, whether you opt for the luxury of Dior or the affordability of The Saem, here's to healthy, beautiful lips!
---
*Sponsored – by YesStyle, but opinions remain my own.
*Affiliate Links – It means I may earn a small commission when you purchase a product through the links I have provided, at no extra cost to you.
Related posts
Follow blog via Email
Get the latest posts from this blog delivered to your inbox!
About Me
Hi and welcome to Kbeauty Notes! :) I'm Ledia and I'm very passionate about everything skincare. I created this blog to share my thoughts and experience with many amazing and not so great products out there, hoping to help you make better decisions regarding your skin. I'm very happy to bring you on this journey with me and I hope you enjoy it! <3

My Skin Type: Oily, acne prone, dehydrated, a little sensitive, large pores.

Skincare Concerns: hydration, pore care, anti-ageing, PIE (acne marks), brightening.

Contact: kbeautynotes@gmail.com