Peripera is one of those K-Beauty makeup brands that makes you drool over their cute packaging and beautiful shades. When you browse through their products it's so hard to simply pick just one. Also, almost anything they launch becomes a hit. Here, I'm reviewing the Peripera Pure Blushed Sunshine Cheek blush that was launched in 2020 as part of their summer collection.


Where to buy: You can find these blushes at JOLSE.
Price: $8-$10
Volume: 4.2g
Packaging: Sturdy transparent case with an embossed quote on the blush. I'm sad that the quote will disappear as I keep using it though. And each case is colored to match the shade inside. How cute is that?


About the Peripera Pure Blushed Sunshine Cheek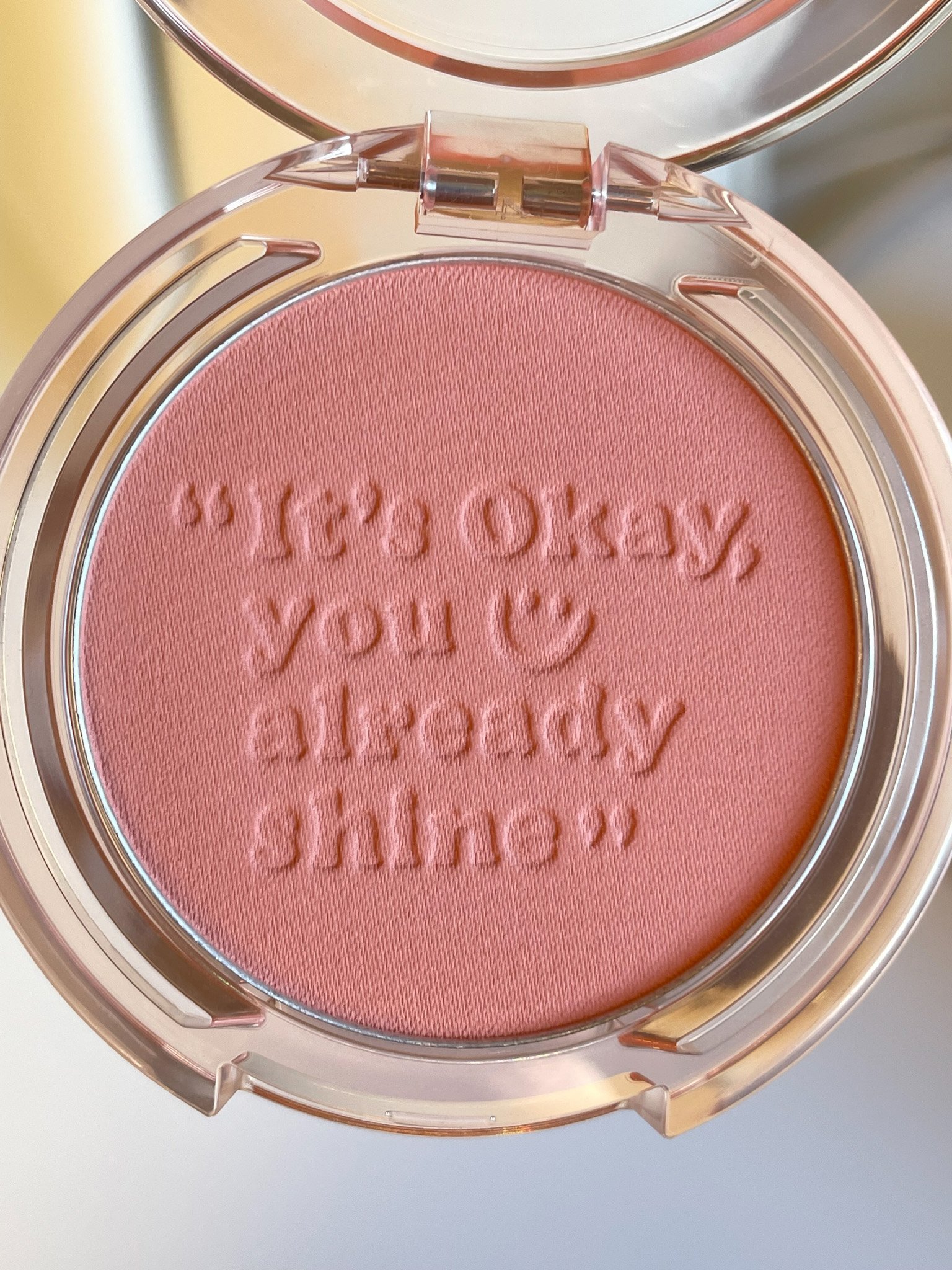 This soft and powder type blush adds a flattering wash of pastel color to your cheeks. Infused with sebum-absorbing powder that ensures a long-wearing matte finish.
I picked mine in the shade 02 Milktea Coral which is a soft coral pink color.
Since their launch, Peripera has added more colors to the collection and now there are 13 in total:
01 Calm Pink
02 Milktea Coral
03 Afternoon Red
04 Nudy Amber
05 Rose
06 Morning Blush
07 Milky Peach
08 Cotton Nude
11 Picnic Pink
12 Sunny Pink
13 Nice Pink
16 Acorn Beige
17 Rosy Brown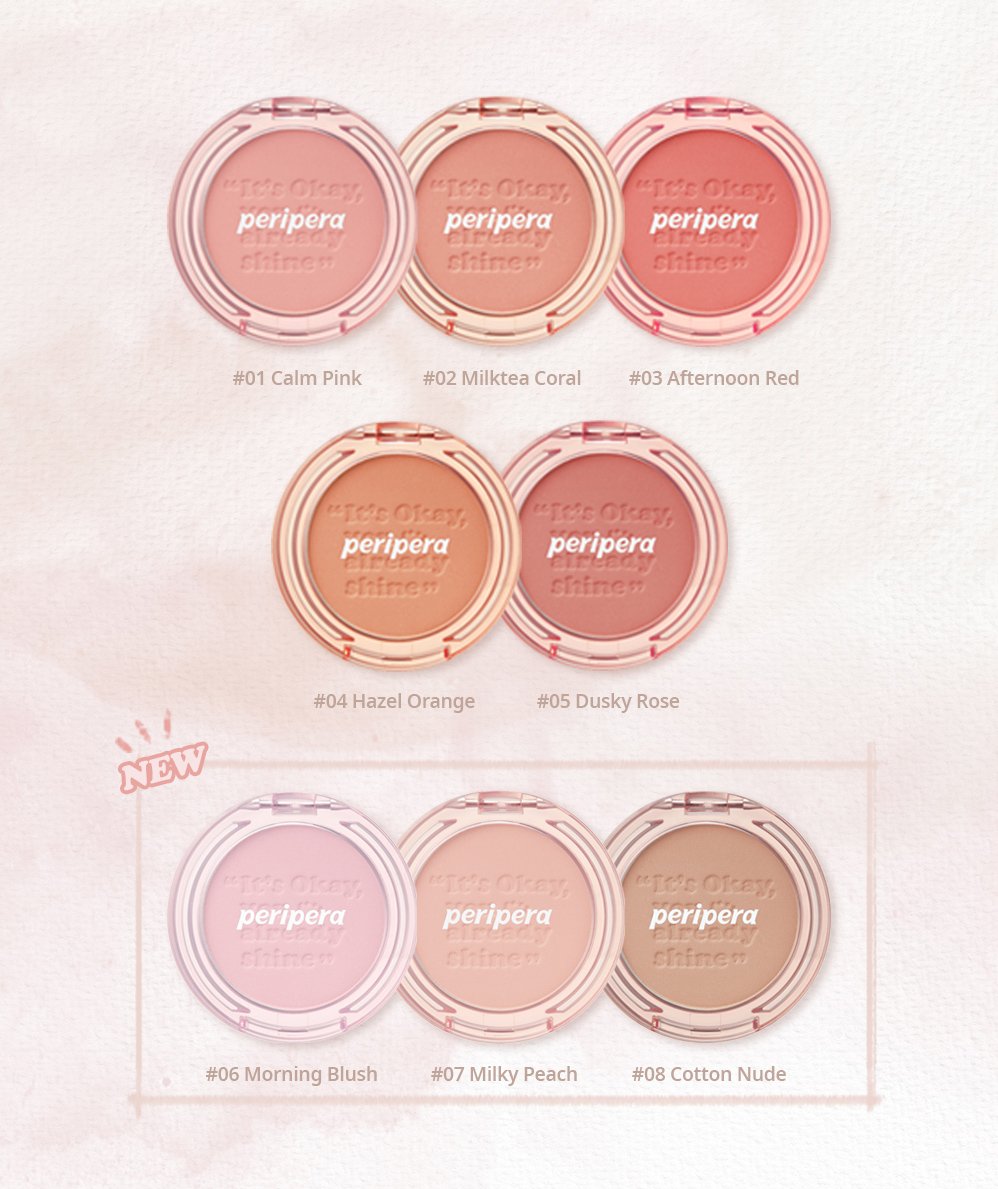 Performance
This Peripera Pure Blushed Sunshine Cheek blush leaves such a beautiful flush of color to the cheeks that I have to say I'm a bit obsessed. It wasn't love at first use though! I had to go through a bit of trial and error because I'm not that experienced when it comes to blushes.
At first, I applied this with a dense brush and the color ended up looking too vivid and pastel-y on me, which contrasted with my skin tone. So, I thought it didn't really suit me and I probably picked the wrong shade.
Then I tried it with a fluffy brush and the result was completely different. It looked very natural on the skin! I only needed 2-3 swipes on the pan to make it work. I like a formula that is buildable like this one, so you can control the opacity and make the color as faint or pigmented as you like.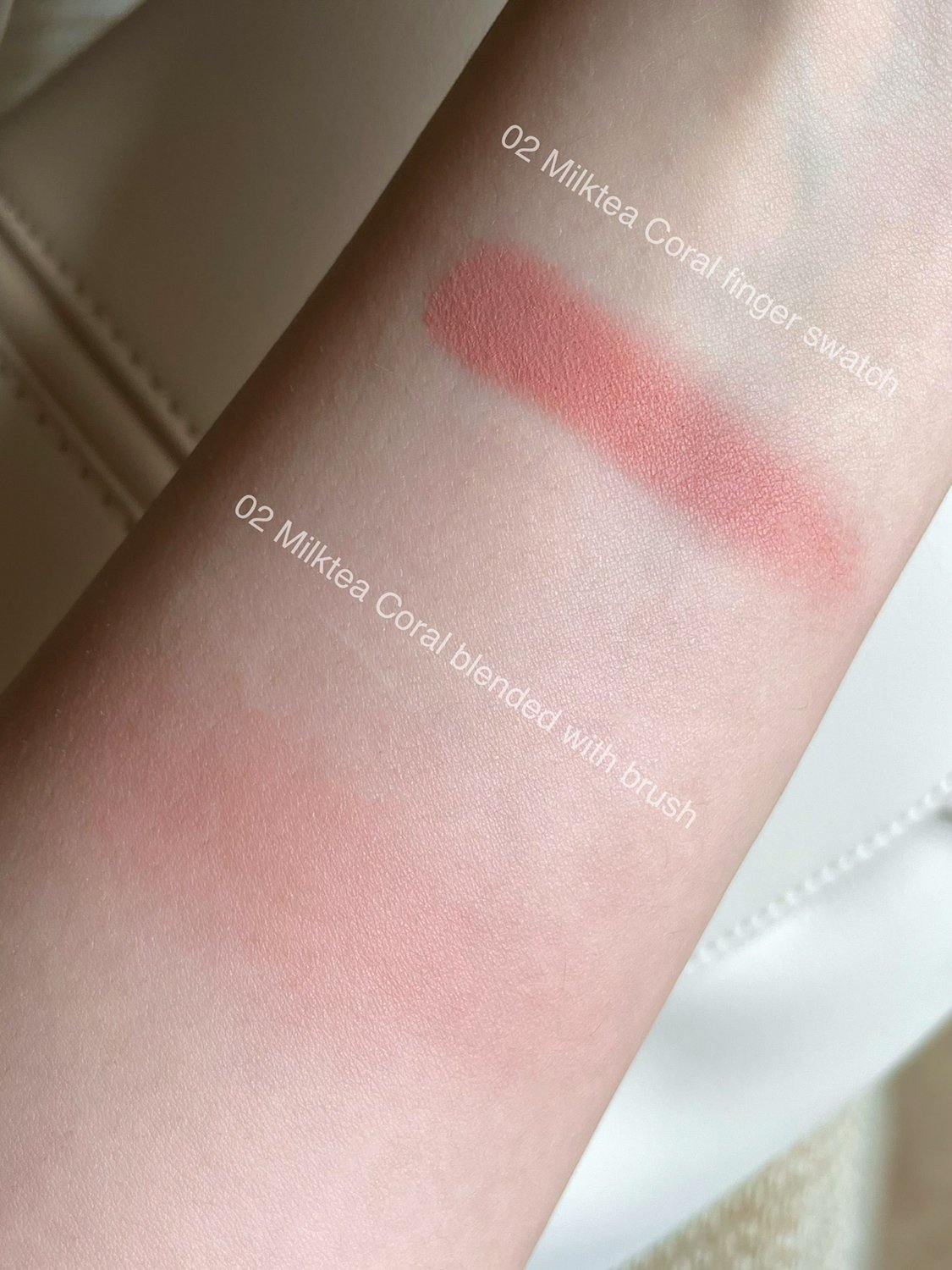 Since I have a light skin tone, I do not prefer a very opaque formula for a blush because I think it can make me look a bit clownish.
The powder type formula is very fine and applies evenly without becoming patchy or clumping. Also there are no shimmer particles, it's completely matte. I didn't have any trouble blending it either when used with the right blush.
I love the blurred effect this has on my pores and it does make them look less visible. This is one of the advantages of a powder blush. It's such a great option for those with oily skin and enlarged pores.
Wear time is decent as it lasts on me for 4-5 hours, but not all day. This will also depend on factors like base makeup, skin type, and weather.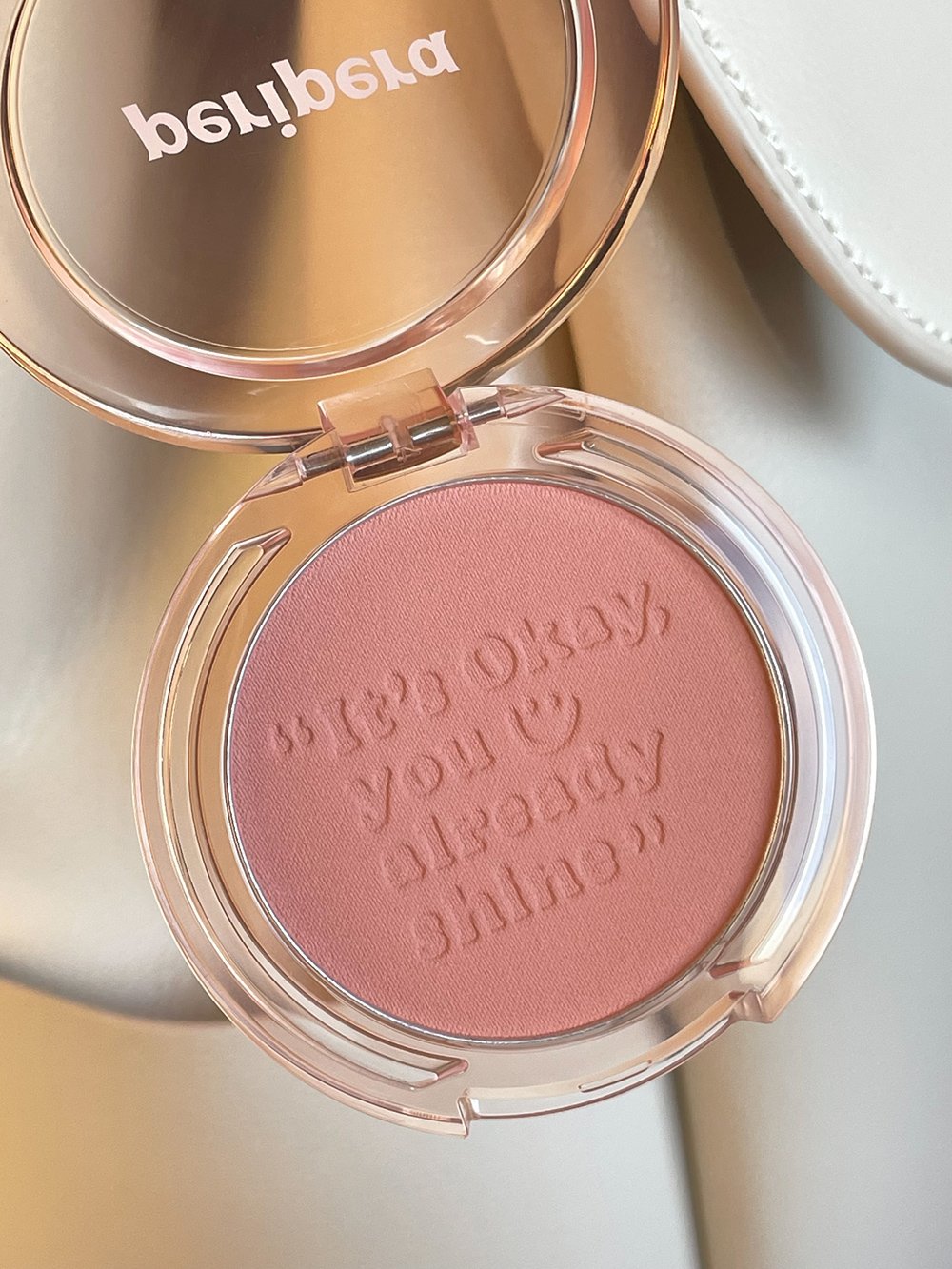 I like this shade so much that I also ended up using it as an eyeshadow to create a more harmonized look. Made my complexion look lively and bright and paired beautifully with the Peripera Ink Mood Matte Lipstick in the shade "My Own Nude".


Final Verdict on the Peripera Pure Blushed Sunshine Cheek
There's nothing not to like about it. The formula is high quality, looks natural which suits my taste, and it's affordable! You can use it as an everyday blush or for any occasion. I think this will be perfect for the summer and it's a great choice if you like pastel colors. This shade in particular really gives you that beautiful sun-kissed look. Highly recommend you give these Peripera blushes a try!


Did you find the Peripera Pure Blushed Sunshine Cheek Review helpful? Have you tried this before?

---

*PR – by Jolse, but opinions are completely my own.
*Affiliate Link – It means I may earn a small commission when you purchase a product through the link I have provided, at no extra cost to you.
Related posts
Follow blog via Email
Get the latest posts from this blog delivered to your inbox!
About Me
Hi and welcome to Kbeauty Notes! :) I'm Ledia and I'm very passionate about everything skincare. I created this blog to share my thoughts and experience with many amazing and not so great products out there, hoping to help you make better decisions regarding your skin. I'm very happy to bring you on this journey with me and I hope you enjoy it! <3

My Skin Type: Oily, acne prone, dehydrated, a little sensitive, large pores.

Skincare Concerns: hydration, pore care, anti-ageing, PIE (acne marks), brightening.

Contact: kbeautynotes@gmail.com