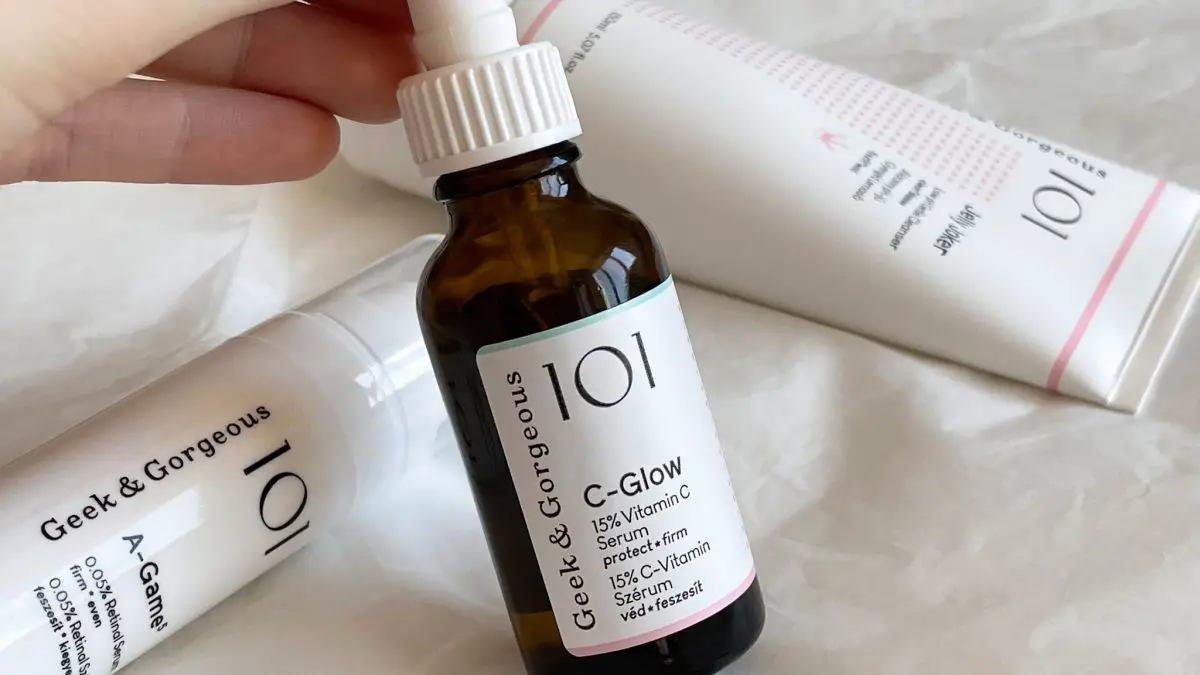 Who's on the hunt for a good Vitamin C serum? The reason Vitamin C is so raved about as a skincare ingredient, is because it's very well researched and has been clinically proven to increase collagen in the skin, reduce hyperpigmentation and fight damage from free radicals (antioxidant). Although there are many options in the market, the pure form of Vitamin C – Acorbic Acid is a tricky ingredient to formulate because it's highly unstable, needs the right pH and percentage to work, and oxidizes quicky which makes it lose its efficacy. One of the products that checks most of the boxes is the Geek & Gorgeous C-Glow Vitamin C Serum.


Where to buy: You can purchase this at the G&G official website. They offer free shipping for Europe for orders over €50 and US for orders over $60.
Price: $13 (€12.50)
Volume: 30ml (1.01 fl oz)
PAO: 3 months after opening. (6 months unopened). Store in the fridge!
Recently they have made this serum more stable so it can last up to 6 months after opening.


What is the Geek & Gorgeous C-Glow Serum
A weightless pure Vitamin C serum at 15% concentration which also includes other antioxidants like Ferulic Acid and Vitamin E to protect the skin from free radicals, boost collagen production and fade hyperpigmentation. The low acidic pH of 3.2-3.4 in this water-based formula ensures that the Vitamin C gets into the skin to work. To keep the product from oxidizing G&G creates it in small batches so the product is no older than 2-3 weeks when it arrives to you.
Targeted for skin concerns such as dark spots, aging, dull skin and uneven complexion.
Things to note: The serum is listed as malassezia-safe and pregnancy-safe.
The packaging is in a 30ml format and comes in an amber glass bottle since this is also a factor that helps with delaying oxidizing.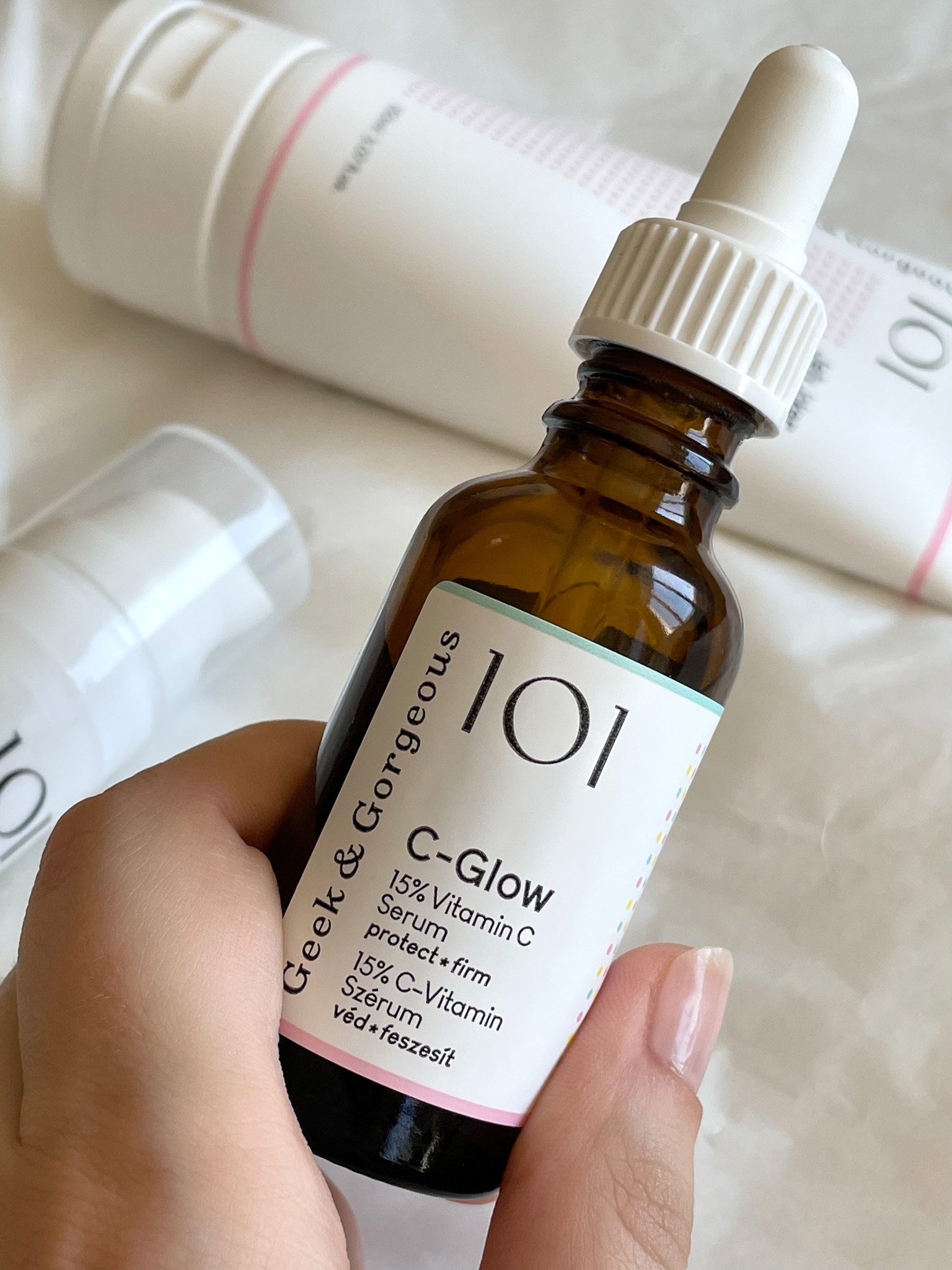 Application
Apply a couple of drops (2-3) after cleansing your skin before serums/creams, avoiding the eye area. It is recommended to be used this way due to its low pH so it can penetrate the skin better. Also, make sure that your skin is dry and not damp, as this can increase irritation. Wait for it to dry down and follow with the other skincare steps. Great to be paired with sunscreen in the AM as a powerful antioxidant combo, but can be used in the PM, too. You will still get the effects of the Vitamin C the next morning.
If you are going from a lower concentration of Ascorbic Acid to this, I'd recommend to start applying it once every 2-3 days, and after the skin has been used to it, you can apply it daily. Otherwise, you risk irritation and damaging your skin barrier.


Consistency
The consistency of the Geek and Gorgeous Vitamin C serum is water-like and fast absorbing. Transparent in color, but will turn yellow once it starts oxidizing. If it turns dark yellow-brown it should not be used anymore. Sinks into the skin and there is no stickiness after it dries down. I feel a bit of an oil content there as well due to the small amount of Vitamin E present.
Sometimes it seems like it leaves a bit of an invisible film on the skin, because I notice lighter consistency products don't sink in completely as they normally would. But this is minor and generally works fine with thicker serums, creams and sunscreen.


Performance
The reason I chose this 15% Ascorbic Acid serum is because I have already tried lower percentages so I think my skin has gotten used to it up to a point. At first I was applying it daily for about 2 weeks, but then I changed it to 2-3 days because I think my skin got slightly sensitized (my skin stinged a bit when I washed it). The first few times I noticed a bit of a tingling sensation around the nose area, but it did not recur.
If you are a beginner I would highly suggest to start with a low percentage, for example like the Klairs Freshly Juiced Vitamin C Drop that contains 5% AA. If you can't tolerate Vitamin C at all, it's worth looking into Vitamin C derivatives (I'll be making a separate post on that) or other actives.
Let's jump to results! 1-2 weeks after using this I started noticing a smoother skin texture. Now that it's summer my skin is more prone to congestion, but this gets rid of skin bumps easily. I did get the reverse effect when I was using a heavy moisturizer which apparently didn't play well with this Vitamin C. Removed the moisturizer from my routine and my skin started to clear up again.
Edit 9/11/2022 : When I increase the frequency that I use this serum, I notice that the top part of my sebaceous filaments gets a bit darker. Just as with increased irritation, I think this can be a side effect of Vitamin C overuse. So if this is something that happens to you, it could mean that you're using too much product or the application is too frequent.


Does this serum work on hyperpigmentation?
Regarding acne spots, it works superb! I got a couple on my chin area and was surprised at how fast this made them fade. Niacinamide works great for me too, but this had a faster effect. I'm also noticing brown spots are a tad bit lighter in color, which makes this very promising! If I see more results with brown spots I will update once I have finished the whole bottle.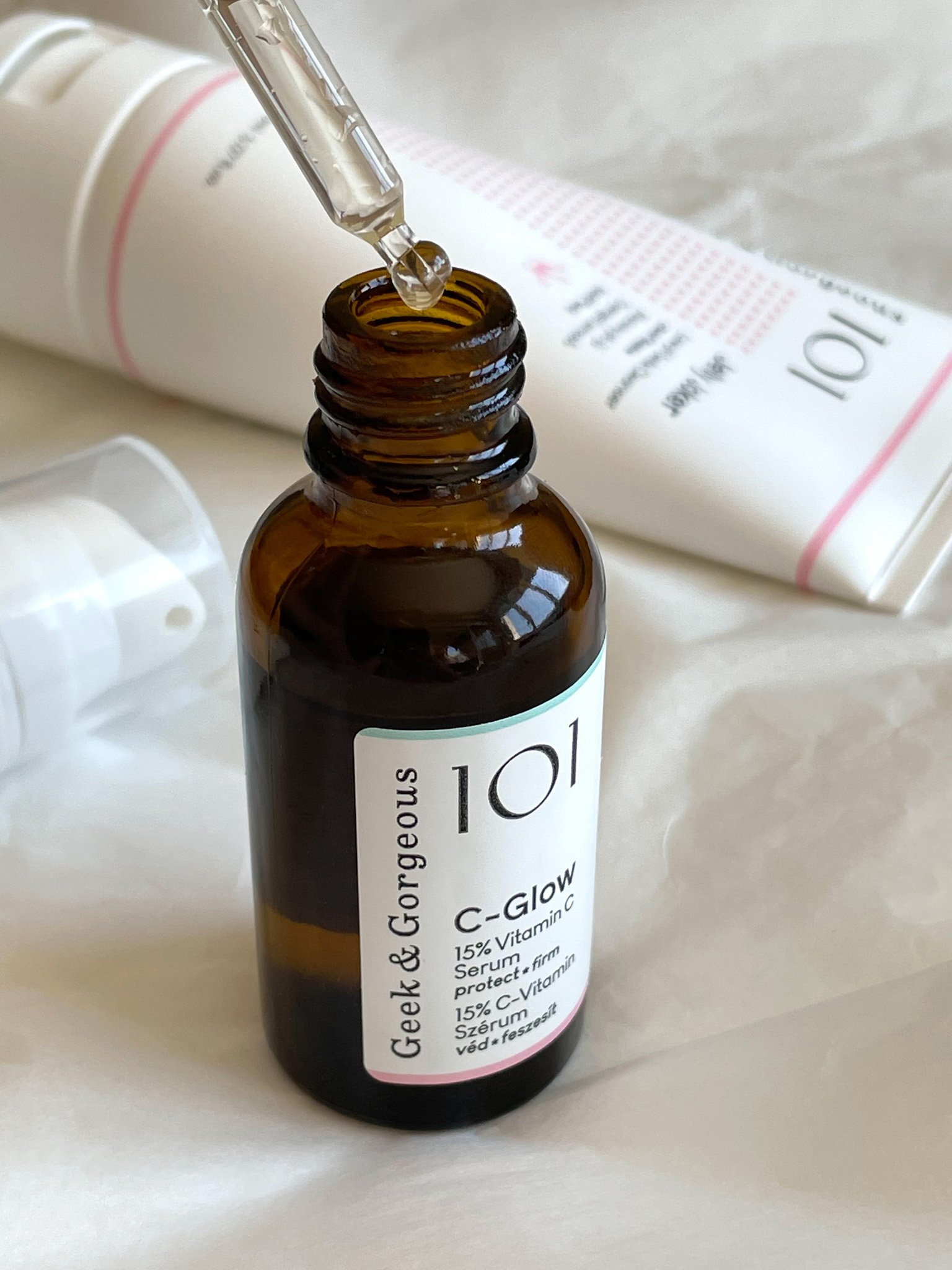 I don't get a glowy complexion from this serum. Just smoother and clearer-looking skin. It could be because it's not hydrating for dehyrated prone skin like mine (or dry skin) and gets absorbed completely.
The brand does not recommend it for skin that is prone to redness, because of the high % and acidic pH which could exacerbate the condition and cause more inflammation. Personally, it hasn't affected me thus far, but if you know you're sensitive it's better to look for gentler formulas.
The brightening effect is there, but it's not very long lasting or constant for me. My skin does look more even though (Will have to keep an eye on this and compare it long-term).
Something I noticed is that after I have applied the serum and it has fully set, when I rub my fingers together, it balls up. However, I don't notice this on my face at all, which is what matters. It doesn't happen even when I put on moisturizer or sunscreen.


Geek and Gorgeous Vitamin C Ingredients
The Geek & Gorgeous serum is formulated15% Vitamin C (Ascorbic Acid) – Clinically proven to increase collagen production (in concentrations 5-20%), reduce hyperpigmentation and boost UV protection under sunscreen.
Ferulic Acid – An antioxidant that is used to stabilize Vitamin C and has protective properties against UV damage (doubles the photoprotection abilities of the formula.)
Tocopherol (Vitamin E) – works in synergy with Vitamin C to provide photoprotection.
It doesn't contain alcohol, fragrance or essential oils.
Water, (L-)Ascorbic Acid, Dimethyl Isosorbide, Butylene Glycol, Peg/Ppg/Polybutylene Glycol-8/5/3 Glycerin, Ferulic Acid, Tocopherol, Phenoxyethanol, Ethylhexylglycerin, Sodium Hydroxide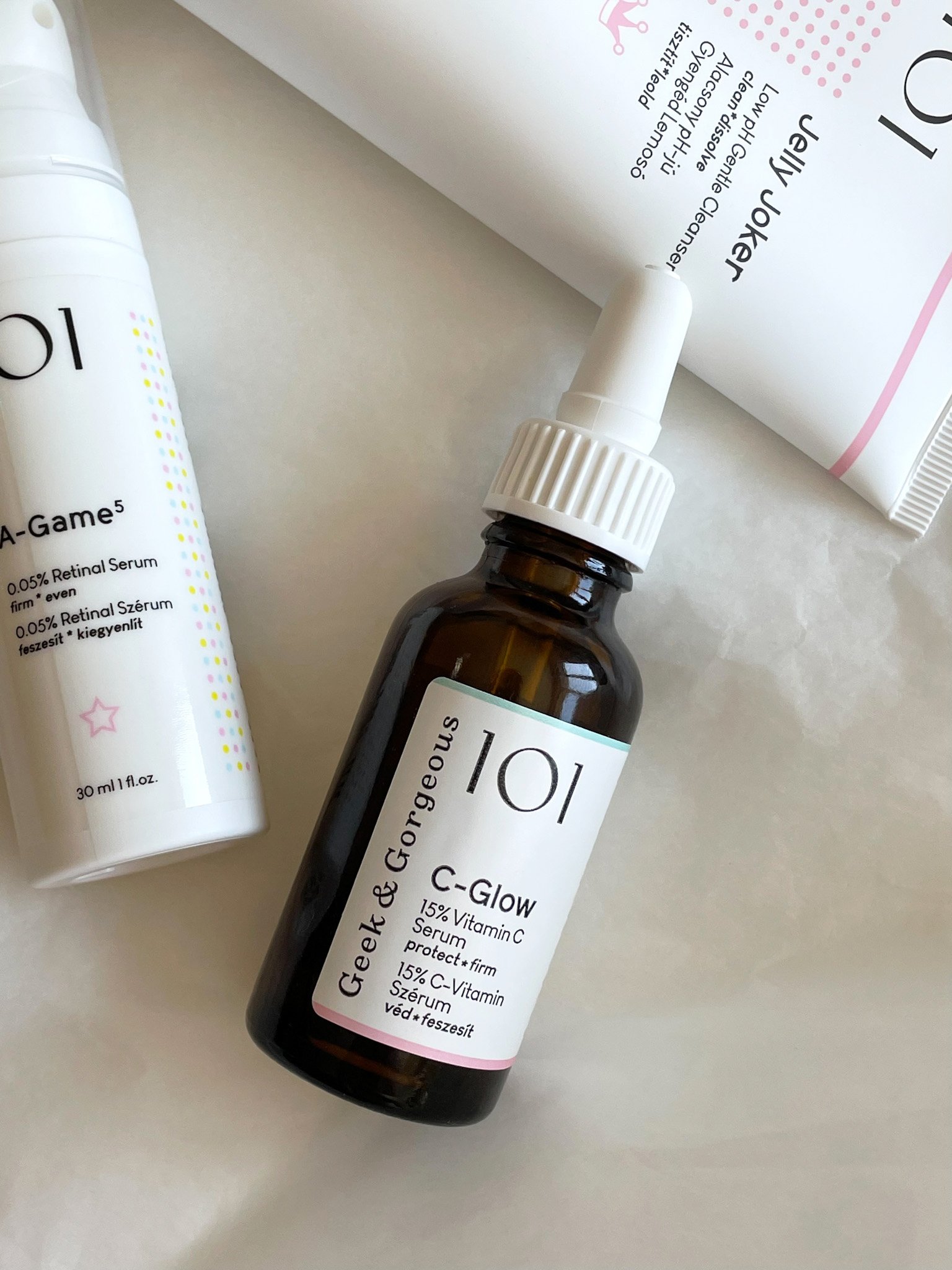 Final Verdict on the Geek & Gorgeous Vitamin C Serum
Pros
Lightweight watery texture.
Absorbs quicky.
Gets rid of skin bumps resulting in smoother skin texture.
Clearer and more even toned skin.
Somewhat brightening.
Fades acne spots faster and has promising results on brown spots too.
Anti-aging.
Alcohol and fragrance-free.
Suitable for all skin types, except for sensitive skin.
Cruelty-free & Vegan.
Affordable.
Cons
Not suitable for beginners of active ingredients or sensitive skin types, skin prone to redness, those with rosacea.
Not hydrating for dry skin.
Will oxidize quicker than 3 months if not kept in the fridge.
This Geek & Gorgeous serum ticks most of the boxes for an effective Vitamin C serum: The use of Ascorbic Acid, the right pH for the water-based formula, the addition of Ferulic Acid and Vitamin E to increase photoprotection and stabilize Vit C. And not only is it effective, but it's also one of the most affordable options out there. It is considered as one of the dupes for the SkinCeuticals C E Ferulic as well, which is the most researched Vitamin C serum to date, but its price is too steep.
I would repurchase this one, no doubt. Highly recommend it if you have resilient skin and can tolerate actives at this concentration.

Did you find the Geek and Gorgeous Vitamin C Serum Review helpful? What products have you tried from this brand?
Also read my reviews on the Geek and Gorgeous Jelly Joker Cleanser and A-Game 5 Retinal Serum.

---
*PR Sample – Product provided by Geek & Gorgeous, but opinions are completely my own.
*Affiliate Links – It means I may earn a small commission when you purchase a product through the links I have provided at no extra cost to you. See Disclosure Policy.
Related posts
Follow blog via Email
Get the latest posts from this blog delivered to your inbox!
About Me
Hi and welcome to Kbeauty Notes! :) I'm Ledia and I'm very passionate about everything skincare. I created this blog to share my thoughts and experience with many amazing and not so great products out there, hoping to help you make better decisions regarding your skin. I'm very happy to bring you on this journey with me and I hope you enjoy it! <3

My Skin Type: Oily, acne prone, dehydrated, a little sensitive, large pores.

Skincare Concerns: hydration, pore care, anti-ageing, PIE (acne marks), brightening.

Contact: kbeautynotes@gmail.com