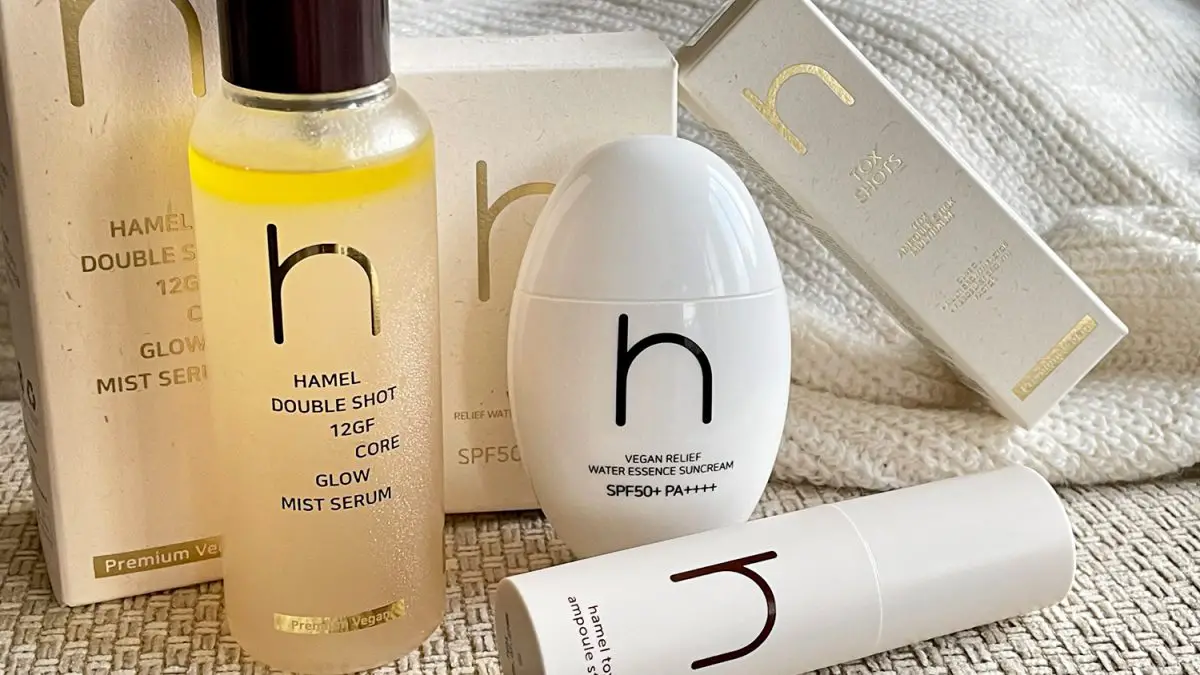 Do you like discovering indie K-Beauty brands? Just like most people I like trying anything that's popular out there, but after having found some gems in new or lesser-known brands, I get more and more curious to try products that have not been explored a lot. Oshen Skin was the first to introduce me to HAMEL 하멜, a vegan and cruelty-free Korean beauty brand that was launched in 2020.
I have already tried two of their sunscreens and was very excited when they sent me some new products to try: the HAMEL Double Shot 12GF Core Glow Mist Serum, Tox Ampoule Stick Multibalm, and a backup of my favorite – Vegan Relief Water Essence Sun Cream SPF50 PA++++.


Where to buy: You can find these at songofskin.com for USA and Canada (non-affiliate). International shipping is still not available on the brand's official site: hamelbeauty.com.


Hamel Double Shot 12GF Core Glow Mist Serum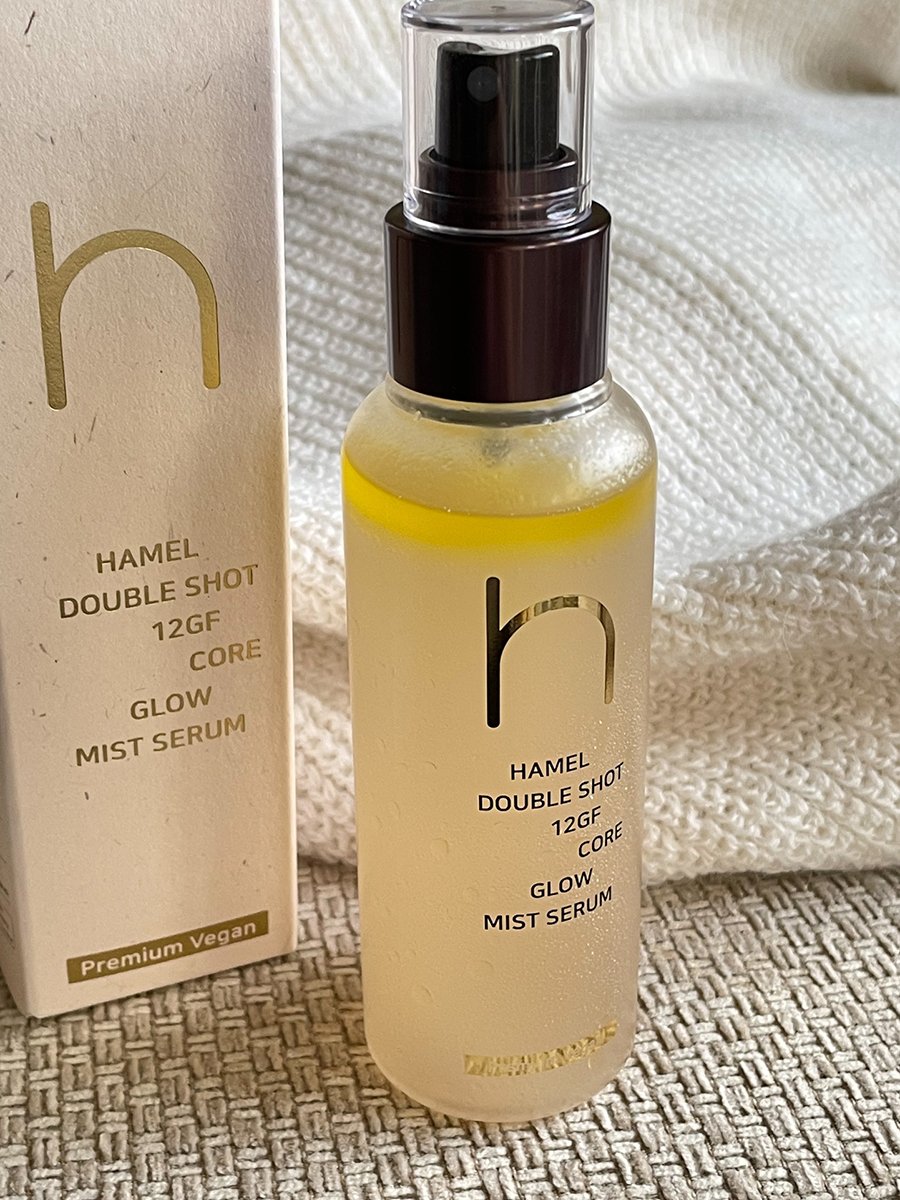 Price: $19-$28
Volume: 100ml (3.38 fl.oz.)
Packaging: Plastic bottle with a mist pump dispenser.

The unique double-layer formulation of this mist serum both hydrates and nourishes the skin. The top layer is full of nourishing oils and the bottom layer contains a powerful peptide complex. It is designed to help with wrinkles, skin radiance and imrove texture.


How to use
Shake the bottle so the oil and water layer mix well and spritz the product on the face as many times as needed from a distance. Tap until it's absorbed.
The mist can be used directly after cleansing, after a toner/another serum and even over makeup if you feel it looks dry. In hot humid weather would help refresh and cool down the skin.


Consistency
Despite having the oily layer, when mixed, the consistency is very lightweight and almost completely watery. Absorbs fast and doesn't feel sticky.


Scent
The scent is very pleasant and not overpowering. One of the reasons why I reach for this even when I don't need to use it.


Performance
First, I want to say that the mist sprayer is great! The mist comes out very fine as it's supposed to. I'm confident with applying this over my makeup. It leaves no weird film behind or tackiness. When I use this after cleansing, it absorbs very well and leaves my skin nicely hydrated and refreshed. So, I think it would work great for oily and combination skin types.
When I want another layer of nourishment, I always use it after my hydrating toner or serum and it does provide something extra in terms of how the skin feels. It adds a protective layer while being weightless. The skin feels much smoother to the touch.


Now, to the impressive part. Its formulation! The Double Shot 12GF Core Glow Mist Serum is packed with amazing ingredients. It has a complex of 10 peptides! They have a good mix of anti-aging, antioxidant, and anti-inflammatory properties.
It also contains a bunch of soothing agents.
No breakouts occurred while using this product. Those with sensitive skin types should keep in mind that this contains fragrance and a lot of ingredients.


Ingredients
Key ingredients: Tripeptide-29, Copper Tripeptide-1 (can help stimulate nice and healthy normal collagen production, antioxidant effects) , Palmitoyl Tetrapeptide-7 (reduces the production of a molecule that degrades collagen by causing inflammation), Hexapeptide-9 (anti-aging peptide that can visibly reduce the length and depth of wrinkles) , SH-Oligopeptide-1, SH-Oligopeptide-2, SH-Polypeptide-1, SH-Polypeptide-9, SH-Polypeptide-11, Acetyl Hexapeptide-8 (Argireline).
Niacinamide (anti-aging, skin lightening, anti-inflammatory) and Sodium Ascorbyl Phosphate (SAP – vit C derivative) as anti-acne.
Antioxidant and soothing: Witch Hazel Extract, PurslaneExtract, Centella Asiatica, Houttuynia Cordata Extract, Panthenol, Beta-Glucan, Copper Tripeptide-1, Allantoin.
Free of alcohol but contains fragrance.
Find the full ingredients list: HERE.

Hamel Tox Ampoule Stick Multibalm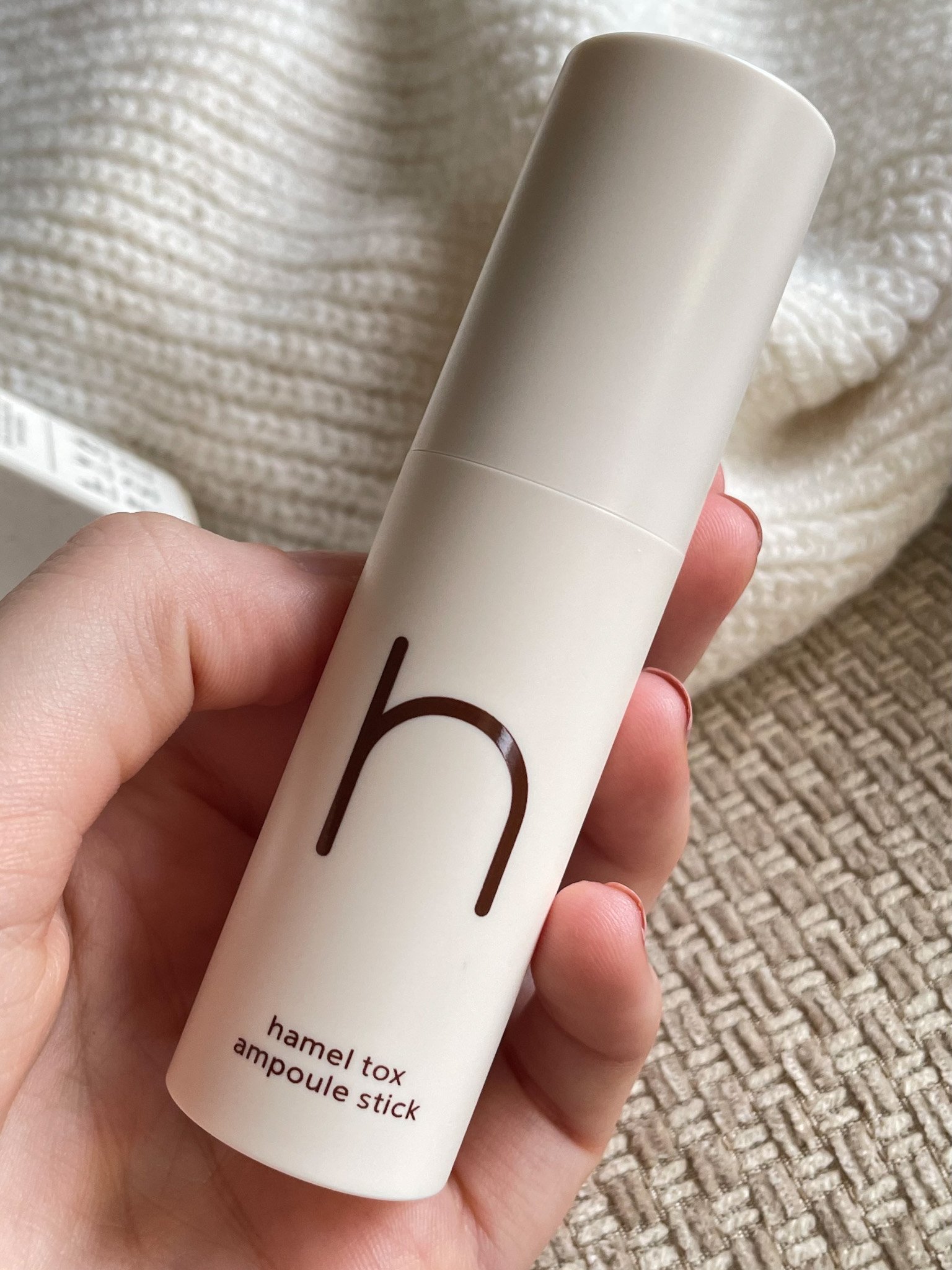 Price: $19-$33
Volume: 10g
Packaging: Twist type plastic tube.
Multi-balm sticks are a relatively new concept and are designed to be convenient and used in multiple ways. The Tox Ampoule Stick MultiBalm has a similar antiaging formula as the mist serum but it comes in a balm form. It's supposed to help with wrinkle improvement, skin elasticity and moisturizing the skin.


How to use a multi-balm stick?
Here's the fun part about multibalms. You can use them wherever you feel is needed. It can be applied on cheeks or dry parts of the face. It can go under the eyes, smile lines and forehead lines. Can be applied on sensitive areas of the face before using retinoids.
Use it before makeup application for a smoother texture. Works as a lip balm too (on clean lips) with added antiaging benefits. And last but not least, neck lines!


Consistency
Very nourishing balm consistency that gives a dewy finish. It will only feel temporarily sticky when applied on top of other skincare. I don't experience any stickiness when I use it on my neck, back of hands or cleansed skin.
Also, the oil content in it is high, of course. So, it would be perfect for drier skin types that lack lipids!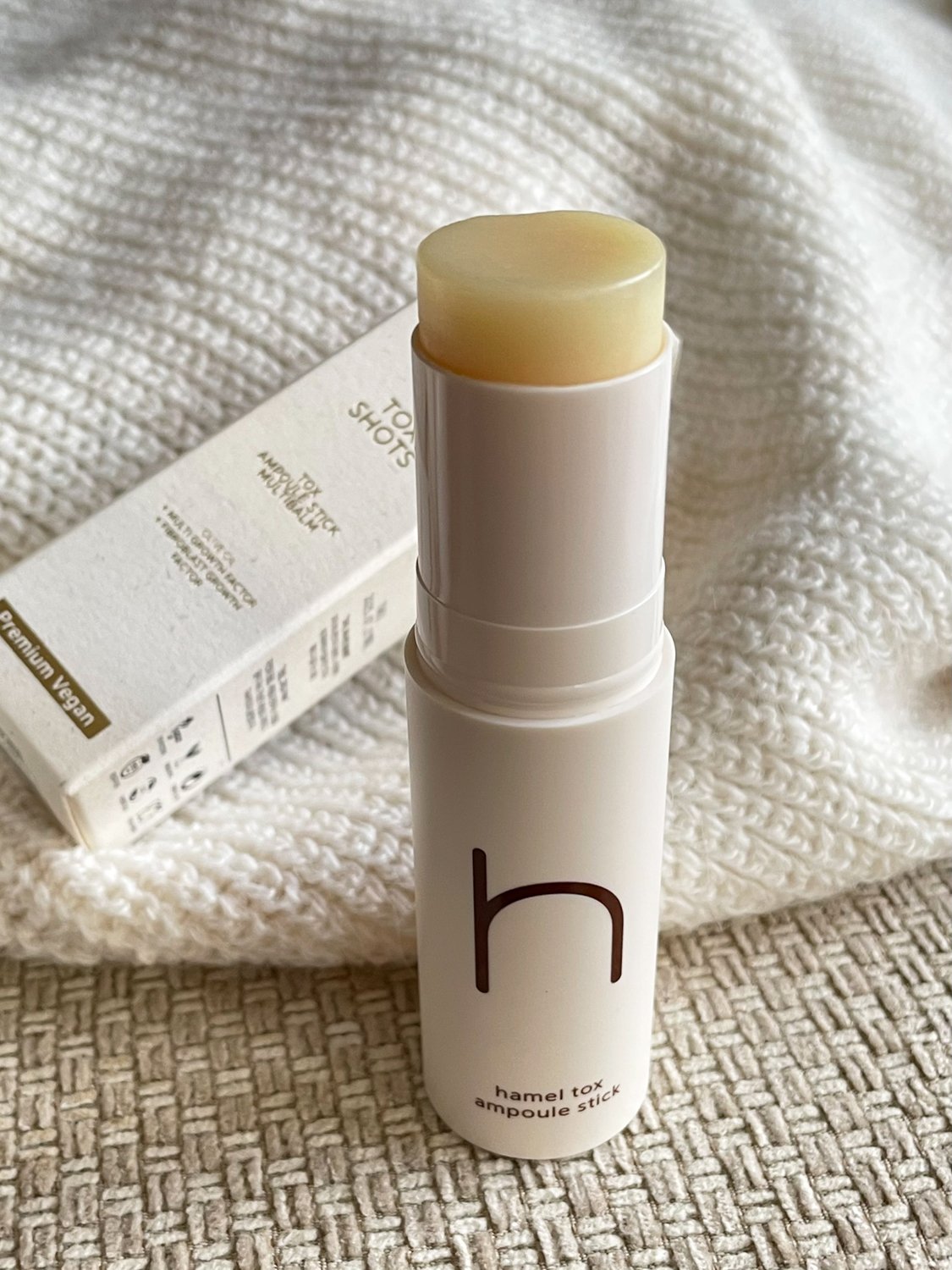 Scent
Similar scent with the mist serum. At first, I didn't think much of it but I'm starting to enjoy smelling it. Not strong at all. This balm too contains fragrance.


Performance
As a K-drama fan, I've been wanting to try a balm stick for the longest time. I don't see it as an absolutely necessary product, but I like the concept. And I thought, maybe I wouldn't use it much, but it has proved to be useful for me especially now in winter.
In the daytime I can only use a bit of it under makeup otherwise it will get greasy on me. But using just a bit over pores and areas that tend to dry out, makes my base makeup look smoother and the skin plumper.
If you have dry skin (live in a cold climate) and don't wear makeup, this will be great to take with you and apply when needed. I like the fact that you don't need to touch the product for application. It'll be very convenient and it's hygienic.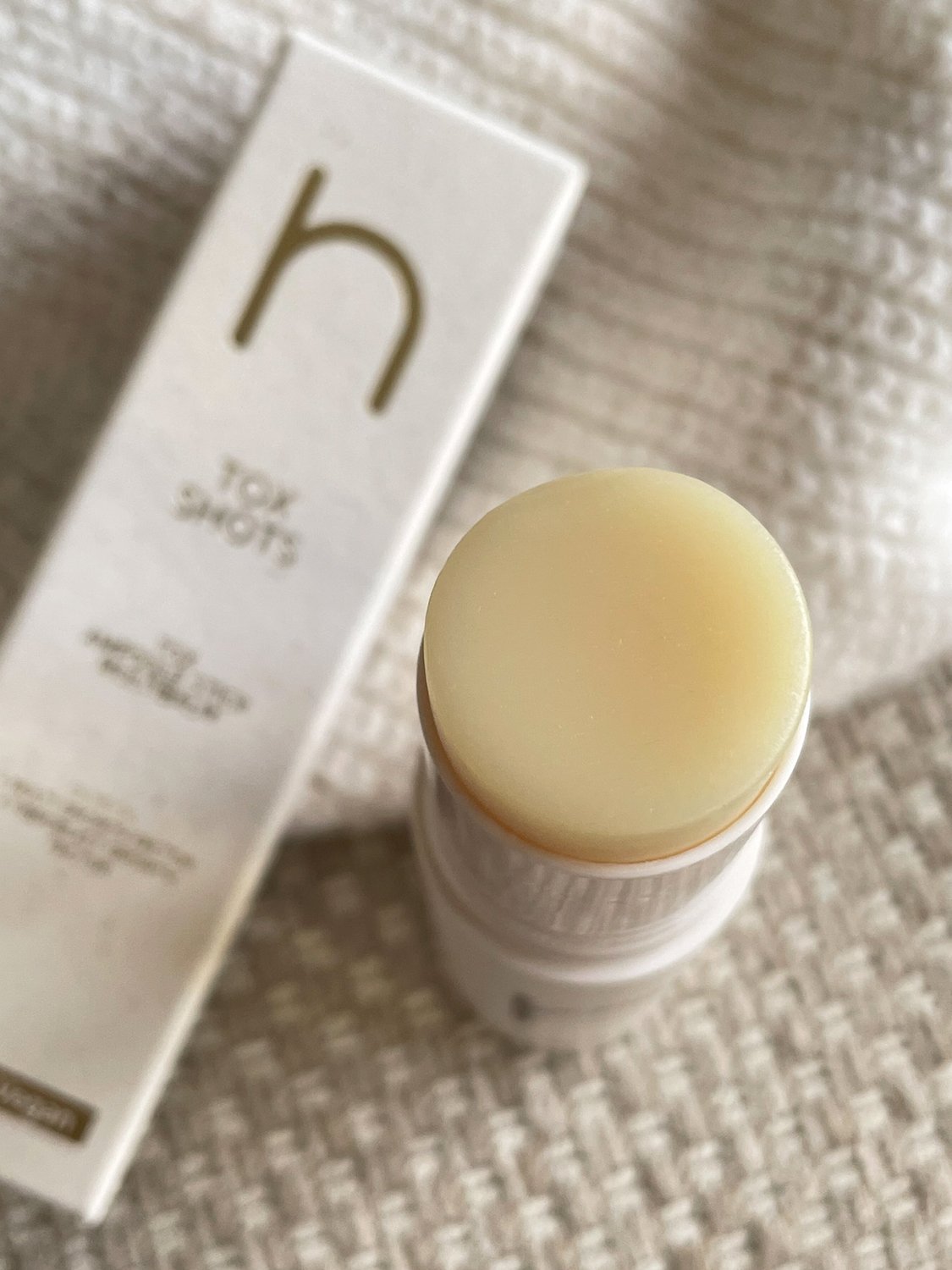 I like applying it under the eyes as well, but I do so very lightly and not that often, because I'm prone to milia and I want to avoid that.
Since the balm is nourishing and forms a protective layer, it helps prevent transepidermal water loss. The skin stays moisturized for a long time. Again, those with dry skin will find this very useful.
As for application, the balm needs to be warmed up at first, so it won't tug the skin. To prevent that, I start applying it on my forehead and then the sides of my nose. Then I continue the application with short strokes on my smile lines, cheeks and under the eyes. I use a very light hand and lightly rub the product with my fingertips afterwards.
Didn't break me out or cause irritation.


Ingredients
Key ingredients: Adenosine, SH-Oligopeptide-1, SH-Oligopeptide-2, SH-Polypeptide-1, SH-Polypeptide-9, SH-Polypeptide-11, Tripeptide-29, Copper Tripeptide-1, Palmitoyl Tetrapeptide-7, Hexapeptide-9, Acetyl Hexapeptide-8
Anti-acne: Tea Tree Leaf Oil
Squalane (emollient), Sodium Hyaluronate (humectant).
Soothing and antioxidant: (-)-Alpha-Bisabolol, Witch Hazel Extract, Tea Tree Leaf Oil, Copper Tripeptide-1, Olive Fruit Oil, Vitamin E.
Free of alcohol but contains fragrance.
Find the full ingredients list: HERE.

Final Verdict on the 12GF Core Glow Mist Serum & Tox Ampoule Stick Multibalm
Lovely duo! I don't usually use mists because I get the needed hydration from other products like toners, but this one has some great added benefits like anti-aging, antioxidant and anti-inflammatory so I really like using it. I'm also enjoying the multi-balm more than I thought I would. I keep reaching for it because it's very convenient to use. Also seems to be a great product for wintertime! I noticed I tend to use it on my neck lines a lot. This is something I usually neglect with regular skincare. Those with sensitive skin should be aware that these contain fragrance and have a long ingredient list.

Did you find the Hamel Double Shot 12GF Core Glow Mist Serum & Tox Ampoule Stick Multibalm Review helpful? What products would you like to try from the brand?

---
*Sponsored – by HAMEL, but opinions are completely my own.


Related posts
Follow blog via Email
Get the latest posts from this blog delivered to your inbox!
About Me
Hi and welcome to Kbeauty Notes! :) I'm Ledia and I'm very passionate about everything skincare. I created this blog to share my thoughts and experience with many amazing and not so great products out there, hoping to help you make better decisions regarding your skin. I'm very happy to bring you on this journey with me and I hope you enjoy it! <3

My Skin Type: Oily, acne prone, dehydrated, a little sensitive, large pores.

Skincare Concerns: hydration, pore care, anti-ageing, PIE (acne marks), brightening.

Contact: kbeautynotes@gmail.com