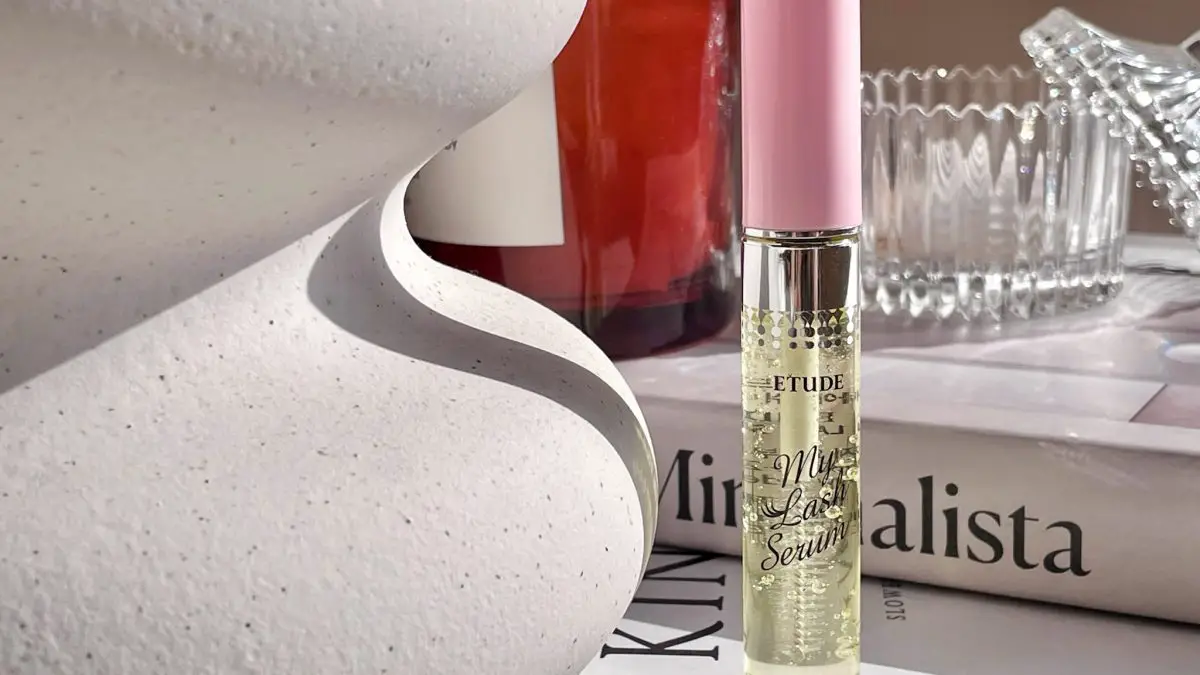 The long-awaited review of the ETUDE My Lash Serum is finally here! Up until about a year ago, I haven't had any problems with my eyelashes. However, I began noticing that some areas of my lashes were breaking off for some reason and the inner parts were considerably shorter than they used to be.
In search of a solution, I couldn't help but notice the myriad of lash growth serums on the market. Yet, I hesitated to join the bandwagon because I tend to be skeptical of products that promise to stimulate growth or alter something without substantial research backing them, especially when it involves the delicate eye area. I'm relieved that I took my time before diving into the world of lash serums because I discovered that some of these products contain an ingredient with potentially adverse effects.
Keep reading to learn more as I share my experience with the ETUDE My Lash Serum, shedding light on its efficacy and safety.


Where to buy: You can purchase it at Yesstyle (use reward code: KBEAUTYNOTES for an extra 2-5% OFF your order), Stylevana (discount code: INF10LED), BeautyNetKorea (discount code: BNKLEDIA), and Jolse.
Price: $5-$7
Volume: 9g / 0.31 oz.
PAO: 12 months.
Packaging: This product comes in a slender tube featuring a pale pink and transparent design. The serum is dispensed through a mascara-like brush applicator, which allows for precise and controlled application to the lashes.
About the ETUDE My Lash Serum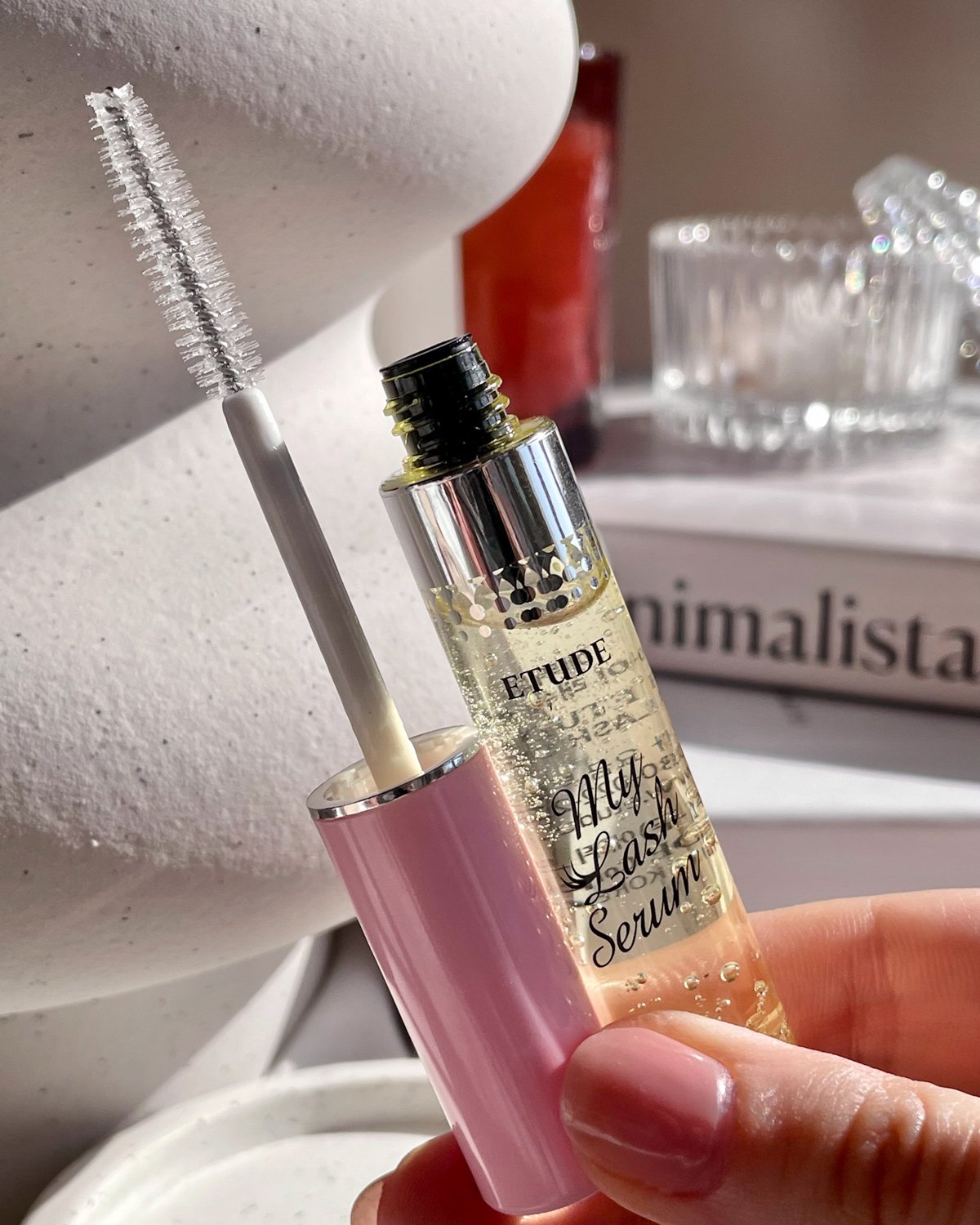 ETUDE My Lash Serum aims to restore brittle lashes to health with its potent formula infused with Biotin, known for its ability to encourage lash hair growth. Designed in a quick-absorbent gel formula, this serum ensures there's no sticky residue left behind, making it an ideal addition to your evening skincare routine.
How to Apply Lash Serum
To achieve the best results, follow these steps:
In the evening, ensure your lashes are clean, and then use the mascara brush applicator to apply the serum, making sure to coat the lashes thoroughly.
Here's a helpful tip: Begin by applying the serum to the tips of your lashes first. After that, use the remaining product to start at the roots. I recommend this approach because the brush can pick up a substantial amount of product, and starting at the roots might inadvertently cause some discomfort if the serum gets into your eye. This application method minimizes that risk.
Additionally, it's crucial to ensure your lashes are exceptionally clean and free of any mascara residue. This prevents the brush from picking up mascara specks, which could potentially contaminate the serum.
Do Lash Serums Work?
As I mentioned earlier, many lash serums that claim to enhance eyelash growth often contain an ingredient known as prostaglandin or prostaglandin analogs. (You can search the full list of these ingredients on Google.)
While these ingredients can be effective in promoting eyelash growth, in my opinion, the potential risks associated with them outweigh the benefits. Some of these risks include irritation, dry eyes, redness, blurry vision, darkening of the eyelids, and even the loss of orbital fat. Therefore, I tend to steer clear of products containing these ingredients.
In contrast, other lash serums typically incorporate biotin and peptides to strengthen and maintain lash health. The Etude lash serum, in particular, contains only biotin and is free from prostaglandin or prostaglandin analogs, which, in my view, makes it a safe choice.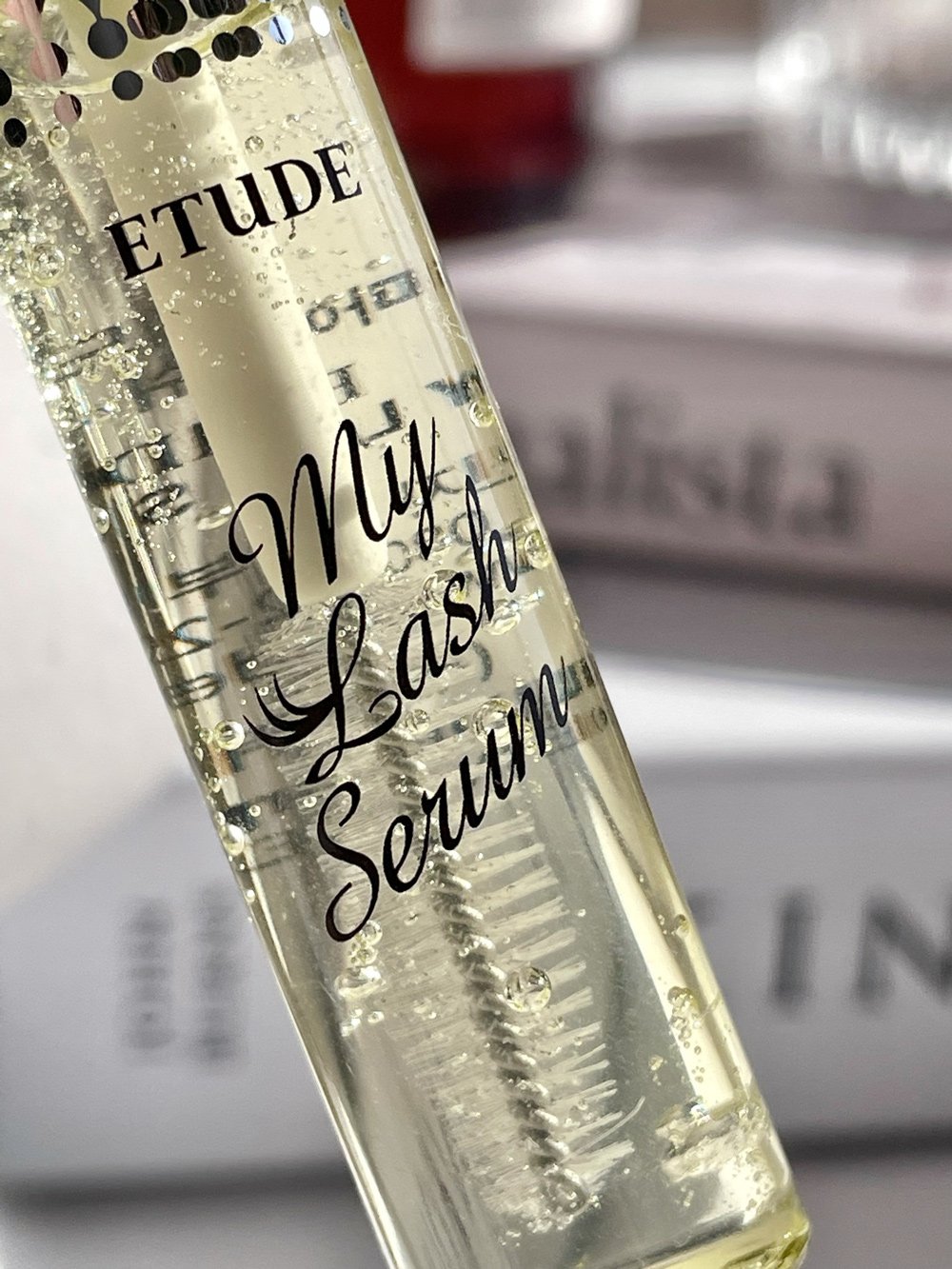 Performance
Now, let's address the critical questions: Does the Etude lash serum actually deliver results, and is it safe to use? When I first bought this serum, I honestly didn't have high expectations.
In fact, I wasn't very consistent with its application for a while. However, after 1-2 weeks of consistent use, I started to notice some significant changes.
What caught my attention was the improvement in my lower lashes and the inner corners of my upper lashes. They weren't growing beyond their genetic limitations, of course, but they were undoubtedly looking a lot longer and healthier. I was genuinely surprised when I applied mascara after using the serum consistently. The contrast in length was strikingly noticeable.
For individuals who frequently rub their eyes or regularly use mascara, lashes are more prone to breakage and falling out. The Etude Lash serum appeared to be the solution I needed. It kept my lashes in excellent condition, making them noticeably longer, stronger, and healthier.
Also Read: PERIPERA Ink Black Cara Review
It's worth noting that the serum's coating effect also contributes to the appearance of fuller lashes. The consistency of the serum is just right – not too runny, so you won't have to worry about it running into your eyes. It feels incredibly comfortable, as if you're not wearing anything on your lashes at all. And the best part? No blurry vision.
So, it's not just that the Etude lash serum is safe to use, but it also delivers results! At least, that's been my experience. And if you check the reviews on YesStyle, you'll find that it has more than 12,000 reviews with an impressive 4.4 rating. That surely says something, doesn't it?
Ingredients
Water/​Aqua/​Eau, Glyceryl Polymethacrylate, Butylene Glycol, Glycerin, 1,2-Hexanediol, Lithium Magnesium Sodium Silicate (Nano), Ammonium Acryloyldimethyltaurate/​VP Copolymer, Caprylyl Glycol, Disodium EDTA, Ethylhexylglycerin, Alcohol, Camellia Sinensis Leaf Water, Zingiber Officinale (Ginger) Root Extract, Biotin, Tocopherol
Final Verdict on the ETUDE My Lash Serum
Pros
Lightweight consistency, not runny.
Comfortable on.
Grows lashes to their optimal length.
Makes the lashes look fuller.
Prevents breakage and fall off.
Keeps lashes healthy and strong.
Safe to use.
Cons
May cause some discomfort for those with sensitive eyes if it gets inside the eye.
I was prepared to say that a lash serum is not a necessity in your daily routine, but the results I've observed have led me to highly recommend it to anyone seeking healthier, more resilient lashes. For individuals with particularly sensitive eyes, trying the application method I suggested may assist in minimizing any potential irritation. And even if that approach doesn't work for you, the affordability of this product makes it well worth giving it a try!

Did you find this ETUDE My Lash Serum Review helpful? Have you tried it?

---

*Affiliate Links – It means I may earn a small commission when you purchase a product through the links I have provided at no extra cost to you. I purchased this product myself.
Related posts
Follow blog via Email
Get the latest posts from this blog delivered to your inbox!
About Me
Hi and welcome to Kbeauty Notes! :) I'm Ledia and I'm very passionate about everything skincare. I created this blog to share my thoughts and experience with many amazing and not so great products out there, hoping to help you make better decisions regarding your skin. I'm very happy to bring you on this journey with me and I hope you enjoy it! <3

My Skin Type: Oily, acne prone, dehydrated, a little sensitive, large pores.

Skincare Concerns: hydration, pore care, anti-ageing, PIE (acne marks), brightening.

Contact: kbeautynotes@gmail.com