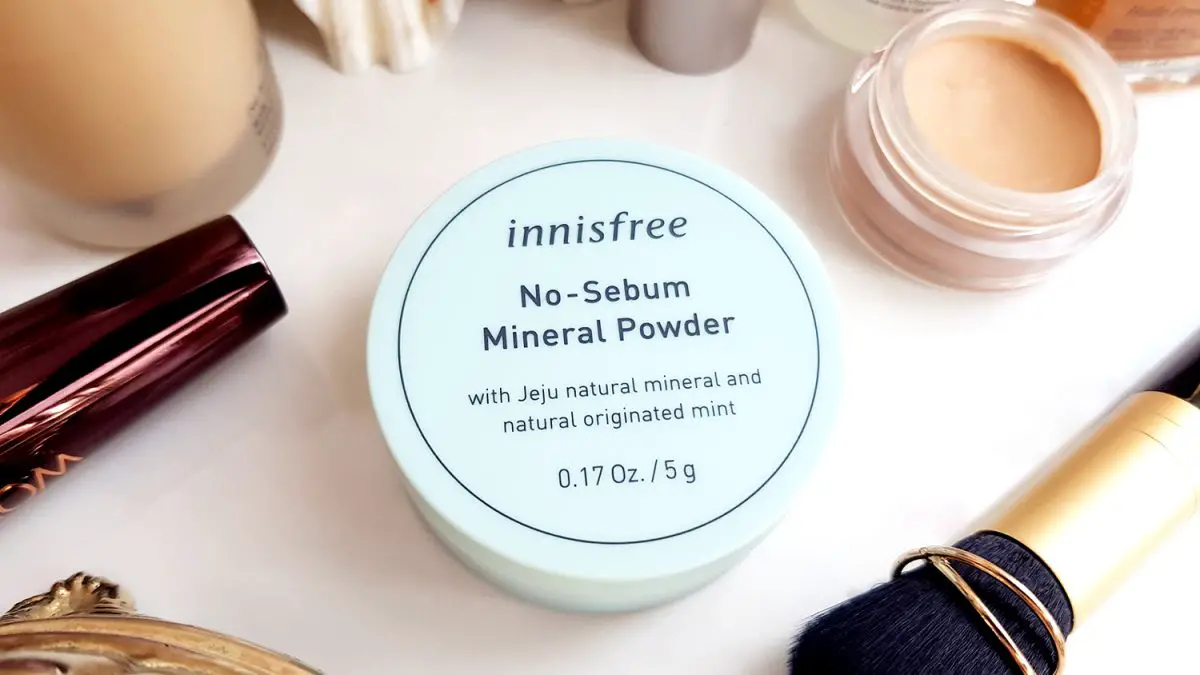 Many of you know the Innisfree No Sebum Mineral Powder has already been out for years now. It has also won many awards and almost every korean girl has this powder. That's saying a lot. Anyway, I don't really use powders that much, but thought to give it a try and make use of it for some of my concern areas. I have oily skin, however I don't go for a matte look. I gravitate towards a glowy or satin-like finish and sometimes that glow can transform into grease in a matter of hours. And, nobody wants that.


Description
Innisfree No Sebum Mineral Powder is a super fine translucent powder. It contains 5g of product.
The No-Sebum line is a base makeup line featuring excellent sebum control to keep your skin smooth and matte all day, containing nature-derived mint extracts and mineral salt made from lava seawater created by Jeju lava for over hundreds of thousands of years. It covers blotchy makeup or greasiness, making your skin smooth and matte.


Application
This comes with a circle puff applicator, but I use a fluffy powder brush to apply it. This way I can get a more even application and build it up to my liking. I find it's easier to use when getting out the powder onto the cap by giving it a slight shake.
I have oily skin, but the places where I like to use it is my T-zone, very slightly on my cheeks and on my eyelids.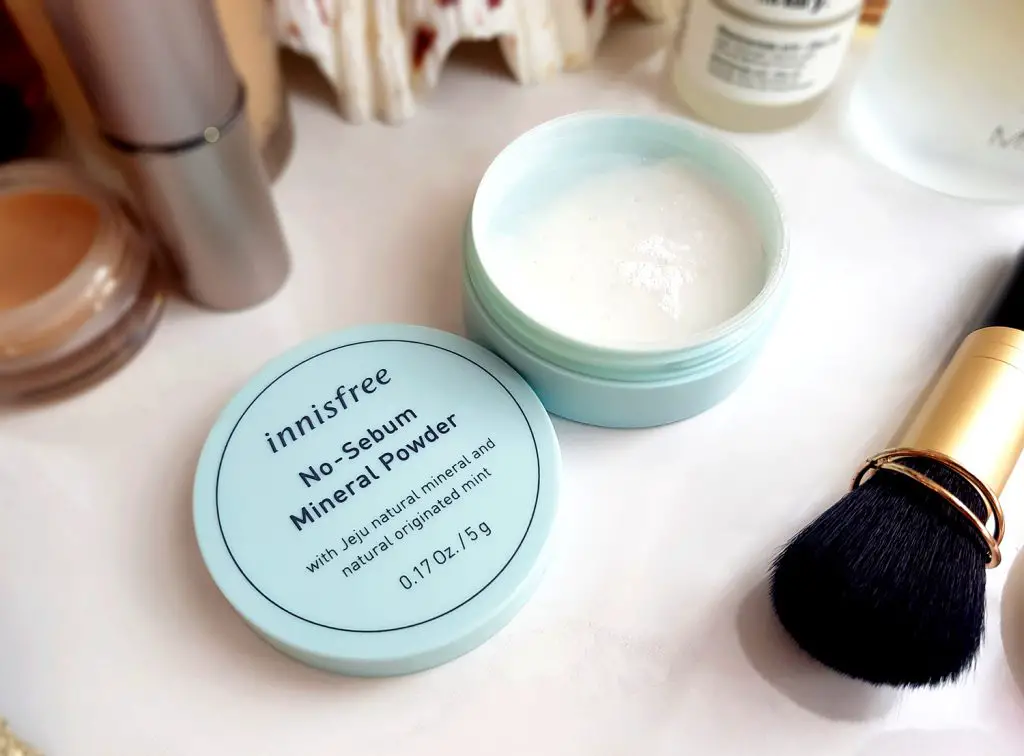 Performance
It's very fine, not clumpy and easy to get out of the container. It gives the skin a blurred effect and doesn't seem to dry it out.
Sets the makeup without making it look cakey and keeps it in place. The oil is absorbed pretty well. The sebum on my skin starts to resurface after the 4 hour mark. It's decent, but not the best in this regard. Depending on the season, I'm sure it'll last longer in colder months. I find it very easy to touch up. I don't do baking so there isn't any advice I can give you on that. Nonetheless, it's not intended for that purpose.
My skin is fair and it applies sheer, hence I don't notice any whitecast. However, this is something I would be wary of if your skin tone is deeper. I have watched a couple of videos of deeper skin girls who have applied it and had no whitecast issue whatsoever. If you could get your hands on it to test it out, would be even better.
I would not recommend it for dry skin types to set your makeup with it, unless you're moisturizing your skin well. It can look a bit patchy on dry areas of the face.
The main purpose I use this for is oil control and it does a decent job. I don't apply lots of it since the beginning because I don't want to go for a matte look. I like having a nice sheen or glow. But when I moisturize too much this helps adjust the level of glow that I like. Also, my eyelids get very oily in the summer, so this is great to help prevent that.
Have not tried it myself, but I've heard people say this gives you flashback if you're taking pictures with flash at night.
It has a minty scent, which disappears quickly. It doesn't bother me in the least.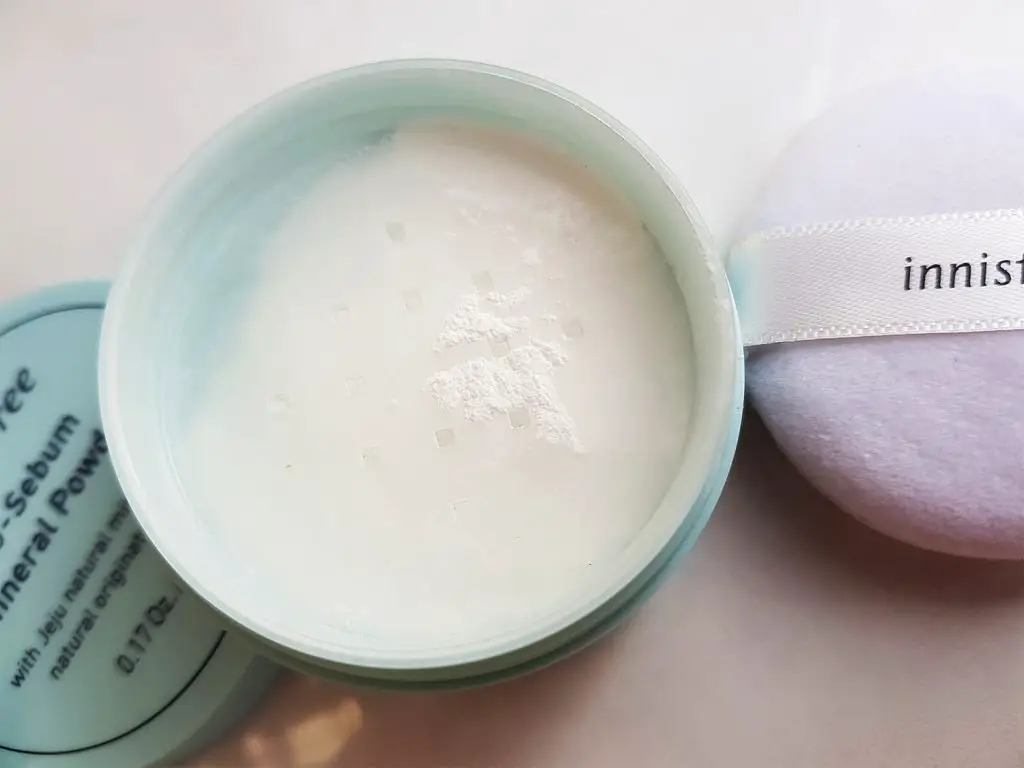 Ingredients
No parabens, artificial pigment, animal ingredients, mineral oil, artificial fragrances or talc.
Silica, Modified Corn Starch, Dimethicone/vinyl Dimethicone Crosspolymer, Caprylic/capric Triglyceride, Mica, Green Tea (Camellia Sinensis) Leaf Extract, Mint (Mentha Arvensis) Leaf Extract, Mineral Salts, Ethylhexylglycerin, Glyceryl Caprylate, Dimethicone, Ethylene/acrylic Acid Copolymer, 1,2-hexanediol

Final Verdict
Pros
Very finely milled powder.
Natural, smooth finish.
Sets the makeup in place.
Good oil control.
Lasts for a decent time.
Doesn't make the makeup look cakey.
Most suitable for combination, oily skin.
Compact size, travel friendly.
Affordable.
Cons
Possible whitecast for deeper skin tones.
Gives you flashback.
Dry, mature skin should avoid.
I'm not amazingly impressed by it, but it's a very good loose powder. It does the job well for all the purposes that I need it to work. Also, at this price point for 5g of product, it's a steal! The only downside is the flashback. If you're someone that goes out in the evenings and likes taking a lot of pictures, this won't be for you. Avoid using it on special events where you'll be photographed. It's completely fine as an everyday powder though. Personally, there is absolutely no reason for me to not re-purchase this.

Where to buy: Want to purchase the Innisfree No Sebum Mineral Powder? You can find it at Stylevana* for $6.19. Available at Stylekorean* as well, for $5.50 and Jolse* offers it for $6.94.

Have you tried this powder? If not, do you have a favorite loose powder that you're currently using?


---

*Affiliate links. It means I earn a small commission when you purchase a product through the links I have provided. You will not be charged extra if choosing to do so. The product has been purchased with my own money and I will always share my honest opinion and experience. Sincerely thankful to all of you that support my blog! For more information, see Disclosure Policy.


Related posts
Follow blog via Email
Get the latest posts from this blog delivered to your inbox!
About Me
Hi and welcome to Kbeauty Notes! :) I'm Ledia and I'm very passionate about everything skincare. I created this blog to share my thoughts and experience with many amazing and not so great products out there, hoping to help you make better decisions regarding your skin. I'm very happy to bring you on this journey with me and I hope you enjoy it! <3

My Skin Type: Oily, acne prone, dehydrated, a little sensitive, large pores.

Skincare Concerns: hydration, pore care, anti-ageing, PIE (acne marks), brightening.

Contact: kbeautynotes@gmail.com