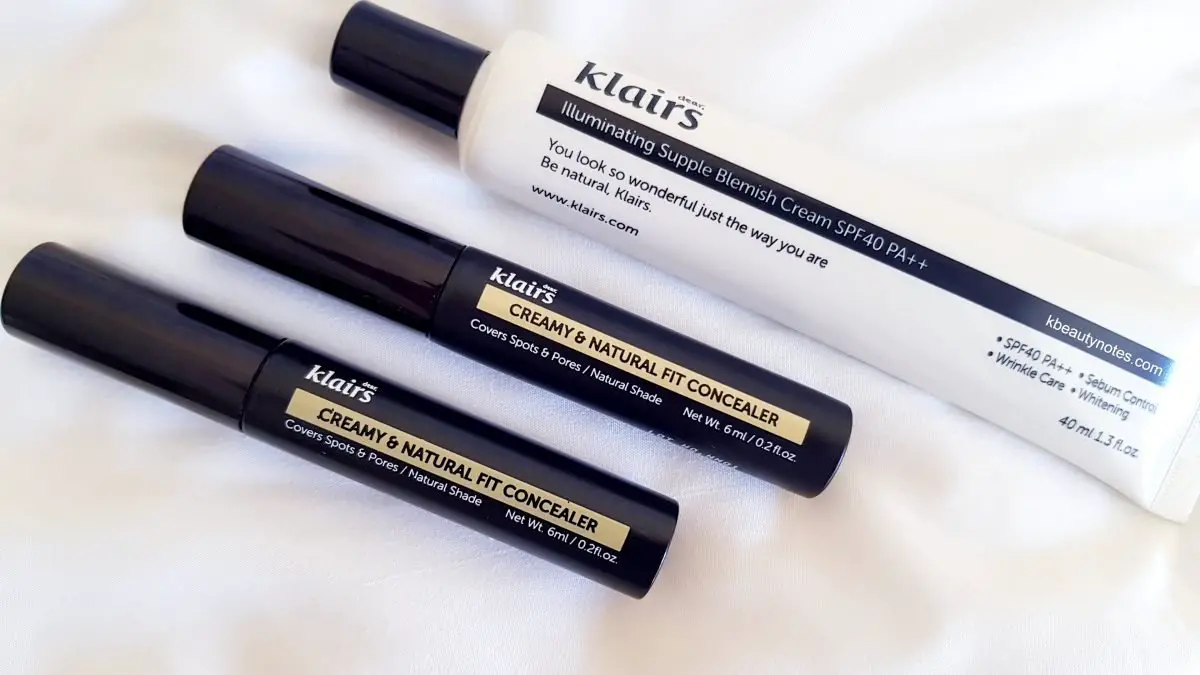 Usually, for base makeup I just like wearing my bb cream/cushion in the morning and be satisfied with how my skin looks. Despite the imperfections I like a natural look and I don't mind my blemishes or dark circles slightly peeking through the makeup as long as my skin looks even and healthy. Because I liked the Klairs Illuminating Supple Blemish Cream SPF40 PA++ I decided to purchase their concealer to see how it works. Although the shades of both the bb cream and concealer work well for me, I'd prefer they came out with more shades. That being said, let's get into the review!


Description
The Creamy & Natural Fit Concealer is made with natural ingredients and absolutely free irritating chemicals for a naturally effective formula. It hydrates and soothes while providing excellent coverage to conceal pores, blemishes, redness, and any target areas – ideal for even the most sensitive skin. It contains 6ml / 0.2fl.oz.


Application
I use the Klairs concealer either after or before BB cream or foundation. Other times I use it on its own. The texture is creamy so you can easily use your fingers to apply it on the areas that you need it, but works just as well with a brush. Mostly I use my fingers for added coverage. It's super easy to blend either way.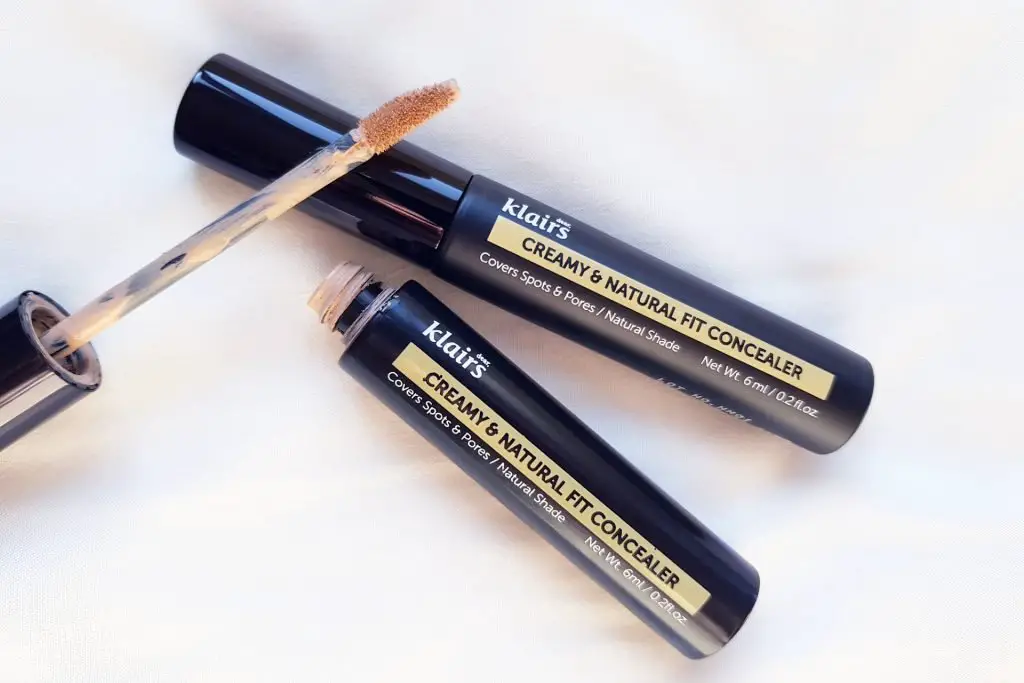 Performance
Texture: The texture of this concealer is creamy and goes on smoothly. Not only blends like a dream, but also adheres so well to the skin. It doesn't matter whether you use your fingers or your brush because you'll get a similar flawless application.
Finish: The finish it gives with minimal skincare is satin-like. It gives the skin a healthy sheen without it looking overly dewy. Doesn't settle into the fine lines under my eyes or around the mouth area. Even after hours of having this on there is no creasing happening.
Coverage: Medium-ish coverage. Buildable, but not to full coverage. It won't be able to cover acne, but blurs and makes blemishes look faded. Evens out the complexion, covers the redness on my cheeks perfectly and my dark circles look way less visible. This concealer covers my pores and makes them look just how I want them to. You don't notice the product settle into the pores like many other base products do, but looks blended and the pores are covered beautifully. So, all of you ladies out there who have large visible pores like me, would really like this.
Lasting Power: It lasts on my skin around 4-5 hours. That's pretty good. Reapplication is very easy because when it removes, it doesn't go patchy but melts into the skin. Hence, it's easy for me to pop this out and reapply it with my fingers or a brush.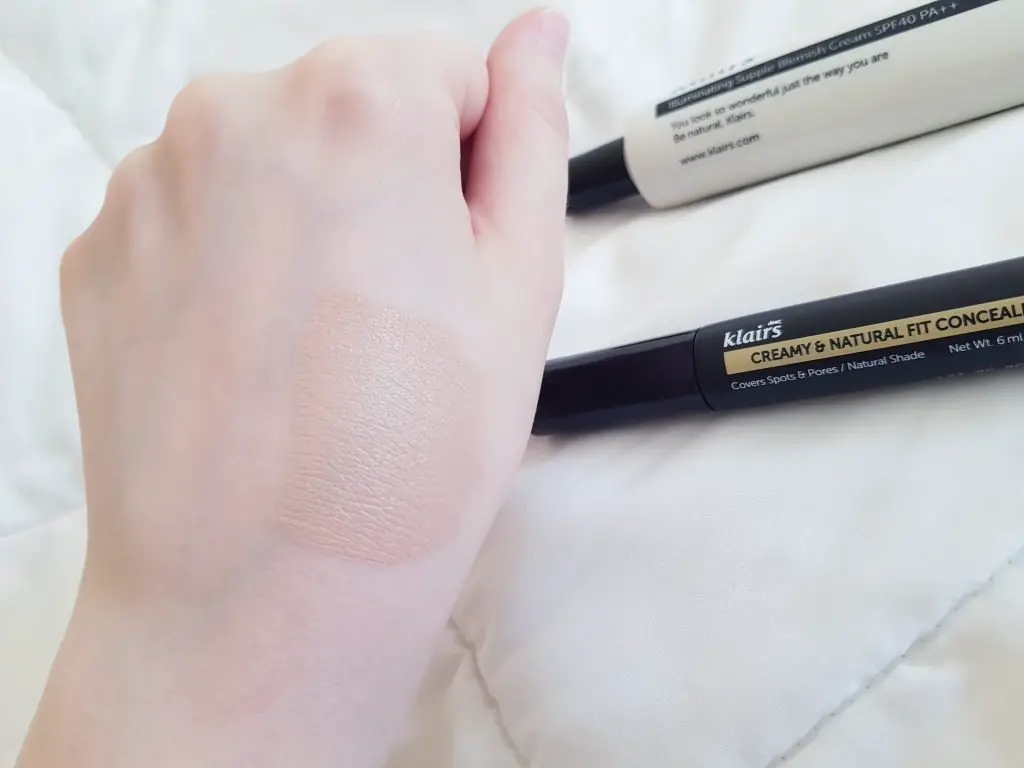 The Klairs concealer works well with the Klairs BB Cream and other base products. It's darker in color than the bb cream but blended together they work great. It's hydrating but doesn't become greasy on me. On days when my skin feels a little more dehydrated, this doesn't look dewy, but still there is no creasing or settling into fine lines. Usually, I can make this work with 2 layers of toner under and I'm good to go. Sometimes I like to use this all over my face. Does anyone else do this with concealer?
It didn't irritate me and hasn't broken me out. Because a lot of concealers are very thick in texture (also depending on their ingredients), I have experienced breakouts from a few of them before.
The only thing is that after some uses I thought the product inside was all used up. Hence, I put it upside down and made sure to twirl the brush inside well. Doing this I got many more uses out of it and still haven't finished it. I also apply this on large areas of my face.


Ingredients

Final Verdict
Pros
It's creamy, feels hydrating, but not greasy.
Easy to blend and looks natural (medium-ish coverage).
Makes the complexion look even and smoothes skin texture.
Doesn't cake or crease.
Lasts a decent amount and it's very easy to reapply.
Goes on so well on large pores and doesn't settle into them.
Suitable for all skin types.
No breakouts.
Cruelty free and Vegan Friendly.
Cons
It comes in only one shade.
Will not cover acne.
In conclusion, this is a great everyday hydrating concealer. Looks very natural, evens out your skin tone and applies smoothly on the skin. There is no creasing and doesn't become cakey. I would say this is suitable for all skin types. The more products you layer under the more dewy it will look, so try to adjust that according to your liking. I can do a minimum of 2 layers of toner and the finish would be satin-like with a very subtle glow. So, just because it's hydrating doesn't mean it will look dewy. Hence, I like the fact that I can play around and adjust that. As you can see I've already purchased a backup for it. This says it all!

Where to buy: If you'd like to purchase the Klairs Creamy & Natural Fit Concealer, you can find it at Stylevana* for currently $13.99.

Have you tried the Klairs concealer? If not, would you like to try it? Share your thoughts in the comments!


---

*Affiliate links. It means I earn a small commission when you purchase a product through the links I have provided. You will not be charged extra if choosing to do so. I've purchased this product myself and I'll always share my honest opinion and experience. Sincerely thankful to all of you that support my blog! For more information, see Disclosure Policy.
Related posts
Follow blog via Email
Get the latest posts from this blog delivered to your inbox!
About Me
Hi and welcome to Kbeauty Notes! :) I'm Ledia and I'm very passionate about everything skincare. I created this blog to share my thoughts and experience with many amazing and not so great products out there, hoping to help you make better decisions regarding your skin. I'm very happy to bring you on this journey with me and I hope you enjoy it! <3

My Skin Type: Oily, acne prone, dehydrated, a little sensitive, large pores.

Skincare Concerns: hydration, pore care, anti-ageing, PIE (acne marks), brightening.

Contact: kbeautynotes@gmail.com