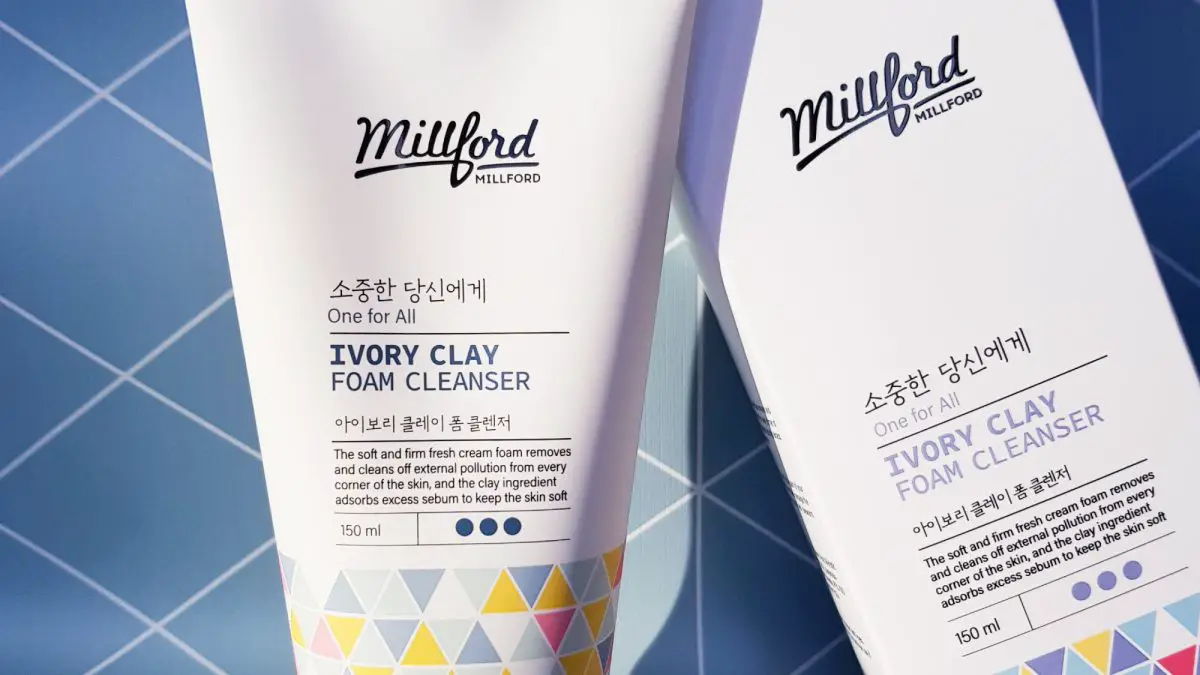 New Korean skincare brand alert! Millford is a new brand in the K-Beauty scene which launched this year, in 2021. The name was inspired by the founder's visit to the Milford Sound Fjord in New Zealand. They have 4 different skincare lines for different skin concerns: For acne prone skin, hydration, anti-aging and multi-purpose. The product I'm reviewing today is from their multi-purpose line "One for All Line" – the Millford Ivory Clay Foam Cleanser.


What is the Millford Ivory Clay Foam Cleanser
The Ivory Clay Foam Cleanser is a water-based foam cleanser formulated with Kaolin Clay to help absorb excess sebum (oil), clear pores and effectively remove impurities and bacteria from the skin. It also offers gentle exfoliation without causing any irritation and helps keep the skin smooth. The product comes in a 150ml squeeze tube and it's formulated for all skin types.


Application
Here's the best way to use the cleanser: Wet your face, then wet your hands and squeeze a little on the palm of your hand and rub together to foam it up. Keep in mind that a little goes a long way. You only need a pea size amount or even less. Afterwards, massage the face gently for a couple of seconds and rinse it off with lukewarm water. At first, I didn't put much thought into it and applied the cleanser directly onto the face, but it makes a huge difference on its performance and how the skin feels when used as directed.


Consistency
The consistency is creamy, but once in contact with water it lathers and foams up so well. You'll really like this if you like cleansers that foam a lot.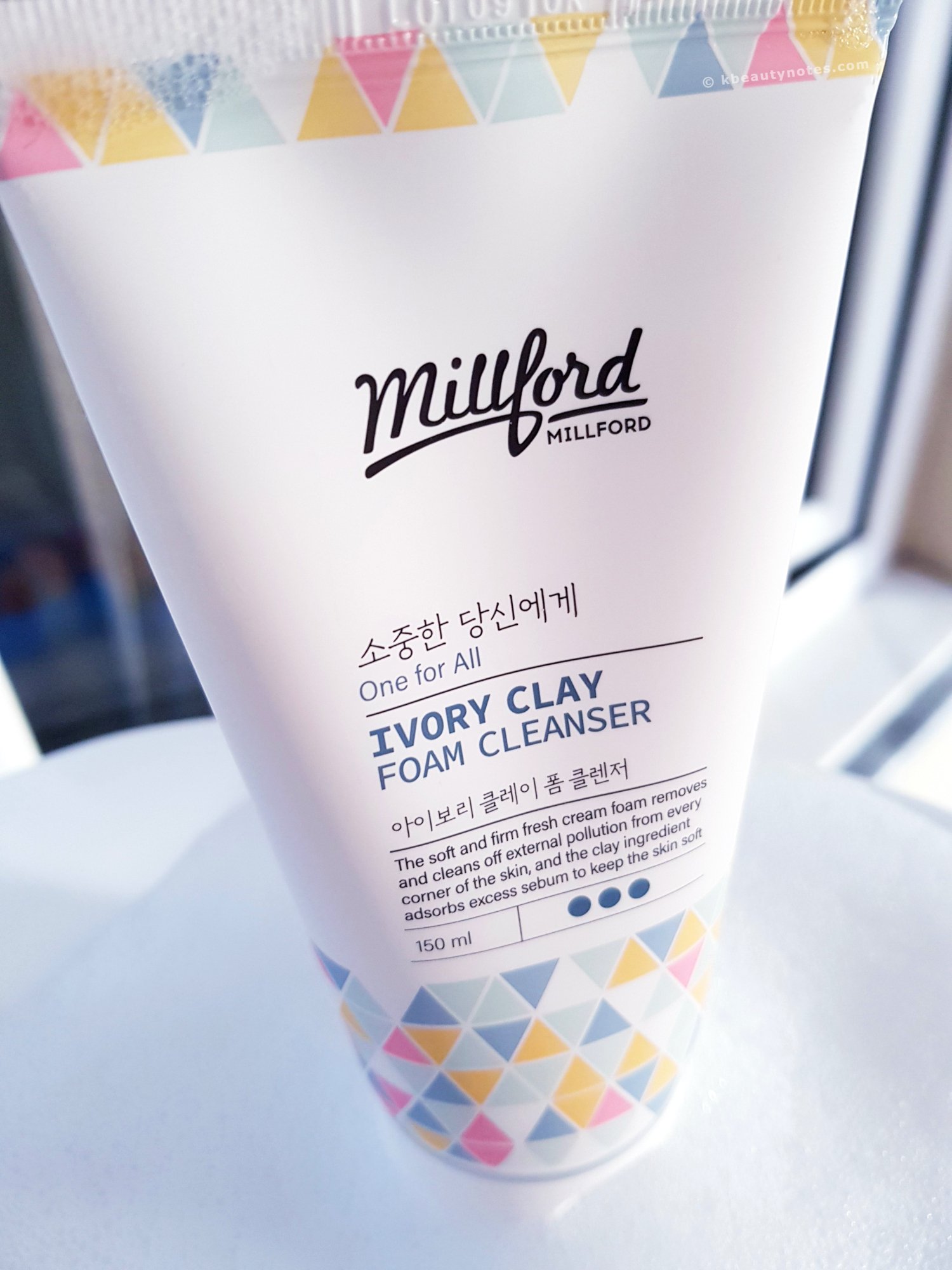 Scent
It doesn't have any particular scent, since it doesn't contain any fragrance or essential oils. It just smells clean and fresh. Great option for those with sensitive skin that react to fragrance!


Performance
This is super effective at cleansing the skin by removing oil and impurities. It does not leave any weird film at all or make the skin feel tight. Cleanses the pores well and I haven't gotten any blackheads since I've started using it! I usually keep them at bay with a balm/oil cleanser, but this one is working just as well in that regard. It melts the hardened sebum on my nose with ease, which really impressed me. I only need to massage the area for about 5-10 seconds and the surface is left feeling very smooth. Hence, it'll work well to improve skin texture.
I would not use this to double cleanse, especially if your skin is on the dry side or you're prone to dehydration. I rely on this to remove waterproof sunscreen (not makeup of course). This is also my current go-to after a good workout as I feel that it cleanses my skin thoroughly, but it also leaves it feeling soft. If you get very oily at the end of the day and live in humid climate, you'll find this very refreshing.
There was no irritation or redness cause by this. Also, it didn't make me break out which is crucial for me as someone with acne prone skin.


Who is it for?
Although this cleanser is formulated for all skin types, there are 3 skin types that I think would benefit most from it: First, oily skin. Oily skin suffers from excess oil production and consequently, clogged pores, so the Kaolin Clay in the cleanser works to target exactly these concerns. Combination skin as well will find it helpful for the oily areas of the face.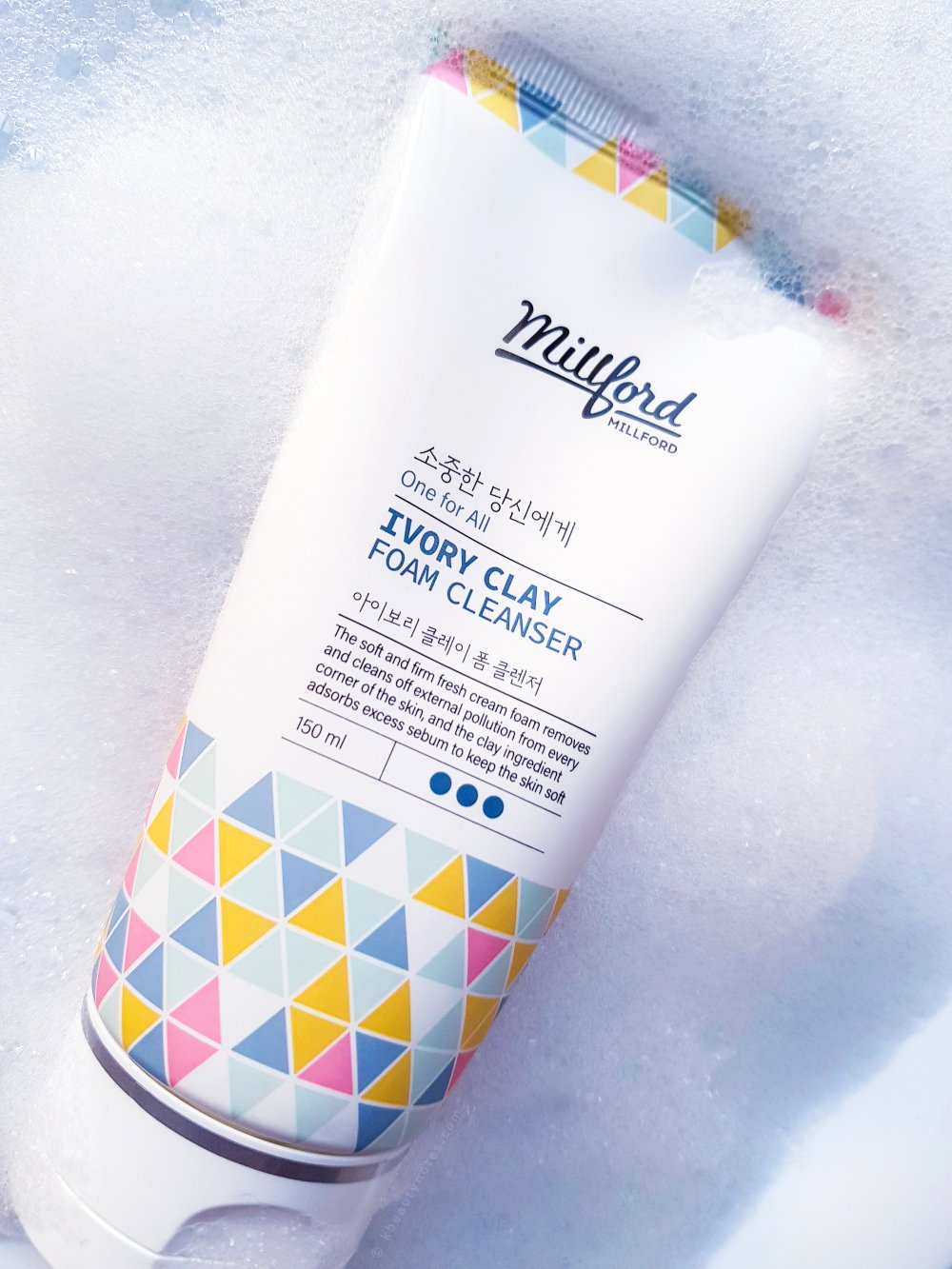 Second, acne prone skin. Acne has many different causes, but if it comes from clogged pores due to sebum, dirt, and dead skin cells being trapped in the pore, this will work great since the cleanser not only absorbs the oil, but it also offers gentle exfoliation! Due to Chlorphenesin in the formula, it also has some anti-bacterial properties.
Lastly, sensitive skin. The ingredients list of this cleanser is so minimal, minimizing the number of ingredients that could be sensitizing for this skin type. It's also free of alcohol, fragrance and essential oils if you know that those are triggers for you. For me, I'd say it also feels a bit soothing!


Ingredients
Besides Kaolin Clay, the Ivory Clay Foam Cleanser contains a couple of other goodies:
Lauric Acid – except for cleansing, it's also a good anti-acne ingredient. Chlorphenesin works against bacteria and some species of fungi and yeast. And the good ol Glycerin which plays an important role in skin hydration.
It doesn't contain alcohol, fragrance or essential oils.
Water, Lauric Acid, Glycerin, Stearic Acid, Myristic Acid, Potassium Hydroxide, PEG-32, Lauramidopropy, Betaine, Kaolin, Glyceryl Stearate, PEG-100 Stearate, Chlorphenesin, Disodium EDTA

Final Verdict on the Millford Ivory Clay Foam Cleanser
Pros
Effective at cleansing by removing excess oil and impurities.
Keeps the pores clean/prevents blackheads.
Leaves the skin feeling soft and smooth.
Feels a bit soothing for me.
More suitable for oily, combo, sensitive and acne prone skin.
No irritation or breakouts.
Free of alcohol, fragrance & EOs.
Cruelty-Free.
Affordable.
Cons
Maybe not ideal for dry/very dry skin (especially in cold climate).
Great affordable cleanser that will work for most skin types! Cleanses very well, doesn't leave any residue, makes the skin feel soft and doesn't disrupt the skin barrier. I'd recommend it for those with oily skin that would want a thorough cleanse and to keep the pores clean, as well. It's even better if you live somewhere that's hot and humid. Moreover, it's a great option to try for those with sensitivities as it's a no frills formula with a minimal ingredients list. I love that it doesn't break me out! This will also last you a long time since you only need to use a pea size amount each time.

Where to buy: You can find this cleanser at www.millford.co.kr for the regular price of $11 – Size 150ml. It's available on Yesstyle* (use code KBEAUTYNOTES for extra $ off) and it can also be found at Stylevana US* & Stylevana EU*.



Did you find the Millford Ivory Clay Foam Cleanser Review helpful? Are you curious about this brand? Let me know if there are any products you're interested in trying.


---
*AD – in collaboration with Millford, but all views in this post are completely my own!
*Affiliate links – It means I may earn a small commission when you purchase a product through the links I have provided, at no extra cost to you. For more information, see Disclosure Policy.


Related posts
Follow blog via Email
Get the latest posts from this blog delivered to your inbox!
About Me
Hi and welcome to Kbeauty Notes! :) I'm Ledia and I'm very passionate about everything skincare. I created this blog to share my thoughts and experience with many amazing and not so great products out there, hoping to help you make better decisions regarding your skin. I'm very happy to bring you on this journey with me and I hope you enjoy it! <3

My Skin Type: Oily, acne prone, dehydrated, a little sensitive, large pores.

Skincare Concerns: hydration, pore care, anti-ageing, PIE (acne marks), brightening.

Contact: kbeautynotes@gmail.com