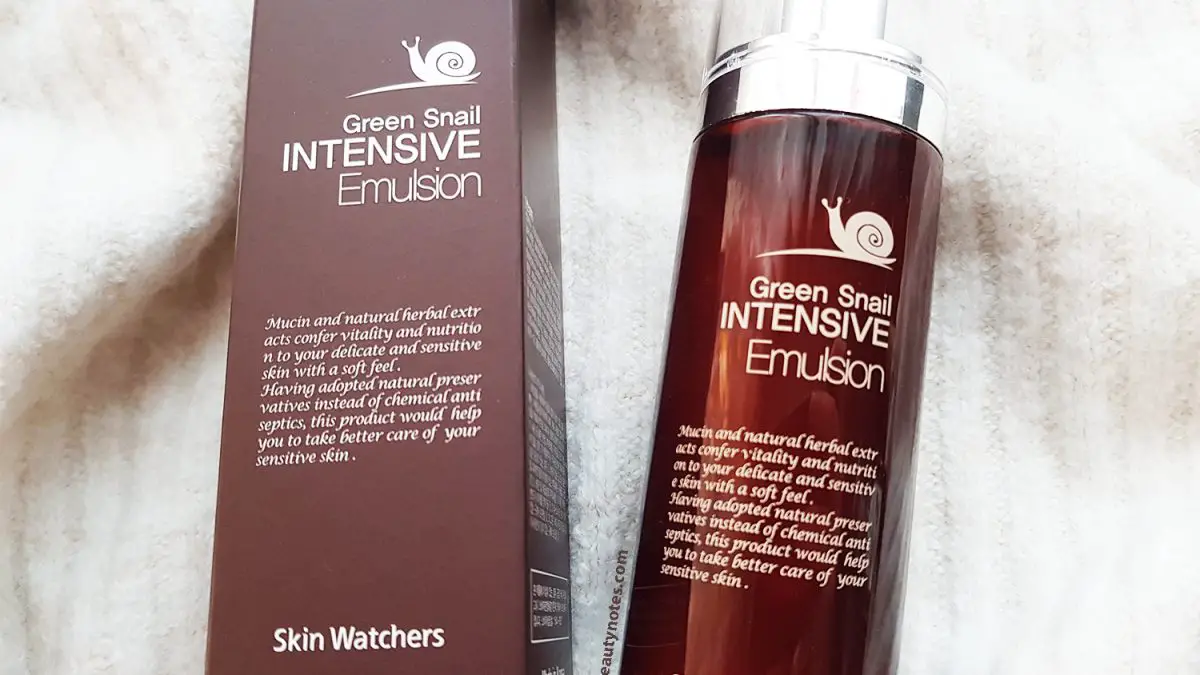 Hi beauties! This time I'm reviewing an emulsion from a korean brand called Skin Watchers. If you remember, korean skincare containing snail secretion filtrate was all the hype a few years back and as a fan of kbeauty I had to jump on the bandwagon. I'm sure anyone who's addicted to korean skincare has tried at least one snail product before. The reason why snail mucin was such a buzz it's because it's a multi-tasker. It moisturizes, boosts collagen production, soothes irritation and most importantly has skin healing and regeneration properties.
At the time honestly I was just looking for a moisturizer, something not too occlusive that would be suitable for my oily skin. After some surfing online I came across the Skin Watchers Green Snail Intensive Emulsion. I read a couple reviews which were positive so I went ahead and ordered it, not expecting to be impressed.
Where to buy: If you'd like to purchase the Skin Watchers Green Snail Intensive Emulsion, you can find it at Jolse.
Price: $62-$72 (This is the current price in 2023 which has increased from previous years.)
Volume: 125ml (4.22 fl.oz.)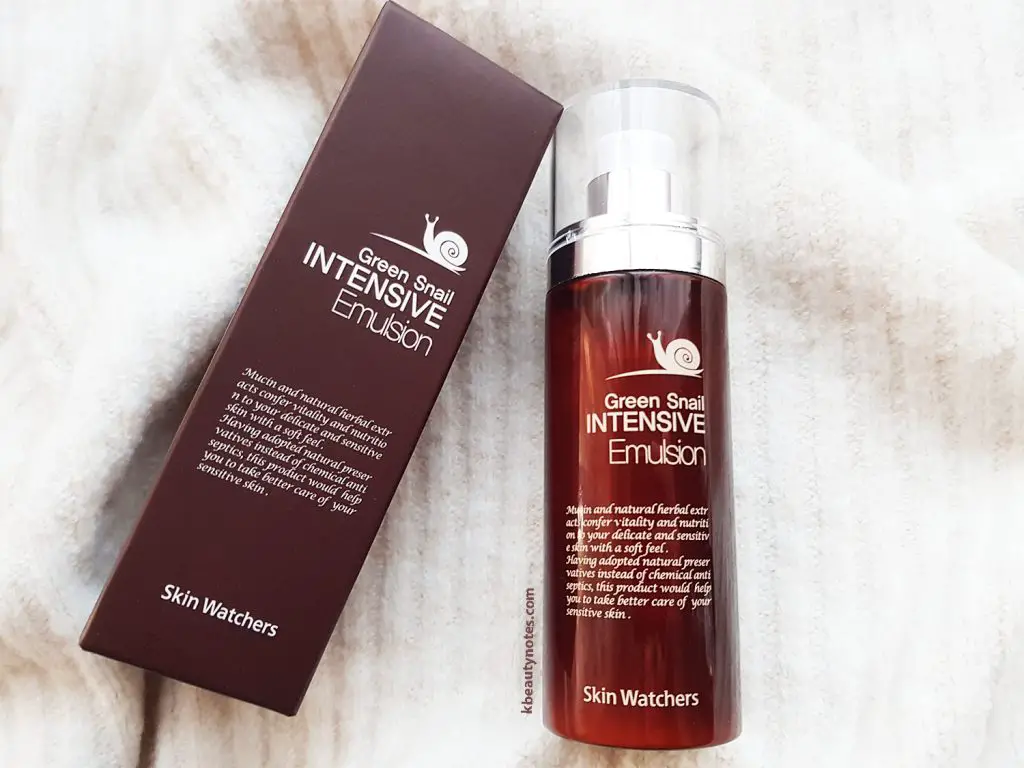 Description
The Skin Watchers Green Snail Intensive Emulsion is a gentle emulsion that instantly calms the skin with snail mucus and hydrating herbal ingredients including lavender and chamomile extracts to leave your skin feel calm and moist. This cream helps reduce the appearance of wrinkles, redness, blemishes, fine lines, acne, stretch marks, sun spots, and even old scars.
It is formulated with Allantoin to help calm irritated skin and other ingredients to help boost the skin's suppleness and hydration.
The brand claims their snail mucus is imported from France (French snail mucus is the only one that has been through stringent stability testing).


Application
This product is an emulsion, so you apply it after your toners, essences, serums or ampules and before your cream type moisturizers. The dispenser is a pump, which makes it very hygienic.


Consistency
Lightweight, non greasy or sticky feeling. Spreads well and has a very smooth finish.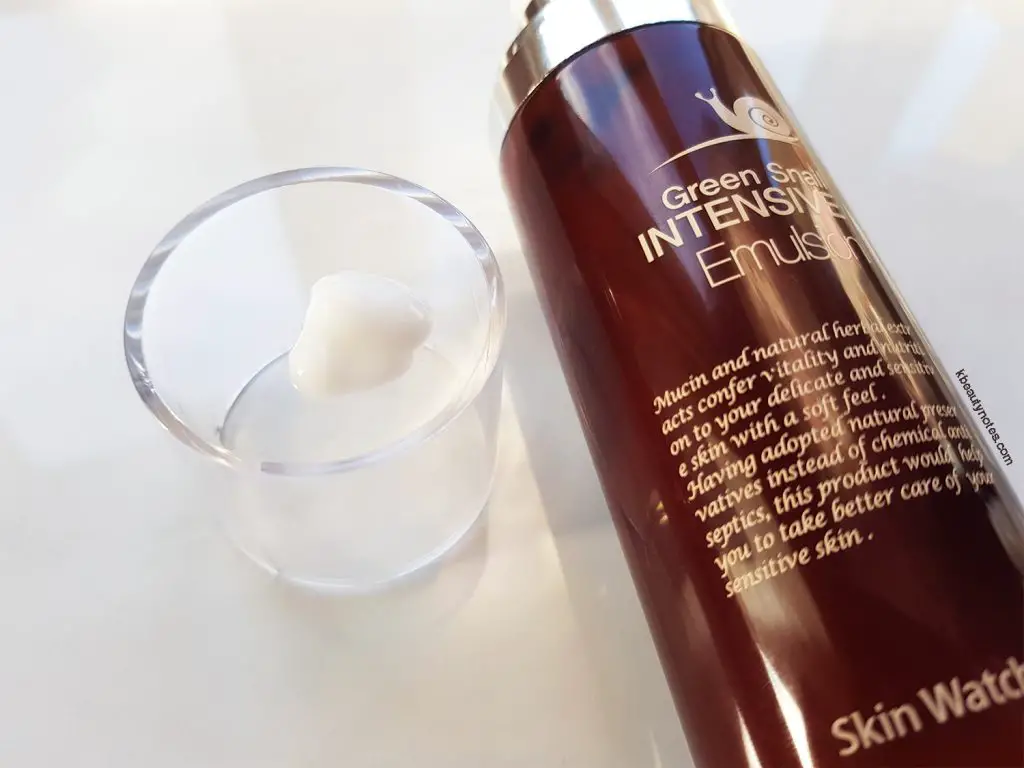 Performance
I've actually been very impressed with the performance of this emulsion since the very first time I used it! I loved the way it applied and how it made my skin look and feel upon application. It spreads so well, leaving the skin soft, plump with a satin-like finish.
Another thing that really suprized me was how smooth my skin looked when I used it under makeup. My complexion almost looked airbrushed! And I have actually had a friend pointing that out, so it wasn't just my imagination. Nothing in my routine changed except for adding this. It goes so well with bb creams and silicone based products. I think it would work well with other base products as well.
Regarding skin types, this would work great for normal, combination, oily and sensitive skin. If your skin is dehydrated or on the dry side you can opt for something more moisturizing or use this as a step before your heavy creams. So, I would not call this intensive if you fall into this category. Years ago my skin wasn't as dehydrated as now, so the emulsion was enough for my hydration needs. Now, it also does the job in the summer, but in winter I try to build more hydration underneath using more than one layer of toner or serum (or both).
I don't remember anything drastic regarding long term brightness, but there was definitely an improvement in skin texture. I also liked how my skin looked in the morning when I applied this at night-time. It felt fresh and well hydrated.
As for fading blemishes, I actually use other products in my routine for this purpose like the Mandelic Acid 5% Skin Prep Water, Klairs Freshly Juiced Vitamin C Drop etc. so I cannot attribute the improvements I see to the emulsion. I'm sure it does give an extra boost in that regard though.
Another concern of mine are pimples, and this product didn't cause any of that. It has a very clean scent, so anyone can use it, which is a plus.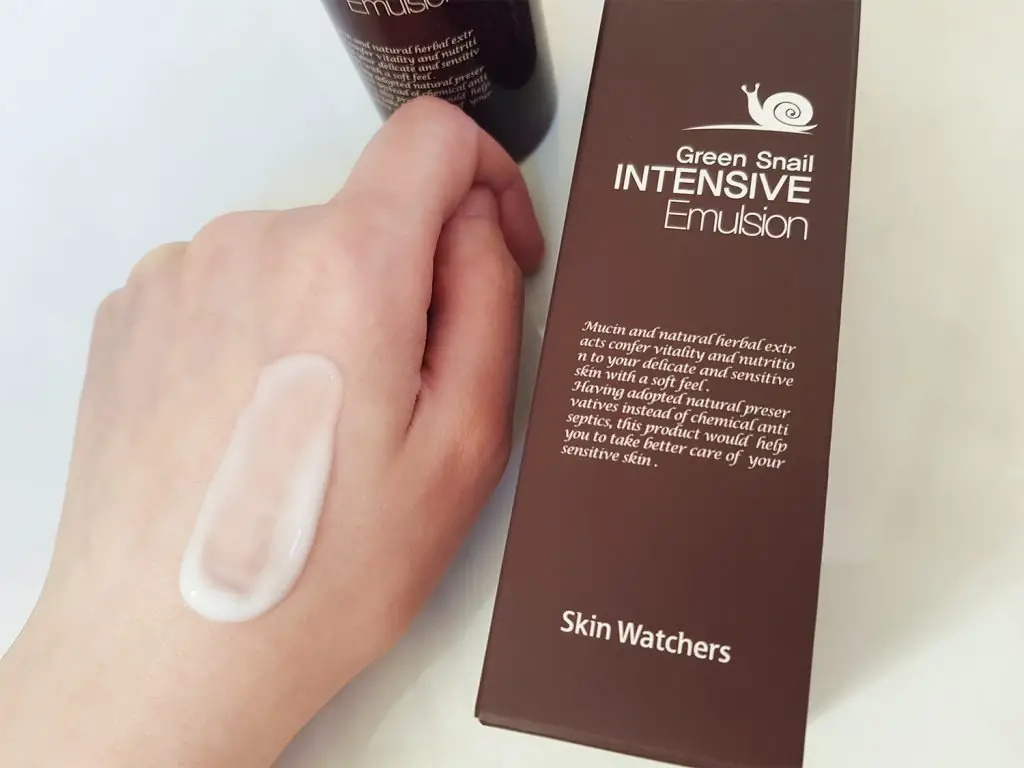 Ingredients
Main Ingredients : Snail Secretion Filtrate, Glycerin, Hyaluronic Acid, Kyounin Yu. 9 herbal plants that soothe the skin. The formula doesn't contain talc, alcohol, dimethicone, steroids, parabens, phenoxyethanol, benzophenone or artificial colouring.
Water, Dipropylene Glycol, Snail Secretion Filtrate, Glycerin, Hyaluronic Acid, Glyceryl Acrylate/Acrylic Acid Copolymer, Kyounin Yu, Cetyl Ethylhexanoate, Lavandula Angustifolia (Lavender) Extract, Monarda Didyma Leaf Extract, Mentha Piperita (Peppermint) Leaf Extract, Freesia Refracta Extract, Anthemis Nobilis Flower Extract, Rosmarinus Officinalis (Rosemary) Leaf Extract, Dipotassium Glycyrrhizate, Arginine, Carbomer, Allantoin, Caprylhydroxamic Acid, Caprylyl Glycol, Polyacrylate-13, Polyisobutene, Polysorbate 20, Disodium EDTA, Parfum

Final Verdict
Pros
Smooth, non sticky finish.
Lightweight and absorbs well.
Hydrating and plumps the skin.
Calming.
Suitable for normal, combination, oily and sensitive skin types!
Works great as a primer under makeup and fills in fine lines.
Doesn't cause breakouts or clog pores.
Very light, clean scent.
Cons
It's an emulsion so it won't be extremely hydrating for dry skin or if you have serious issues with dehydration.
Contails EO & fragrance (for those that are sensitive to them.)
I have gone through 4-5 bottles of this emulsion over the years and if it wasn't for my curiosity to try other brands I would've purchased this over and over again. It checks all the boxes when it comes to application, finish, hydration and doesn't cause acne or irritation. On the contrary, it's gentle enough for sensitive skin types to use (unless you're sensitive to particular ingredients – check the list). A great bonus it's how well it performs under makeup.
The Skin Watchers have recently renewed the formula for this emulsion, so I'll definitely get a new one when I run out. I'm very excited to try it out 🙂


Have you heard of this brand before and do you know any of their products? Let me know in the comments!
Also read: Skin Watchers Enzyme Powder Wash Review


---

*Affiliate links. It means I earn a small commission when you purchase a product through the links I have provided. You will not be charged extra if choosing to do so. The product has been purchased with my own money and I will always share my honest opinion and experience. Sincerely thankful to all of you that support my blog! For more information, see Disclosure Policy.


Related posts
Follow blog via Email
Get the latest posts from this blog delivered to your inbox!
About Me
Hi and welcome to Kbeauty Notes! :) I'm Ledia and I'm very passionate about everything skincare. I created this blog to share my thoughts and experience with many amazing and not so great products out there, hoping to help you make better decisions regarding your skin. I'm very happy to bring you on this journey with me and I hope you enjoy it! <3

My Skin Type: Oily, acne prone, dehydrated, a little sensitive, large pores.

Skincare Concerns: hydration, pore care, anti-ageing, PIE (acne marks), brightening.

Contact: kbeautynotes@gmail.com