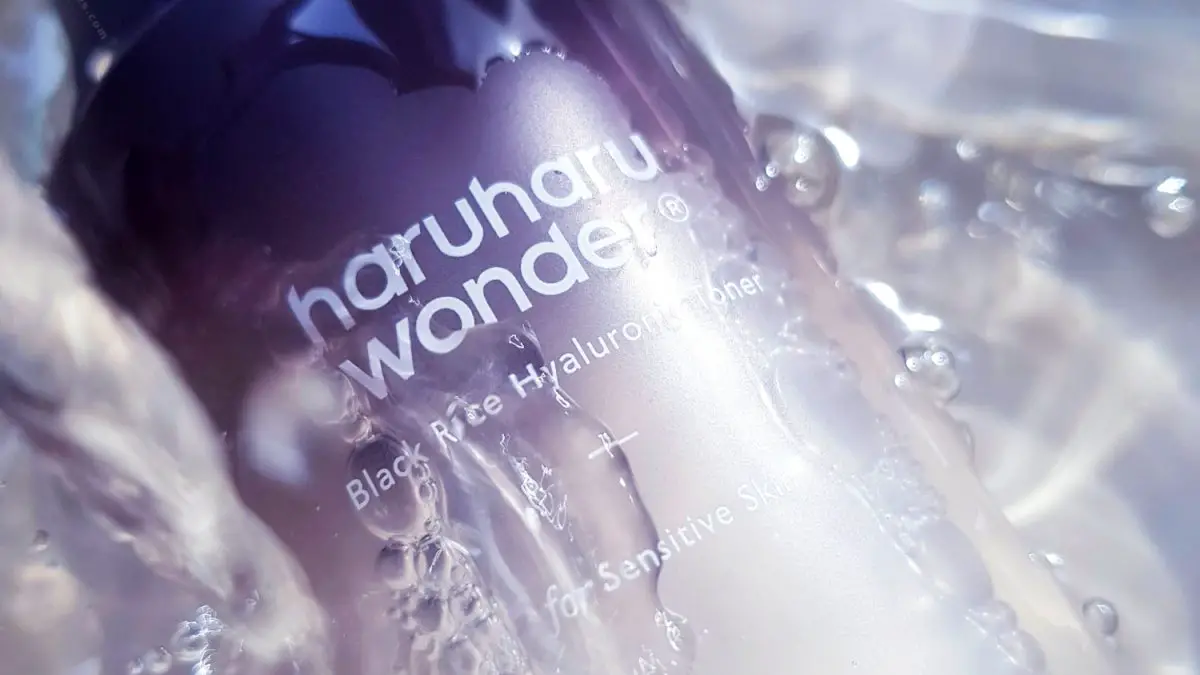 I grabbed this HaruHaru Black Rice Hyaluronic Toner for Sensitive Skin when it was on sale, as you may know from my previous haul post. I wasn't planning to buy another toner, but a lot of people were raving about this one on social media and I got interested. So, when I saw that it was around 50% off, I thought it was the perfect time to give it a try.


What is the Fragrance-Free HaruHaru WONDER Black Rice Hyaluronic Toner
This is the brand's best selling product, which comes in this fragrance-free version designed for sensitive skin types. It's targeted for tight, dry and irritated skin to help restore elasticity and provide deep hydration using Ultra Deep Technology. Key ingredients in this toner are: Fermented Black Rice Extract, Bamboo Shoot Bark Extract, Aspergillus Ferment, Ginseng Root Extract, and Hyaluronic Acid. Great content of antioxidants to protect the skin from free radicals.
The toner comes in a 150ml (5.1 fl oz) format. The bottle is plastic, with a screw cap and an opening at the top.


Application
Apply after cleansing using your hands or wiping a cotton pad on the skin.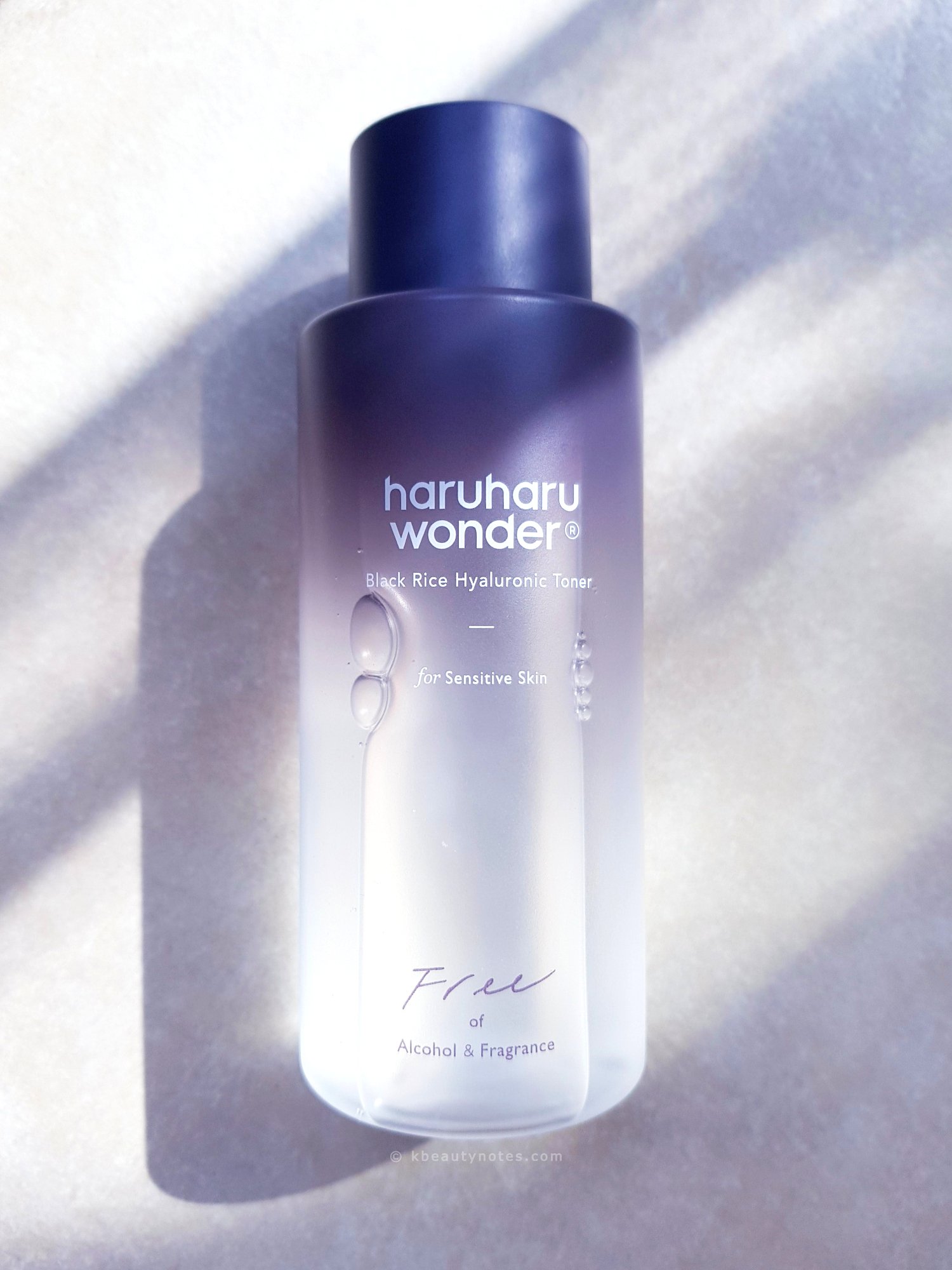 Consistency
The texture is watery, but very slippery, so it's easy to apply on the skin and actually very enjoyable. Once applied it looks like it'll be very nourishing, but dries down completely on me.


Scent
The version I picked is fragrance and essential oil-free, so it doesn't smell like anything. Their original toner has a strong lavender scent, but due to many requests from the customers, the brand came up with a fragrance-free version.


Performance
When I first applied this toner I didn't like it. But, I thought to give it a couple more tries and see what it lacks or how to make it work. First, it's neither hydrating nor moisturizing enough for my skin. In these cases, I proceed to apply more layers one by one and see how the product feeIs.
While my skin felt a bit more moisturized (not that hydrated), it still wasn't completely comfortable. The toner gets stickier with every extra layer that you put on. That eventually goes away after some time, leaving a smooth finish after and it does make the skin feel soft. However, there is still some kind of a weird feeling on my skin that I cannot pinpoint.
I liked that it improved the look of my fine lines under the eyes, but it doesn't make my skin feel particularly bouncy or plump. It was a bit better with 3 layers, however, the sticky feeling of this toner is a bit too much. Definitely not a suitable toner for the 7-skin method!
Then, it was time to test it with other skincare. After I waited for it to dry down, I applied the next step in my skincare: a serum. Oh boy…The serum felt super sticky on top and it became difficult to absorb. It was so uncomfortable that I had to go and wash my face.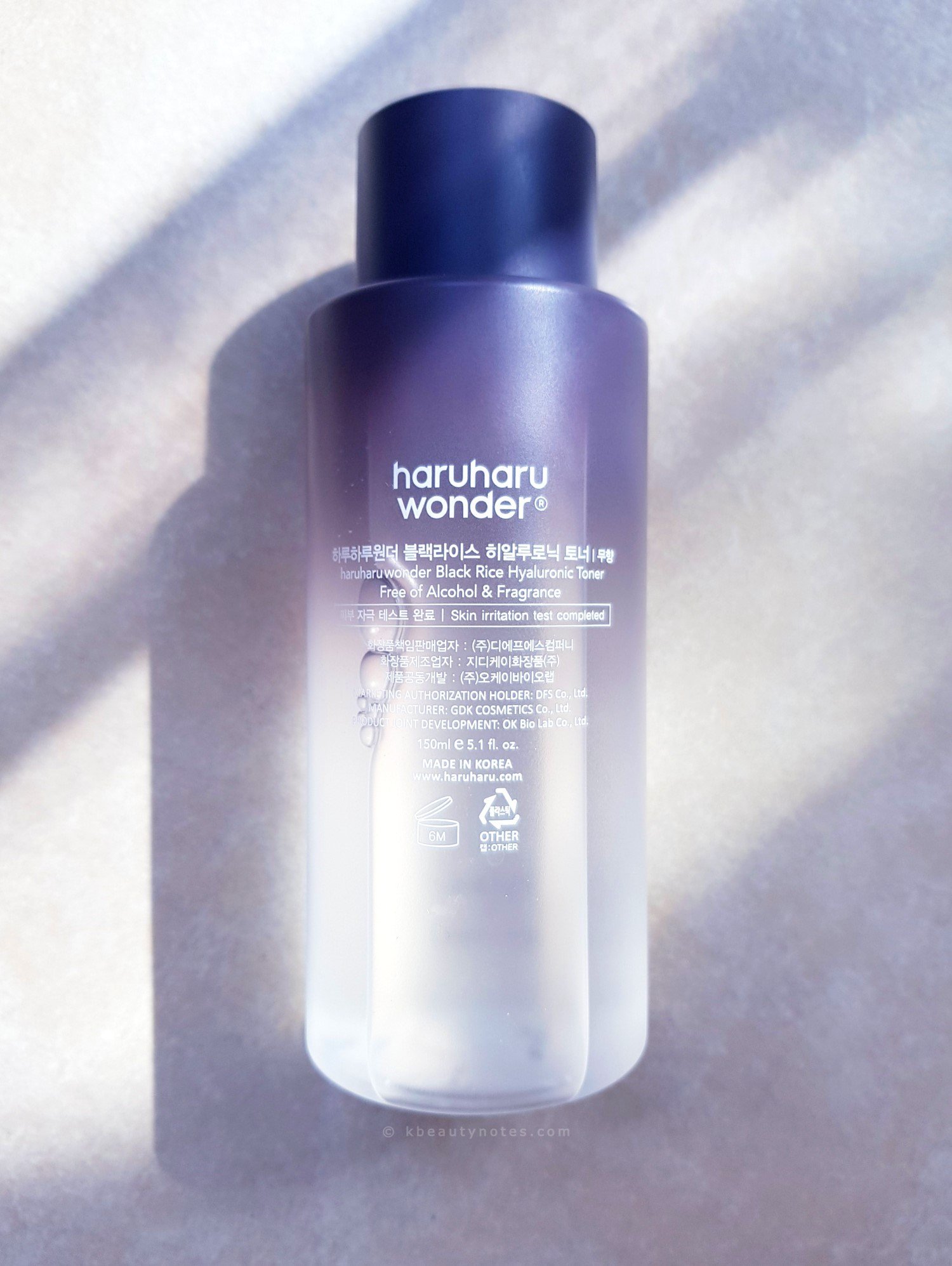 I also noticed some tingling and redness around my mouth area when I used this. So, at this point, I just decided to not use it anymore. It could be that my skin is sensitive to one of the ingredients in the formula. As to make things worse I developed just a few tiny whiteheads on my cheeks. Probably it felt too oclusive on my skin with so many layers.
I can only see this working for those that are okay with 1 layer of a lightweight toner, as this cannot be built, like people with oily/normal skin types that don't experience any kind of dryness. Despite not having any fragrance or essential oils I'm a bit reluctant to even recommend this for sensitive skin types.


Ingredients
It's a bit unfortunate that it didn't work for me because the Black Rice Hyaluronic Toner has some interesting ingredients:
Oryza Sativa (Rice) Extract (2,000ppm) – packed with polyphenols and flavonoids, which protect skin against free radicals, including pollution.
Scutellaria Baicalensis Root Extract – This is a traditional Chinese herbal medicine rich in antioxidants and anti-inflammatory flavonoids, and also has antimicrobial and antifungal properties.
Panax Ginseng Root Extract – traditional Korean medicine with antioxidant properties.
Humectants include: Glycerin and Hyaluronic Acid (600ppm).
Beta-Glucan – a soothing and moisturizing agent that shows promising anti-aging benefits.
It doesn't contain alcohol, fragrance or essential oils.
Water, Betaine, Glycerin, Propanediol, Scutellaria Baicalensis Root Extract, Oryza Sativa (Rice) Extract (2,000ppm), Phyllostachys Pubescens Shoot Bark Extract (2,000ppm), Xanthan Gum, Cellulose Gum, 1,2-Hexanediol, Butylene Glycol, Pulsatilla Koreana Extract, Zanthoxylum Piperitum Fruit Extract, Usnea Barbata (Lichen) Extract, Aspergillus Ferment, Sodium Gluconate, Hyaluronic Acid (600ppm), Beta-Glucan, Tamarindus Indica Seed Gum, Panax Ginseng Root Extract, Glucose, Cyclodextrin

Final Verdict
Pros
Makes the skin feel soft.
Improves the look of fine lines to some extent.
Antioxidant benefits.
Most suitable for normal skin or skin that doesn't experience any dryness.
Free of alcohol, fragrance & EOs.
Vegan & Cruelty-free.
Cons
Not enough hydrating/moisturizing.
Feels very sticky when building layers.
It didn't feel comfortable under other skincare products when layered.
Caused some redness and itchy feeling around my mouth area.
Congested my skin (whiteheads).
There are a lot of people who like this toner, but for me it was disappointing. I expect toners to be (mainly) hydrating on the skin. If they're not but offer other benefits, it would be better if they absorb completely and don't leave any kind of film on top, so the rest of the skincare products can be applied easily and absorb properly. But, with this I also experienced some tingling and redness although I'm not particularly sensitive. I believe my skin didn't agree with one of the ingredients. Also, hello whiteheads! As I mentioned I can see this work for those that don't experience skin dryness, so one layer would be enough. However, I still think there are way better toners out there, so based on my experience I wouldn't recommend this one.


Other toners I'd recommend that are actually hydrating:
[ Use code KBEAUTYNOTES for an extra 2-5% off. ]



Did you find this HaruHaru WONDER Black Rice Hyaluronic Toner Review helpful? Have you tried this toner before or any other skincare product from the brand? Let me know what was your experience like.


---

This post contains affiliate links. It means I may earn a small commission when you purchase a product through the links I have provided at no extra cost to you. I've bought this product myself and I will always share my honest opinion and experience. Sincerely thankful to all of you that support my blog! For more information, see Disclosure Policy.


Related posts
Follow blog via Email
Get the latest posts from this blog delivered to your inbox!
About Me
Hi and welcome to Kbeauty Notes! :) I'm Ledia and I'm very passionate about everything skincare. I created this blog to share my thoughts and experience with many amazing and not so great products out there, hoping to help you make better decisions regarding your skin. I'm very happy to bring you on this journey with me and I hope you enjoy it! <3

My Skin Type: Oily, acne prone, dehydrated, a little sensitive, large pores.

Skincare Concerns: hydration, pore care, anti-ageing, PIE (acne marks), brightening.

Contact: kbeautynotes@gmail.com