Let's talk real talk here – who actually finishes up an entire lip balm or lip mask? Because if you're like me, those things seem to stick around forever. I already have a few lip care products, but this overnight lip mask from PETITFEE had me hooked the moment I laid eyes on it. Can we talk about that beautiful glass packaging and that charming yellow color?


Where to buy: You can purchase this lip mask at JOLSE.
Price: $18
Volume: 15g
Packaging: Clear glass with a plastic cap that has a metallic effect. There's also a spatula included.
PETITFEE Oil Blossom Lip Mask
This lip mask is an overnight treatment that works by softening the lips and creating a barrier to prevent moisture loss. It is enriched with a blend of six botanical oils ( 6 Phyto Oil Complex ) like: Sea buckthorn, Moringa, Argan, Jojoba, Macadamia, Meadowfoam — alongside a trio of heavyweights: Petroleum Jelly, Beeswax, and Shea Butter.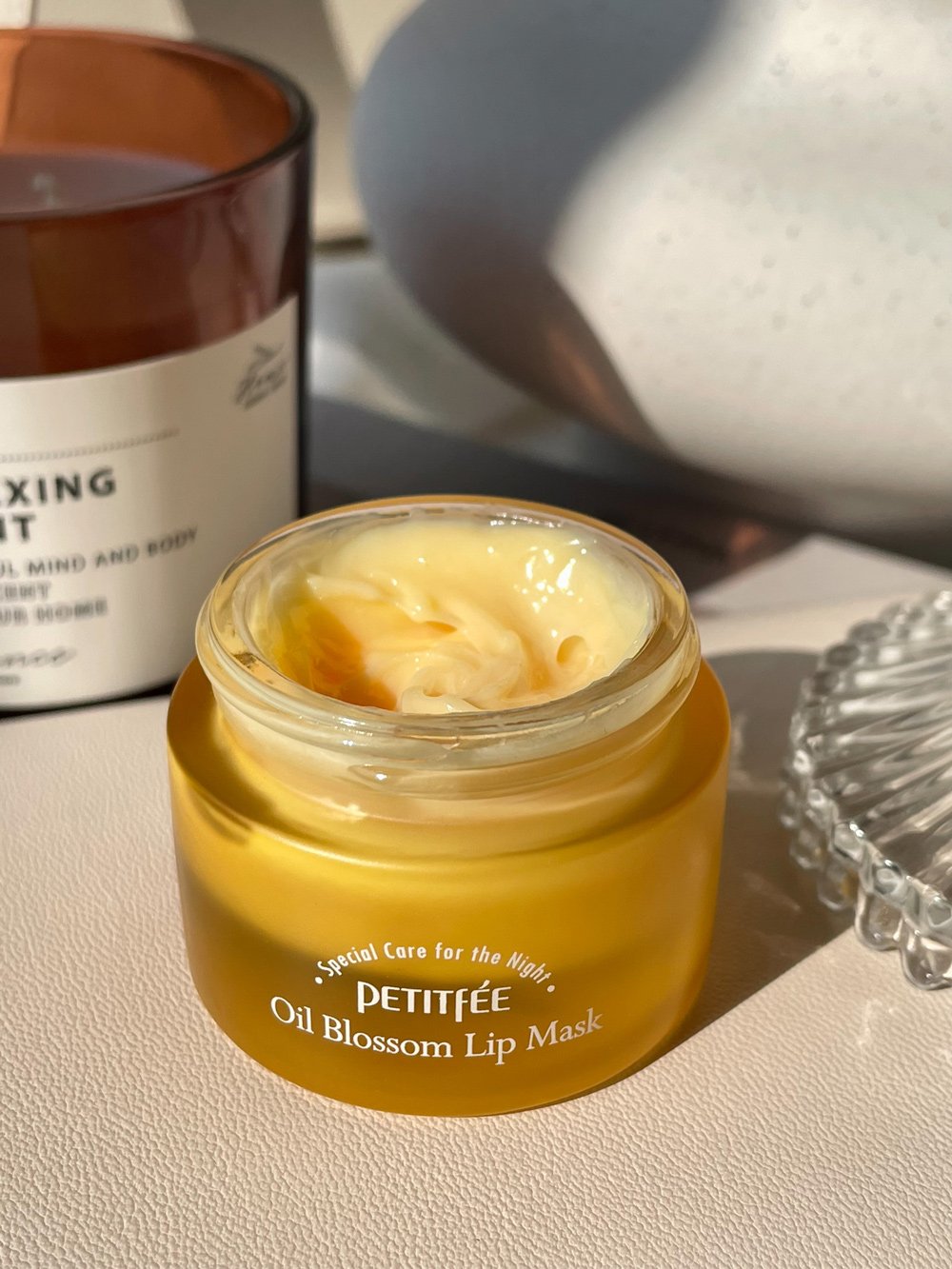 Application
Apply the balm onto lips before sleeping and gently wipe it off the next morning.
Consistency
Thick balm-type texture which feels a bit sticky, but I don't mind it since I apply it before bed anyway. It's like my lips are getting their own cozy blanket for the night.
Scent
Here's the scoop: there's a bit of a downside in this department. You see, there's a handful of perfuming agents in the formula. And the result? Well, brace yourself for a pretty strong herbal aroma. I think the Sea Buckthorn is what dominates and I personally do not like it.
I still use it, but it doesn't make the experience of applying the mask very pleasant. Maybe the Camelia Seed Oil version of this mask could have a better scent for those that want their lip products to smell good.
Performance
This lip mask makes the lips soft and moisturizes them well. Now, here's a little trick I've picked up for these types of masks: I like to layer under the mask a lightweight toner or serum without active ingredients to amp up hydration.
And why, you ask? Take a peek at the ingredient list, and you'll see that there's a serious squad of emollients (they're the ones that make your skin feel soft) and occlusives (they're the moisture-trapping agents), but hydrators aren't exactly hogging the spotlight.
This comes with a spatula so you don't have to dip your fingers in and contaminate the product – kudos for that! But, hey, I'll admit I've got a bit of a soft spot for the Laneige lip mask's tiny silicone spatula. That one is very convenient and actually works for applying the product on the lips as well.
Ingredients
Full ingredients list HERE.
Final Verdict on the PETITFEE Lip Mask
All in all, it's a decent mask. It softens, smooths out flaky bits, and moisturizes well. The effect is not very long-lasting after it's removed though. And truth be told, I can achieve similar results with a lip balm, but there's an undeniable element of extra pampering that this mask brings to the table.

Did you find the PETITFEE Oil Blossom Lip Mask Review helpful? Have you tried this lip mask?

---
*PR – provided by Jolse, but opinions remain my own.
*Affiliate Link – It means I may earn a small commission when you purchase a product through the links I have provided at no extra cost to you. I greatly appreciate your support for the blog!
Related posts
Follow blog via Email
Get the latest posts from this blog delivered to your inbox!
About Me
Hi and welcome to Kbeauty Notes! :) I'm Ledia and I'm very passionate about everything skincare. I created this blog to share my thoughts and experience with many amazing and not so great products out there, hoping to help you make better decisions regarding your skin. I'm very happy to bring you on this journey with me and I hope you enjoy it! <3

My Skin Type: Oily, acne prone, dehydrated, a little sensitive, large pores.

Skincare Concerns: hydration, pore care, anti-ageing, PIE (acne marks), brightening.

Contact: kbeautynotes@gmail.com