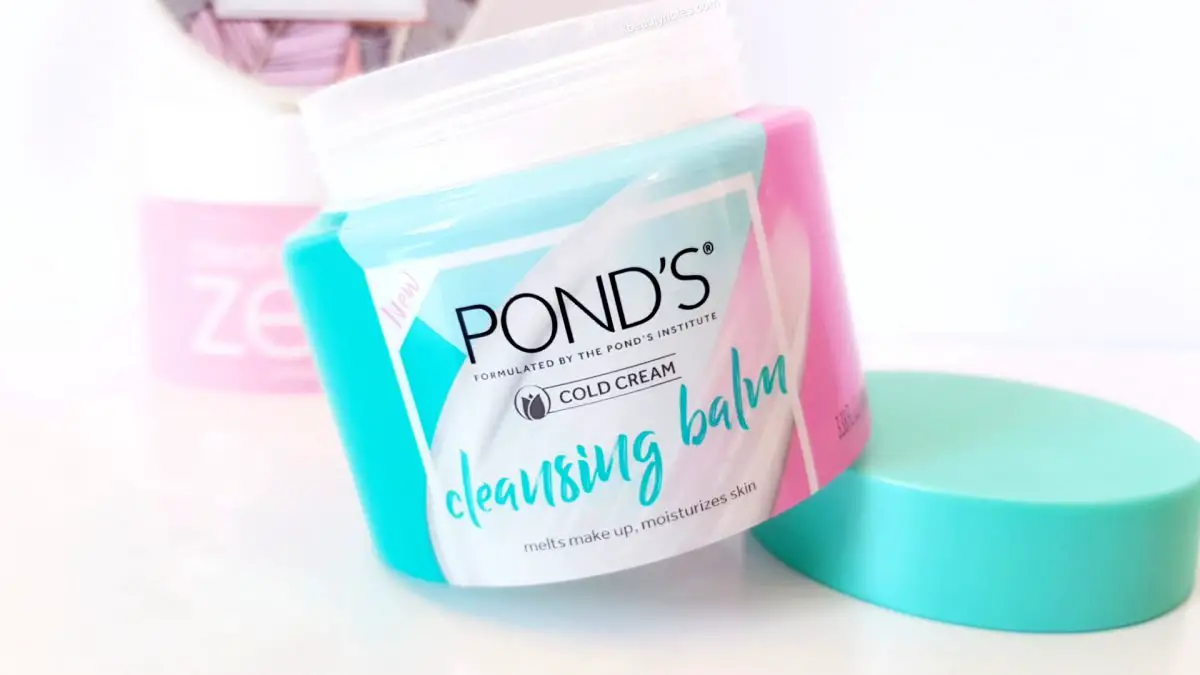 I'm currently running out of one of my favorite cleansing balms – Banila Co Clean it Zero and due to the shipping issues with many online stores I cannot get it right now. Therefore, I thought to give the Pond 's Cold Cream Cleansing Balm a try since it was available in stores here in my city. I've heard good things about it and it was also mentioned by Gothamista in her drugstore faves for 2019.


What is Pond's Cold Cream Cleansing Balm?
The Pond's Cold Cream Cleansing Balm, like the name suggests, is a cleansing balm (duh!) used as the first step of your skincare routine to remove makeup, sebum, dirt and grime from the skin. Once massaged into the skin melts completely into an oil. The jar comes in 100ml (3.38 fl oz) and if you see the image of the packaging below, it's actually made in South Korea.


Application
The process is similar to other cleansing balms. Scoop a little from the balm with your finger or a spatula and apply to dry face. Please keep in mind that a little goes a long way! Gently massage your face until it melts all your makeup. Add water so it emulsifies, massage, and keep rinsing with lukewarm water.


Texture
The texture feels creamy and rich. It glides on and it spreads effortlessly on the skin.


Performance
Compared to the Banila Co and Heimish cleansing balm the Pond 's Cold Cream is richer and havier in texture. And because of this, it took me much longer to remove all of it. I don't like using a wash cloth to remove stuff from my face as I don't want to tug the skin, so I kept adding water until the skin felt fully clean. I did follow with a cotton pad each time after using the balm to make sure no makeup was left and it actually came completely clean. Hence, it's very effective at removing all of the makeup and impurities from the skin.
After I have dried my face it feels very soft and definitely not stripped. This balm would be suitable especially for those who have dry skin or have issues with dehydration. It didn't feel like it left any kind of film on my face, but I mostly double cleanse either way.


There was zero irritation and no skin congestion from using this. I was a little concerned at first considering the texture and the "struggle" to remove it, but thankfully it didn't clog my pores. It also didn't sting my eyes.
It does have fragrance, which I cannot make out what it smells like exactly – it kind of smells like grandma. But, to compare it with the Clean it Zero and All Clean Balm I think the Heimish one has the 'strongest' smell due to containing essential oils. None of them are overwhelming for me personally. I don't mind all these balms containing some sort of fragrance as I'll rinse it off anyway, and they've never caused me any redness/irritation.


Ingredients
Ethylhexyl Palmitate, Mineral Oil, Cetyl Ethylhexanoate, PEG-20 Glyceryl Triisostearate, PEG-10 Isostearate, Polyethylene, Phenoxyethanol, Fragrance Parfum, Hexyl Cinnamal

Final Verdict
Pros
Effective at cleansing and fully removing makeup.
Leaves the skin soft and doesn't dry it out.
Suitable for all skin types, mostly dry or dehydrated skin.
Didn't sting my eyes.
Didn't break me out or cause irritation.
Affordable.
Cons
Requires effort to rinse off completely.
The only downside of the Pond's cleansing balm is that it requires time to remove. It doesn't rinse off as easily as my other two cleansing balms. Some of you may not have a problem with it, and keep in mind that you only need to use a tiny bit. It does leave my skin smooth and hydrated though, while fully removing my makeup and gently cleansing the skin. It would be good for dry skin or if you're prone to dehydration. It's also a very afffordable option! I personally would not be repurchasing this as the other balms I've tried are easier to remove.


Have you tried the Cold Cream Cleansing Balm from Pond's? Please share your favorite cleansing balms in the comments!


Related posts
Follow blog via Email
Get the latest posts from this blog delivered to your inbox!
About Me
Hi and welcome to Kbeauty Notes! :) I'm Ledia and I'm very passionate about everything skincare. I created this blog to share my thoughts and experience with many amazing and not so great products out there, hoping to help you make better decisions regarding your skin. I'm very happy to bring you on this journey with me and I hope you enjoy it! <3

My Skin Type: Oily, acne prone, dehydrated, a little sensitive, large pores.

Skincare Concerns: hydration, pore care, anti-ageing, PIE (acne marks), brightening.

Contact: kbeautynotes@gmail.com