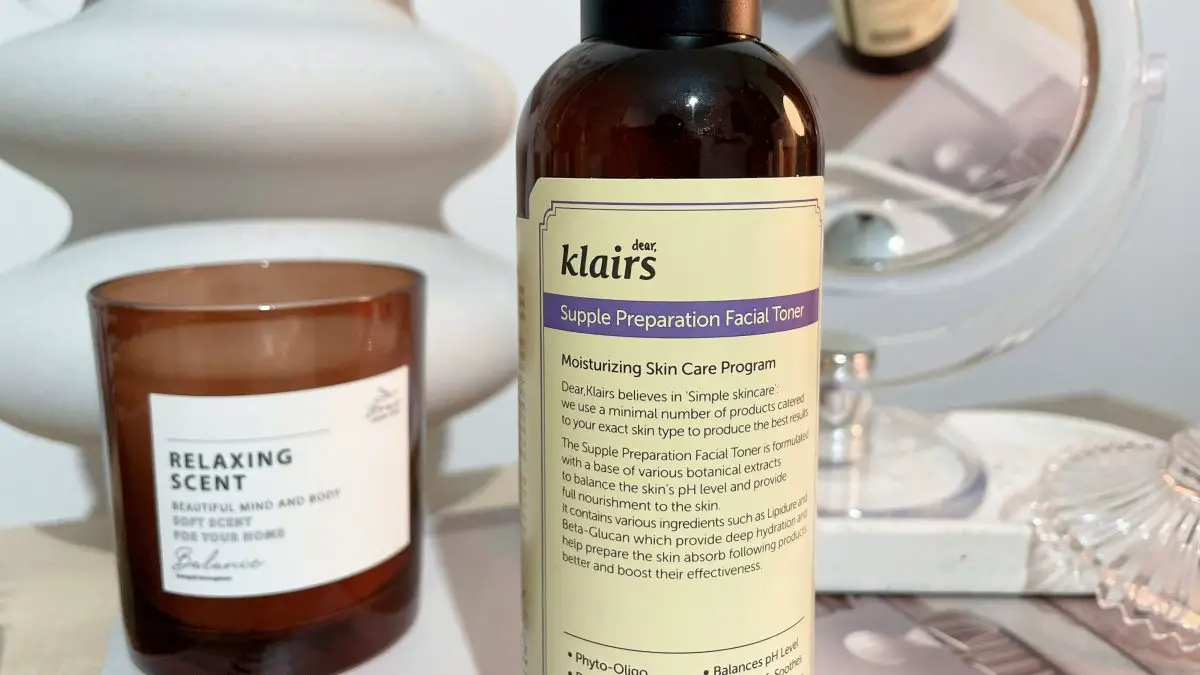 In the past, I thought all toners contained a high concentration of alcohol in their formulas and were designed mainly to remove makeup and cleanser residue. After trying a few I gave up because they were stripping my skin of hydration and I felt my skin becoming even more oily over time. I'm sure many of you have experienced this. But after coming across Korean toners I simply cannot imagine leaving them out of my skincare routine now. In this post I'll be reviewing one of the first toners I've tried, the dear, Klairs Supple Preparation Toner.


Where to buy: You can purchase the Klairs toner at Wishtrend. You can also get the Supple Preparation Unscented Toner if you know your skin doesn't agree with the oils in the original formula. Both are also available at Yesstyle (Use code KBEAUTYNOTES for 2-5% off your order).
Price: $15-$24
Volume: 180ml (6.08 fl.oz.)
Packaging: Dark colored plastic bottle with an opening at the top.


What are toners?
Many cleansers are alkaline, while healthy skin is naturally slightly acidic. Toners are intended to regulate the skin pH levels after cleansing. They enhance the absorption of the following skincare products in your routine, while providing hydration.


Klairs Supple Preparation Facial Toner – What it does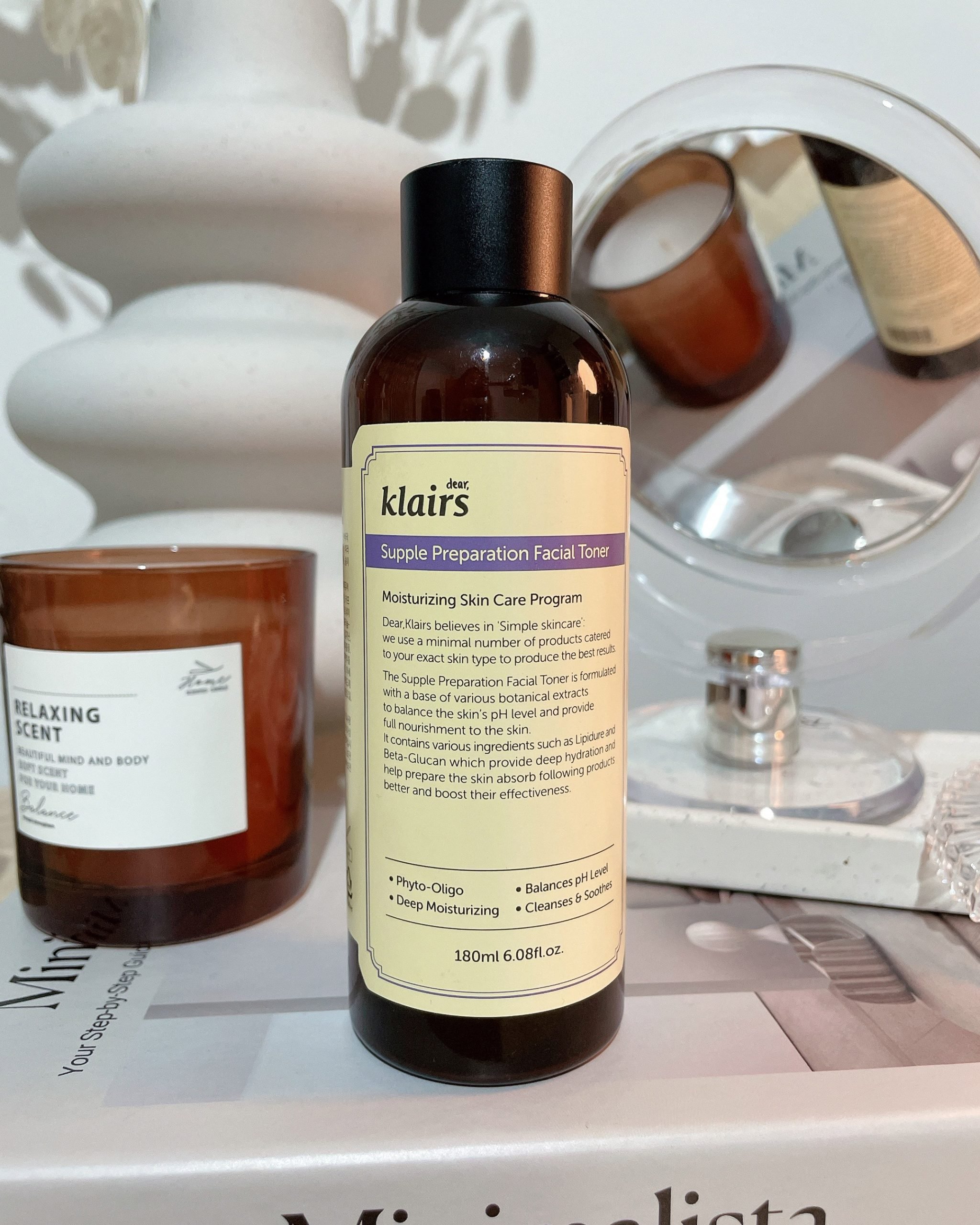 If you are into kbeauty, there's no way that you haven't heard of Klairs Supple Preparation Facial Toner. It's very popular, that's why a couple of months ago I thought to give it a try and see if it lived up to the hype. And spoiler alert: For me personally – It does!
Description: " Supple Preparation Facial Toner is formulated with a base of various botanical extract to balance the skin's pH level and provide full nourishment to the skin. It also helps prepare the skin to better absorb following products and boost their effectiveness."


Application
The consistency is on the watery side, but not extremely runny. It has a bit of viscosity. The way I like to apply it: I pour it on my hand (I always use my hands to apply toners), wet the palms together and then massage and pat it gently on my face.
I personally don't use it to wipe the face after cleansing, because I feel like I do cleanse the skin thoroughly, but you sure can use it as a method.
You can also soak some cotton pads with the toner and use them as a mask for added hydration.


Performance
I use this right after cleansing and I immediately can feel the difference. Absorbs pretty fast and the skin feels supple and plump afterwards. The main reason being that this toner is filled with humectants.
On days when I'm using active ingredients like AHAs which tend to dry out the skin, or in the winter time, I may need to apply more than one layer. If your skin barrier is compromised and you feel that your skin is very dehydrated, this toner help relieve that uncomfortable feeling.
It's a very good first step from which you can go on and build upon the hydration your skin needs. The formula is very gentle and non irritating, infused with plant extracts that help soothe and repair the skin.
It contains ingredients such as wheat amino acids, centella asiatica, and liquorice root. They help reduce inflammation in the skin and have a calming effect. It's great at improving texture by smoothing out the skin surface.
For those of you who are sensitive to essential oils you can go with the unscented version of this toner, which has the same ingredients except for the essential oils. And it's just as good as the original version in terms of performance.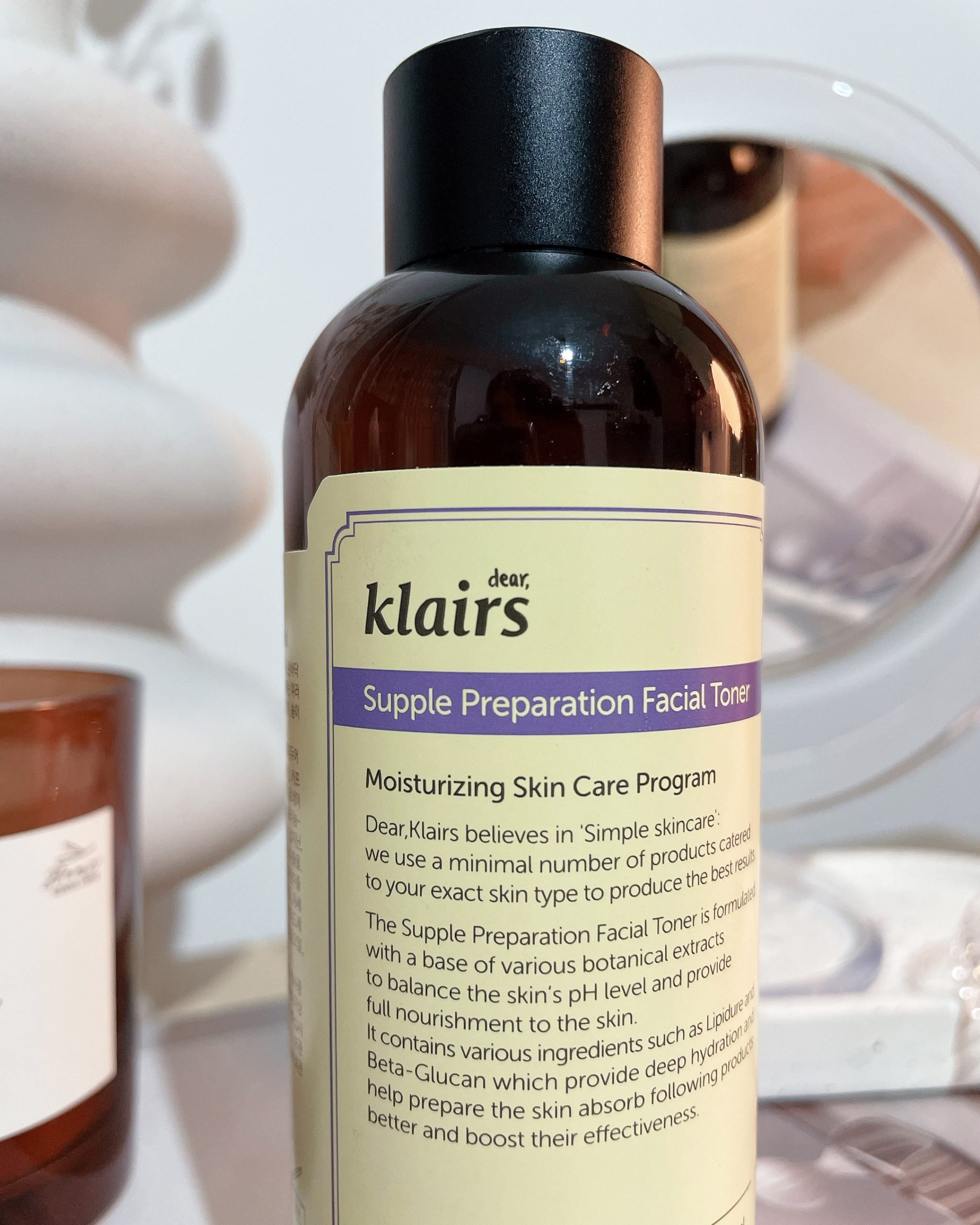 Ingredients
Contains antioxidant and soothing ingredients such as Centella Asiatica Extract, Licorice Root Extract, Aloe Barbadensis Leaf Extract and some goodies for hydration like Sodium Hyaluronate Panthenol and Beta-Glucan. The formula is alcohol-free.
Water, Butylene Glycol, Dimethyl Sulfone, Betaine, Caprylic/Capric Triglyceride, Natto Gum, Sodium Hyaluronate, Disodium EDTA, Centella Asiatica Extract, Glycyrrhiza Glabra (Licorice) Root Extract, Polyquaternium-51, Chlorphenesin, Tocopheryl Acetate, Carbomer, Panthenol, Arginine, Luffa Cylindrica Fruit/Leaf/Stem Extract, Beta-Glucan, Althaea Rosea Flower Extract, Aloe Barbadensis Leaf Extract, Hydroxyethylcellulose, Portulaca Oleracea Extract, Lysine HCL, Proline, Sodium Ascorbyl Phosphate, Acetyl Methionine, Theanine, Lavandula Angustifolia (Lavender) Oil, Eucalyptus Globulus Leaf Oil, Pelargonium Graveolens Flower Oil, Citrus Limon (Lemon) Peel Oil, Citrus Aurantium Dulcis (Orange) Peel Oil, Cananga Odorata Flower Oil, Copper Tripeptide-1

Final Verditct on the Klairs Supple Preparation Facial Toner
Pros
Lightweight.
Hydrating and makes the skin plump.
Improves texture.
Applies well under makeup.
Feels soothing on the skin.
Suitable for all skin types.
Didn't break me out or irritate my skin.
Cruelty-free & Vegan.
Cons
Contains essential oils (for those that are sensitive to EO).
The Klairs toner is a wonderful lightweight toner that provides and helps maintain hydration, while calming and soothing the skin at the same time. It also improves skin texture. All skin types can benefit from it. Balances oily skin well and has a calming effect for sensitive skin. I will be repurchasing it when I run out. (I have already gone through a couple of bottles of this toner! It's definitely a holy grail.)


Did you find this dear, Klairs Supple Preparation Toner review helpful? Have you tried this?


My other posts on dear, Klairs:
Rich Moist Soothing Serum
Midnight Blue Youth Activating Drop
Freshly Juiced Vitamin C Drop
Illuminating Supple Blemish Cream


---

*Affiliate links. It means I earn a small commission when you purchase a product through the links I have provided. You will not be charged extra if choosing to do so. The product has been purchased with my own money and I will always share my honest opinion and experience. Sincerely thankful to all of you that support my blog! For more information, see Disclosure Policy.


*Please keep in mind that your experience with a product may be different from mine, considering there are so many factors that play a role such as: age, skin type and condition, hormones, diet, lifestyle, environment.
Follow my blog with Bloglovin
Related posts
Follow blog via Email
Get the latest posts from this blog delivered to your inbox!
About Me
Hi and welcome to Kbeauty Notes! :) I'm Ledia and I'm very passionate about everything skincare. I created this blog to share my thoughts and experience with many amazing and not so great products out there, hoping to help you make better decisions regarding your skin. I'm very happy to bring you on this journey with me and I hope you enjoy it! <3

My Skin Type: Oily, acne prone, dehydrated, a little sensitive, large pores.

Skincare Concerns: hydration, pore care, anti-ageing, PIE (acne marks), brightening.

Contact: kbeautynotes@gmail.com