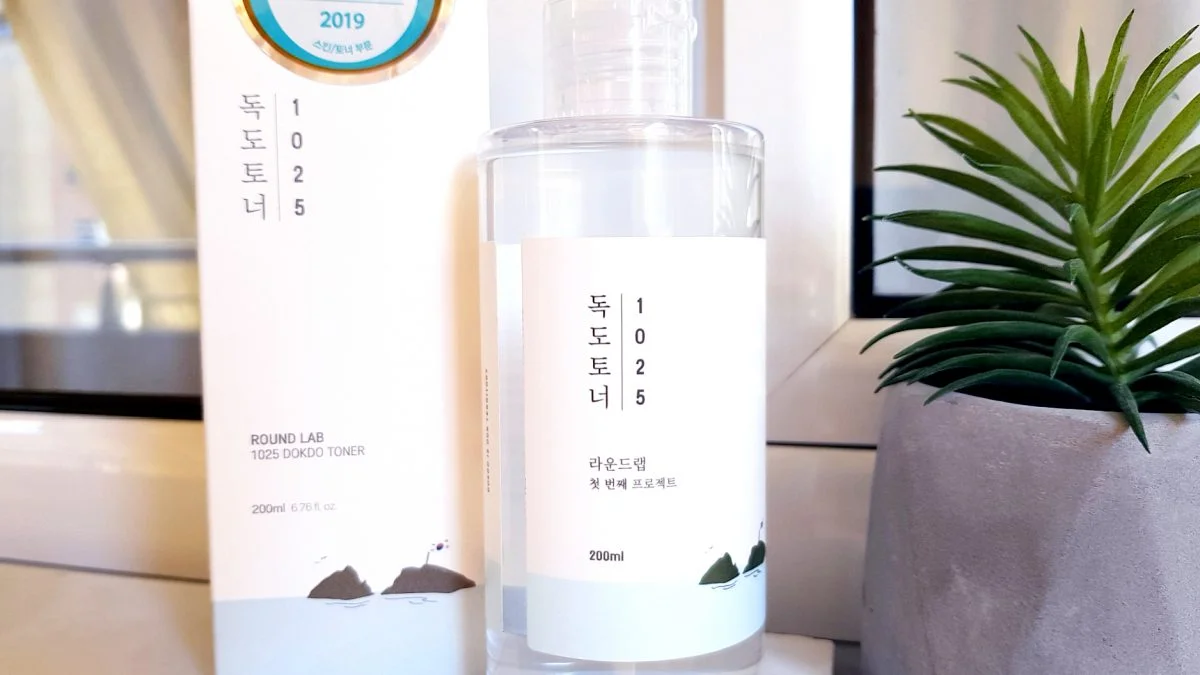 Has any of you K-Beauty lovers heard of Round Lab before? Round Lab is a relatively new K-Beauty brand, but insanely popular in Korea. Their Dokdo range, especially the toner has won many skincare awards and has been a bestseller in 2019 with over 50,000 reviews currently on Hwahae (화해 – It's a Korean ranking app where users review beauty products). That's an insane number, right? I absolutely had to try it! It is mainly focused on sensitive skin to help soothe and hydrate it with a very clean and minimal ingredients list. So, let's see how it works!


Description
A refreshing toner that gently removes dead skin cells while retaining skin moisture. Comforts your skin and lets it glow. It contains 72 types of natural minerals that maintain optimal skin oil-water balance. Round Lab's patented protease enzyme – HATCHING EX-07 helps to exfoliate dead skin cells on your skin and ingredients like Panthenol, Allantoin and Betaine soothe and comfort the skin that's irritated by the external environment and pollution. The Round Lab 1025 Dokdo Toner comes in 2 sizes: 200ml and 500ml. I got mine in 200ml.


Application
You can either use this to moisturize or clean the skin with a cotton pad after your cleansing steps. I pour some toner on the palm of my hand, rub my hands together and pat the product on the skin. Because the toner is very watery, another method you could use is: Pour the toner on your palm, dip your fingertips and apply the toner in circular motions on your face. You can use cotton pads if you feel it makes the application easier or if the product performs better this way for you, but I don't prefer them as I don't like wasting product.
In addition, you can use it as a soothing mask if your skin is feeling particularly sensitive, by soaking the cotton pads with toner and putting them on the sensitive areas.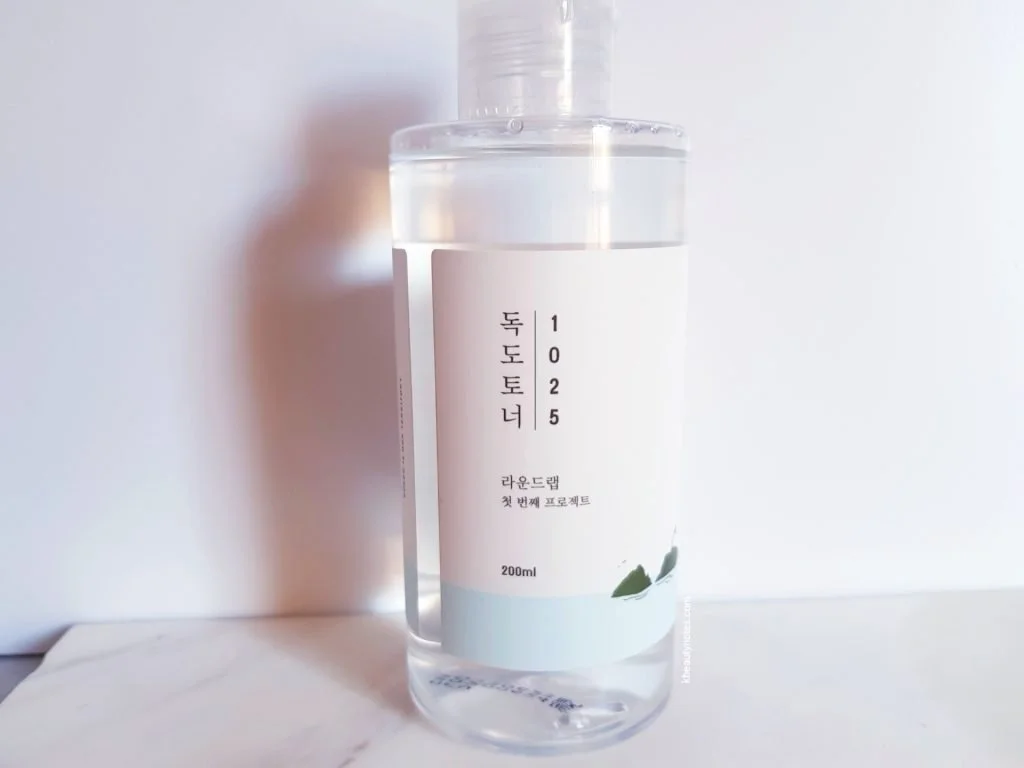 Consistency
This toner has a very lightweight watery consistency. It's quite different from the usual Korean toners I've used before which tend to be a little thicker and more viscous. Absorbs immediately into the skin and it's completely odorless. It doesn't feel sticky at all afterwards and the finish is smooth.


Performance
Right of the bat I have to say this toner would not be enough for dry or dehydrated skin in terms of hydration. You can build it up if you'd like and you'll probably use serums and moisturizer on top, but I feel like you can find other more hydrating toners out there that are more viscous in consistency and require less effort. Like the Klairs Supple Preparation Facial Toner, Laneige Cream Skin Refiner etc.
I have to use at least 3 layers of this toner to feel my skin become hydrated and feel comfortable. I don't mind layering it as it doesn't feel tacky or heavy on my oily skin though. It was impressive in terms of improving skin texture and smoothing out flaky skin. Sometimes I get some flakes around my nose and it helped smoothe them out completely. The sheen it leaves on the skin is beautiful. After 20-30 minutes of application the whole complexion looks refreshed and more radiant.
It would be great for oily skin especially during the summer time when the weather is hot and you don't want to overwhelm the skin with something heavy and look greasy.


This toner uses a patented enzyme from Round Lab called HATCHING EX-07, which offers a very mild exfoliation of dead skin cells. Again, this is a good alternative for those that cannot tolerate AHAs or BHAs.
Great for sensitive skin as it's very gentle. There were no tingles, redness or skin irritation. I also didn't experience any breakouts. The dokdo toner doesn't contain hyaluronic acid. It has come to my attention that some people have issues with it. HA is naturally produced by your body, but it increases the absorption of other ingredients in skincare which may cause irritation in sensitive skin types. Hence, this could be an alternative if you're looking for a toner without HA.


Ingredients
Minimal list of ingredients. Deep sea water from Ulleungdo Island enriched with minerals. Contains moisturizing ingredients such as Glycerin and Betaine; Panthenol (Pro-Vitamin B5) that not only moisturizes and strengthens the skin barrier, but also has anti-inflammatory properties; Allantoin for soothing.
It has an enzyme (Protease) HATCHING EX-07 that Round Lab has patented, which helps to lightly exfoliate the skin.
Alcohol-free, Mineral oil-free, Fragrance & essential oil-free.
Water, Butylene Glycol, Glycerin, Pentylene Glycol, Propanediol, Chondrus Crispus (Irish Moss) Extract, Saccharum Officianarum (Sugar Cane) Extract, Sea Water, 1,2-Hexanediol, Protease, Betaine, Panthenol, Ethylhexylglycerin, Allantoin, Xanthan Gum, Disodium EDTA.

Final Verdict on the Round Lab 1025 Dokdo Toner
Pros
Lightweight watery consistency that absorbs really fast.
No tacky or sticky finish.
Improved texture, smoother skin.
Feels soothing.
Very mild exfoliation.
Most suitable for normal, oily and especially sensitive skin.
Fragrance & EO-free (for those that are sensitive to them).
Cons
Not suitable for dry or dehydrated skin, as the hydration power is not that great.
I would not recommend this if you're looking for a hydrating toner and have dry or dehydrated skin. Unless you're curious to try it for its other properties and can supplement the hydration with other steps in your skincare routine. It has a minimal clean ingredient list which makes this toner great for super sensitive skin. It's extremely gentle and soothing, while at the same time improves texture by mildly exfoliating the skin. Also, a very good option for oily skin types who are looking for a refreshing lightweight toner (mainly during summer).

Where to buy: If you're interested in purchasing this toner, the 200ml bottle is available at Jolse* currently on sale or you can also opt for the Dokdo Toner 500ml version*. Although, I'd advise you try the smaller bottle first and see how you like it. You can also find it at StyleKorean – Dokdo Toner 200ml* / Dokdo Toner 500ml* and Stylevana*.

Have you tried the Round Lab 1025 Dokdo Toner or other products from their Dokdo or Birch Juice line? Let me know in the comments below!


---

*Affiliate links. It means I earn a small commission when you purchase a product through the links I have provided. You will not be charged extra if choosing to do so. The product has been purchased with my own money and I will always share my honest opinion and experience. Sincerely thankful to all of you that support my blog! For more information, see Disclosure Policy.


Related posts
Follow blog via Email
Get the latest posts from this blog delivered to your inbox!
About Me
Hi and welcome to Kbeauty Notes! :) I'm Ledia and I'm very passionate about everything skincare. I created this blog to share my thoughts and experience with many amazing and not so great products out there, hoping to help you make better decisions regarding your skin. I'm very happy to bring you on this journey with me and I hope you enjoy it! <3

My Skin Type: Oily, acne prone, dehydrated, a little sensitive, large pores.

Skincare Concerns: hydration, pore care, anti-ageing, PIE (acne marks), brightening.

Contact: kbeautynotes@gmail.com