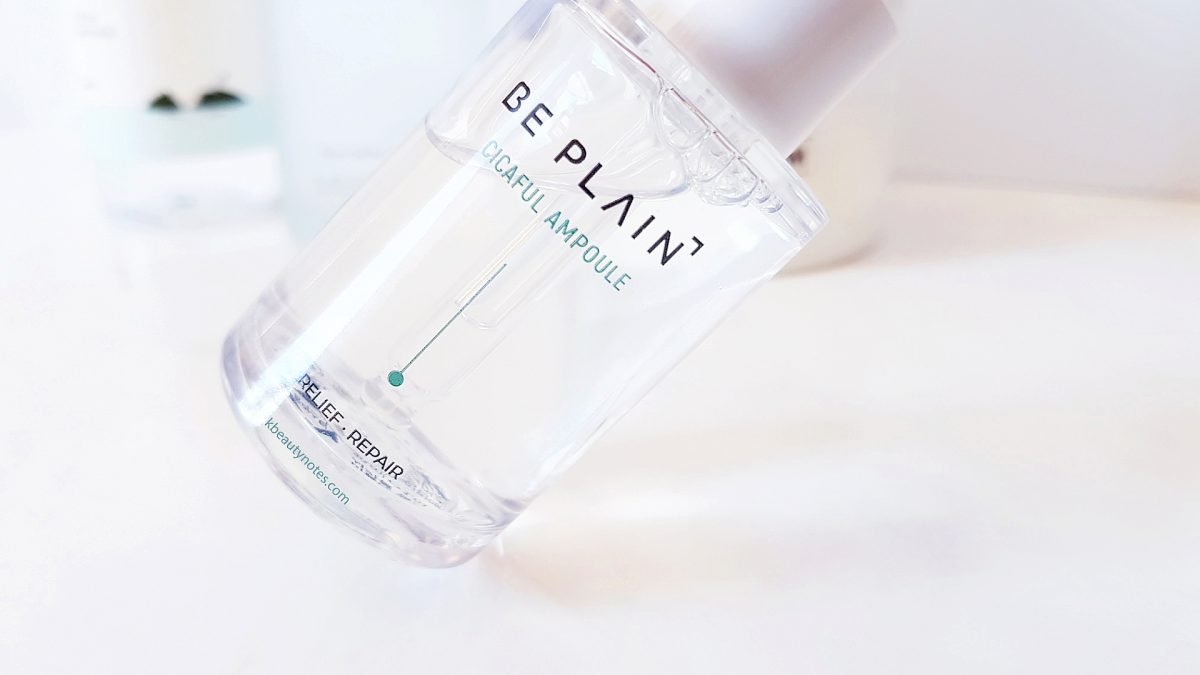 Let's dive into the Be Plain Cicaful Ampoule review today! I came across this ampoule when I was searching for skincare that would be suitable for oily dehydrated skin and this one was recommended on one of Director Pi's videos. If you want to find some K-Beauty gems, I highly recommend you check her out. (There are a couple of things that I don't agree with DiPi regarding some ingredients like parabens etc, however, some of the products she's recommended have turned out to be pretty great.) This ampoule was also ranked no.1 on the Korean beauty app Hwahae for 7 weeks straight. Knowing me, you bet I didn't wait long to add it to my cart.


Where to buy: If you'd like to get the Be Plain Cicaful Ampoule you can find it on Yesstyle (only the 50ml version) (Use code KBEAUTYNOTES for extra 5% OFF your order). It is also available at Stylevana (code INF10LED) in both 30ml and 50ml formats.
Be Plain Cicaful Ampoule
I actually really like the name of the brand as it conveys simplicity and that's excactly the brand's focus: simple formulas with carefully selected and effective ingredients. Be Plain is labeled as a "clean beauty" brand. Personally, I'm not a fan of the term as there are no regulations for it and it contributes to the irrational fear around certain cosmetic ingredients in beauty products.
Nonetheless, if you take a look at the ingredients list, it is pretty short and they seem great for troubled and sensitive skin. The ampoule contains 84.28% Centella Asiatica Extract which is known to soothe upset and compromised skin. I also love the minimalistic design and the packaging has recently changed from frosted glass to plastic. It comes in a 30ml and 50ml size bottle with a dropper.


Application
Normally this would come after the application of toner, but it also works well on its own during summer weather. You can cut down the skincare steps this way, especially if you have sensitive skin to avoid any potential irritation. I place 3-4 drops of the ampoule on my face and gently massage it in. I would apply more than one layer if needed, depending on the condition of my skin that day.


Consistency
The consistency is somewhat viscous but still very lightweight. It doesn't run down the face when you put the drops on your face. The finish is slightly sticky at first, but once absorbed it becomes smooth.


Performance
Some days, my morning routine consisted of only the Cicaful Ampoule and sunscreen. If one layer didn't feel like it was enough, I would apply two layers max and my skin felt immediately more hydrated and plump. Keeping the routine so simple also kept my skin looking less shiny at the end of the day. I don't remember ever having a more simple routine than this. It worked so well during hot days for my oily dehydrated skin.
But now that it's getting colder, I feel like my skin needs more layers to add hydration, so I use this after toner (may or may not layer toner, as well). I like how my skin absorbs this. It just sinks in beautifully without leaving any tackiness or greasy feeling behind.
It doesn't affect makeup in any way, instead smooths out the skin and allows for better application. Works so well with other skincare products and sunscreen!
I noticed some congested spots on my face while using this ampoule, but it wasn't constant and those went away after some time. The same happened with the Purito Centella Green Level Buffet Serum where I broke out the next day of using it, but I didn't break out anymore after using it again. If the ampoule was causing them I think I would be getting them all the time. But, I'm not really sure regarding this. Hence, if your skin is prone to congestion I would keep this in mind and if you really want to try the ampoule, opt for the 30ml version first to test it out.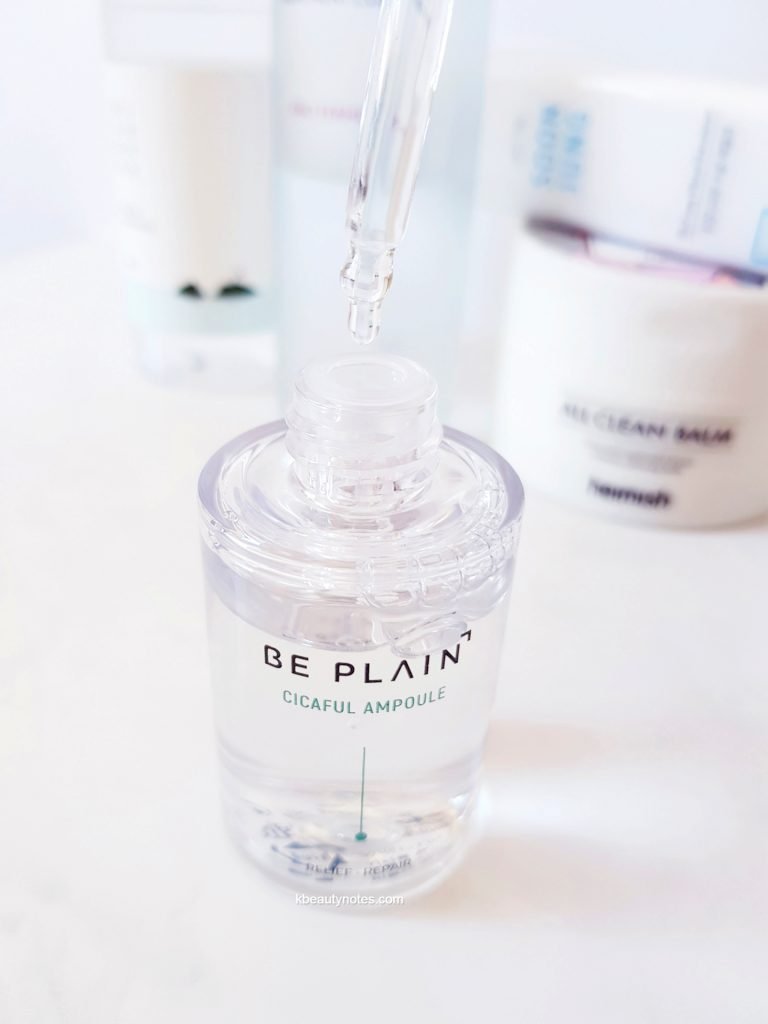 There is no scent to this ampoule. It does calm down redness to a certain extent, so I appreciate the job it does in this regard. I prefer to use it in my morning routine purely because it works so well for my skin type for adding enough hydration without making my skin oilier throughout the day. Have I mentioned it enough already that it feels hydrating for my skin? lol

However, I would not recommend this for dry skin if you're approaching winter now, but it'll be nice for layering under other skincare in warmer months incorporated in a morning routine. If you'd like to try it out, in my opinion the 50ml version will be better as you'll probably need to apply more.


Ingredients Of the Be Plain Cicaful Ampoule
This is a waterless formula and it's made of 84.28% Centella Asiatica which has soothing, antioxidant, healing and moisturizing properties.
Saccharomyces Ferment Filtrate: rich in essential minerals, amino acids, beta-glucan and vitamins. Those with ferment sensitivities should be aware of this. Anthemis Nobilis (Chamomile) Flower Extract adds extra anti-inflammatory benefits.
Glycerin, Sodium Hyaluronate and Methyl Gluceth-20 are great humectants. Methyl Gluceth-20 moisturizes the skin while being mild and gentle. It's popular in sensitive skin formulas.
The Be Plain Cicaful Ampoule doesn't contain alcohol, fragrance or essential oils.
Centella Asiatica Extract (84.28%), Glycerin, Methyl Gluceth-20, Polyglycerin-3, Pentylene Glycol, Anthemis Nobilis (Chamomile) Flower Extract, Sodium Hyaluronate, Saccharomyces Ferment Filtrate, Lactobacillus/​Rice Ferment, Acrylates/​C10-30 Alkyl Acrylate Crosspolymer, Tromethamine, Xanthan Gum, 1,2-Hexanediol, Ethylhexylglycerin

Final Verdict on the Be Plain Cicaful Ampoule
Pros
Hydrating and relieves any tight feeling on the skin.
Lightweight, absorbs well, smooth finish.
The skin feels so soft and plump after application.
Suitable for all skin types, especially oily, oily dehydrated, combo and sensitive skin.
Didn't break me out.
Sits well under makeup and sunscreen!
Free of alcohol, fragrance & essential oils.
Cruelty-free.
In short, I really like this ampoule and I wasn't expecting it to be this good. My skin felt immediately hydrated and looked more plump after using it. This alone simplified my morning routine into only 2 steps! I would've loved to add a Vitamin C in the morning, but I was so pleased with just this and sunscreen that I didn't want to ruin that balance. It actually makes me happy when a product actually delivers what it claims to do.
The formula does contain Saccharomyces Ferment, so take this into consideration if you don't react well to fermented ingredients. I had the congested spots problem for a short time, but since it didn't continue not sure if the ampoule was the cause, but just putting it out there either way. If you have sensitive skin, I wouldn't think twice about getting this ampoule. I would buy this again and choose the 50ml version as it's better value!
Did you find my Be Plain Cicaful Ampoule Review helpful? Please let me know if you've tried this brand before!


---

*Affiliate links. It means I earn a small commission when you purchase a product through the links I have provided. You will not be charged extra if choosing to do so. I've purchased this product myself and I'll always share my honest opinion and experience. Sincerely thankful to all of you that support my blog! For more information, see Disclosure Policy.
Related posts
Follow blog via Email
Get the latest posts from this blog delivered to your inbox!
About Me
Hi and welcome to Kbeauty Notes! :) I'm Ledia and I'm very passionate about everything skincare. I created this blog to share my thoughts and experience with many amazing and not so great products out there, hoping to help you make better decisions regarding your skin. I'm very happy to bring you on this journey with me and I hope you enjoy it! <3

My Skin Type: Oily, acne prone, dehydrated, a little sensitive, large pores.

Skincare Concerns: hydration, pore care, anti-ageing, PIE (acne marks), brightening.

Contact: kbeautynotes@gmail.com