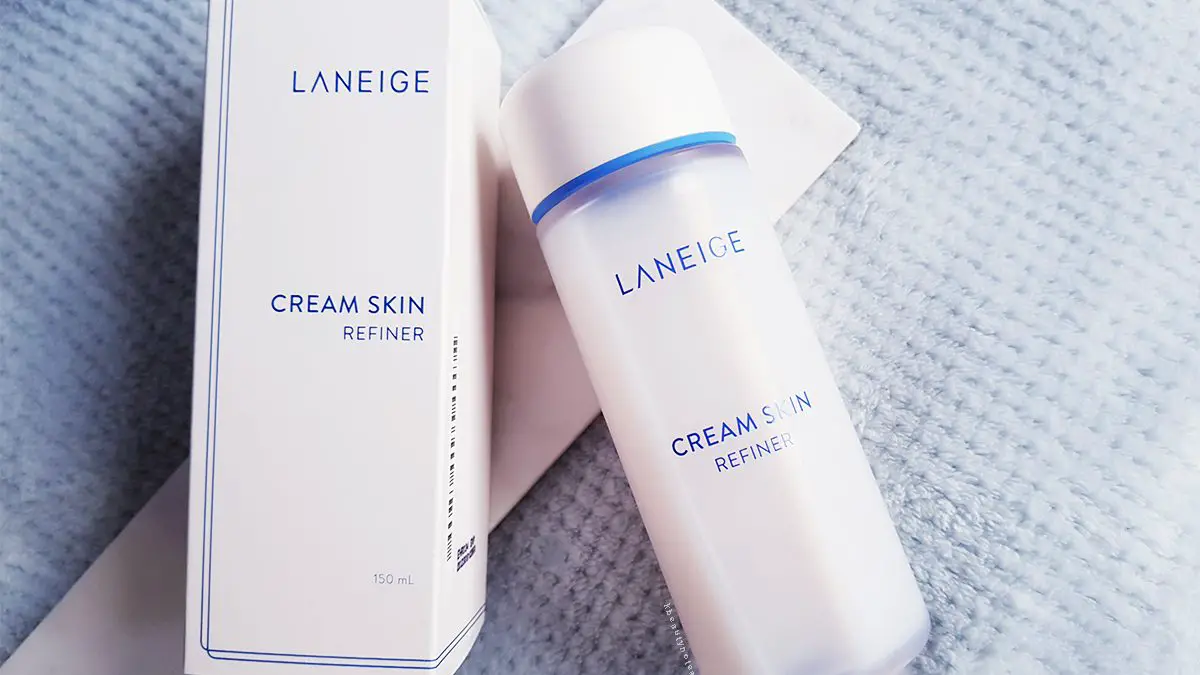 LANEIGE is a K-Beauty brand that I've always wanted to try. Remember how the their Water Sleeping Mask blew up years ago? Didn't have the change to get that one, but in this post we'll dive into the LANEIGE Cream Skin Refiner review, which has surpassed it in popularity since it launched. I was able only recently to get it as I've shown you in my last korean skincare haul. But, what's the big deal about this product? What is it?
A two in one formula, a moisturizer made into the lightweight texture of a toner. This was achieved by a patented technology of the parent company – Amorepacific, which is called Cream Blending Technology™. It's supposed to soften and have the consistency of a toner, but provide moisture to the skin like a cream. Geared towards skin concerns like dryness, dullness and texture.
It comes in a 150ml plastic bottle (used to be glass). The bottle has an opening at the top where you can dispense the product.


Application
I personally like to pour this in my palm, kind of dip 3 fingers into it and apply it by massaging it around the face. Since this is mostly called a "toner", logically many think it is supposed to come after cleansing your skin. But because it forms a thin film as a toner-moisturizer hybrid, it may not work for everyone if you apply it as a first step in your routine. It doesn't work for me due to my dehydration issue, so I always apply this after layering hydrating watery toners such as the Pyunkang Yul toner or ampoules/essences.
For those with oilier skin, this could be enough as your last step and you won't need to follow up with other products. On the other hand, if your skin is dry, you can use your emulsions or regular moisturizers after it.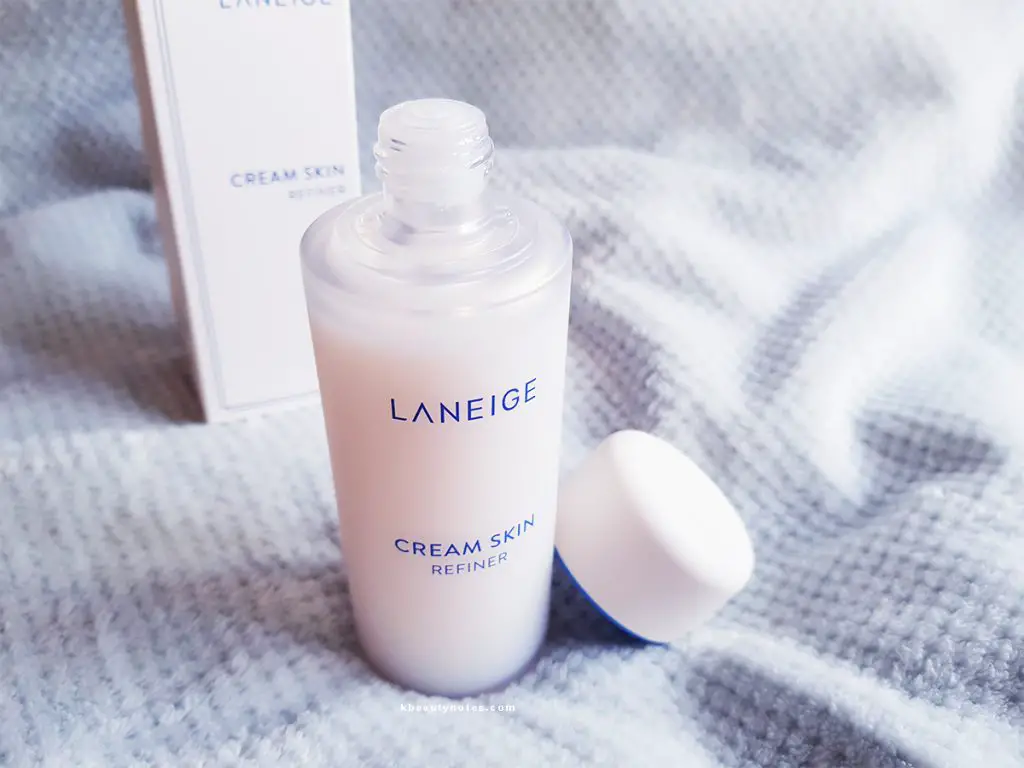 Consistency
The texture is lightweight, runny and has some good slip to it.


Performance
What's special about the Cream Skin is that it has the lightness of a toner, but offers nourishment like a moisturizer. It forms this milky film on the top of the skin and I've noticed that its moisturizing effect lasts longer than that of emulsions or creams that I've tried. I was very impressed by this. My skin immediately feels softer and more plump. Smooths out any skin texture.
Why do I use a combination of toners? I have oily skin which is prone to dehydration. So, a hydrating toner could provide hydration while this can lock that in as a moisturizer, but still feel light on the skin.
But depending on where you live, if you have just oily skin this may feel a little heavy. I wouldn't try using this at daytime if you live somewhere where it's hot and humid. If you live in a cold climate, that may be a different story. It could work well for you as a nighttime moisturizer and you wouldn't need to apply anything else after this. Grab a sample of it if you can to try it out.
In my opinion this toner would be more suitable for those with normal to dry skin and that's exactly the skin type it's targeted towards. However, still let's not forget that the texture of this is lightweight. Hence, for very dry skin types it could be a great addition to your routine, but it cannot work on its own to combat dryness.
Didn't cause any irritation or breakouts. Since my jaw area is a bit oilier and I tend to break out on this part of my face, I avoid applying this there. It has not caused me any skin congestion, but still would recommend for those whose skin gets congested easily to try a sample first (the 50ml version). Feels slightly soothing as the redness on my cheeks decreases, but I also use other soothing products so it cannot take all the credit for it. However, it's a nice little benefit to have especially for those of you with sensitive skin!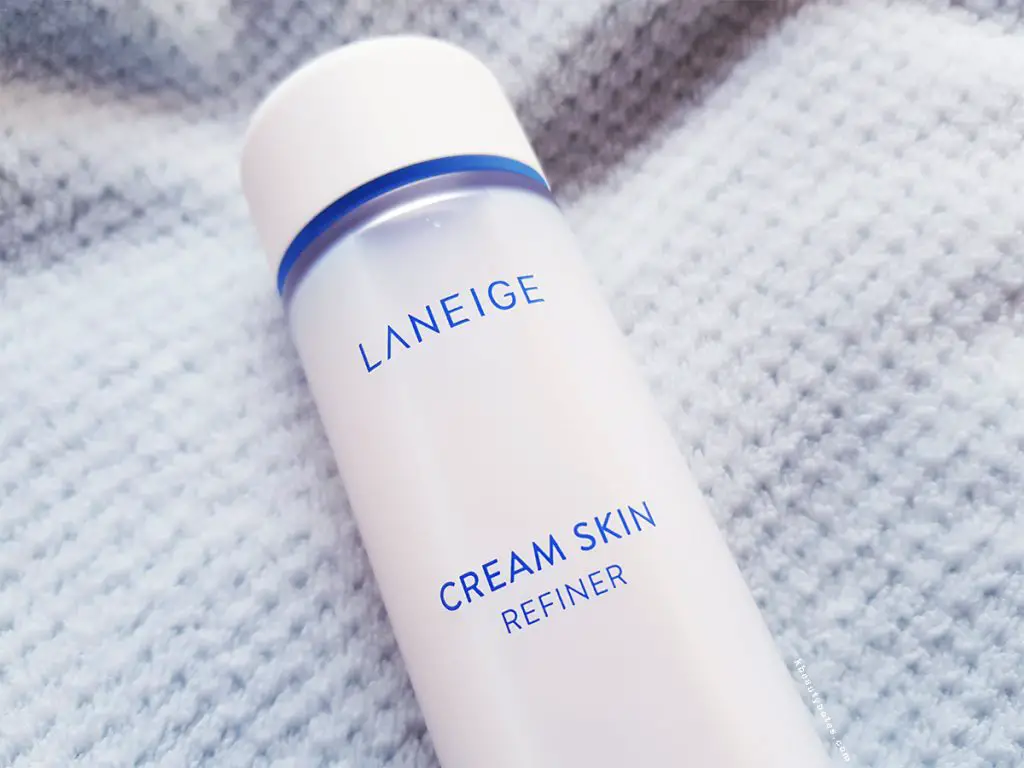 For those that are prone to milia, I would suggest to avoid applying this under the eye area, as it may be a little too occlusive for you.
I've experienced that for my skin type, the Laneige Cream Skin works better with makeup that is on the matte/satin finish side. A dewy or oil based foundation/cushion can be too much and make my skin greasy fast.


Scent
Sensitive to scents? No need to worry, cause this has no scent whatsoever.


Ingredients
The ingredients' list for the LANEIGE Cream Skin Refiner is pretty short. It contains glycerin and butylene glycol for moisturizing the skin. Meadowfoam Oil is used as an emollient which gives a soft and smooth feel to the skin.
White Tea Leaf Extract which is processed from the buds and leaves of green tea. Great for soothing irritated skin and has powerful antioxidant properties.
No irritants. It's free from alcohol, artificial fragrance and essential oils.
Water, Butylene Glycol, Glycerin, Limnanthes Alba (Meadowfoam) Seed Oil, 1,2-Hexanediol, Polyglyceryl- 10 Stearate, Glyceryl Stearate Citrate, Sodium Stearoyl Glutamate, Inulin Lauryl Carbamate, Glyceryl Caprylate, Ethylhexylglycerin, Propanediol, Disodium Edta, Camellia Sinensis Leaf Extract, Tocopherol.

Final Verdict
Pros
Long lasting moisturizing effect.
Makes skin soft and gives a healthy glow.
Lightweight, non sticky consistency (for 1 layer).
Smooths out any texture/flakes.
No scent.
More suitable for normal to drier skin types, as well as sensitive skin.
Innovative technology.
Cons
Could turn a bit sticky if you do more than 1-2 layers depending on your skin.
Avoid eye area if prone to milia.
In short, one of the things that I'm most impressed with this product is the long lasting moisture that it provides. Makes my skin super soft, flattens any flakes and gives a subtle healthy glow which I love. I don't know if I would be able to use this when it gets really warm, but for winter it's just perfect for my skin! It helps lock in the hydration from all the products I use under it. The formula is free of potential irritants so it's suitable for sensitive skin too. Not exactly the most affordable "moisturizer" out there, but if it works well for your skin, you're gonna love it. Wouldn't hasitate to repurchase this and I highly recommend it. The Cream Skin also comes in the mist form, which many people rave about as well!

Where to buy:
If you'd like to purchase the LANEIGE Cream Skin Refiner, you can find it at Yesstyle for the usual price of around $27. Stylevana, where it's currently on sale for $24.29 and Stylekorean has a 50% sale going right now where you can get it at $18. Definitely take advantage of the holiday sales if you're going to be shopping from Christmas to New Year.

Did you find my LANEIGE Cream Skin Refiner review helpful? Have you tried this toner before? Please share how this worked out for you or your favorite products from Laneige!

Also, subscribe to the blog if you don't want to miss future posts and reviews:
---

This post contains affiliate links. It means I may earn a small commission when you purchase a product through the links I have provided. I've bought this product myself and I will always share my honest opinion and experience. Sincerely thankful to all of you that support my blog! For more information, see Disclosure Policy.
Related posts
Follow blog via Email
Get the latest posts from this blog delivered to your inbox!
About Me
Hi and welcome to Kbeauty Notes! :) I'm Ledia and I'm very passionate about everything skincare. I created this blog to share my thoughts and experience with many amazing and not so great products out there, hoping to help you make better decisions regarding your skin. I'm very happy to bring you on this journey with me and I hope you enjoy it! <3

My Skin Type: Oily, acne prone, dehydrated, a little sensitive, large pores.

Skincare Concerns: hydration, pore care, anti-ageing, PIE (acne marks), brightening.

Contact: kbeautynotes@gmail.com