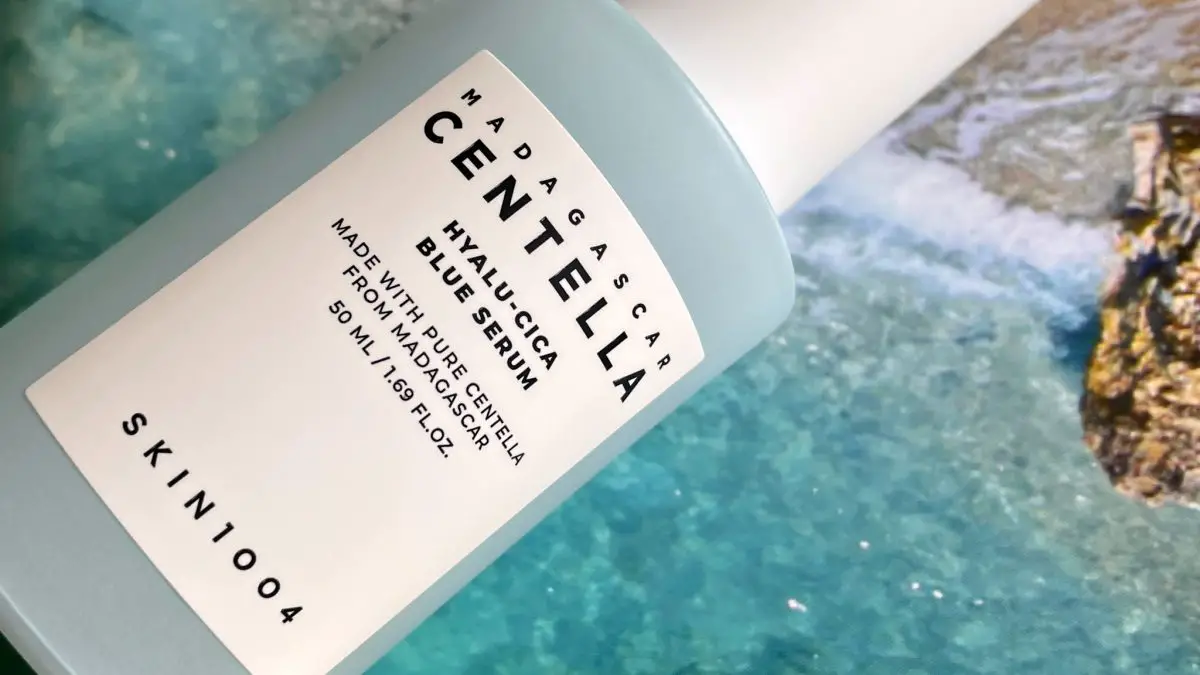 Centella Asiatica in skincare is not going anywhere anytime soon. And if you think of Centella, SKIN1004 is definitely the K-Beauty brand that will pop in your head! The brand gained great popularity with their best-selling Madagascar Centella line, specifically the ampoule, which I've listed as one of the most popular products in my centella asiatica post.
This is the star ingredient of all their products and as you may have guessed it, it's harvested from Madagascar! SKIN1004 caters to sensitive and easily irritated skin, also by not including ingredients that may be potential irritants in their formulations.
What I'm reviewing today is not the OG Centella ampoule, but an interesting serum from the Hyalu-Cica line that I've been trying out recently.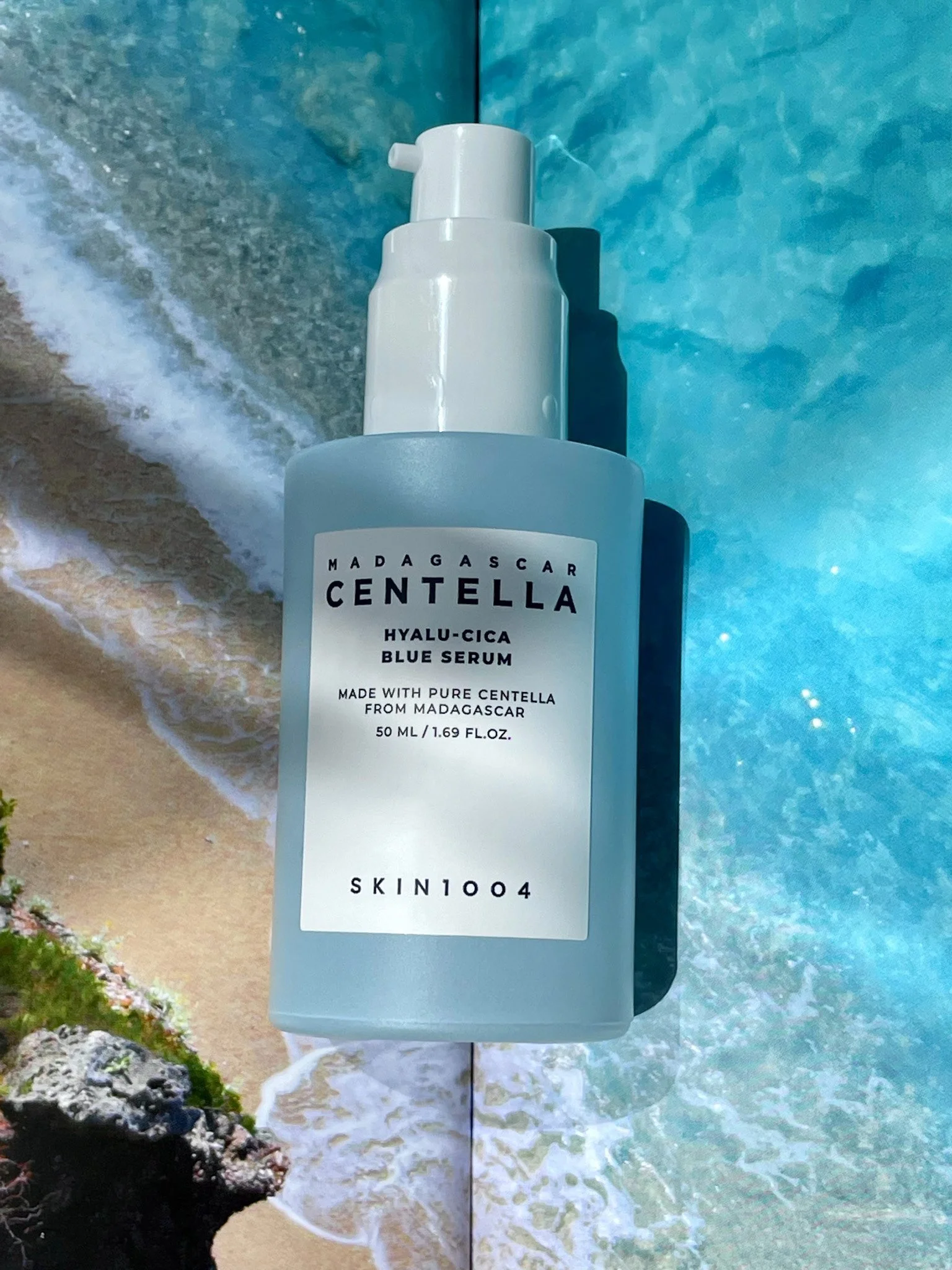 Where to buy: You can find this at Stylevana US / Stylevana EU, at the official Skin1004 Website, and Amazon.
It's also available at Yesstyle (Use KBEAUTYNOTES for % off your order, can be used with other coupons),  Stylekorean, Jolse.
Price: $14-$27 (depends on the site and sales)
PAO: 12 months after opening.
Volume: It comes in two sizes: 30ml (1.01 fl.oz.) and 50ml (1.69 fl.oz.). The 30ml would be great for trying the product and see how it'll work for your skin, but the 50ml is definitely better value.


What is the SKIN1004 Madagascar Centella Hyalu-Cica Blue Serum
The serum is designed to calm and deeply hydrate the skin with centella asiatica and 5 different weights of hyaluronic acid. Other notable ingredients include Niacinamide, Adenosine, Ceramides and Panthenol for anti-acne, brightening and strengthening the skin's protective barrier.
The packaging is a beautiful sky blue glass bottle with a pump. The one I have contains 50ml of product.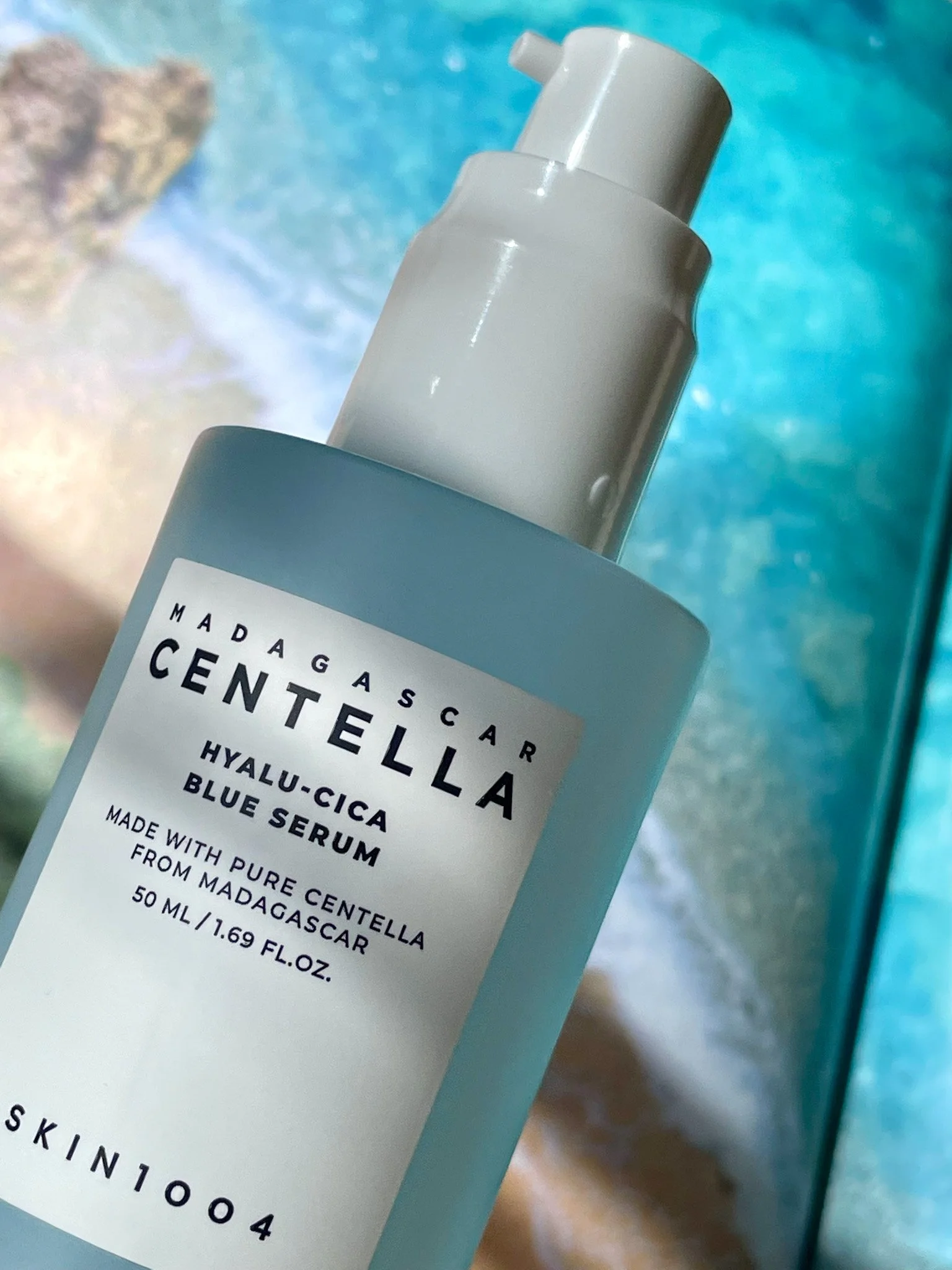 Application
You can apply the serum on cleansed skin or after using your toner/essence. 2-3 pumps would be enough to cover the whole face. Massage it gently and then pat until the serum is fully absorbed. It can be used twice a day, both morning and night.


Consistency
A translucent water gel consistency that goes on very smoothly on the skin. It may look like a gel at first and denser than usual for a serum, but once you start massaging it becomes watery. Sinks into the skin within a couple of seconds without leaving any residue, stickiness or oily-finish. It can be easily layered if you'd prefer to do so.


Scent
There is no added fragrance or essential oils in the formula, however, I can sense a light scent which is very pleasant. I always look forward to applying this serum mainly because of its beautiful scent. This would be great for those that are sensitive to fragrance and even those that don't prefer strong scents in their skincare products.


Performance of the SKIN1004 Hyalu-Cica Serum
First, I love the texture of this serum. It feels nourishing as you apply it, but at the same time it's not heavy on the skin at all. I was surprised that there is no noticeable stickiness once it sets, because usually that's the case with hyaluronic acid-based products.
Hydrates from the inside and plumps up the fine lines around my eye area which is something I always look for in products that mainly offer hydration. Sinks into the skin pretty fast without leaving any film on top. This is something that oily and combination skin types would prefer, especially in hot humid weather.
You can use it in the morning under sunscreen and it doesn't cause the skin to become oily during the day. I'd say it's perfect for a minimalist skincare routine.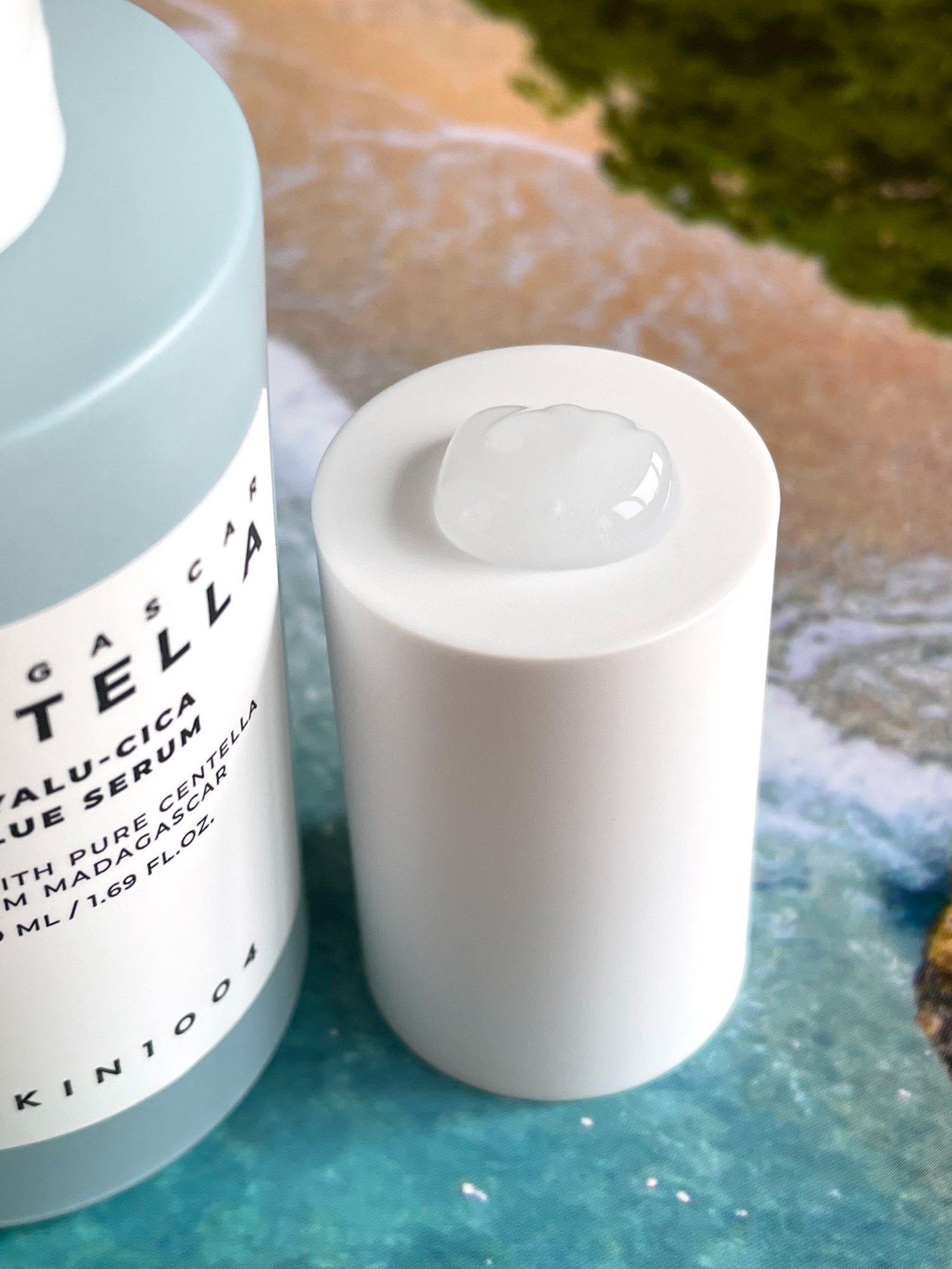 I'm oily and dehydration prone and this is working well for me now in the summer, but for long-lasting hydration on my skin, I also follow this tip: I don't let this absorb completely before applying my moisturizer. While the skin feels slightly damp I apply an emulsion or cream on top to lock in all the hydration. The results are: well hydrated and smooth-looking skin.
The lack of that protective and nourishing film, would not make this ideal for dry skin. You may use it, but it won't be enough on its own and you'll need to add more nourishing products to your routine. Also on top of dry skin, dry climate would not be the ideal weather for this product to work as intended.
We know that all products with Hyaluronic Acid, work better in humid climates since HA attracts and binds water from the outside to the surface of the skin.
The serum didn't break me out nor irritate my skin. Actually, it feels a bit cooling when you apply it, which is something I appreciate in summer. Reduces redness to some extent, but it's also summer and it's harder to only cool the skin by applying something topically.


Ingredients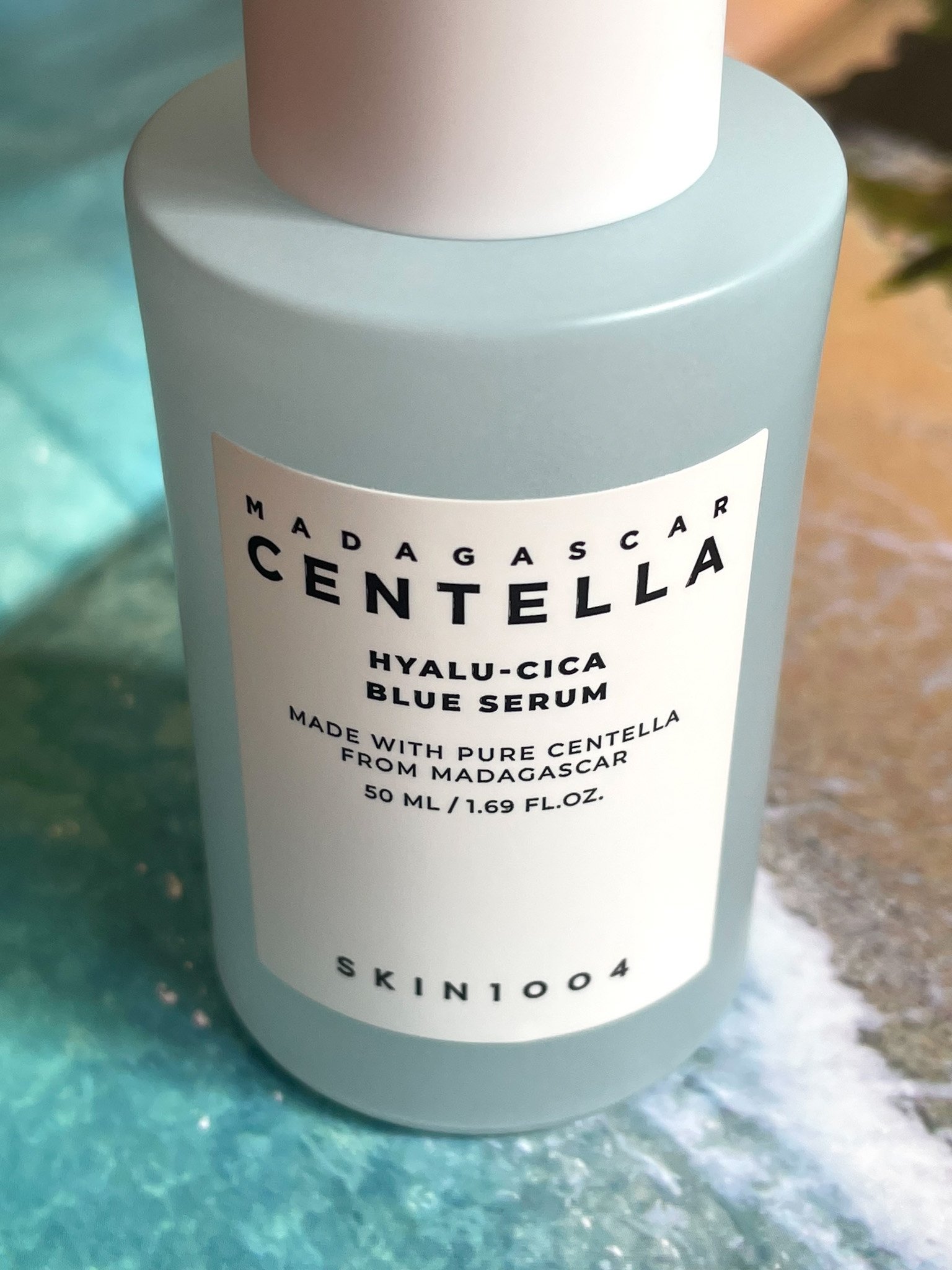 Hyalu-Cica – A combination of Centella Asiatica Leaf Water and 5 different molecular weights of Hyaluronic Acid for soothing and offering hydration to the deeper layers of the skin.
Sodium Hyaluronate Crosspolymer, a special form of HA, also acts as an antioxidant and gives skin long-term moisture.
This serum contains one of my favorite ingredients: Niacinamide. A great multi-tasker for anti-aging, skin brightening, anti-inflammatory and barrier repair. Niacinamide works great on acne and helps prevent them, too.
Adenosine can help with wound healing, barrier protection and to reduce inflammation. Research shows that it might even help with skin's own collagen production and improve elasticity.
Panthenol and Ceramide NP – Both play an important role in keeping the skin barrier healthy.
There is no alcohol, fragrance or essential oils in the formula.
Water, Centella Asiatica Leaf Water, Butylene Glycol, 1,2-Hexanediol, Niacinamide, Glycerin, Pantolactone, Hibiscus Esculentus Fruit Extract, Sodium Hyaluronate, Hydrolyzed Hyaluronic Acid, Hyaluronic Acid, Methylpropanediol, Panthenol, Cetearyl Olivate, Carbomer, Arginine, Sorbitan Olivate, Caprylic/​Capric Triglyceride, Pyrus Communis (Pear) Fruit Extract, Pentylene Glycol, Adenosine, Polyglutamic Acid, Rosa Damascena Flower Water, Artemisia Princeps Leaf Extract, Cucumis Melo (Melon) Fruit Extract, Iris Florentina Root Extract, Ethylhexylglycerin, Hedera Helix (Ivy) Leaf/​Stem Extract, Sodium Phytate, Xanthan Gum, Maltodextrin, Hydrolyzed Gardenia Florida Extract, Hydrogenated Lecithin, Ceramide NP, Sodium Hyaluronate Crosspolymer, Hydrolyzed Sodium Hyaluronate

Final Verdict on the SKIN1004 Hyalu-Cica Serum
Pros
Hydrates skin from within.
Lighweight and leaves no residue.
Non-oily, non-sticky finish.
Didn't break me out.
Feels a bit cooling.
Most suitable for oily, combination, normal, sensitive skin types.
No alcohol, fragrance or EOs.
Cons
Not ideal for dry skin, especially in dry climate.
Overall, it's a lovely weightless non-oily serum that would suit oily, combination and normal skin types more. Hydrates skin from within, didn't cause me acne and there's also a cooling effect. Great for sensitive skin that reacts to fragrance since it doesn't contain it. In addition, as a HA based product, it would be ideal to be used in humid climates.


Did you find the SKIN1004 Madagascar Centella Hyalu-Cica Blue Serum Review helpful? What products have you tried from the brand?
---

*Sponsored – in collaboration with SKIN1004, but all opinions in this post are completely my own.
*Affiliate Links – It means I may earn a small commission when you purchase a product through the links I have provided at no extra cost to you. Sincerely thankful to all of you that support my blog! For more information, see Disclosure Policy.
Related posts
Follow blog via Email
Get the latest posts from this blog delivered to your inbox!
About Me
Hi and welcome to Kbeauty Notes! :) I'm Ledia and I'm very passionate about everything skincare. I created this blog to share my thoughts and experience with many amazing and not so great products out there, hoping to help you make better decisions regarding your skin. I'm very happy to bring you on this journey with me and I hope you enjoy it! <3

My Skin Type: Oily, acne prone, dehydrated, a little sensitive, large pores.

Skincare Concerns: hydration, pore care, anti-ageing, PIE (acne marks), brightening.

Contact: kbeautynotes@gmail.com