Vegreen is a new brand in the K-Beauty scene and lesser-known by the K-Beauty community, but I have tried their skincare line before and to be honest, I was very impressed with the quality of their products. The Vegreen Nature Mucin Toner has become a HG for me! They recently launched a new serum with Centella Asiatica. At first, I wasn't exactly thrilled, because there are so many Cica products in the market already. BUT, after having tried it, I am so glad they actually made their own.

Where to buy: You can find this serum at Stylevana US / Stylevana EU. Vegreen has also recently become available on Oshen Skin (you'll get 15% OFF on fully priced products).
Price: $19.50
Volume: 50ml (1.69 fl.oz.)
PAO: 12 months after opening.
Packaging: It comes in a 50ml plastic bottle with a pump.


What is the Vegreen Fragrance-free Cica Serum
This is a simple serum with Centella Asiatica Extract and all of its active components which aims to soothe sensitive skin and moisturize. So, you can consider this as a moisturizing serum with antioxidant and anti-inflammatory properties. Other notable ingredients include: Allantoin, Panthenol (pro Vitamin B5) and Sodium Hyaluronate.


Application
Apply the serum after cleansing and toning. One to one pump and a half is enough to cover the whole face. Although my skin feels comfortable even when used on its own, I find it works best at the serum step, especially if your skin is on the drier side. It's very easy to layer and can be used both morning and night.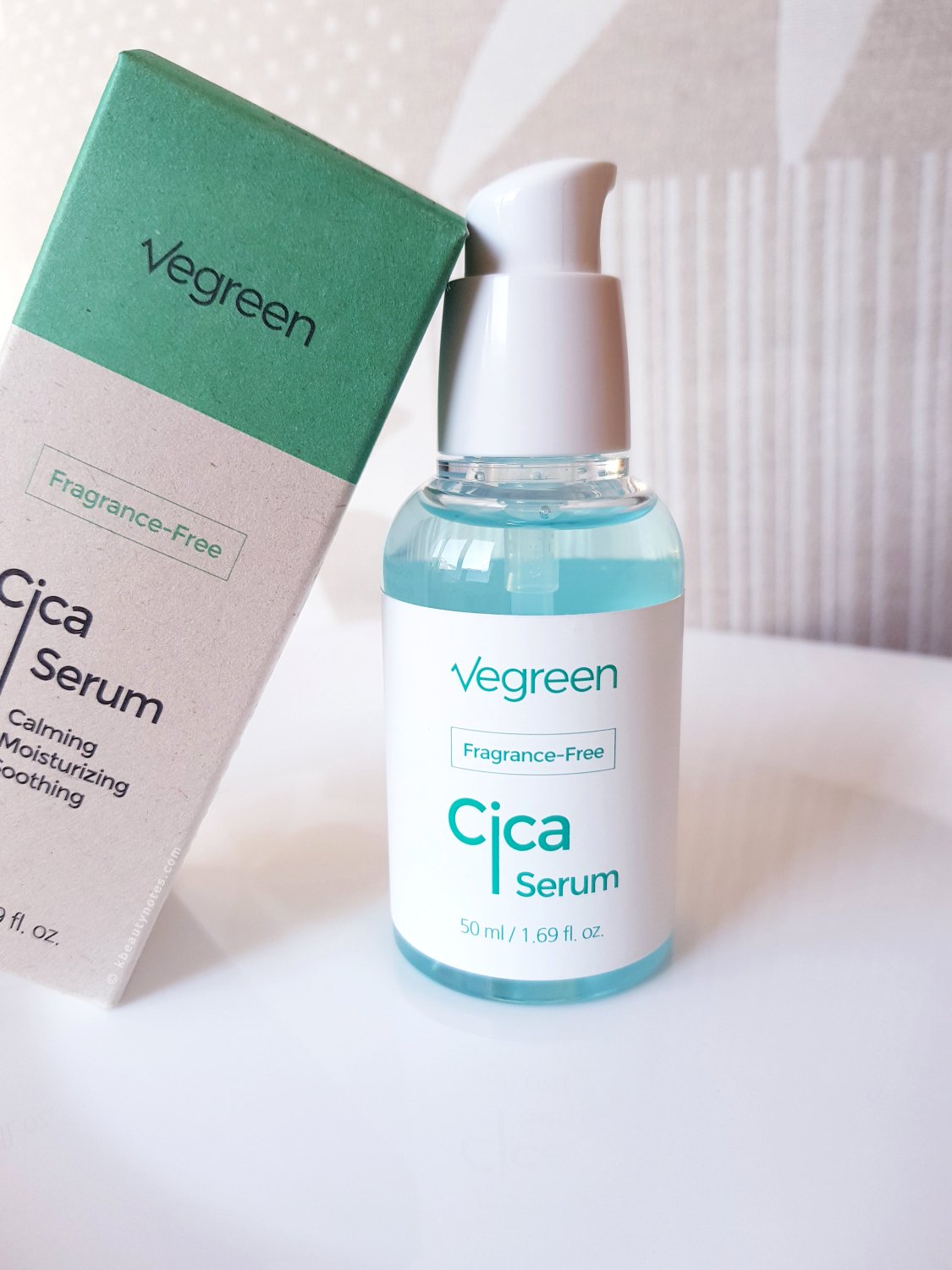 Consistency
A gel-like consistency, but it's very runny. Easy to spread around, doesn't leave any sticky residue behind and absorbs pretty fast.


Scent
There is no scent to it. The serum is free of fragrance and EOs.


Performance
This feels both hydrating and moisturizing for my skin. I already mentioned that this makes my skin comfortable even when I use it alone, but works even better over a hydrating toner. Those with drier skin types will benefit so much from layering. It can also be layered by itself without getting sticky or heavy! After it dries down and properly sets, my face becomes velvety smooth and soft.
I also love that it plumps the fine lines on my forehead and under the eyes. Just as the toner and serum, this too, provides long lasting moisture to the skin. Definitely give it a try if you have dehydration issues!
It does have a calming effect and effectively reduces redness. I had two huge inflamed pimples from trying a Vit C recently and it calmed them down in 5-10 min.
I haven't experienced any breakouts or congestion, so I think it'll be suitable for acne prone skin as well.
Plays well with other skincare, makeup and suncreen.
Moreover, if I had to compare this to the Purito's Centella Serum, it is so much better in terms of hydrating power and texture/finish. There is not a single bad thing I can say about this. I believe it would work for all skin types.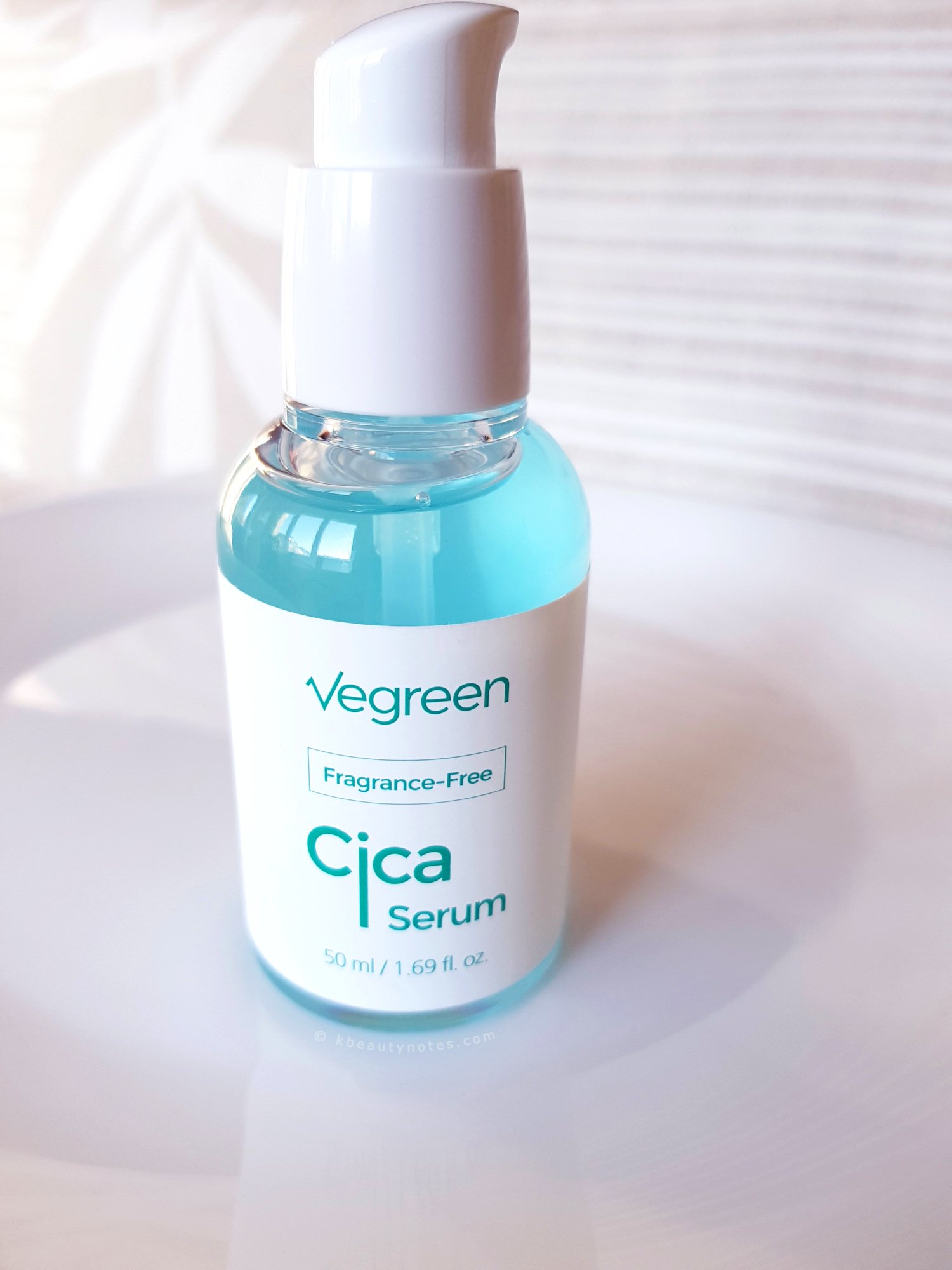 Ingredients
The Vegreen Cica Serum contains 70.7% Centella Leaf Water, Centella Asiatica Extract, and all of its active components separately: Madecassoside, Asiaticoside, Madecassic Acid, Asiatic Acid – antioxidant and soothing properties.
Other soothing ingredients include: Allantoin (also skin softening & protecting), Panthenol (Pro-Vitamin B5 – anti-inflammatory, skin protecting and wound healing), Dipotassium Glycyrrhizate (the main anti-inflammatory ingredients in the licorice plant, and sebum regulating properties).
Glycerin, Sodium Hyaluronate, Hydrolyzed Hyaluronic Acid – humectants.
Alcohol-free, fragrance & essential oil-free.
Centella Asiatica Leaf Water (70.7%), Butylene Glycol, 1,2-Hexanediol, Pentylene glycol, Water, Dipropylene Glycol, Glycerin, Caprylyl Glycol, Carbomer, Tromethamine, Disodium EDTA, Dipotassium Glycyrrhizate, Centella Asiatica Extract, Hydrolyzed Hyaluronic Acid, Allantoin, Panthenol, Xanthan gum, Malachite extract, Sodium Hyaluronate, Madecassoside, Asiaticoside, Madecassic Acid, Asiatic Acid

Final Verdict on the Vegreen Fragrance-free Cica Serum
Pros
Feels both hydrating and moisturizing.
Plumps the fine lines making them less visible.
It makes the skin very smooth and soft.
Can be layered easily without stickiness.
Suitable for all skin types, including sensitive and acne prone skin.
It didn't break me out.
Feels calming and is effective at reducing redness.
Works well with other skincare, makeup and sunscreen.
Free of alcohol, fragrance and EOs for those that can be sensitive to them.
Vegan & Cruelty-free.
I wasn't expecting much from this serum before trying it, but it has become one my favorite Centella Asiatica products (together with the A'PIEU Madecassoside Ampoule). I highly recommend it if you like Centella in skincare. It's a simple serum, but very effective and all skin types would enjoy it, including sensitive, acne prone and dehydrated skin.

Did you find this Vegreen Cica Serum Review helpful? Have you tried this serum or any other skincare product from the brand? Let me know in the comments!


---
*PR Sample – kindly gifted by Vegreen, but opinions are completely my own.
*Affiliate code. It means I may earn a small commission when you purchase a product using the discount code I have provided.


Related posts
Follow blog via Email
Get the latest posts from this blog delivered to your inbox!
About Me
Hi and welcome to Kbeauty Notes! :) I'm Ledia and I'm very passionate about everything skincare. I created this blog to share my thoughts and experience with many amazing and not so great products out there, hoping to help you make better decisions regarding your skin. I'm very happy to bring you on this journey with me and I hope you enjoy it! <3

My Skin Type: Oily, acne prone, dehydrated, a little sensitive, large pores.

Skincare Concerns: hydration, pore care, anti-ageing, PIE (acne marks), brightening.

Contact: kbeautynotes@gmail.com