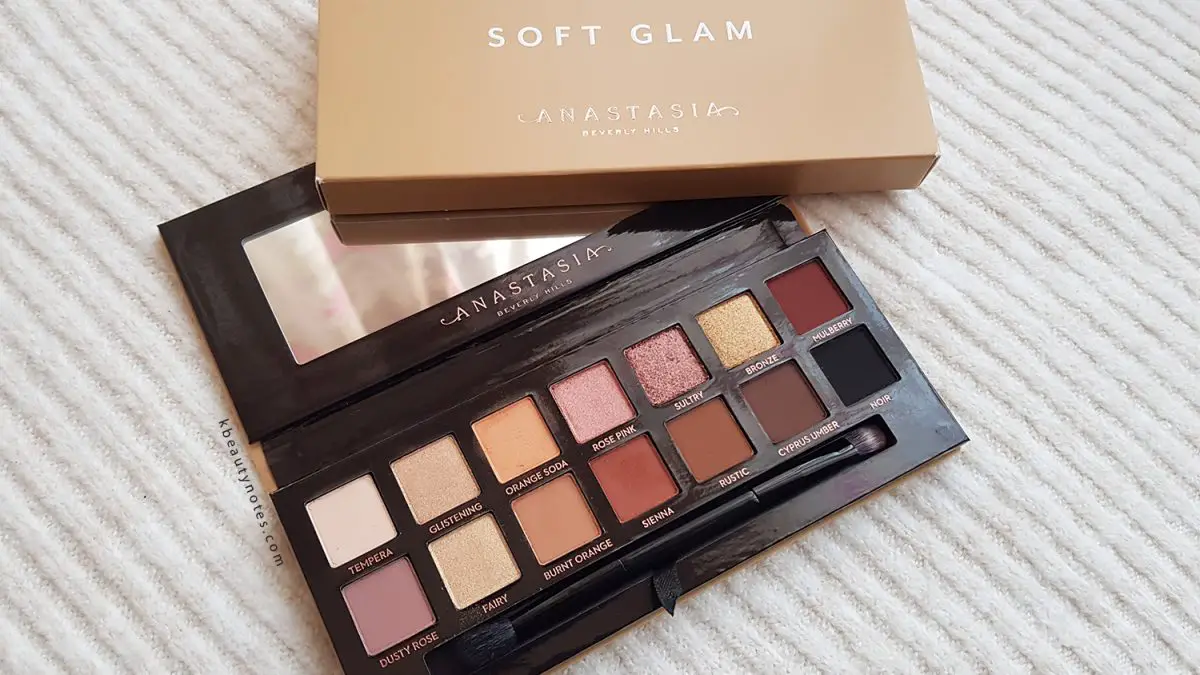 I was very excited to get the Anastasia Beverly Hills Soft Glam Eyeshadow Palette, because it's the first palette that I'm trying from the brand. And seeing how it's everywhere and many beauty enthusiasts love it, I had high expectations.
Colour Scheme
The colour scheme on this palette is simply gorgeous. It has 14 eyeshadows which are very wearable, be it for daytime or if you're going out in the evening. You can go from simple to a super glam look. I know there are palettes that have very unique colors, however I personally like colors that I can use often and I can see myself wearing every single shadow on this palette. They also work super well together.

Keep in mind that this palette would be more suitable for neutral to warm skin tones.


Tempera (ultra-matte velvety beige)
Glistening (iridescent gold with a hint of pink reflect)
Orange Soda (ultra-matte pastel peach)
Rose Pink (rose gold with a soft pink iridescent hue)
Sultry (hybrid satin metallic finish warm chocolate brown)
Bronze (metallic gold bronze)
Mulberry (ultra-matte mulberry)
Dusty Rose (ultra-matte dusty lilac)
Fairy (multi-imensional light gold)
Burnt Orange (ultra-matte deep orange)
Sienna (ultra-matte earthy brown)
Rustic (ultra-matte deep cinnamon brown)
Cyprus Umber (ultra-matte dark coffee)
Noir (ultra-matte deep carbon black)


Formula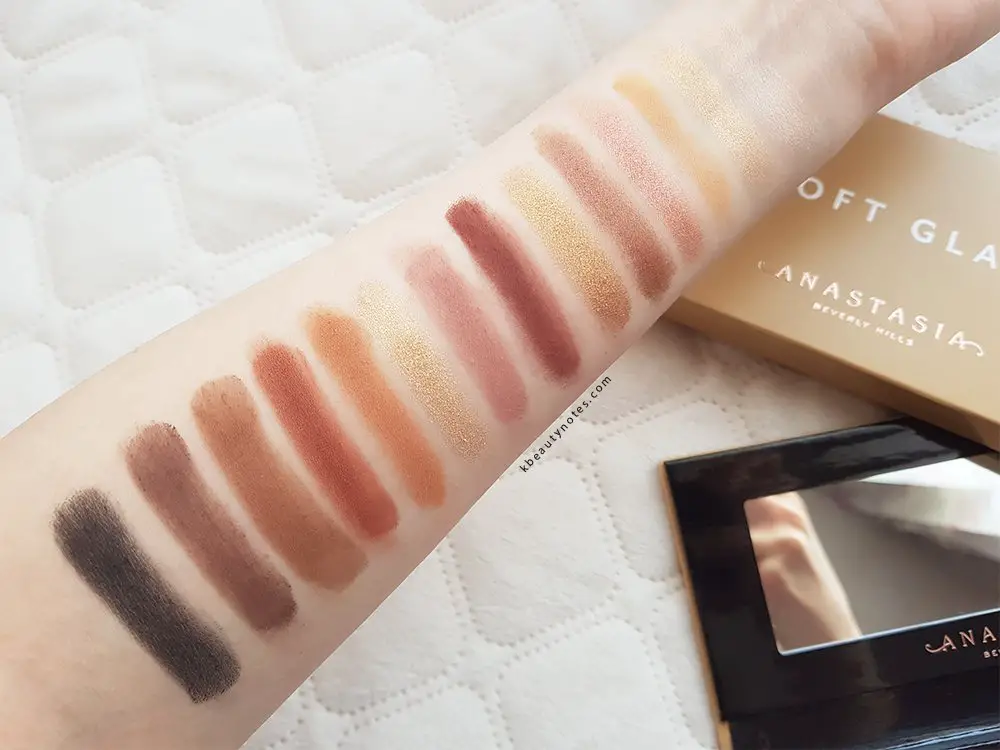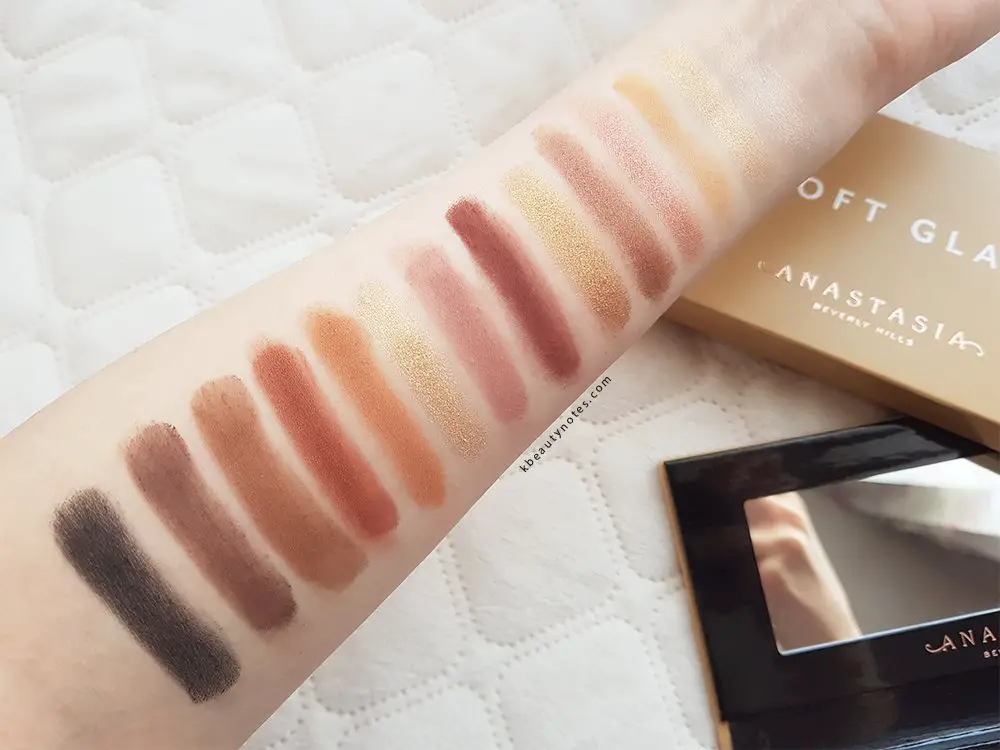 The shadows blend like a dream and go on so smoothly. They're pigmented, buildable and apply evenly. The texture is so soft, velvety-like. There is fallout when you tap the brush on the pan but that doesn't bother me at all. Could be a problem for some, because you may feel that you're wasting product. They are by no means chalky or dry though.
Simply tap lightly into the shadows with the brush and you'll get enough pigment. Then you can start building the color slowly to your liking.
The shimmers/metallics are beautiful and their payoff is great. I always apply those with my fingers to get the intensity I want.


Packaging
The packaging is very elegant and I love the velvet feel. It's very easy to get it dirty though, which can be annoying. I handle it carefully cause it's just too pretty to ruin it xD Would not be travel friendly, imo.
It has a flip to open design with a magnetic closure.
The brush that comes with the palette actually works! On days, when I'm doing a simple look I can just use this one brush and call it a day.


Wear test
The pigments do not lose their intensity for hours! One day I couldn't find my powder so I didn't set my concealer on the eyelids. My eyelids get oily but also the concealer I used made them even oilier. However, the eyeshadow didn't budge even after 5-6 hours.


Who is it for?
Those of you who have lots of palettes may already have these colors separately in your collections, so you maybe don't need this.
If you're a beginner or you need a good palette with beautiful, neutral and wearable colors, this is the palette for you. Also, if you're someone that doesn't need to have 100 eyeshadow palettes, but only a few to achieve a great variety of looks.
Why did I get the Soft Glam Eyeshadow Palette over the Modern Renaissance? The reason I chose this over the ABH Modern Renaissance Eye Shadow Palette, it's because that one has 2 shadows that I wouldn't normally wear although they're pretty (Love letter and Venetian Red). It doesn't mean that I won't get it in the future. Maybe I'll change my mind 😀 .
Also, both Palettes share 4 shades:
Tempera
Sienna
Cyprus Umber
Burnt Orange
Hence, in my opinion, it's not necessary to have both palettes at the same time, unless you like to collect palettes.


Overall
I wouldn't normally spend this much on a palette but a friend recommended it to me and I'm glad she did. I love the shades and the formula. The ratio of mattes and shimmers is just right for me.
Its such a beautiful collection of wearable colors. It is on the pricey side, but if you consider the versatility, quality and wearability I think it's worth it.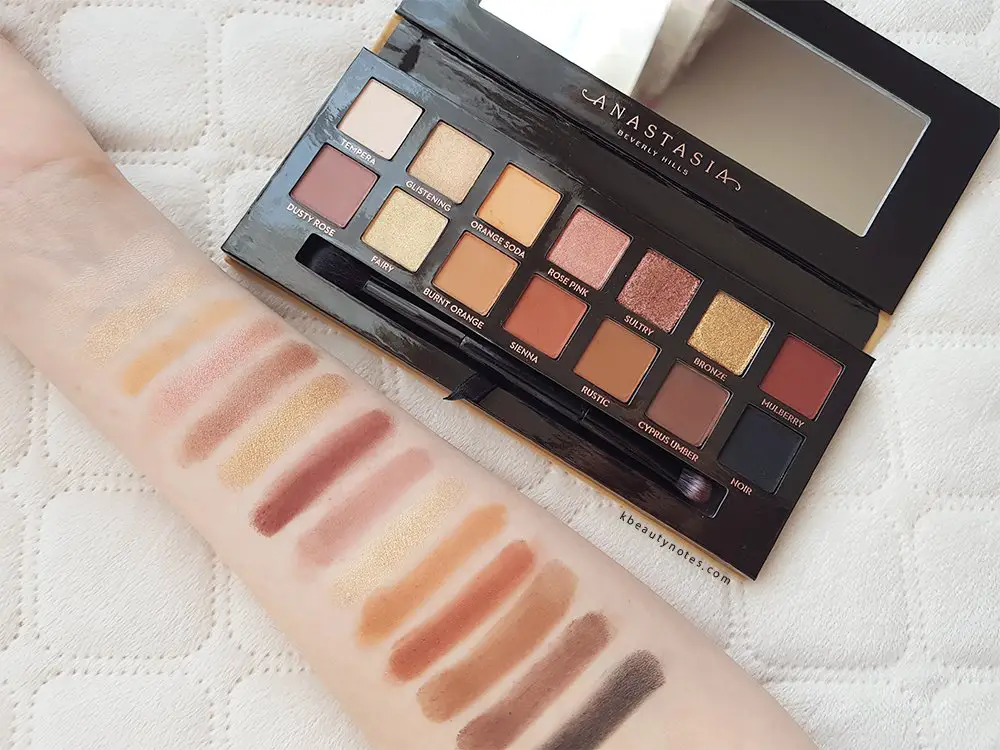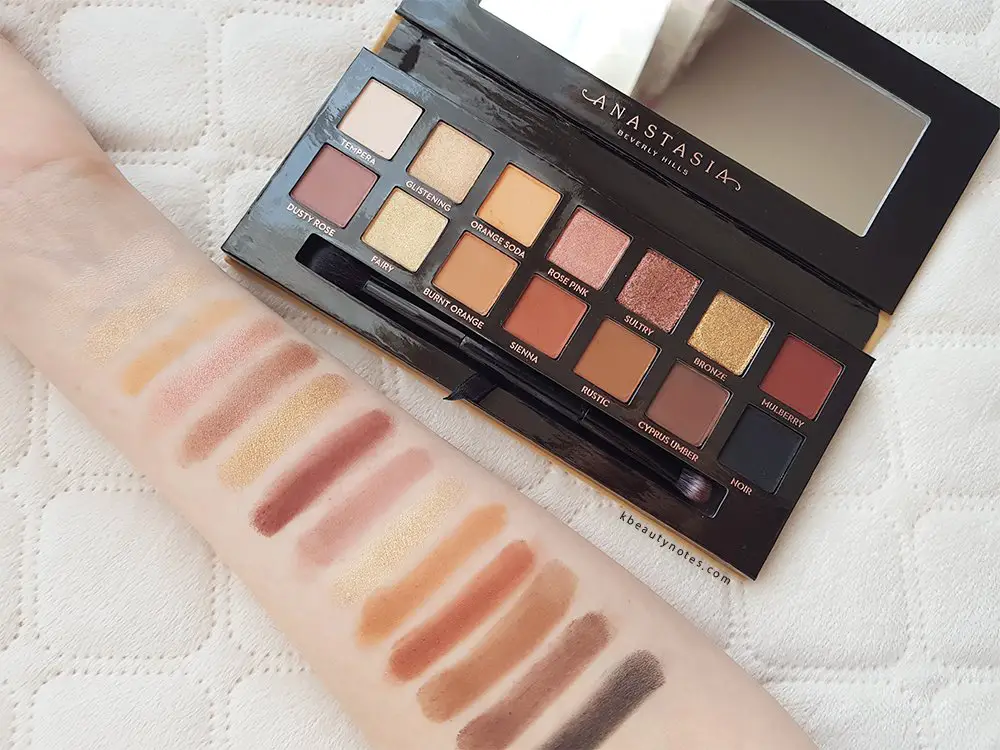 Have you tried Soft Glam Eyeshadow Palette? Do you have a favorite palette from ABH and why? Please share <3


Also Read:

The Saem Cover Perfection Pot Concealer Review
Klairs Illuminating Supple Blemish Cream SPF40 PA++ Review
MAMONDE Brightening Cover Powder Cushion SPF50+ Review


Related posts
Follow blog via Email
Get the latest posts from this blog delivered to your inbox!
About Me
Hi and welcome to Kbeauty Notes! :) I'm Ledia and I'm very passionate about everything skincare. I created this blog to share my thoughts and experience with many amazing and not so great products out there, hoping to help you make better decisions regarding your skin health. I'm very happy to bring you on this journey with me and I hope you enjoy it! <3

My Skin Type: Oily, acne prone, dehydrated, a little sensitive, large pores.

Skincare Concerns: hydration, pore care, anti-ageing, PIE (acne marks), brightening.

Contact: kbeautynotes@gmail.com