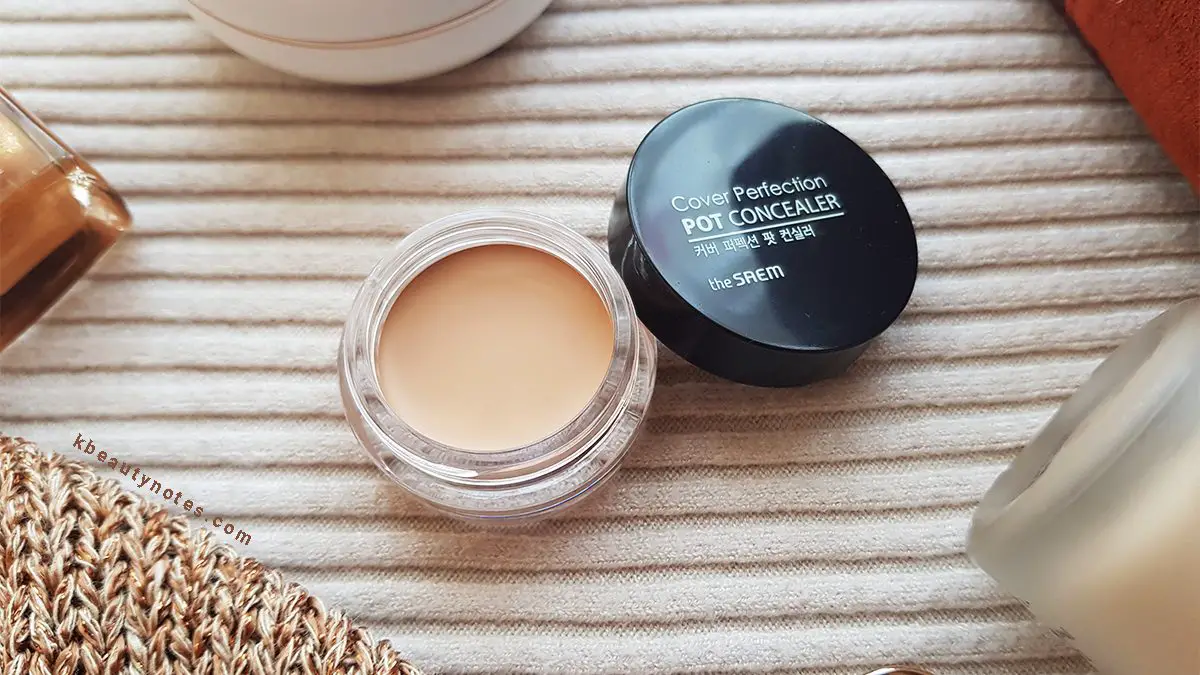 I haven't been a huge user of concealers until recently, because I often found them hard to blend or they became cakey on my skin. I most likely wasn't finding the right ones, but now I enjoy using them mainly as an eyeshadow base and to brighten and even out the skin tone around my eyes. Fortunately, thanks to my routine and niacinamide I don't get huge pimples that I need to cover anymore. I've heard really good things about The Saem Pot Concealer so I needed to test it considering it's also very affordable.


Application
I like to apply this with my fingertips since you can get the product in a thicker layer that way and spread it by tapping it into the skin. The heat that's generated from the fingers also helps with blending the concealer better. I avoid sponges at all costs because I don't want my concealer to lose its coverage and become sheer.

Update: I found out that this formula is much better applied with a concealer brush for my skin type. Keep reading for the details!


Formula
The Saem Pot Concealer contains 4 grams of product. The formula is creamy and feels very light and natural on the skin. It has medium coverage.


Shade Range
The Saem Pot Concealer comes in only 2 shades, unfortunately, #1 Clear Beige and #2 Rich Beige.
I got mine in #1 Clear Beige which is the lightest one. It does match my skin tone well and I like how it looks very natural. I didn't go for the #2 because I was afraid it would be too dark and I'm glad I didn't, although usually that's hardly the case with korean base products.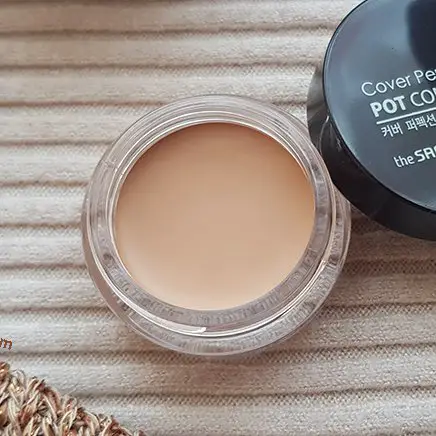 Performance
Despite the formula being creamy, the concealer dries down into a matte finish. When I first used this I just didn't like it. It didn't accentuate the fine lines under my eyes, but when blended, it did get into my pores and I wasn't a fan of how it looked. Mind you, my skin is oily so my pores are large and visible. If your skin is dry/dehydrated or not well exfoliated it can cling onto dry patches or flakes.
So, the second time I made sure my skin was well hydrated before applying this concealer. The application went much smoother and since I had skincare underneath I loved the finish as well. The complexion looked really healthy overall.
Update: Guys! I usually apply most products with my hands because I choose creamy formulations with preferably, a glowy finish. Despite fixing the finish and the hydration issue, this still didn't sit right on my pores. So, I gave it another try with a concealer brush and oh boy did that make a difference! It went on like a dream and the pores looked blurred. HUGE difference. I would recommend you switch to a brush if you need to use this on your cheeks where the pores are larger and visible.
I personally don't like matte base products. Normally, I reach for ones that are creamy and have a dewy or satin-like finish regardless of them not being as long lasting. Because my skin is dehydrated, with large pores and requires frequent exfoliation, anything matte just doesn't sit well, so I had to make this work for my skin. It covers well any discoloration or redness on my face and the lasting power is pretty good.
Seeing how it has some really good reviews and is raved about from some YouTubers, I was a little disappointed when it first didn't work out. But, this just goes to show that everyone's skin is different and what you like also depends on personal preference. With some products you have to make some tweaks and see how you can make it work for you (although not everyone has time for that). I really liked it as an eyeshadow base and for under my eyes. It does not crease and, of course, I make sure to set the eyelids with powder or else the eyeshadow won't blend well (this is true for most concealers).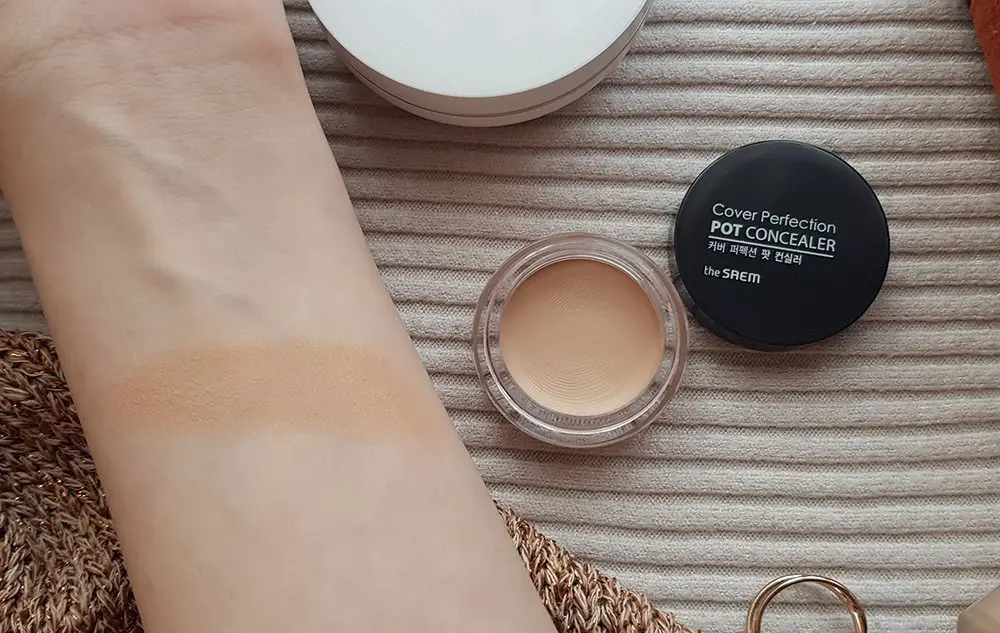 It does look dark on my arm or a bit yellowish. However, it matches the skin on my face pretty well and looks very natural and neutral in color. Looks just like skin, which I absolutely like.


Final Verdict
Pros
Evens out the skin tone and covers redness/discoloration.
Suitable for oily / well hydrated skin types.
Has a soft finish.
Has medium coverage (you can build it up a little).
Doesn't crease.
Long lasting.
Didn't break me out.
Affordable.
Cons
Limited shade range.
Not suitable for dry / dehydrated / textured skin types.
Who will The Saem Pot Concealer be most suitable for? If you already use concealers with a matte finish and like how they look on your skin, this will work for you. It'll work well for those with oily and well hydrated skin. If you have large visible pores, you'll need to use some kind of primer otherwise it'll get in and won't look good. (Ok, I already mentioned in the update above that using a brush will make this work if you have large pores.) I would also avoid setting it with powder.
The cons aside (which for me it doesn't have any cons anymore), this concealer is very natural looking, has good coverage, lasts for a good amount of time and is very affordable. Evens out the skin tone and covers redness. It's also very lightweight, so it doesn't feel like you have any product on the skin!
Now that I was able to make the necessary changes so that this concealer would suit my skin, I absolutely love it!

Where to buy: You can purchase the The Saem Cover Perfection Pot Concealer at Yesstyle* for $5.61. It's also available at Stylevana* on sale for $3.99 right now. On Jolse* it's currently $7.36, but can go lower during sales.

This brand has also another well known concealer: The Saem Cover Perfection Tip Concealer (review), which I really want to try and see how it compares to the pot one. Have you tried these 2 products from the Saem? Please share your experience in the comments!


---

*Affiliate links. It means I earn a small commission when you purchase a product through the links I have provided. You will not be charged extra if choosing to do so. The product has been purchased with my own money and I will always share my honest opinion and experience. Sincerely thankful to all of you that support my blog! For more information, see Disclosure Policy.


Related posts
Follow blog via Email
Get the latest posts from this blog delivered to your inbox!
About Me
Hi and welcome to Kbeauty Notes! :) I'm Ledia and I'm very passionate about everything skincare. I created this blog to share my thoughts and experience with many amazing and not so great products out there, hoping to help you make better decisions regarding your skin. I'm very happy to bring you on this journey with me and I hope you enjoy it! <3

My Skin Type: Oily, acne prone, dehydrated, a little sensitive, large pores.

Skincare Concerns: hydration, pore care, anti-ageing, PIE (acne marks), brightening.

Contact: kbeautynotes@gmail.com