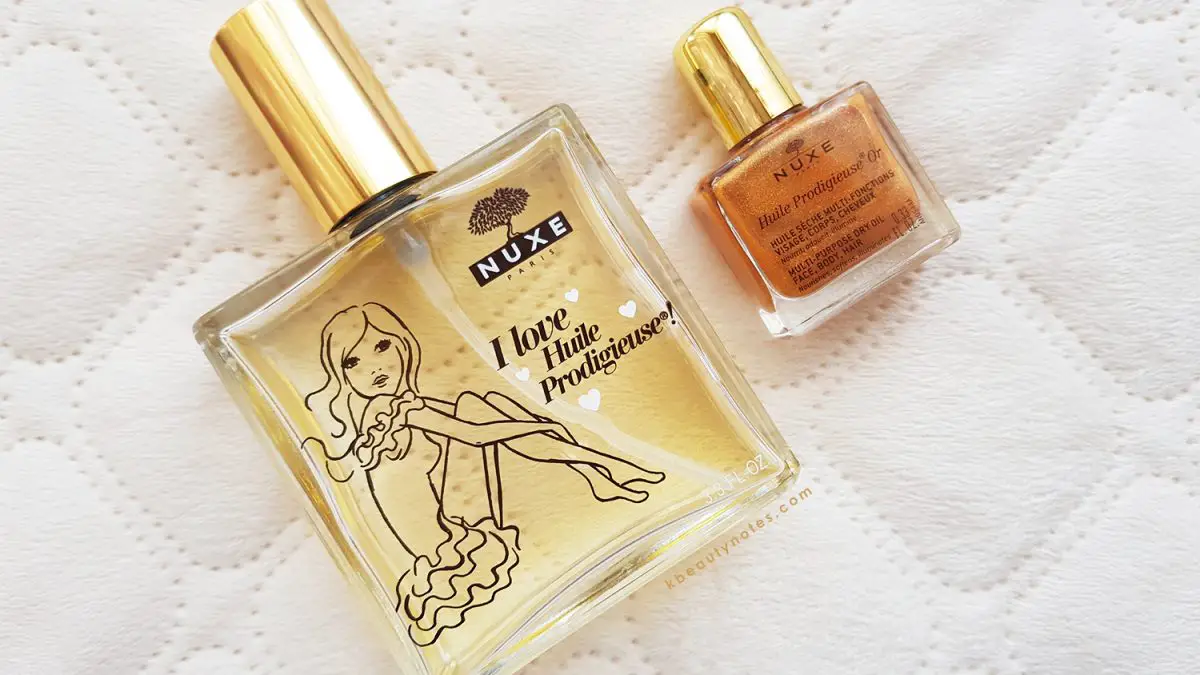 NUXE Huile Prodigieuse Dry Oil is a multi-purpose oil that can be applied on hair, face and body. I admit that one of the reasons why I wanted to get this is because it comes in a gorgeous 100ml (3.3 fl oz) sleek glass bottle! The one that I have is a limited edition bottle that's why it has a drawing of a girl on it.


Where to buy: You find the Nuxe Dry Oil at their official website in the 50ml size and 100ml size. It's also available at SkinStore, Lookfantastic US, Adore Beauty.
Price: $25-$45
Volume: 50ml and 100ml.


What is the NUXE Huile Prodigieuse Multi-Purpose Dry Oil
This multi-usage dry oil that is made using six Precious Plant Oils (Macadamia, Hazelnut, Borage, Sweet Almond, Camellia and St. John's Wort), nourishes, repairs, and softens skin and hair. It has a unique dry oil texture and a captivating fragrance.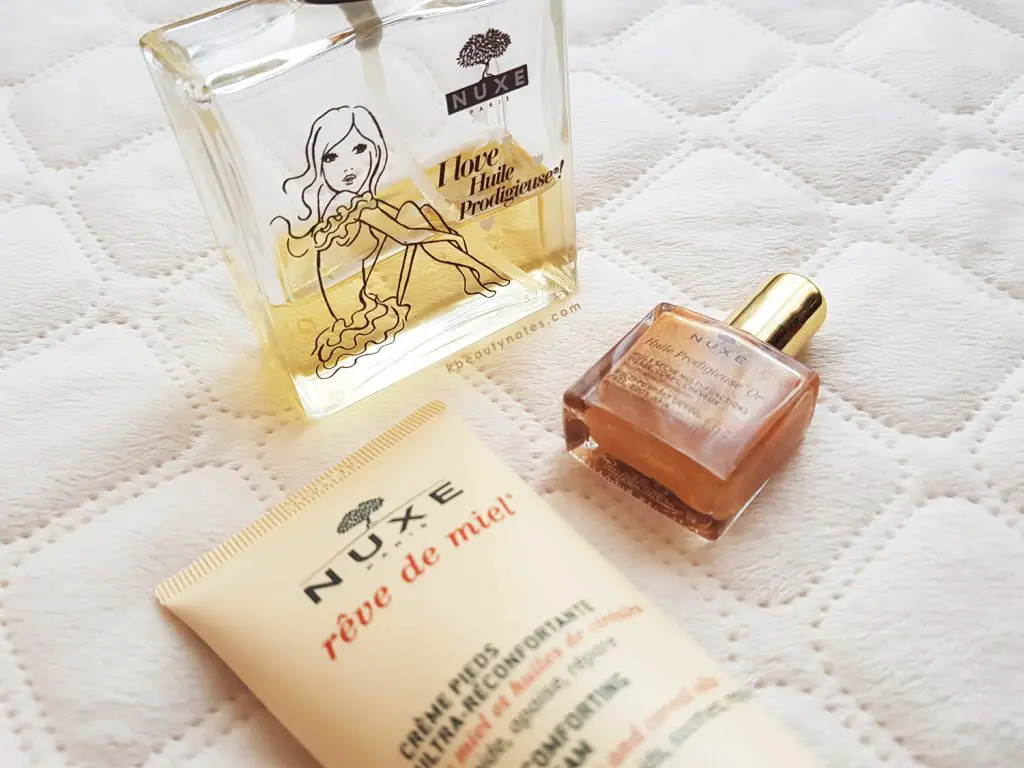 Application
Directions: Blend a few precious drops in with your favorite cream or serum. Spritz on wet hair to impart an effortless just-out-of-the-shower style, blend into foundation for a dewy finish and get an extra glow by mixing dry oil Huile Prodigieuse with your favorite moisturizer. A light spray before applying a face mask will give your skin a burst of moisture.
I personally use this only on my hair and body after taking a shower, because my skin is acne prone and it broke me out.
Hair: I spray it 2-3 times into the palms of my hand and rub them together. Then I apply it on from the middle to the ends while my hair is still damp, avoiding the roots and upper part (if you have oily hair).


Consistency
The Nuxe Dry Oil feels very lightweight and luxurious, non greasy and spreads very well. It also absorbs rather quickly and the finish is smooth.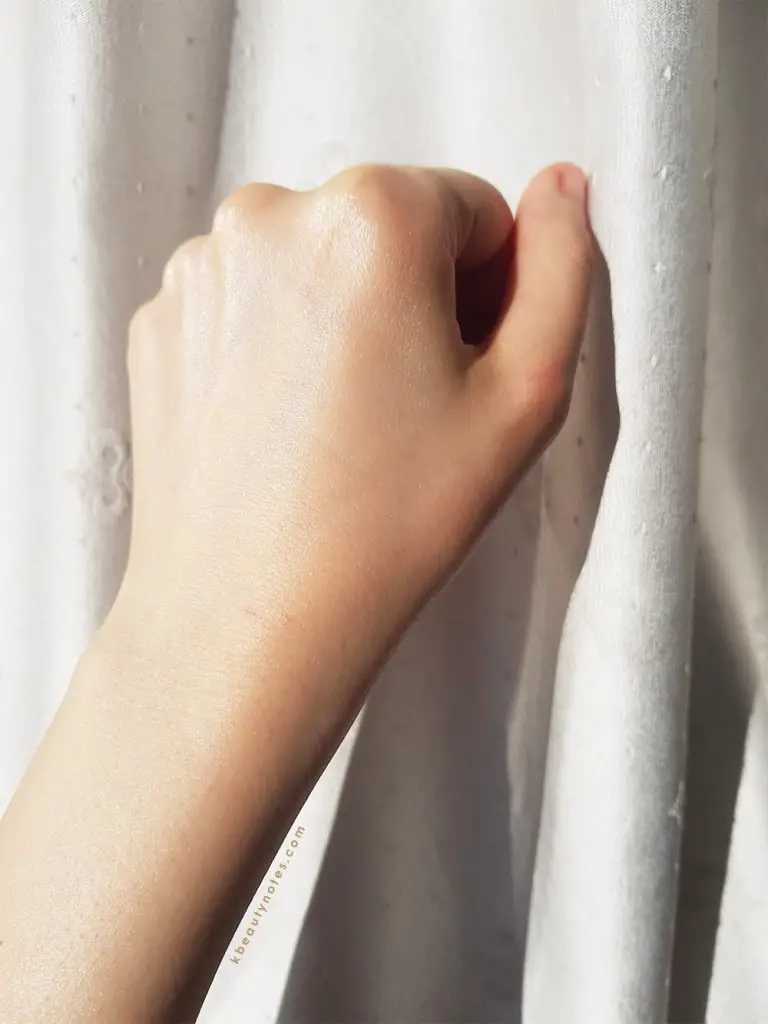 Scent
The scent has notes of Orange Blossom, Magnolia and Vanilla. It is a strong scent though, and although in the beginning I wasn't a big fan, it grew on me and now I'm completely obsessed with it!


Performance
When I first got the Nuxe Dry Oil, I did apply it on my face a couple of times. I broke out in 2 spots, so just to be on the safe side I stopped using it on the face. Apart from the breakout, I liked the effect of the oil on my skin. Coupled with a moisturizer makes it look dewy and soft.
The strong scent in the oil can also be overpowering for some, so now I only use it on my hair and body. Those of you with sensitive skin need to take this into consideration.
I apply it on my body after taking a shower in place of a lotion. It makes the skin very smooth and absorbs quick, so it doesn't feel greasy or uncomfortable since it's a dry oil. It's very lightweight but still makes the skin feel nourished. When I go out I apply it on my arms and collar-bone, to make it work like a perfume. I've had a lot of compliments on it. Generally people really like the scent and after it has been on your skin for some time it becomes more subtle.
This is one of the best oils that I've used for my hair. My scalp is oily, but the rest of my hair is dry from the frequent use of hair tools and gets frizzy. I only need 2-3 sprays of this and my hair feels so soft and gets detangled very easily (I do use conditioner when washing my hair, but it's nothing heavy duty). One of the things that I like most it's that it doesn't weigh down the hair like most oils do. It also gives shine and let's not forget about the scent… Gorgeous!


Ingredients of the Nuxe Dry Oil
NUXE Huile Prodigieuse Dry Oil contains 6 kinds of oils: Borage, St. John's wort, Sweet Almond, Camellia, Hazelnut and Macadamia (and vitamin E).
98 % of the total ingredients are from natural origin.
Silicone free, Mineral oil free, Preservative free. No animal ingredients.
It does have fragrance in the middle of the ingredient's list.
Coco-caprylate/caprate*, Dicaprylyl Ether*, Macadamia Ternifolia Seed Oil*, Prunus Amygdalus Dulcis (sweet Almond) Oil*, Corylus Avellana (hazel) Seed Oil*, Camellia Oleifera Seed Oil*, Parfum/fragrance, Tocopherol*, Borago Officinalis Seed Oil*, Olea Europaea (olive) Fruit Oil*, Helianthus Annuus (sunflower) Seed Oil*, Rosmarinus Officinalis (rosemary) Leaf Extract*, Hypericum Perforatum Flower/leaf/stem Extract*, Solanum Lycopersicum (tomato) Fruit Extract*, Benzyl Salicylate, Linalool, Limonene, Citronellol, Geraniol [n2206/a]

*Natural Origin

Final Verdict on the NUXE Huile Prodigieuse Multi-Purpose Oil
Pros
Non greasy, light texture.
Leaves a soft, smooth finish and absorbs fast.
Skin looks beautiful with a healthy sheen.
Smoothes frizzy hair and makes it soft.
Doesn't weigh the hair down.
Makes it easier to comb and detangle.
Multi-tasking oil.
Suitable for dry and oily skin types.
Cons
Strong fragrance. ( Sensitive skin types should be aware of this if they intend using it on the face. The scent itself could be a downside for some, but I personally love it.)
It can be a little pricey.
If you have the budget and you're thinking whether to get this, I would say go for it! It's such a beautiful oil which smells divine. Works well on the skin and hair (love a multi-purpose product that actually works). I'm a huge fan of the scent, it is very elegant and smells high-end. Those of you with skin sensitivities or sensitive to fragrances should be aware to not apply this on the face. As you can see from the picture I have already used more that half the bottle and I would get this again and again!

NUXE Huile Prodigieuse Or Gold Shimmer Dry Oil Review
I got this NUXE Huile Prodigieuse Or Gold Shimmer as a gift from my mom so I thought I would include it here. The golden shimmer in this is simply beautiful. Would look great on all skin tones, but especially on dark skin tones or if you're tanned.


Where to buy: You find the Gold Shimmer Dry Oil at Lookfantastic US in the 50ml size and 100ml size. It's also available at Nuxe US, Adore Beauty, Exclusive Beauty Club.
Price: $33-$51
Volume: 50ml and 100ml.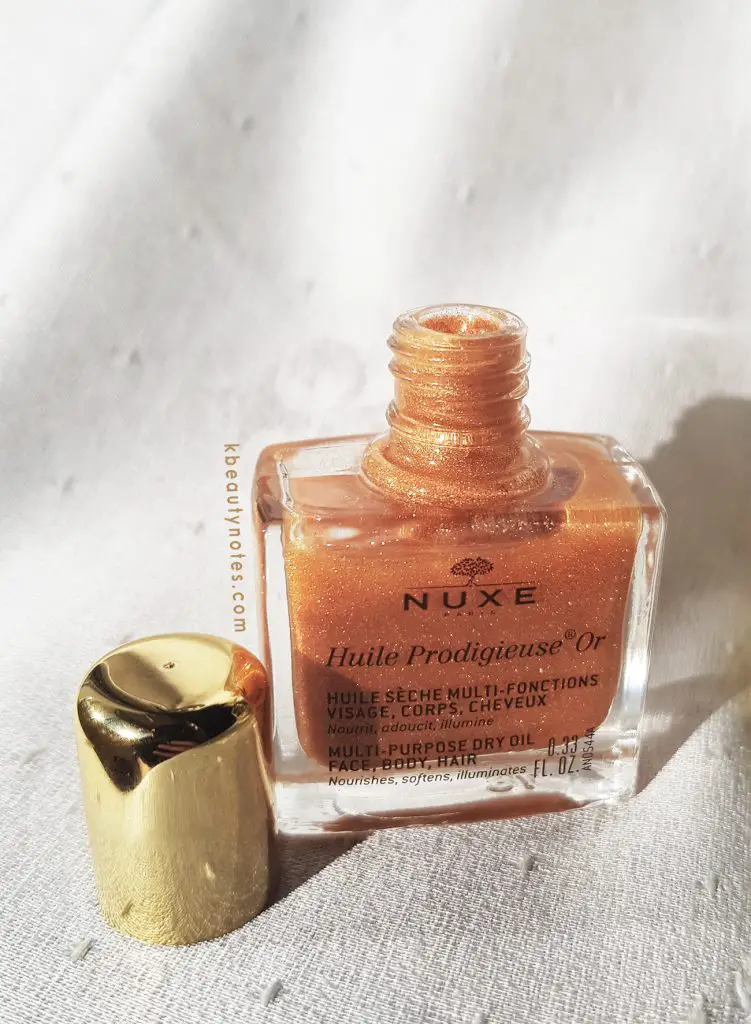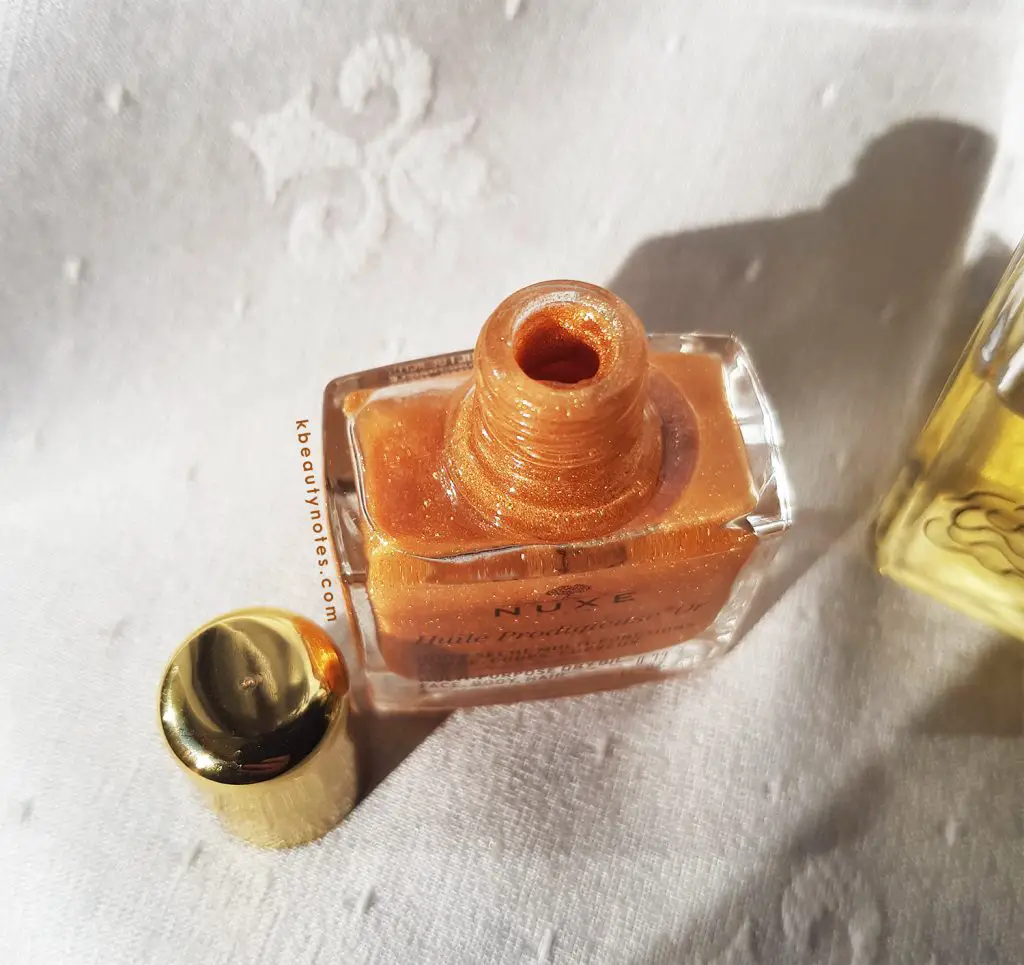 You can apply it on the collar-bone, shoulders, decolletage and legs.
It does look like it has color but when I rubbed it into the skin it disappeared and only the shimmer remained. If your skin is dry to begin with I would recommend you do a 1-2 layers of a more nourishing oil since the texture of this one is light and absorbs fast. Would be perfect in the summer or for going out on a special occasion.


Did you find the NUXE Huile Prodigieuse Multi-Purpose Dry Oil Review helpful? Have you tried any products from this brand before that you've liked? Please share in the comments!


Also read: NUXE Sun Delicious Cream High Protection SPF30
---
*Affiliate Links – It means I may earn a small commission when you purchase a product through the links I have provided, at no extra cost to you. Product was purchased by me.
Related posts
Follow blog via Email
Get the latest posts from this blog delivered to your inbox!
About Me
Hi and welcome to Kbeauty Notes! :) I'm Ledia and I'm very passionate about everything skincare. I created this blog to share my thoughts and experience with many amazing and not so great products out there, hoping to help you make better decisions regarding your skin. I'm very happy to bring you on this journey with me and I hope you enjoy it! <3

My Skin Type: Oily, acne prone, dehydrated, a little sensitive, large pores.

Skincare Concerns: hydration, pore care, anti-ageing, PIE (acne marks), brightening.

Contact: kbeautynotes@gmail.com