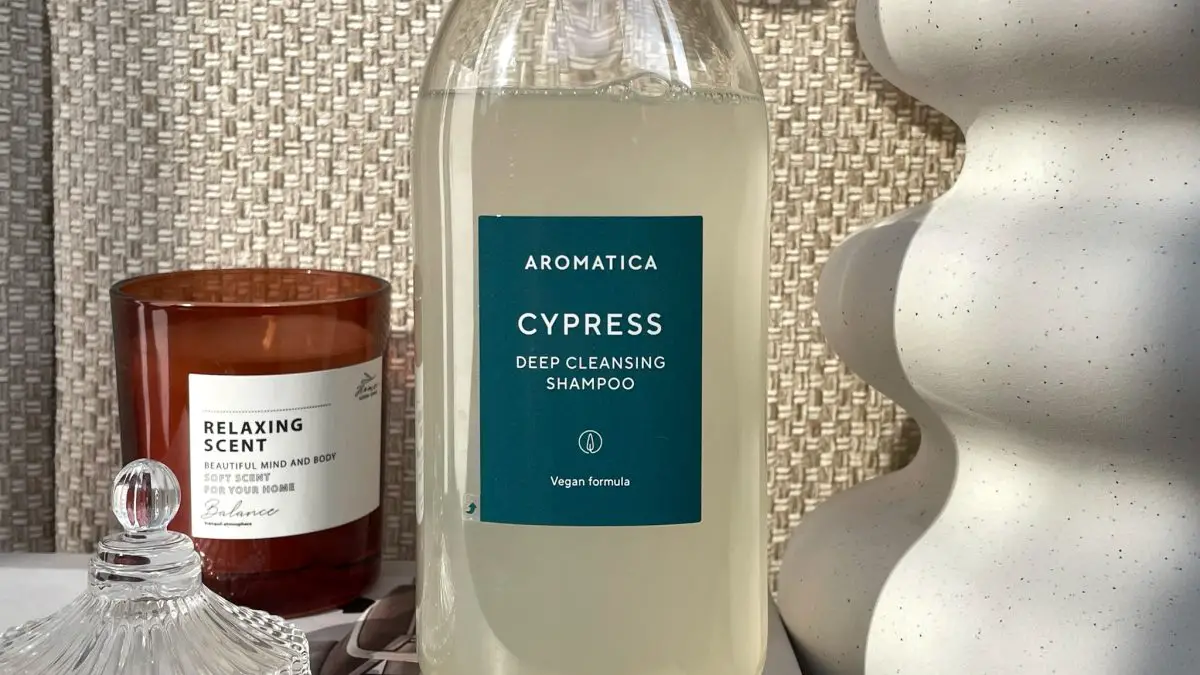 As I continue my journey towards maintaining healthier hair, I find immense pleasure in exploring various Korean hair care products. While K-beauty is often associated with skincare and makeup, the world of Korean hair care is equally captivating. In this review, I'll be sharing my experience with the Aromatica Cypress Deep Cleansing Shampoo, the latest addition to my hair care regimen.


Where to buy: The Aromatica Cypress shampoo is available at Jolse.
Price: $24
Volume: 400ml (13.5 fl.oz.)
PAO: 12 months after opening.
Packaging: I love the overall aesthetic of the brand and this shampoo. It comes in a sleek, minimalist bottle that immediately captures your attention with its clean design. The bottle's color palette features earthy tones, which evoke a connection to nature and emphasize the product's natural ingredients.
This shampoo is equipped with a cap that you simply push to access the product. While this design maintains a clean and fuss-free appearance, having experimented with shampoos featuring pump dispensers, I find myself leaning towards the convenience of the latter. Pump dispensers often offer a more efficient and mess-free way of getting the perfect amount of shampoo, making it a subtle but notable enhancement to the overall user experience.
About the Aromatica Cypress Deep Cleansing Shampoo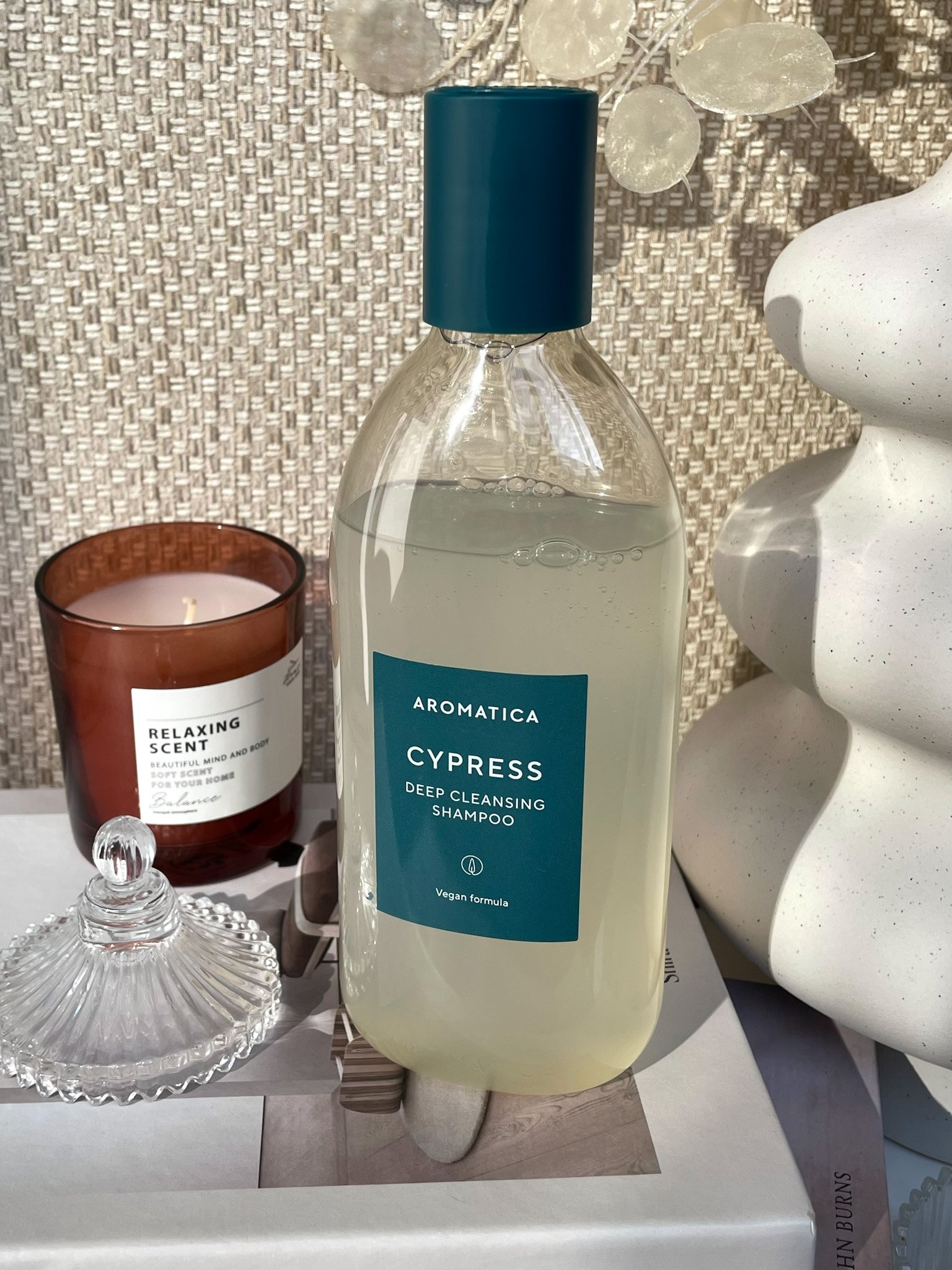 This shampoo aims to tackle excess sebum and product buildup effectively by getting rid of dirt and impurities caused by polluted air, excessive oil, as well as residues left behind by hair styling. It's designed to give your scalp a thorough cleanse, leaving it feeling fresh and relieving any itchiness. Additionally, it claims to provide nutrients for stronger and thicker hair. The formula contains a bunch of extracts derived from Cypress, Pine & Eucalyptus trees, as well as Centella Asiatica.
It is free of sulfate surfactants, silicone oil, and animal-based ingredients.
Application
A translucent gel-type formula. Simply take a moderate amount of the shampoo, massage it evenly onto your wet scalp and hair, and rinse thoroughly with water.
Performance
As someone dealing with an oily scalp, I found that this shampoo did an excellent job in addressing this issue. It managed to effectively remove excess oil and, in doing so, granted me an extra day before I needed to wash my hair again. What's more, it left my scalp feeling revitalized without the unpleasant sensation of being overly dried out, and it notably reduced itchiness.
A pleasant surprise was the shampoo's ability to create a rich lather, despite the absence of sulfates in its formula.
Also Read: Remilia Hair Green Coco Hair Mask for Dry Damaged Hair
However, there's a trade-off here. While it excels at cleansing power, it can be a bit harsh on the hair ends, leading to dryness. To counteract this, I found it helpful to apply conditioner to the ends of my hair before using this shampoo. It took a bit of effort to restore moisture with a hair mask and oil afterward.
On the plus side, my hair maintained more volume and appeared thicker, as there wasn't as much oil weighing it down. Unfortunately, when it comes to addressing hair loss, I didn't notice any difference. In fact, I observed an increase in hair loss after transitioning from my previous anti-hair loss shampoo to this one. Of course, the shampoo isn't the cause; it just doesn't seem to work for me in that regard.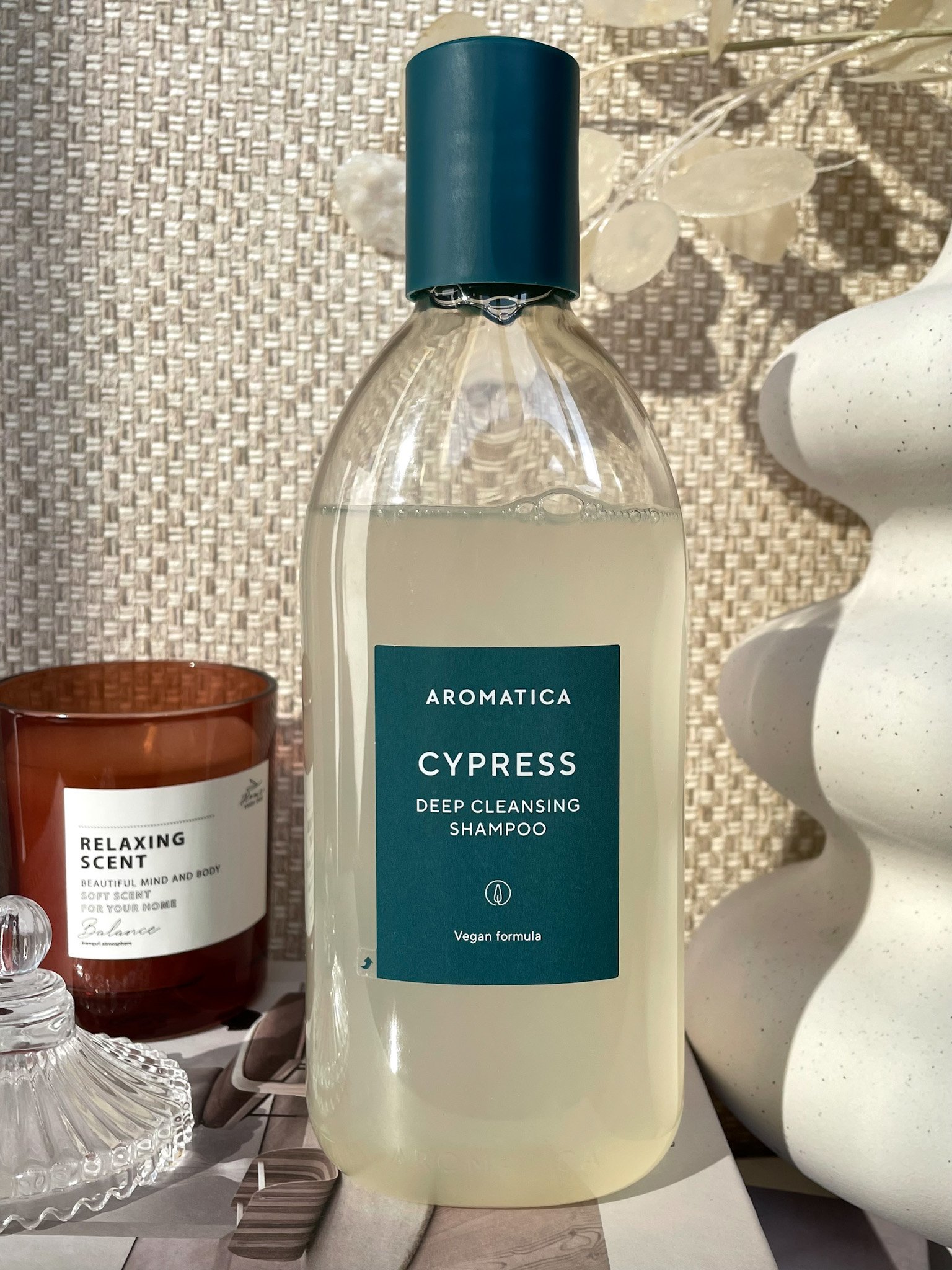 Aromatica Cypress Deep Cleansing Shampoo Ingredients
The cleansing agents in this formula: Sodium Methyl Cocoyl Taurate, Sodium Methyl Oleoyl Taurate, Lauryl Betaine, Sodium Cocoyl Isethionate, Lauryl Glucoside.
Cypress Oil – antibacterial, anti-inflammatory, and antifungal properties.
Full ingredients list HERE.

Final Verdict
Pros
Lathers well.
Cleanses the scalp thoroughly.
Removes product buildup.
Reduces itchiness.
Makes the hair maintain volume.
Cruelty-free and Vegan.
Cons
I didn't notice a reduction in hair-loss.
It can dry out the ends of the hair.
In conclusion, the Aromatica Cypress Deep Cleansing Shampoo is an ideal choice for those with an oily scalp and those who frequently use styling products. It excels in deep cleansing, ensuring a clean and refreshed scalp. However, it's not be suitable for those with dry hair, as it has the potential to further strip the protective oils from the strands, leading to increased dryness and tangling. It's also worth noting that using this shampoo once a week is sufficient; there's no need to incorporate it into your hair care routine every time you wash your hair.

Did you find the Aromatica Cypress Deep Cleansing Shampoo review helpful? Share your favorite sunscreen below!

---
*PR – gifted by Jolse, but all opinions are entirely my own.
*Affiliate Links – It means I may earn a small commission when you purchase a product through the links I have provided, at no extra cost to you.
Related posts
Follow blog via Email
Get the latest posts from this blog delivered to your inbox!
About Me
Hi and welcome to Kbeauty Notes! :) I'm Ledia and I'm very passionate about everything skincare. I created this blog to share my thoughts and experience with many amazing and not so great products out there, hoping to help you make better decisions regarding your skin. I'm very happy to bring you on this journey with me and I hope you enjoy it! <3

My Skin Type: Oily, acne prone, dehydrated, a little sensitive, large pores.

Skincare Concerns: hydration, pore care, anti-ageing, PIE (acne marks), brightening.

Contact: kbeautynotes@gmail.com