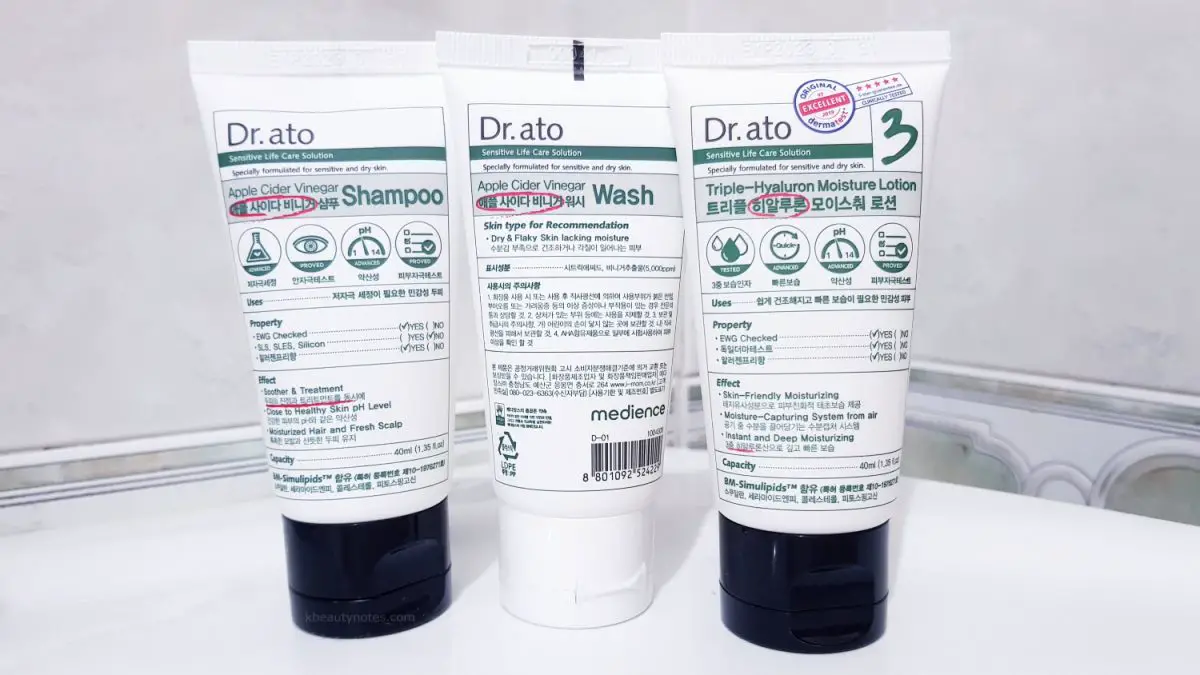 Dr.ato is a Korean skincare brand under Medience Co. which is a company established in 1979 that manufactures healthcare products for mothers and babies. Their products are formulated especially for dry and sensitive skin. I had never heard of it before and it's not a brand I'd usually choose to try, but this travel kit was included in the Stylekorean box I received. The products included are: the Dr.ato Apple Cider Vinegar Shampoo, the Apple Cider Vinegar Wash and the Triple-Hyaluron Moisture Lotion. They all come in 40ml (1.35 fl.oz).


Dr.ato Apple Cider Vinegar Shampoo
The Dr.ato Apple Cider Vinegar Shampoo is recommended for those with the following concerns: restoring skin's pH balance, scalp that needs exfoliation, dry and sensitive scalp. It claims to reduce hair loss and seborrhea. It has a 5.5 pH level. Free of SLS, SLES.


How to use:
Apply an appropriate amount on your hair and concentrate on massaging the scalp.


Scent and Texture
The shampoo has medium thickness and is clear. It does not smell like vinegar, but it's more on the sweet side. The scent doesn't linger.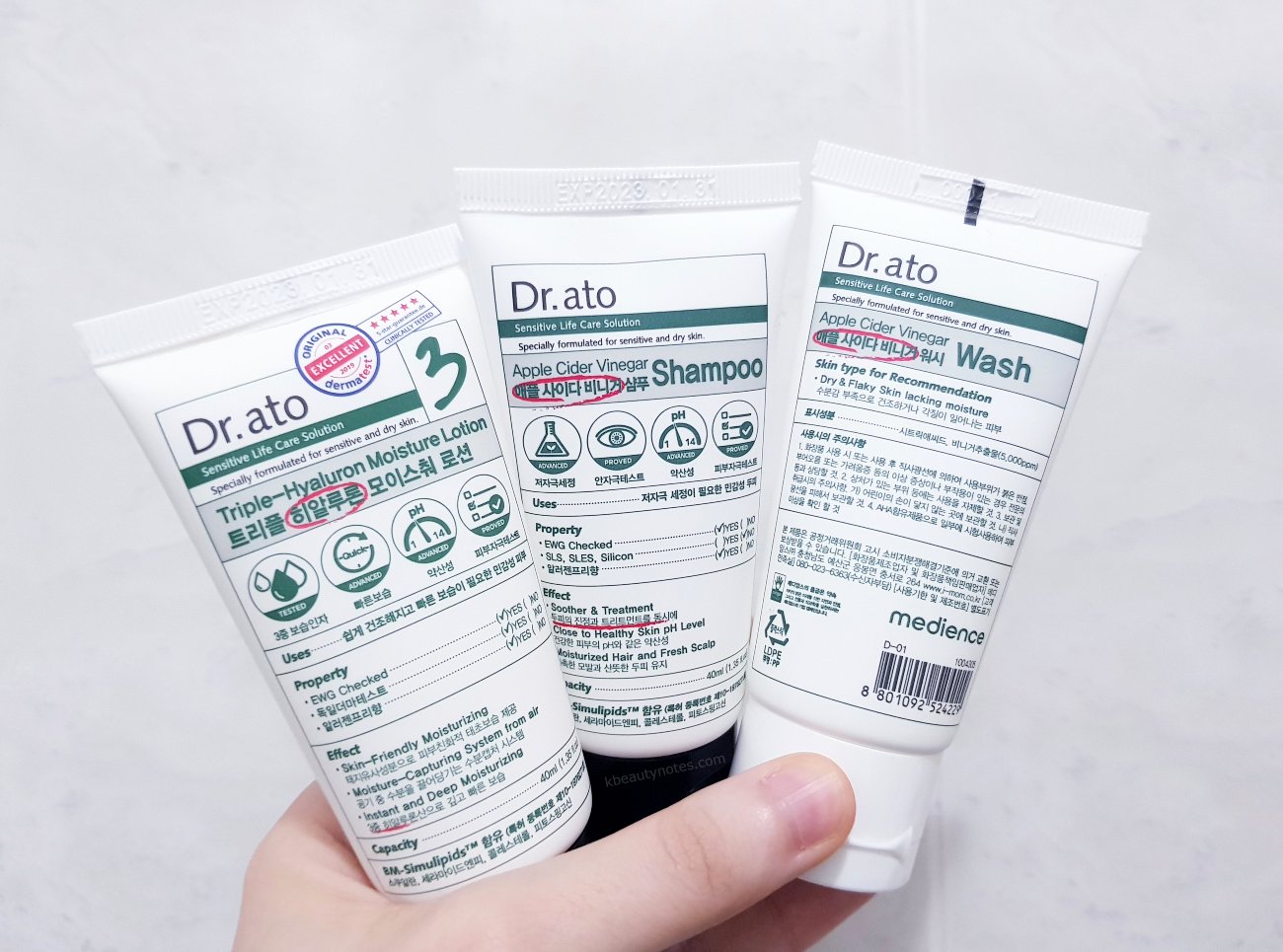 My experience
While my scalp is on the oilier side, the rest of my hair is drier. I heat style my hair at least once in two days and without using any treatment or mask it feels quite dry and tangles easily. Having said that, this shampoo did a good job at cleaning the scalp and leaving it refreshed. I felt the buildup was lifted and the skin wasn't itchy. However, it felt a bit drying on the rest of my hair. It didn't add any kind of nourishment to my already dull-looking hair. It also removed all the shine.
The first time it doesn't lather much, but on the second time it lathers quite well. Since it's not suitable for my hair, I can only use this only once while concentrating on my roots. Fortunately, it doesn't weigh it down. I don't think this is a bad shampoo, it just doesn't work well with my damaged hair, so if your hair is similar to mine, sadly, I wouldn't recommend it.


Final Verdict
⭐⭐⭐/5


Dr.ato Apple Cider Vinegar Wash
The Dr.ato Apple Cider Vinegar Wash is recommended for those with troubled skin, damaged skin barrier and in need of gentle exfoliation. It has a pH of 5.5 and it's free of SLS, SLES.


How to use:
I lather the wash on my body and use a loofah to massage and get a bit of a gentle exfoliation. I focus more on the back, shoulders and arms where I tend to be more oily and break out.


Scent and Texture
This is just like the shampoo. It's clear and has a sweet apple scent.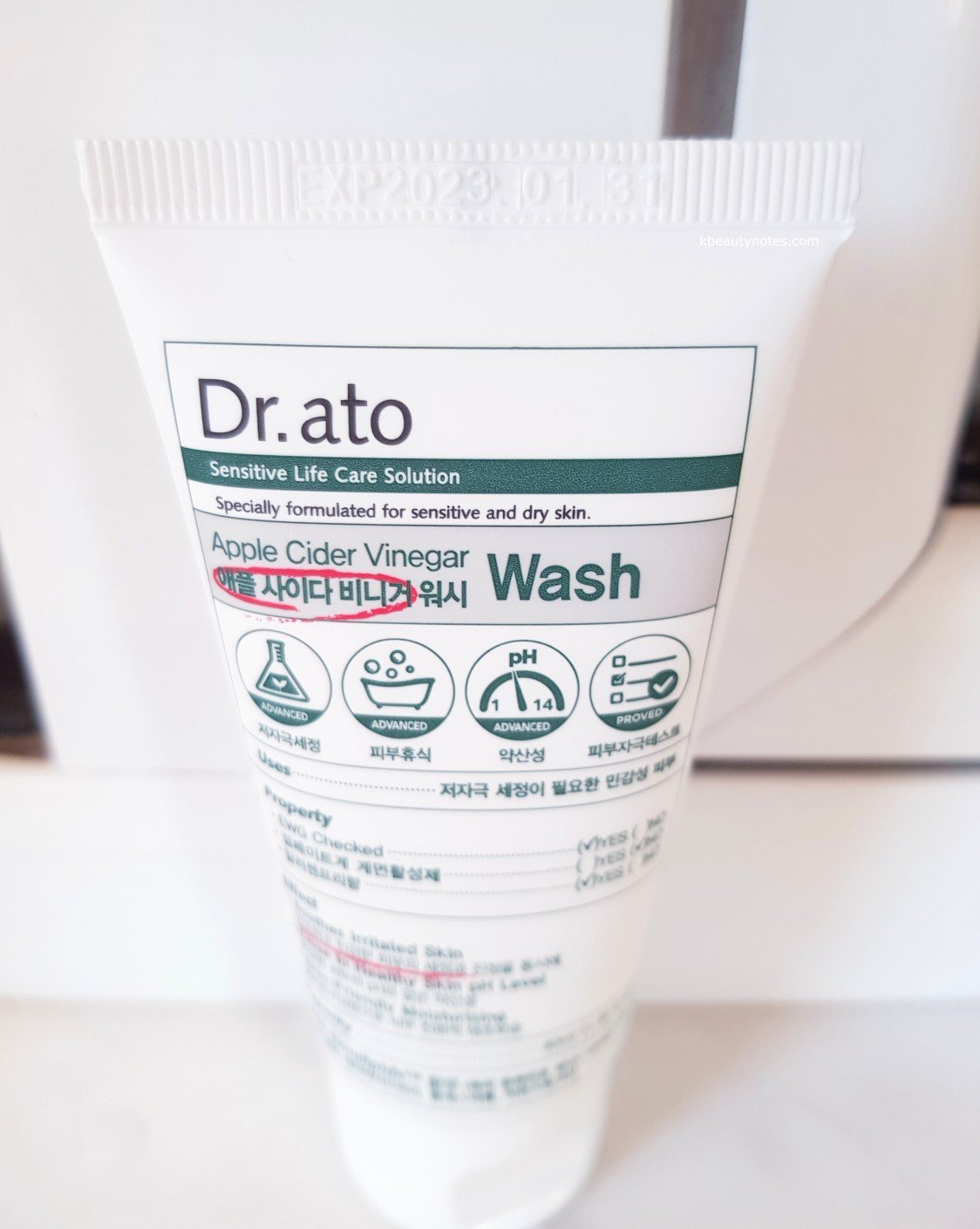 My experience
Cleanses the skin well and removes oil and impurities effectively. It feels refreshing and doesn't leave any residue or film on the skin. Body washes that feel too rich on the skin can sometimes make body acne worse, which is something I hate. I do have pimples on my shoulders, but they're not hormonal. I've seen it helps with "drying" them out, so I'm very satisfied with that. But, it doesn't dry my skin. I use a bit more wash than I would normally do, since it doesn't lather like the washes I'm used to, but it doesn't bother me. This would be great for sensitive skin as well. Overall, it's a good gentle body wash.


Final Verdict
⭐⭐⭐⭐/5


Dr.ato Triple-Hyaluron Moisture Lotion
Finally, can we talk about this body lotion?! While the other two didn't exactly blow me away, I liked this one since the first time I swatched it on my hand. Dr.ato Triple-Hyaluron Moisture Lotion is meant for those with dry and dehydrated skin, irritated and sensitive skin. It's formulated with 3 different molecular weights of Hyalyronic acid. What I found very interesting is that Dr.ato has developed BM-Simulipids™, a patented ingredient which is similar to Vernix caseosa (the film that protects the skin of a newborn) that contains ceramides, cholesterol, phytosphingosine and squalane.


How to use:
After showering, take an appropriate amount and apply it on all areas where it's needed.


Scent and Texture
It's light and has an emulsion-like texture. When you spread it it feels like water, but has some good slip which makes it super satisfying to apply on the skin. I don't know what it smells like, but the scent is so good! I sometimes open the bottle just to feel the scent. haha.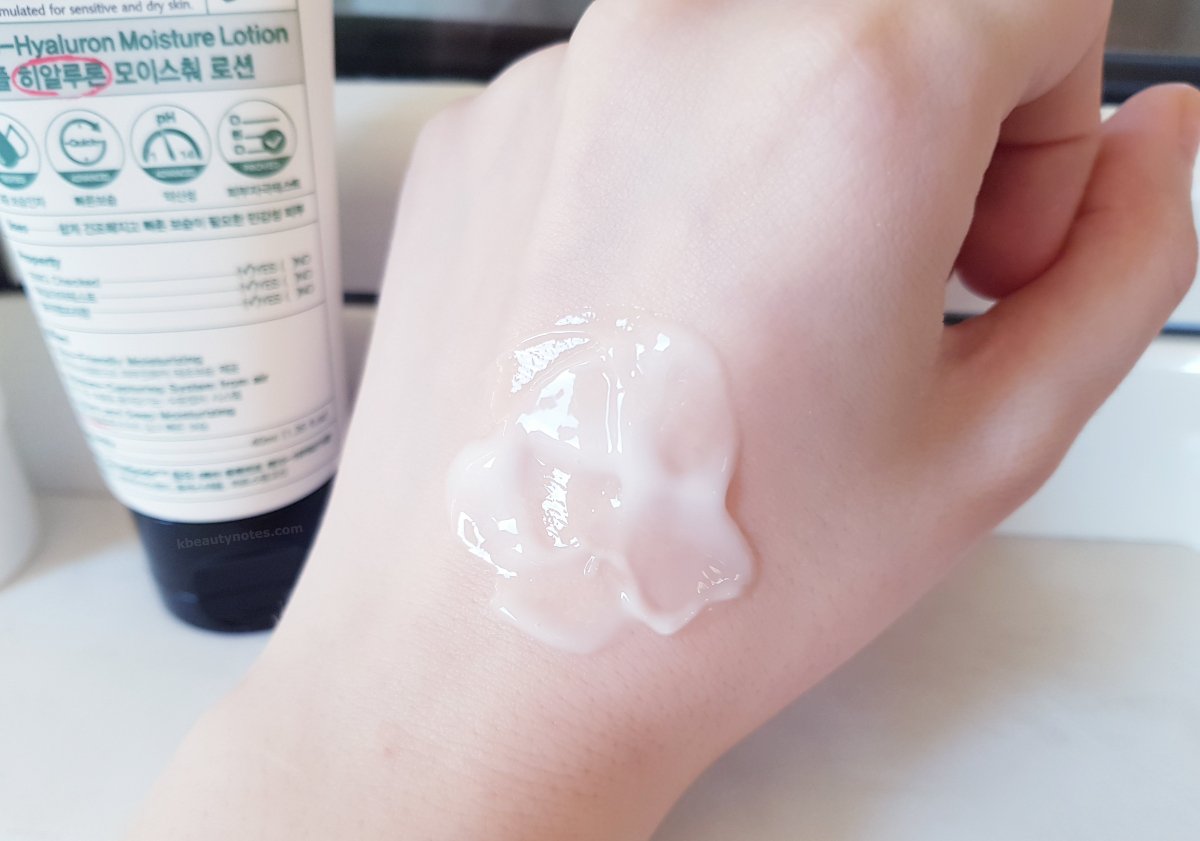 My experience
Body lotions that are very creamy actually feel very luxurious when you apply them, but for some they can be too much and may feel heavy or sticky. This is exactly the reason why I neglect applying body lotion regularly. However, this one absorbs completely into the skin without leaving any residue or sticky feeling. It makes the skin feel soft. Of course, due to its consistency it's not super moisturizing or occlusive, but for me it provides enough to keep the skin comfortable without any heavy feeling. I would definitely purchase this!


Final Verdict
⭐⭐⭐⭐⭐/5


Where to buy: If you're interested in buying any of these, you can find them at Stylekorean:
[Dr.ato] Apple Cider Vinegar Shampoo, Wash and Triple-Hyaluron Moisture Lotion. The travel kit is currently 47% off for $7.99.


Did you find this Dr.ato Apple Cider Vinegar Shampoo, Wash and Triple-Hyaluron Moisture Lotion Review helpful? Have you tried this brand before?


---
*PR Sample – kindly gifted by Stylekorean, but opinions are completely my own.
*Affiliate Links – For more information, see Disclosure Policy.


Related posts
Follow blog via Email
Get the latest posts from this blog delivered to your inbox!
About Me
Hi and welcome to Kbeauty Notes! :) I'm Ledia and I'm very passionate about everything skincare. I created this blog to share my thoughts and experience with many amazing and not so great products out there, hoping to help you make better decisions regarding your skin. I'm very happy to bring you on this journey with me and I hope you enjoy it! <3

My Skin Type: Oily, acne prone, dehydrated, a little sensitive, large pores.

Skincare Concerns: hydration, pore care, anti-ageing, PIE (acne marks), brightening.

Contact: kbeautynotes@gmail.com