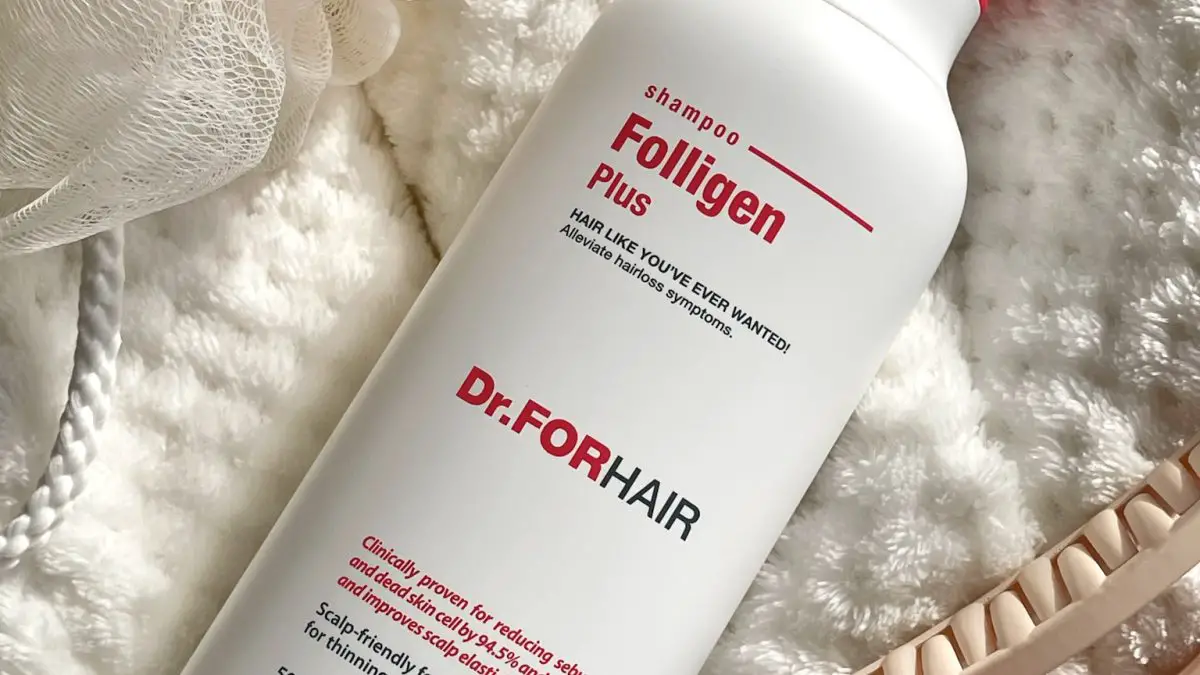 Lately, I've been dealing with a bit of a hair loss situation, which I believe is seasonal. So, I figured it's time to give my hair some extra TLC. After a bit of online sleuthing, the Dr FORHAIR Folligen Plus Shampoo caught my eye. It's currently a very popular shampoo in Korea and it seemed like a solid option to tackle the excessive hair fall.


Where to buy: You can purchase this shampoo at Jolse.
Price: $25.50
Volume: 500ml (16.91 fl.oz)
Packaging: White plastic bottle with pump. I never really paid much attention to shampoo bottles before, but recently I think that a bottle with a pump is so much more convenient. Maybe I'm hitting that age where the small convenient things like this make my life a lot easier.
Dr.FORHAIR Folligen Plus Shampoo
The Dr.FORHAIR Folligen Plus Shampoo is formulated for thinning hair and helps to alleviate hair loss symptoms. It contains Folligen Complex™ – a combination of Biotin, Ceramide NP, and Saw Palmetto (Serenoa Serrulata Fruit) Extract to prevent hair loss.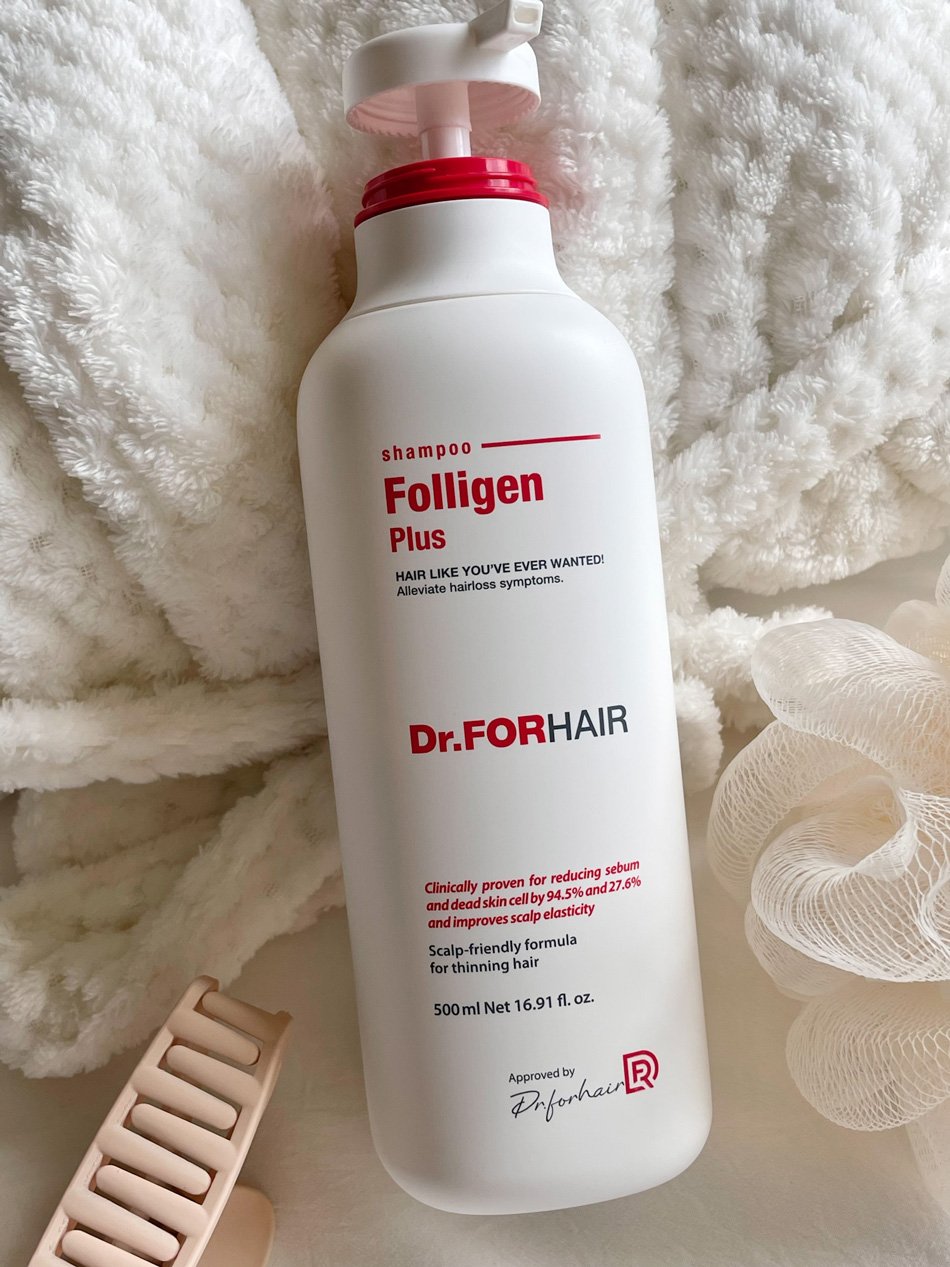 The Folligen Plus is supposed to have a more powerful cleansing effect than their original Folligen Shampoo since the brand has replaced the surfectants in the original formula with more effective ones like Ammonium Lauryl Sulfate and Ammonium Laureth Sulfate.
It also contains other effective ingredients like Zinc Pyrithione, Panthenol, and Salicylic Acid.
Zinc Pyrithione is a common active ingredient found in many anti-dandruff shampoos. It's known for its effectiveness in addressing dandruff and other scalp conditions like seborrheic dermatitis. It works by helping to control the growth of the yeast Malassezia, which can contribute to dandruff and flaky scalp.
Panthenol is known for its moisturizing and conditioning effects, while Salicylic Acid is known for its clarifying (removes dead skin cells and excess sebum from the scalp) properties.
Application
Work into a rich lather and gently massage into wet hair and scalp. For better results, the brand suggests complementing the shampoo with their additional treatments, such as the Folligen Treatment or Folligen Scalp Pack.
My Impressions
I have been thoroughly enjoying this shampoo! First, it was effective at reducing my hair loss by half. While my top pick remains my trusty Vichy Dercos Energising Stimulating Shampoo, this one confidently claims the second spot.
The consistency might remind you of lotion, yet it surprisingly lathers up beautifully. It cleanses the scalp thoroughly, removing dead skin cells and leaving me with a fresh, itch-free, and clean scalp. It removes flaky bits, too.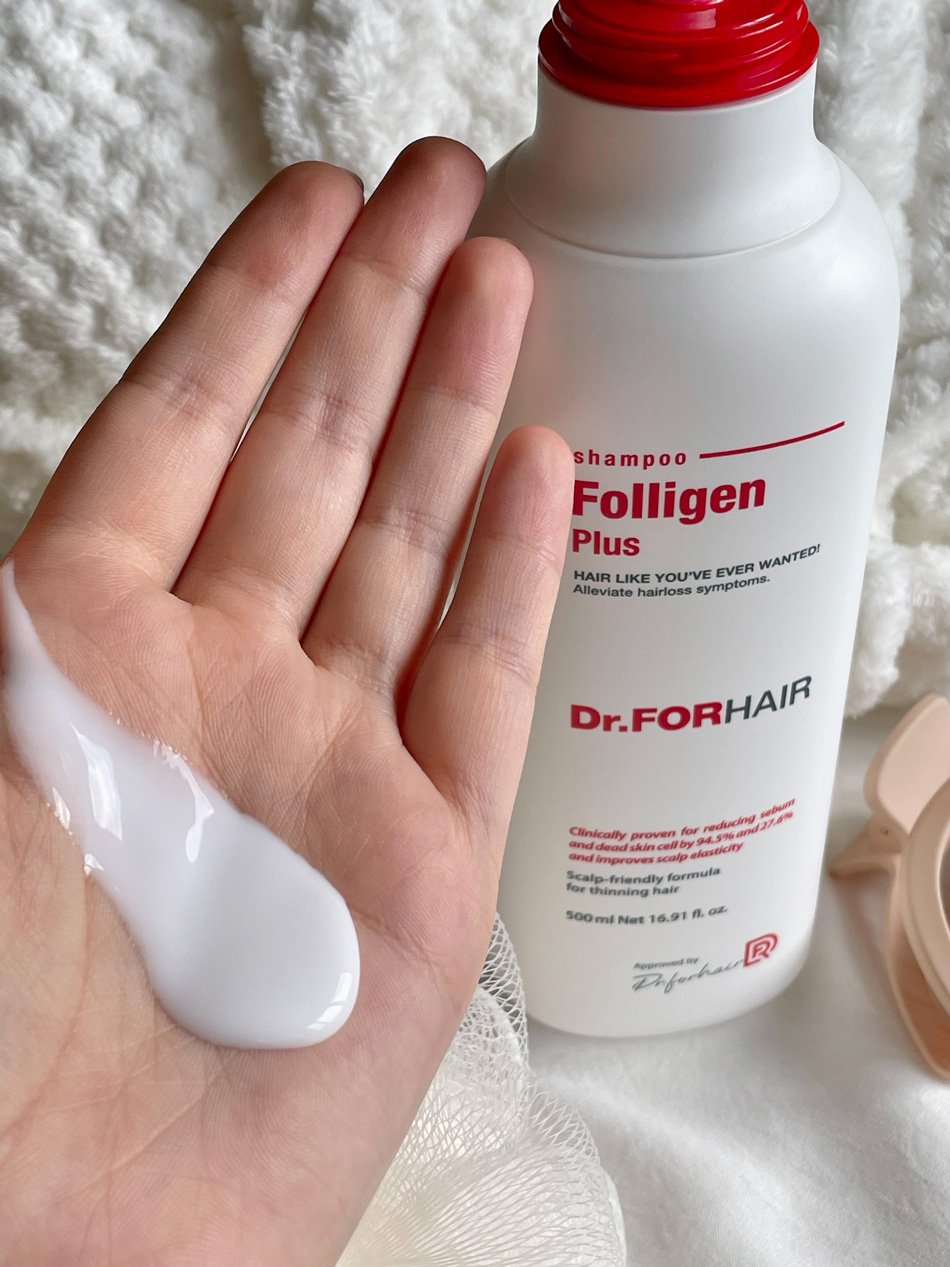 I'm pleasantly surprised by how moisturizing this is while still allowing my hair to maintain its volume. This is not the case with a lot of other moisturizing shampoos. Most of them make my hair look very greasy on the second day.
Those dealing with dry hair and scalp are in for a treat with this shampoo. There are times when I can skip using my hair serum altogether. That's how great it is at tackling dryness. The hair detangles easily, so it's easy to brush through.
Although it claims to reduce sebum, I haven't noticed a decrease in sebum production while using this. I'm still sticking to my regular every-other-day hair washing routine.
One more thing worth mentioning is the shampoo's lovely scent! It's a real treat for the senses.
As for how it works for treated hair, unfortunately, I don't have an answer because it's been more than a year since I last colored my hair.
Ingredients
Find the full ingredients list HERE.
Final Verdict on the Dr FORHAIR Folligen Plus Shampoo
Pros
Effective.
Lathers well.
Cleanses thoroughly.
The hair keeps its volume.
Makes the hair soft and more manageable.
Reduces frizz.
Reduced itchiness and flaky scalp.
Cons
I didn't notice a decrease in sebum production.
It's crystal clear why this shampoo is a top pick in Korea. My hair feels refreshingly clean, has this irresistible softness and beautiful shine.The real game-changer? It doesn't compromise on volume. And most importantly, it was effective at reducing hair loss for me. Please note that it is vital to identify the root cause of hair fall before diving into treatments.

For optimal results, the brand recommends pairing this shampoo with the complementary treatments from their lineup. As much as I adore this shampoo, it's also worth noting that relying solely on shampoos might not deliver the full spectrum of desired results for some.

Did you find the Dr FORHAIR Folligen Plus Shampoo Review helpful? What's your favorite hair loss shampoo or treatment?

---
*PR – provided by Jolse, but opinions remain my own.
*Affiliate Link – It means I may earn a small commission when you purchase a product through the links I have provided at no extra cost to you. I greatly appreciate your support for the blog!
Related posts
Follow blog via Email
Get the latest posts from this blog delivered to your inbox!
About Me
Hi and welcome to Kbeauty Notes! :) I'm Ledia and I'm very passionate about everything skincare. I created this blog to share my thoughts and experience with many amazing and not so great products out there, hoping to help you make better decisions regarding your skin. I'm very happy to bring you on this journey with me and I hope you enjoy it! <3

My Skin Type: Oily, acne prone, dehydrated, a little sensitive, large pores.

Skincare Concerns: hydration, pore care, anti-ageing, PIE (acne marks), brightening.

Contact: kbeautynotes@gmail.com