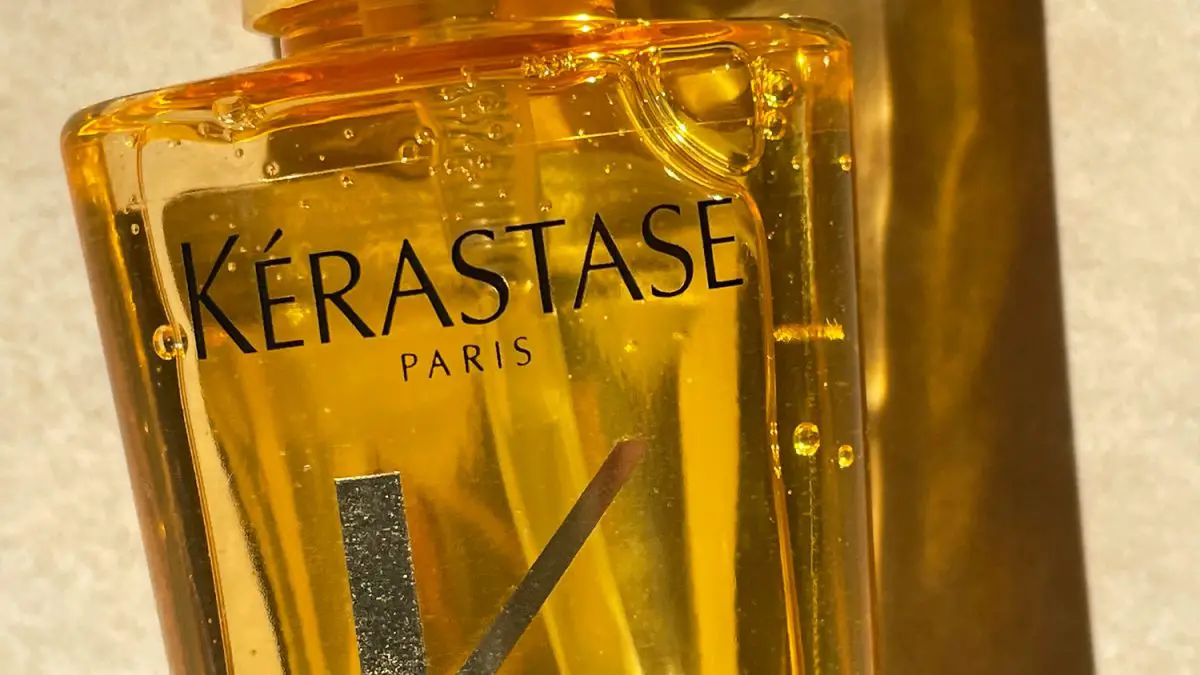 I said I will be posting more hair care so here's a classic that I've been wanting to share with you: the Kérastase Elixir Ultime Hair Oil Serum. If I tell you that my hair has gone through a lot, it would be an understatement. I only dye it once or twice a year, but I style it very often which causes it to become weak and lifeless without proper care.
My hair is naturally wavy, however, I like it straight and I wear it like that most of the time. And the Elixir Ultime Oil has been such a game changer for me these past few months, not only in treating my hair, but also protecting it from heat.


What is the Kérastase Elixir Ultime L'Huile Original Hair Oil
A leave-in and multi-use hair oil serum infused with a blend of oils to provide nourishment, long-lasting frizz control, and smooth out hair fibers. Creates hydrated, glossy hair without greasiness, and offers heat protection up to 230°.
Price: $40-$52
Volume: 100ml (3.38 fl.oz.) / The mini size: 50ml (1.69 fl.oz.)
PAO: 18 months after opening.
Packaging: The full size comes in a luxe glass bottle with a pump dispenser. I have the smaller size which is 50ml and comes in a travel-friendly plastic bottle. This one too has a pump.
Where to buy: You can get this at Sephora, and SweetCare (use code GIFTLEDIA to get a 5 mini samples kit with your purchase).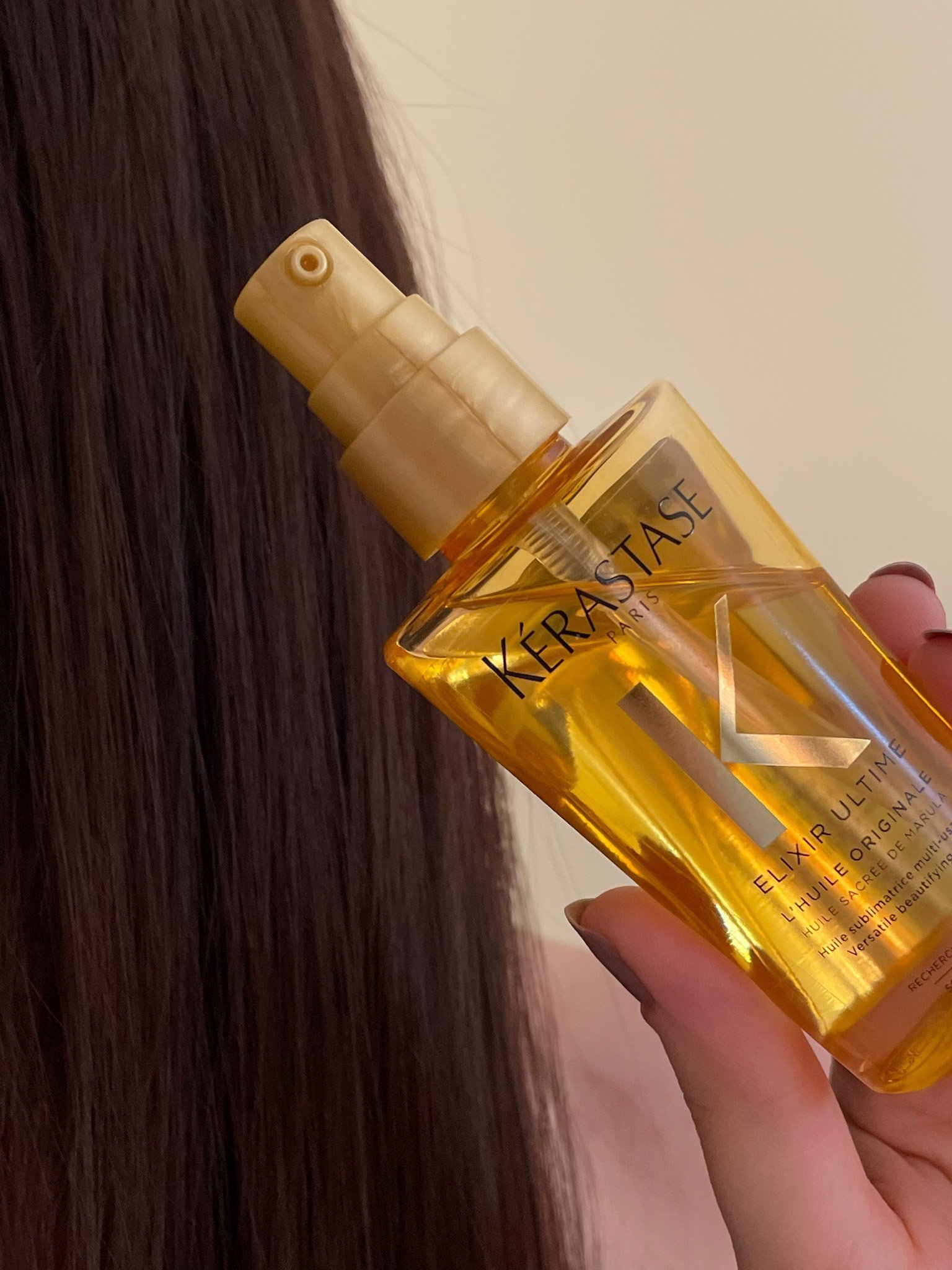 About my hair
Wavy – from the charts I've seen probably I'm close to a 2B/2C type although I haven't figured that out exactly, medium-thickness and high porosity which means it has trouble retaining moisture. This, combined with heat damage, makes my hair brittle, frizzy, dry and hard to detangle. The scalp is oily and I have to wash once every 2-3 days.


How to use Kérastase L'Huile Original Hair Oil
The amount you need to use will depend on your hair type and length. For my medium-thick and medium-length hair, I apply 2-3 pumps of the oil (Note: I have the small version which means its pump dispenses less than the pump of the full size) after towel drying from mid-length to the ends. Avoid applying it close to the roots if your scalp is oily. Then I proceed to blow dry and style my hair.
When I feel like I need to add extra shine, smooth out or tame the flyaways a bit more, I apply 1-2 pumps on my hands and comb my fingers through dry hair. This can be after I blow dry it or the next day.


Consistency
I am obsessed with the elegant consistency of this product. I know it says hair oil on the bottle, but it has the texture of a hair serum and it makes a world of a difference! It's lightweight although rich, with great slip while not feeling greasy.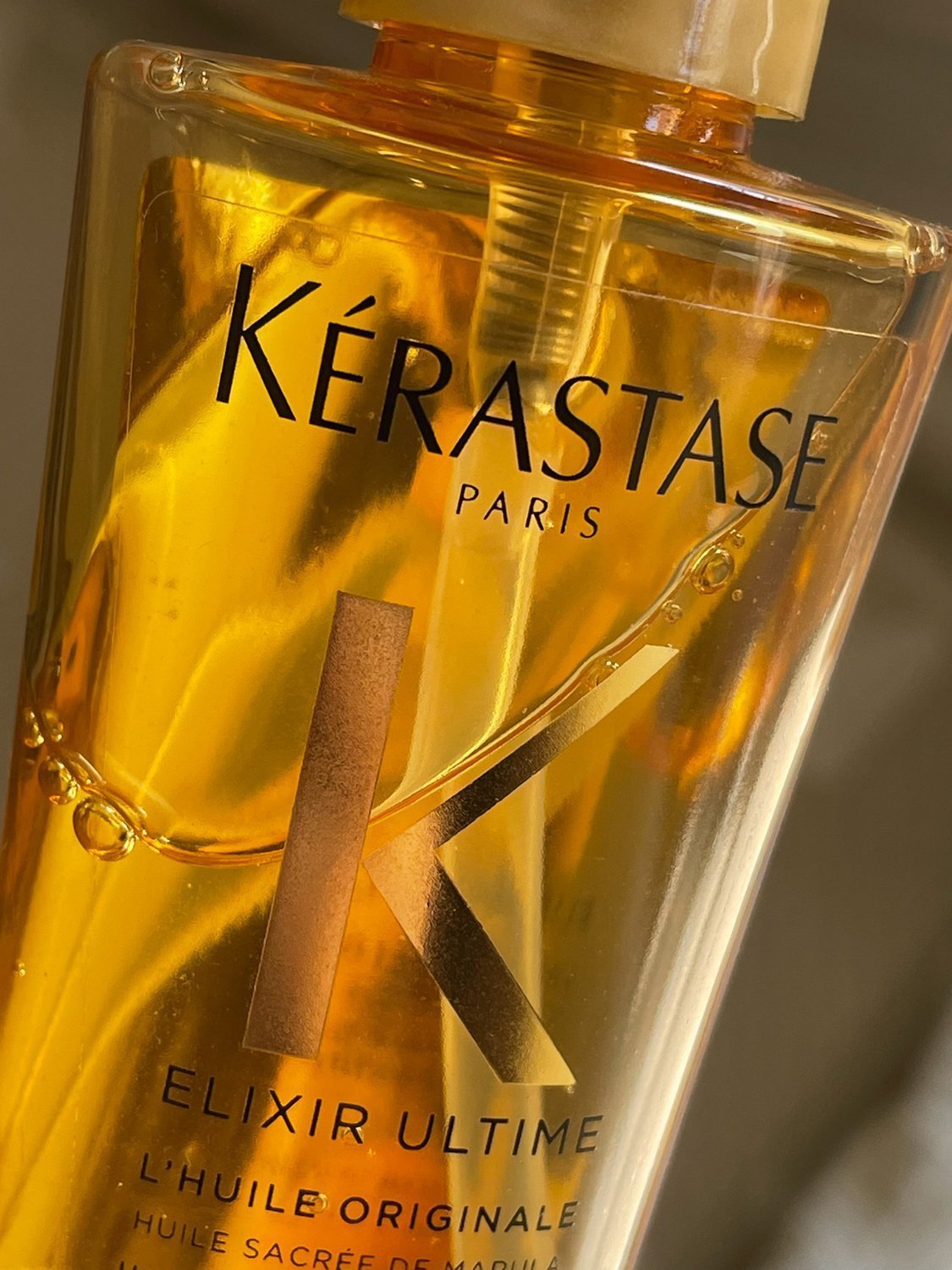 Scent
The scent is the cherry on top! Absolutely gorgeous. Smells exactly like what I would expect from a high-end hair product and the intensity of the scent is just perfect. It's there but without overpowering your senses.
For those that would like to know in more detail: Top Notes: Violet and Freesia. Heart Notes: Heliotrope, Cedarwood, Mandarine. Base Notes: Tonka Beans, wood of Santal, Musk.


Performance
One of the things I've discovered when it comes to hair oils is that formulation matters. It makes such a difference because products that usually feel just like raw oil simply make my hair strands stick together and hair looks rather greasy and weighed down. With the Elixir Ultime, my hair feels light, smooth and close to as voluminous as without any hair product.
Second hair day still looks and feels pretty good! Keeps the hair soft and moisturized the next day as well. Hair remained hydrated and didn't become stiff or crunchy, which means that it does a great job in coating the hair and keeping the moisture in.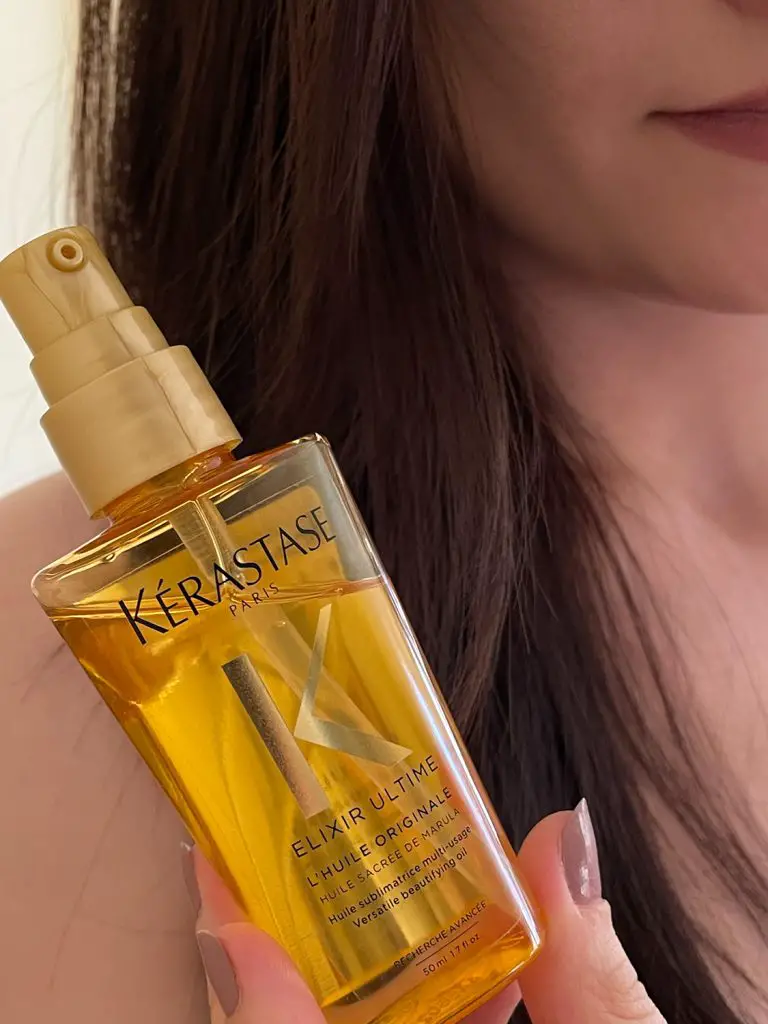 Makes the hair feel so soft to the touch and I can run the comb through effortlessly. This can be one of the worst things about my hair. Due to not protecting it from heat, it tangles right away. And it can look very frizzy. The Elixir Ultime hair oil reduces all the frizz and makes it look shiny and healthy.
There is no product buildup either. I cannot rave enough about this. It doesn't feel like with each use my hair is getting heavier. Washes off very well.
Hair is super easy to style or straighten every time I use this. I also notice way less breakage.
Although I love everything about the Elixir Ultime, if the conditioner or hair treatment you use doesn't perform well, it won't let this hair oil do its job to its full potential either. One of the products that I have absolutely enjoyed pairing with the hair oil is the LA'DOR Hydro LPP Treatment.
So make sure to choose a good hair conditioner/treatment if your hair is extra dry or very damaged.


Ingredients
It has a blend of Argan Oil, Marula Oil, and Camellia Oil which are deeply nourishing and conditioning for the hair.
Cyclopentasiloxane, Dimethiconol, Zea Mays Germ Oil /​ Corn Germ Oil, Argania Spinosa Kernel Oil, Sclerocarya Birrea Seed Oil, Camellia Oleifera Seed Oil, Pentaclethra Macroloba Seed Oil, Caprylic/​Capric Triglyceride, Linalool, Alpha-Isomethyl Ionone, Limonene, Coumarin, Benzyl Alcohol, Phyllanthus Emblica Fruit Extract, Tocopherol, Parfum/​Fragrance

Final Verdict on the Kérastase Elixir Ultime Oil
Pros
Non greasy, serum-like texture.
Adds shine and softens hair strands.
Doesn't weigh down the hair.
Reduces frizz.
Makes hair easier to comb, detangle and style.
Protects from heat damage.
Cons
It's on the pricey side.
Maybe not ideal for very fine hair.
To conclude this Kérastase Elixir Ultime Hair Oil review: It's amazing! The only downside of it is the price point. I've read that the oils used in the formula don't justify the price, but I think its performance does. If this is something in your budget range that you can easily afford, I don't see any reason not to buy it. Plus the glass packaging of the 100ml format and the beautiful scent will only add to the experience.

Due to the thick serum-like texture, maybe it won't be the best choice for those with fine hair, but for all the other hair types I think i'll work great. So, it's approved by me.

What's one hair product you cannot do without?

Did you find the Kérastase Elixir Ultime Hydrating Hair Oil Serum review helpful? Let me know your favorite hair product in the comments.

---
*PR – kindly gifted by SweetCare with no obligation to post. Opinions remain completely my own.


Related posts
Follow blog via Email
Get the latest posts from this blog delivered to your inbox!
About Me
Hi and welcome to Kbeauty Notes! :) I'm Ledia and I'm very passionate about everything skincare. I created this blog to share my thoughts and experience with many amazing and not so great products out there, hoping to help you make better decisions regarding your skin. I'm very happy to bring you on this journey with me and I hope you enjoy it! <3

My Skin Type: Oily, acne prone, dehydrated, a little sensitive, large pores.

Skincare Concerns: hydration, pore care, anti-ageing, PIE (acne marks), brightening.

Contact: kbeautynotes@gmail.com