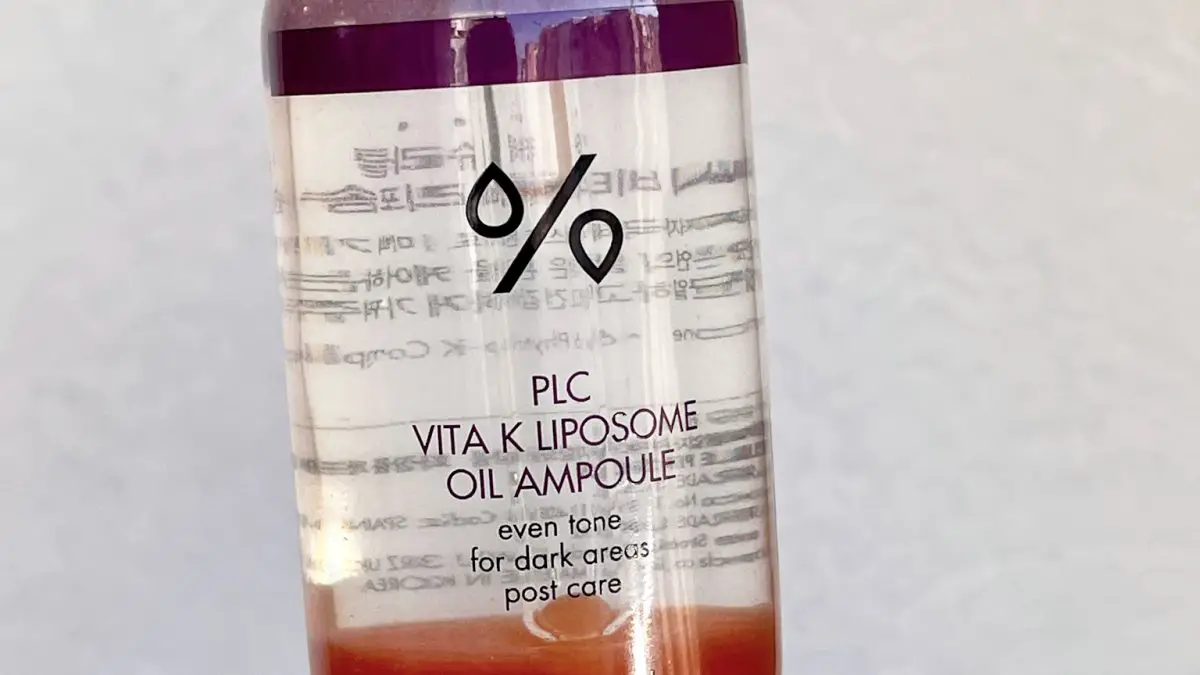 Although the skincare industry is huge and there are so many options to choose from, sometimes products can get repetitive. For instance, when centella asiatica was all the hype, I'm certain the majority of brands came out with their own centella-based product. Don't get me wrong, I love centella in skincare. But, I also get very excited when I discover new products with interesting ingredients or formulations like the Dr. Ceuracle PLC Vita K Liposome Oil Ampoule that I'll be reviewing today.


Where to buy: You can find this at Oshen Skin (you'll get 15% OFF on fully priced products), Yesstyle (You can use KBEAUTYNOTES for 2-5% off your order), Stylevana US / Stylevana EU, Stylekorean.
Price: $20-$27
Volume: 50ml (1.69 fl.oz.)
PAO: 12 months after opening.
Packaging: It comes in a glass bottle with a dropper.


What is the Dr. Ceuracle PLC Vita K Liposome Oil Ampoule
This is a post-treatment biphasic ampoule (it has one aqueous part and an oil part) that is aimed at skin concerns such as uneven skin tone, dark circles and skin that has received laser treatment, microneedling or other treatments to help speed up the recovery time by improving microcirculation.
Formulated with Vitamin K3 (menadione) and 6 Phyto-K Complex that includes 6 vegetable extracts (Broccoli, Kale, Cucumber, Celery, Cabbage Leaf, and Parsley) that are rich in Vit K. This ampoule is also recommended to be used on the body on bruised skin.
But what are liposomes? Liposomes are made of the same material as a cell membrane and are used in cosmetics as a delivery system. They help carry active ingredients to the deeper layers of the epidermis. The lipids used for them also help soften the skin which makes them great for dry skin types.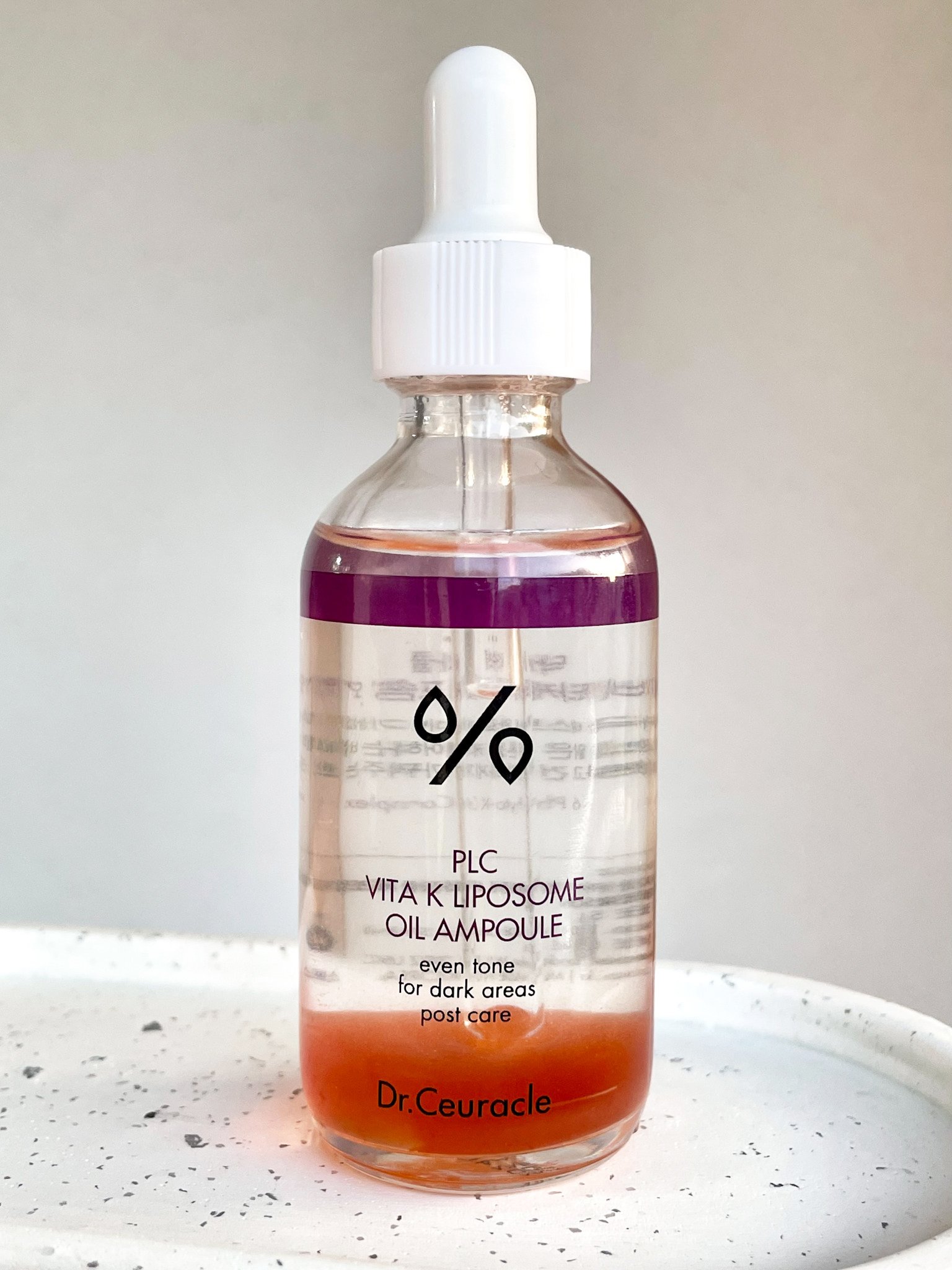 Application
Shake the bottle well before using it so the essence and oil mix together. This oil ampoule can come directly after cleansing or toner/essence and before moisturizer. Apply an appropriate amount and massage it gently until it's absorbed. You can use it both morning and night, but I prefer to use this in my PM routine.


Consistency
If you are reluctant to try this due to the oil composition, don't be. The consistency is actually light, runny, spreads thinly, has good slip and softens the skin. There is no tacky or greasy feel! This has to be one my favorite textures in a skincare product. You'll love it if you love the I'm From Rice Toner's texture.


Scent
There is fragrance (light scent) in this product, but I really like how it smells. It actually adds to the experience and makes me look forward to using the product.


Performance
The ampoule is both hydrating and emollient. My skin doesn't feel tight under it like it would sometimes if I go for a moisturizer without using any toner/essence/serum. And at the same time it doesn't get absorbed completely, but leaves this silky film which locks in that hydration and makes the surface of the skin extremely smooth and soft.
This way evens out the skin texture and gives such a beautiful natural glow. Makes for a perfect makeup base. There is no need to layer it despite your skin's condition. If you have dry skin using a bit more may do the trick for you.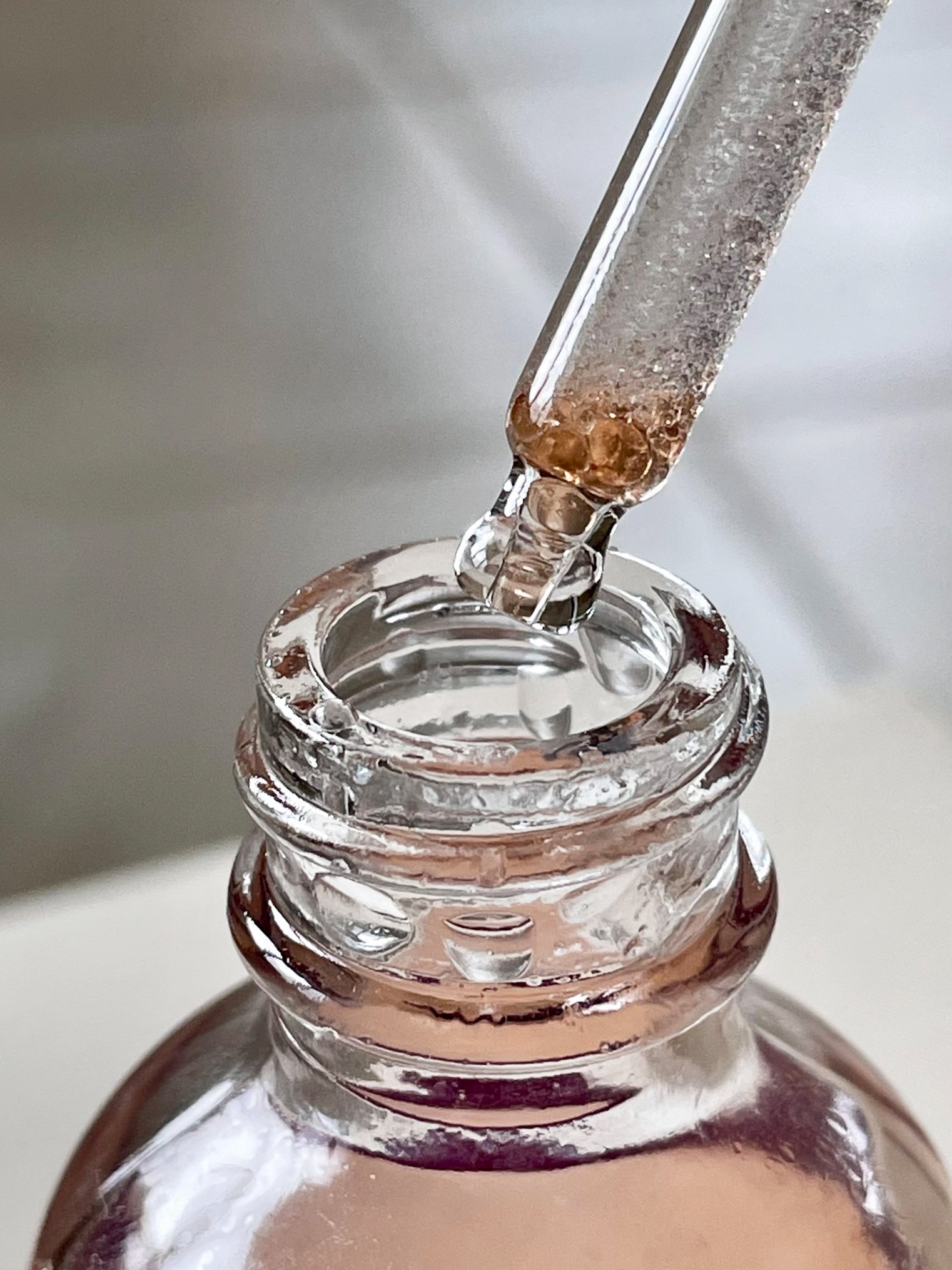 In my opinion this ampoule would be suitable for all skin types. The only difference would be the method of application. Maybe oily skin would prefer to use it only at nighttime and won't see the need to follow with a moisturizer.
Since it does such a great job at both hydrating and moisturizing there will be less skincare steps to incorporate in a routine. It's great for those that don't like lengthy routines or don't have the budget for multiple skincare products.
Regarding dark circles I don't have a huge problem with them, although I do have some visible veins under my eyes due to poor sleeping habits. What I'm most intrigued by is its effect on broken capillaries because I do have a good amount of them on my face due to excessive sun exposure in my teens.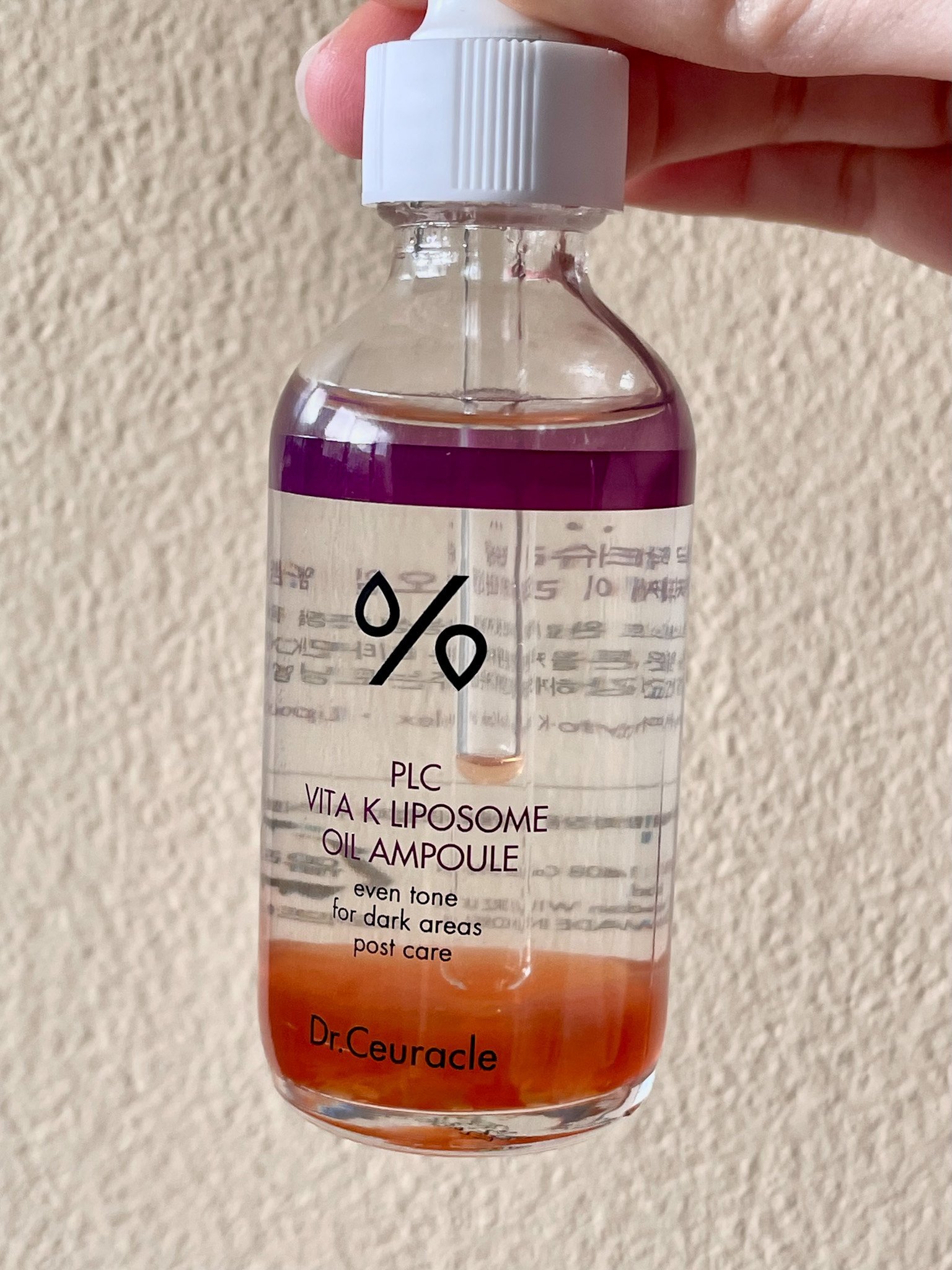 Vitamin K is used mostly in eye creams because it's supposed to help with improving blood circulation and research suggests that it can also improve broken capillaries. I've been using this for a month, but I don't see any improvement yet (it's too early to tell). At the same time, my expectations are not that high and I don't expect any dramatic changes with skincare for this issue.
We know that laser treatment would be the ideal choice, but for those of us that haven't decided yet to go for laser, we can give products with vit K a shot. I will update after long term usage, but also remember to avoid some causes of broken capillaries which can be: squeezing a pimple (don't do this if you're prone to them), hot showers, spicy food, sun exposure, alcohol etc.
I didn't get any pimples from using this, as well as no irritation or skin sensitivity. My skin actually feels soothed, redness is calmed so I see why this would be great to use for post-treatment to help skin heal faster.


Ingredients
Vitamin K, 6 Phyto-K Complex with green vegetable extracts, Niacinamide, Sodium Hyaluronate and a lot of soothing and antioxidant ingredients such as: Hesperidin Methyl Chalcone ( a flavonoid that reduces inflammation ), Witch hazel, Butcher's Broom extract (anti-redness, soothing and improves microcirculation flow), Vitamin E.
Free of alcohol, but contains fragrance.
Water, Diphenyl Dimethicone, Butylene Glycol, Niacinamide, 1,2-hexanediol, Sodium Chloride, Pentylene Glycol, Brassica Oleracea Capitata (Cabbage) Leaf Extract, Brassica Oleracea Italica (Broccoli) Extract, Apium Graveolens (Celery) Extract, Cucumis Sativus (Cucumber) Fruit Extract, Brassica Oleracea Acephala Leaf Extract, Carum Petroselinum (Parsley) Extract, Glycerin, Eclipta Prostrata Extract, Eclipta Prostrata Leaf Extract, Sodium Hyaluronate, Ethylhexylglycerin, Moringa Oleifera Seed Oil, Fragrance, Caprylic/Capric Triglyceride, Hesperidin Methyl Chalcone, Hydrogenated Lecithin, Polyglyceryl-10 Diisostearate, Arnica Montana Flower Extract, Hamamelis Virginiana (Witch Hazel) Bark/Leaf/Twig Extract, Malva Sylvestris (Mallow) Flower Extract, Ruscus Aculeatus Root Extract, Aesculus Hippocastanum (Horse Chestnut) Extract, Menadione, Tocopherol
Final Verdict on the Dr. Ceuracle PLC Vita K Liposome Oil Ampoule
Pros
Feels hydrating and moisturizing.
Softens and evens out skin texture.
Fine lines are less visible.
Plumps the skin.
Leaves a natural glow.
Silky smooth finish.
Suitable for all skin types.
Soothing and reduces redness, great for post treatment.
Didn't break me out.
Cons
It contains fragrance (for those that are sensitive to it or would like to avoid it).
I love the cushiony feel this ampoule gives to my skin. I love the plumped skin and the natural healthy glow. Both hydrating and moisturizing which removes any tight feeling from dehydration, but at the same time softens the surface of the skin. The texture is just a delight to apply! The only thing I don't notice from it is any brightening effect. But I use it in the PM and use a vit C for the AM routine. It keeps my skin calm since it's meant for post-treatment. Hence, it'd be great for those of you that receive treatments regularly or are into microneedling. Still yet to see any changes for my broken capillaries but I'll continue using it. Highly recommend it and really looking forward to trying more from this brand.


Did you find the Dr. Ceuracle PLC Vita K Liposome Oil Ampoule Review helpful? Have you tried anything from this Korean skincare brand?


---

*PR Sample – kindly gifted by Oshen Skin, but opinions are completely my own.
*Affiliate Links – For more information, see Disclosure Policy.

Related posts
Follow blog via Email
Get the latest posts from this blog delivered to your inbox!
About Me
Hi and welcome to Kbeauty Notes! :) I'm Ledia and I'm very passionate about everything skincare. I created this blog to share my thoughts and experience with many amazing and not so great products out there, hoping to help you make better decisions regarding your skin. I'm very happy to bring you on this journey with me and I hope you enjoy it! <3

My Skin Type: Oily, acne prone, dehydrated, a little sensitive, large pores.

Skincare Concerns: hydration, pore care, anti-ageing, PIE (acne marks), brightening.

Contact: kbeautynotes@gmail.com