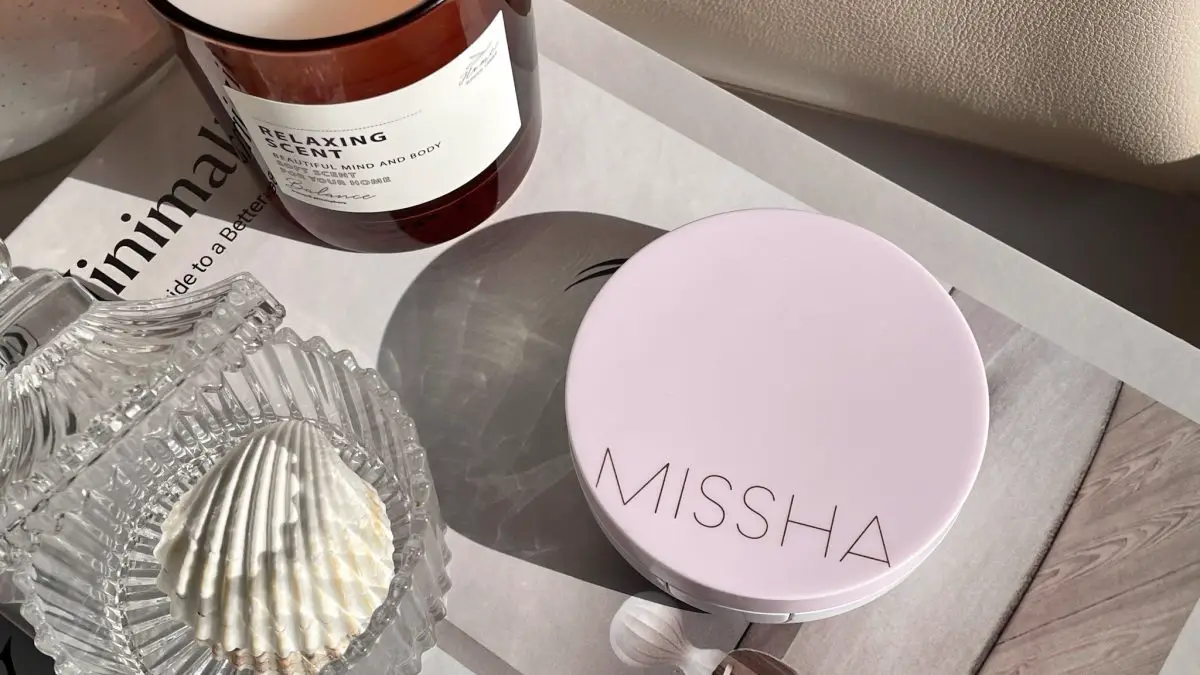 For those who've been following my blog, you're well aware that the MISSHA M Perfect Cover BB Cream has held a special place in my makeup routine for years. If one of the available shades has matched your skin, you'll understand the challenge of switching to anything else; it's simply that good. Not to mention, its creamy consistency has been a lifesaver for someone like me with larger pores and a lot of peach fuzz on the face. Speaking of the brand, the MISSHA Magic Cushion Foundation is also a product that's hard to miss, especially since its popularity is on par with the iconic BB Cream.
While it has been a staple in the K-beauty scene for some time, my personal journey with it only recently began, as I became intrigued to see what all the fuss is about.


Where to buy: You can find the MISSHA Magic Cushion at Yesstyle (use reward code: KBEAUTYNOTES for an extra 2-5% OFF your order), Stylevana (discount code: INF10LED), BeautyNetKorea (discount code: BNKLEDIA).
Price: $5.20-$12
Volume: 15g / 0.52 oz. (No refill is included).
PAO: 12 months.
Packaging: When it comes to packaging, this cushion doesn't exactly scream "luxury." It arrives in a straightforward white case with a light baby pink top. While I'm typically drawn to cushion foundations with more visually appealing packaging, I can't complain too much in this instance. Given the budget-friendly price of this cushion, its simple and unassuming design is forgivable.
About the MISSHA Magic Cushion Foundation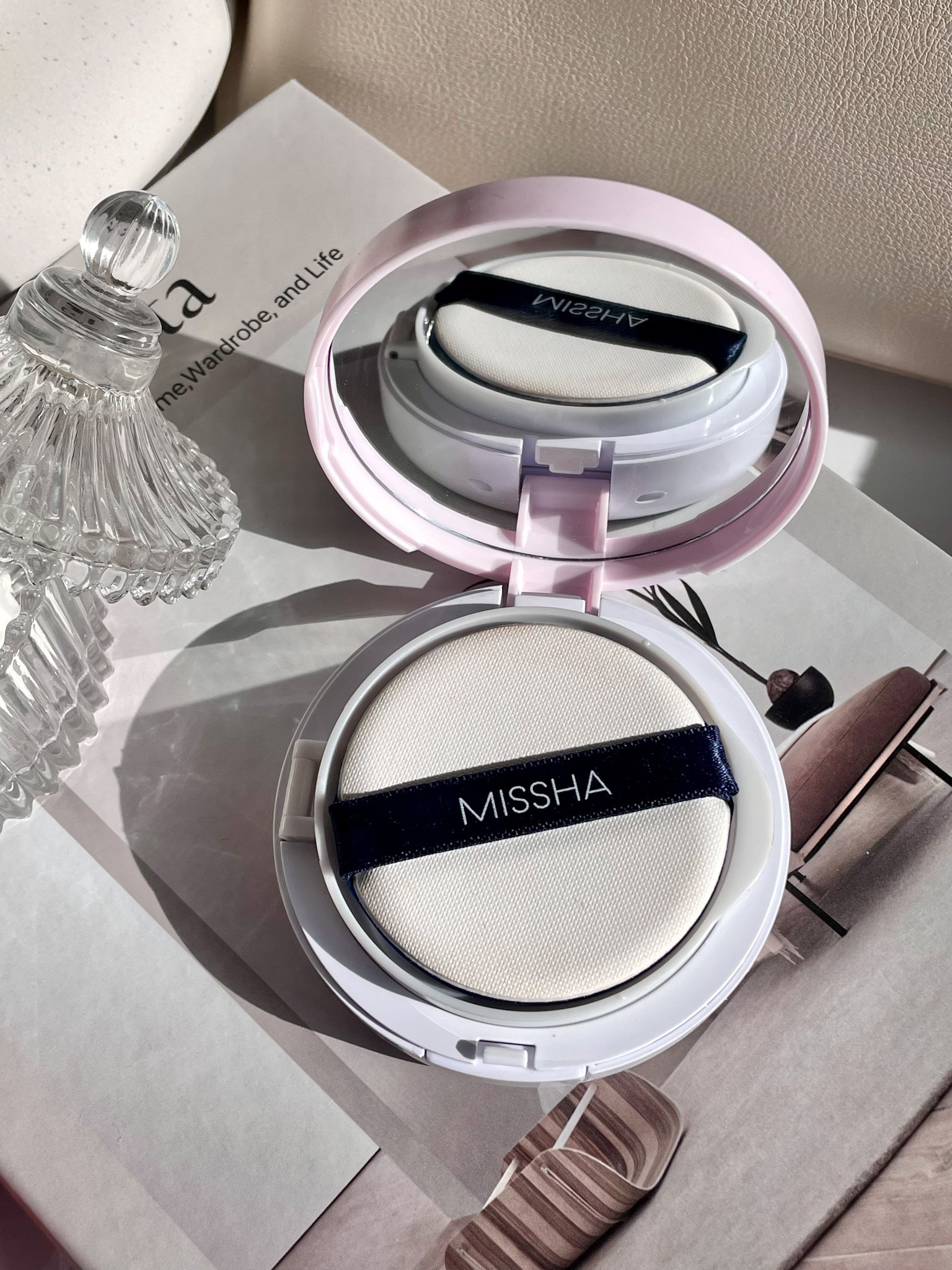 The MISSHA Magic Cushion Cover Lasting promises high coverage and a flawless complexion while hiding imperfections and addressing uneven skin tone. The SPF 50 PA+++ formulation is a notable feature, providing ample sun protection to guard against darkening and premature aging. It also claims to offer sweat and sebum control with silica bead powder, and skin moisture maintenance through bamboo water and baobab fruit extract.
Shades
It's worth noting that the MISSHA Magic Cushion Foundation is available in a few different shades, but it seems that the most commonly found options online are no. 21 Light Beige and no. 23 Medium Beige.
I decided to go with shade no. 21, my trusted choice for base makeup. To my surprise, it turned out a bit darker than the usual no. 21 shade, which usually tends to liven my complexion and provide a subtle tone-up effect. Nonetheless, it managed to harmonize with my skin quite well.
Now, the undertone is noticeably on the yellow side. While not an ideal match for my skin, still managed to blend rather seamlessly, primarily because it's a lighter shade. The minor mismatch doesn't stand out, especially when I have a full face of makeup on.
Performance of the MISSHA Cushion
My experience with the MISSHA Cushion was quite the surprise, especially after encountering some negative reviews. I found it to be among the better cushion foundations I've tried. Here's what you can expect from it:
First and foremost, the coverage it offers falls into the medium range. It may not qualify as high coverage, as it doesn't entirely conceal dark veins under the eyes, but it excels at creating an even complexion that appears healthy.
Upon application, the cushion provides a very natural, skin-like finish with a satin-like texture. It feels soft to the touch and doesn't transfer or come off when touched. What truly stands out is how beautifully it sits on the skin, without accentuating pores, dry patches, or peach fuzz. It doesn't settle into fine lines either.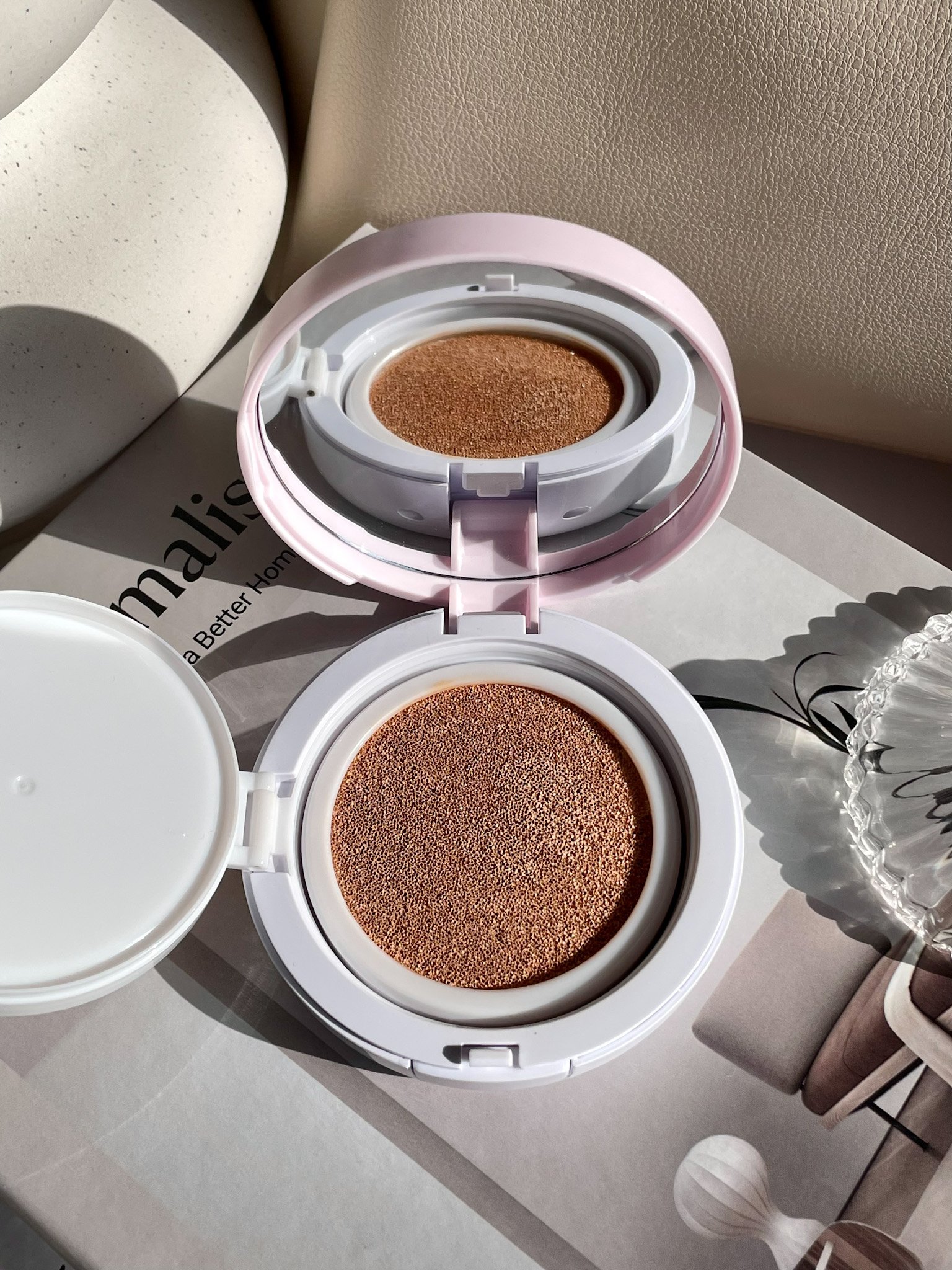 However, it's crucial to address the brand's claim regarding sweat and sebum control, which appears to be the point of contention in some negative reviews. While it initially imparts a natural look, it tends to develop shine as hours pass. This might not sit well with individuals who have oily skin, particularly in hot and humid conditions.
In my opinion, this cushion foundation seems better suited for those with normal to dry skin types. The good news is that it doesn't require an overly heavy skin prep, making it a convenient choice for those who prefer a more effortless makeup routine.
Skin preparation doesn't have to be overly elaborate either. Given the inherent moisture in this cushion foundation, an extensive skincare routine could potentially cause it to shift or separate on the skin. However, the ideal level of skin prep can vary depending on your individual skin condition and the environmental factors at play. It's a matter of finding the right balance, which may require some experimentation.
Also Read: MISSHA Time Revolution Night Repair Probio Ampoule Review
The lasting power of this cushion foundation is decent, but it hasn't left me overly impressed, just like most cushion foundations. To extend its wear and control shine, adding an additional layer of powder on top may be necessary.
It's also worth mentioning that this cushion didn't break me out.
Ingredients
The formula contains Octinoxate and Ethylhexyl Salicylate (octisalate) UV filters which are organic (chemical) filters. Despite the sun protection it offers, treat this product primarily as makeup. Skincare ingredients include Niacinamide, Adenosine, Marigold extract.
Free of alcohol, but contains fragrance.
Find the full list of ingredients HERE.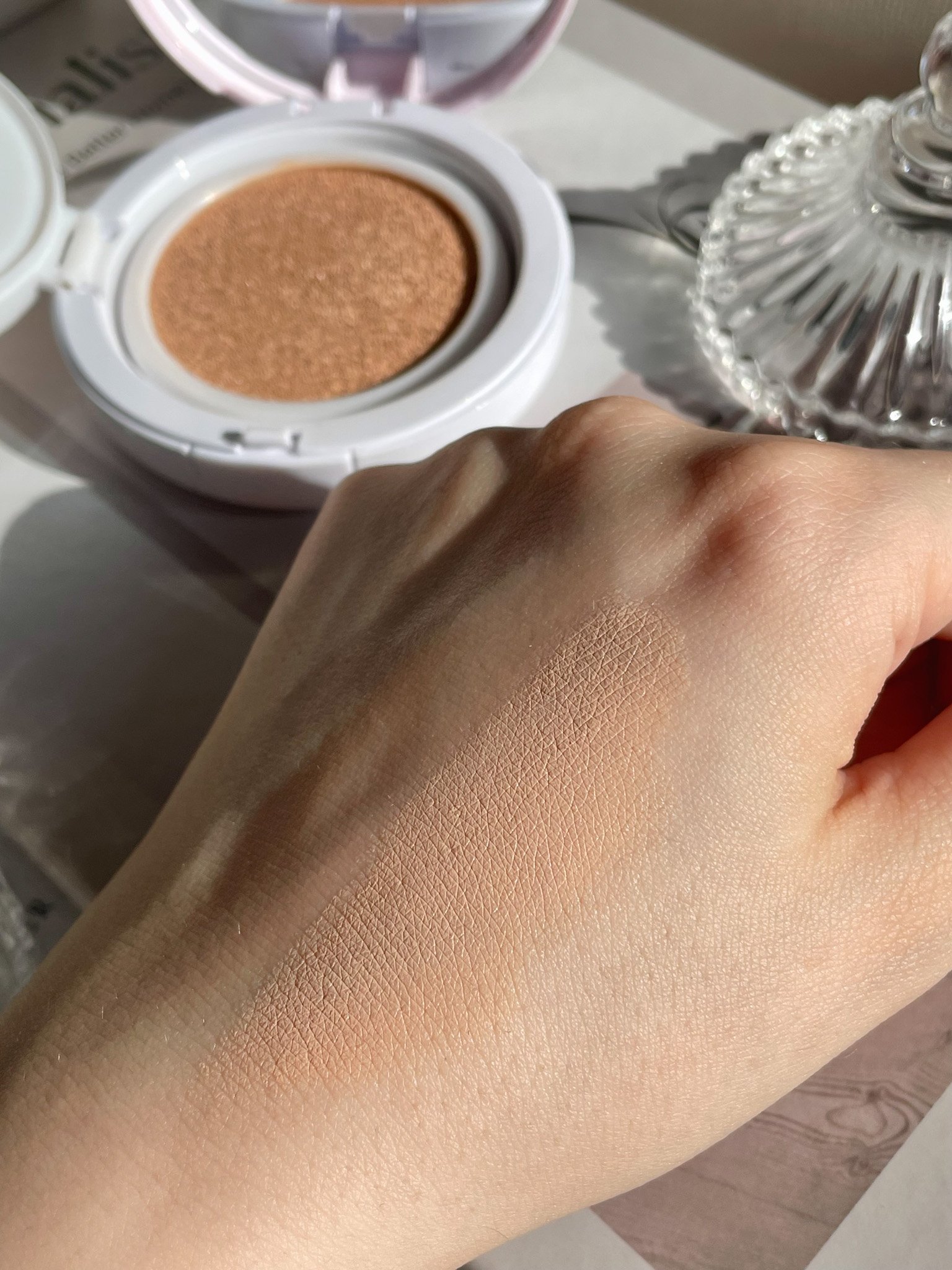 Final Verdict on the MISSHA Magic Cushion Cover Lasting
Pros
Natural satin finish.
Medium coverage.
Doesn't emphasize pores, fine lines, or dry patches.
It evens out the complexion.
Additional sun protection.
Best suited for normal to dry skin types.
It didn't break me out.
Cons
Not suitable for oily skin, especially in hot humid weather.
Not very long-lasting without powdering it.
I have to say that I really like this cushion foundation. It currently ranks in my top 5 makeup products. What I particularly appreciate is how it effortlessly glides over my textured areas without accentuating them. The included puff is of great quality too! Even though I wish it had an angled tip, it still works effectively as is. However, it's important to mention that this may not be the best choice for individuals with oily skin, despite the claims of offering sebum control.

Did you find this Missha Magic Cushion Foundation Review helpful? What's your favorite base makeup product?

---

*Affiliate Links – It means I may earn a small commission when you purchase a product through the links I have provided at no extra cost to you. I purchased this product myself.
Related posts
Follow blog via Email
Get the latest posts from this blog delivered to your inbox!
About Me
Hi and welcome to Kbeauty Notes! :) I'm Ledia and I'm very passionate about everything skincare. I created this blog to share my thoughts and experience with many amazing and not so great products out there, hoping to help you make better decisions regarding your skin. I'm very happy to bring you on this journey with me and I hope you enjoy it! <3

My Skin Type: Oily, acne prone, dehydrated, a little sensitive, large pores.

Skincare Concerns: hydration, pore care, anti-ageing, PIE (acne marks), brightening.

Contact: kbeautynotes@gmail.com