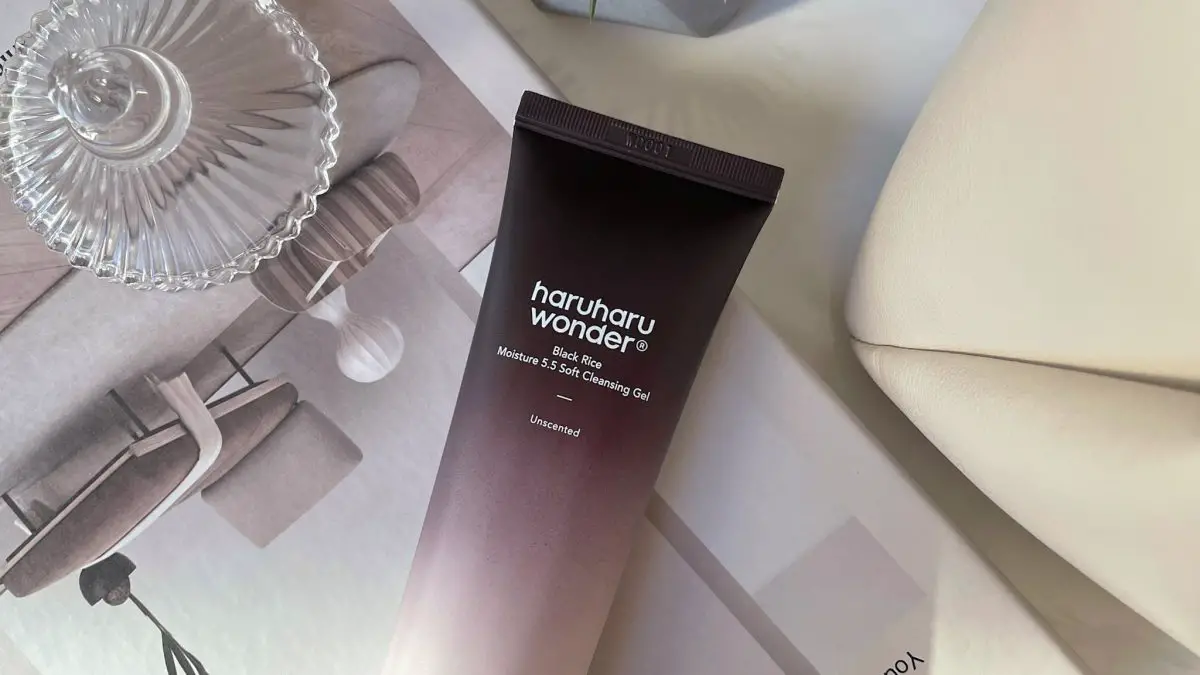 Continuing the exploration of Haruharu products, this review shifts its focus to the Haruharu Wonder Black Rice Moisture 5.5 Soft Cleansing Gel. As someone who has delved into various cleansers, it's becoming increasingly clear that gel-type formulations hold a special place in my skincare routine, alongside the tried-and-true oil-based cleansers. The Haruharu Wonder Black Rice Moisture 5.5 Soft Cleansing Gel, in particular, falls into the category of cleansers that win you over right from the first use. Read on to find out all about my experience with this cleanser.


Where to buy: It's available at Yesstyle (reward code: KBEAUTYNOTES for 5% off your order, can be used together with other coupons), Stylevana (discount code: INF10LED).
Price: $10-$17
Volume: 100ml (3.4 fl oz)
PAO: 12 months after opening.
Packaging: The packaging is a squeeze tube with a screw-on cap, aligning seamlessly with the purple gradient theme of their original line. Personally, I appreciate the aesthetic appeal. If you're not a fan of screw-on caps, don't worry. The brand has recently switched to a flip cap design, making things more convenient.
About the Haruharu Wonder Black Rice Moisture 5.5 Soft Cleansing Gel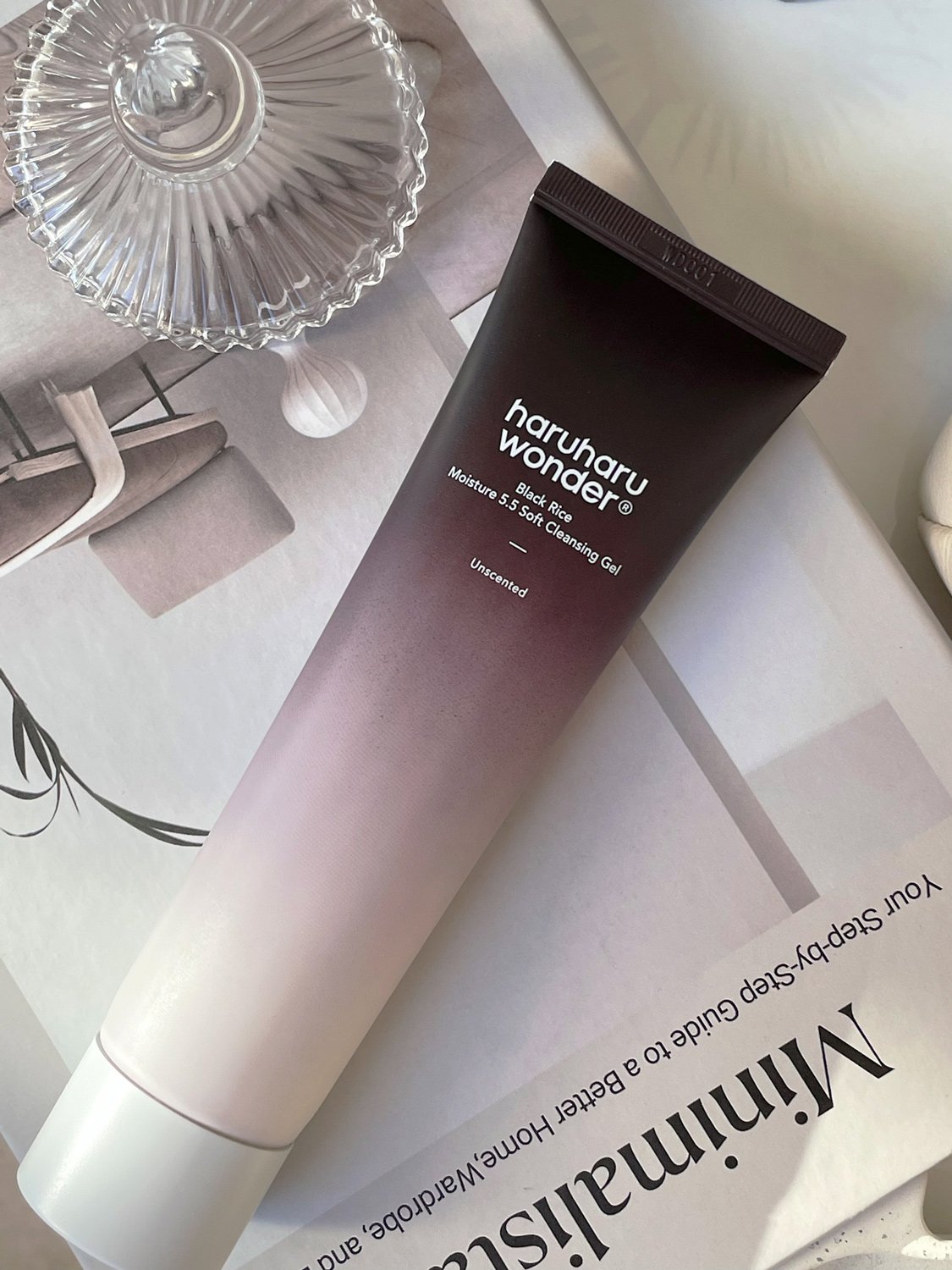 Formulated with a naturally derived surfactant from coconut, this cleansing gel ensures a gentle cleanse and helps maintain a healthy skin barrier. It provides deep moisture and skin soothing benefits due to fermented black rice. The formula is unscented, offering a lightweight texture that effortlessly transforms from a concentrated gel into a dense, soft lather when in contact with water. Designed to cater to all skin types, this cleansing gel particularly shines in providing relief to dry skin.
Application
Application is straightforward, like any water-based cleanser. It's versatile enough for both morning and nighttime routines. You can also use it as a second-step cleanser following an oil cleanser.
Consistency
Its consistency is that of a slippery lightweight gel, generating enough bubbles when water is added. I really like how soft this feels on the skin.
Scent
There's no scent since no fragrance is included, making it perfect for those with skin sensitivities and those who prefer skincare products without overpowering scents. While fragrance doesn't particularly bother me, I lean towards cleansers that are either unscented or have a clean and fresh scent.
Performance
Let's break down the performance of this gel cleanser. The texture is pretty smooth, creating soft bubbles during application. It feels gentle and silky on the skin, making it a solid choice for dry or dehydrated skin that usually feels tight after cleansing. It's also a fantastic choice if you have a compromised skin barrier due to active ingredients or environmental factors.
Unlike some cleansers that may gradually dry the skin over time, this one maintains skin hydration effectively, so it works very well as a second step cleanser for double cleansing.
If you have irritated or sensitive skin, this is a perfect match for you. With no fragrance or essential oils, and devoid of active ingredients like exfoliants, it's truly a gentle formula that caters to delicate skin needs. It didn't cause any irritation or redness for me, in fact, it felt soothing.
For those with oily skin, the cleanser gets the job done. However, I did observe a slight sebum buildup on my nose after a few days of use. It's worth noting that, for oily skin, using an oil cleanser a few times a week is pretty crucial to melt away sebum and keep those pores in check.
Also Read: Review: Haruharu Wonder Black Rice Moisture Airyfit and Black Rice Pure Mineral Relief Daily Sunscreen
Luckily, Haruharu offers the Black Rice Moisture Deep Cleansing Oil in the same line, serving as a suitable initial cleanser. You can follow it up with the gel cleanser for a gentler second step in your routine.
In my experience, the only drawback was that my skin, prone to congestion, developed some small bumps while using this cleanser. If you share a similar concern, it's essential to consider before making it a staple in your routine.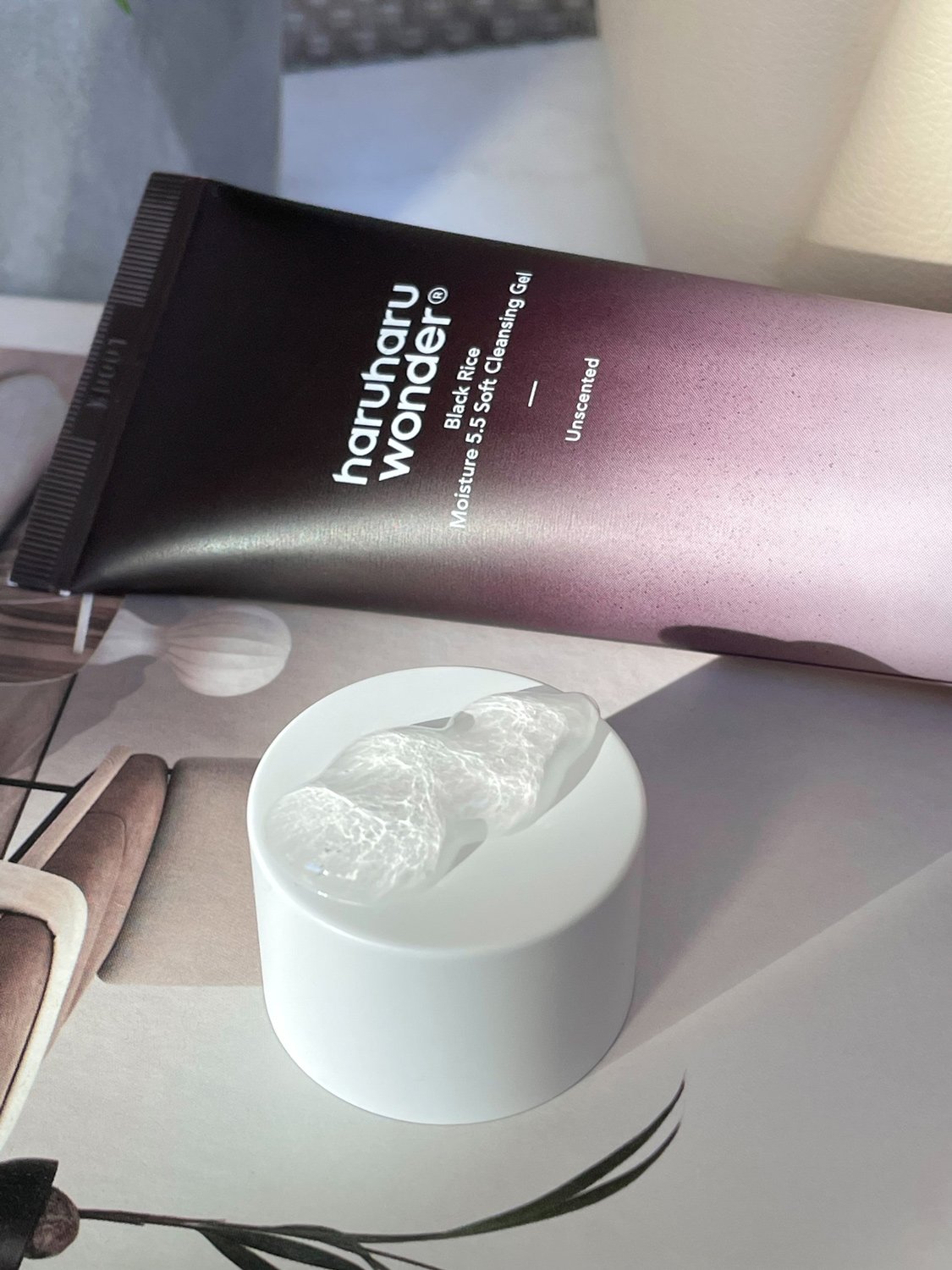 Ingredients
It contains gentle surfactants like Coco-Betaine, Potassium Cocoyl Glycinate, Potassium Cocoate.
Given that cleansers have brief contact with the skin, the importance of additional ingredients may be way less compared to other skincare products. Nevertheless, this cleanser does include some skincare goodies like Rice extract, Ginseng Root Extract, and Beta-Glucan.
There is no alcohol, fragrance, or essential oils in the formula.
Water, Glycerin, Coco-Betaine, Propanediol, Pentylene Glycol, Sodium Chloride, 1,2-Hexanediol, Xanthan Gum, Hydroxyethylcellulose, Potassium Cocoyl Glycinate, Potassium Cocoate, Oryza Sativa (Rice) Extract, Phyllostachys Pubescens Shoot Bark Extract, Panax Ginseng Root Extract, Aspergillus Ferment Extract Filtrate, Beta-Glucan, Butylene Glycol, Trehalose, Citric Acid, Cyclodextrin, Zanthoxylum Piperitum Fruit Extract, Pulsatilla Koreana Extract, Usnea Barbata (Lichen) Extract, Ethylhexylglycerin

Final Verdict on the Haruharu Wonder Cleansing Gel
Pros
Effective at cleansing.
Gentle on the skin.
Leaves the skin feeling soft.
Doesn't cause a tight feeling.
Non-drying even after continuous use.
Felt soothing, non-irritating.
Most suitable for normal, combination, dry, and sensitive skin.
Cruelty-free and Vegan.
Cons
Could potentially congest the skin for those that are acne-prone.
In conclusion, this cleanser is amazing for those who often find their skin feeling dry, tight, and compromised by other cleansers, use of actives, or environmental factors. Its gentle nature and the absence of fragrance make it an excellent choice for individuals with sensitivities as well. For those with oily skin, it works well as a gentle morning cleanse and can be seamlessly integrated as a second step in the evening routine.

However, a word of caution for those prone to acne or congestion – based on my experience, it's worth noting that this cleanser may have the potential to clog pores. Personal experiences may vary, so it's something to keep in mind if you fall into this category. Overall, while it might not be a one-size-fits-all solution, it certainly has its strengths for the skin concerns that I mentioned.

Did you find the Haruharu Wonder Cleansing Gel Review helpful? What's your favorite product from this brand?

---
*Sponsored – by Haruharu Wonder, but all opinions are entirely my own.
*Affiliate Links – It means I may earn a small commission when you purchase a product through the links I have provided, at no extra cost to you.
Related posts
Follow blog via Email
Get the latest posts from this blog delivered to your inbox!
About Me
Hi and welcome to Kbeauty Notes! :) I'm Ledia and I'm very passionate about everything skincare. I created this blog to share my thoughts and experience with many amazing and not so great products out there, hoping to help you make better decisions regarding your skin. I'm very happy to bring you on this journey with me and I hope you enjoy it! <3

My Skin Type: Oily, acne prone, dehydrated, a little sensitive, large pores.

Skincare Concerns: hydration, pore care, anti-ageing, PIE (acne marks), brightening.

Contact: kbeautynotes@gmail.com