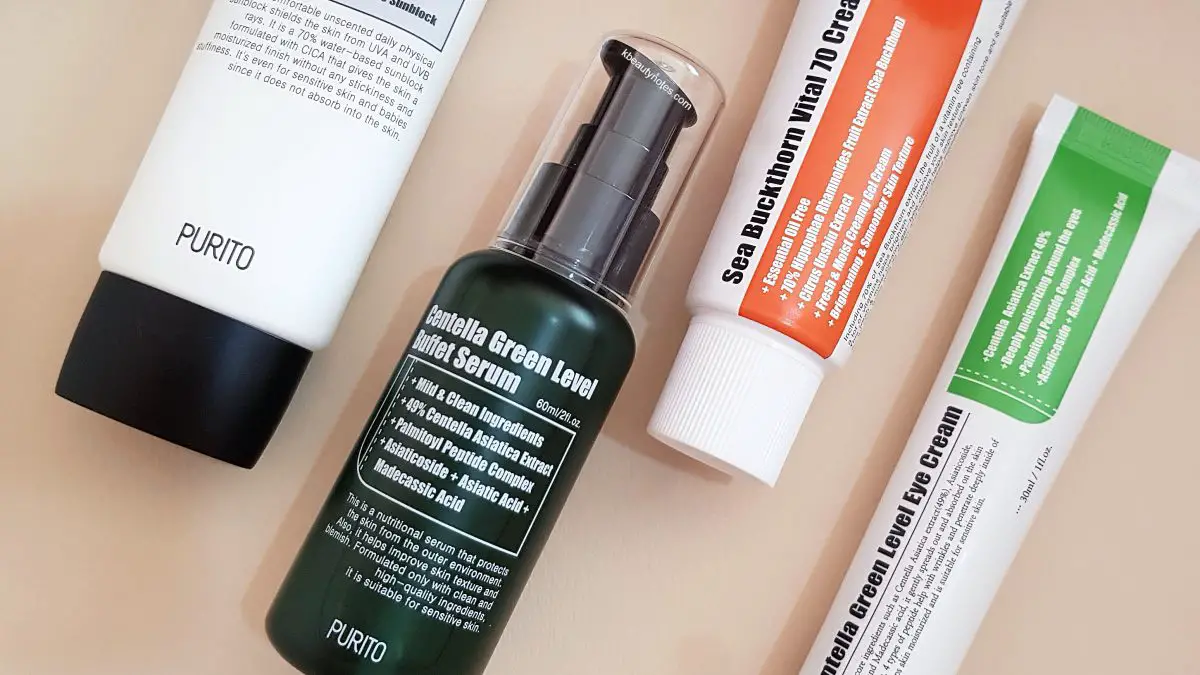 Anyone who hasn't heard of the PURITO Centella Green Level Buffet Serum already? It's one of the most well known skin care products that you see within the K-Beauty community. Actually, PURITO has really blown up and many of their products are receiving a lot of love by skincare enthusiasts. You just can't help it but get curious about the brand. There are so many brands that I'd like to try products from, but I was so drawn by it that with my last order I got 4 products from PURITO alone.
I have already reviewed the Comfy Water Sun Block and the Centella Green Level Eye Cream. You can check them out if you haven't already.

The PURITO Centella Green Level Buffet Serum claims to strengthen the skin barrier and reduce inflammation. It's formulated with 49% Centella Asiatica Extract, Peptides, Niacinamide, and Panthenol. Comes in a 60ml plastic green bottle with a pump. The pump works super well and I prefer it to a dropper applicator.


Application
Depending on your skin's hydration needs you can use this on it's own or after your toners or essences. I personally would use it after a few layers of toner and/or essence. 1 full pump of this serum would be enough for the whole face.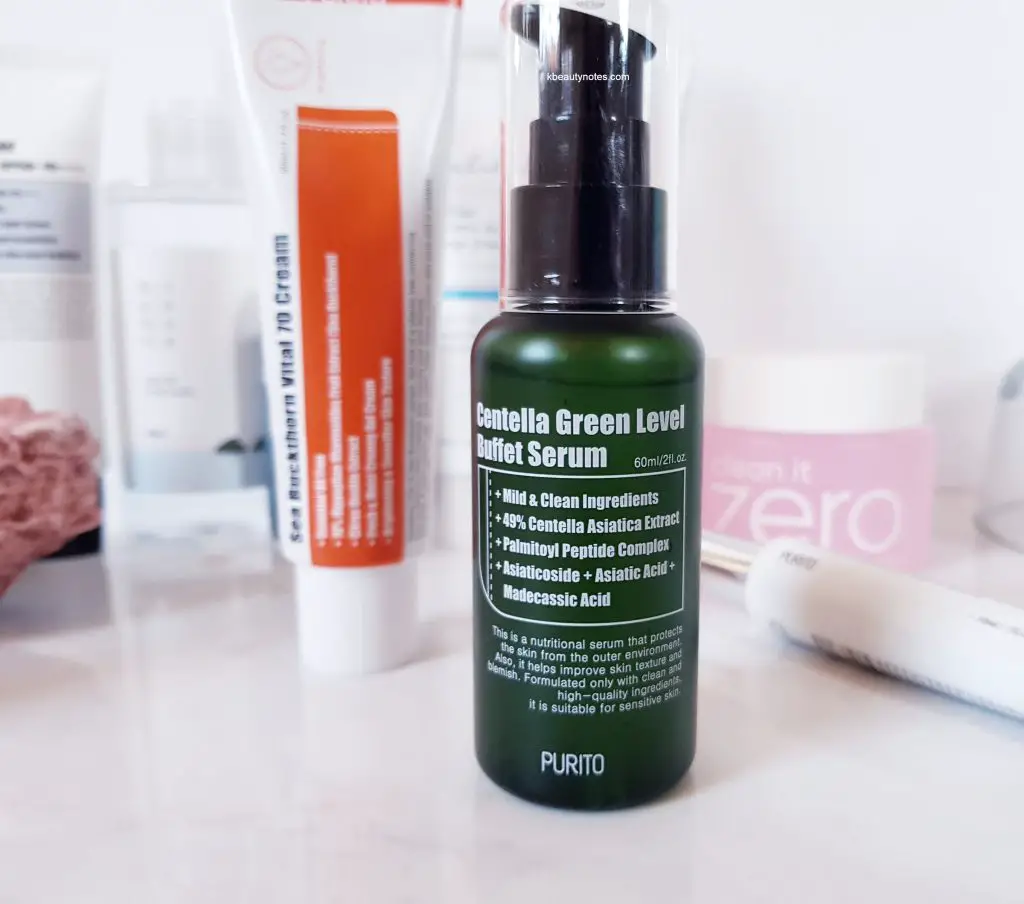 Consistency
The consistency of the Centella Green Level Buffet serum is gel-like and feels very weightless on the skin. For some reason most centella products have this tackiness once applied and this serum has it, too. Fortunately, that goes away fast so no biggie. Then you can enjoy the smooth velvety finish.


Performance
When applied on the skin it feels amazing, especially when used over hydrating products such as toner or essence, because the consistency is a viscous lightweight gel. However, considering the texture I was expecting it to be more hydrating when used alone once it sinked in. It initially formed a thin film, but my skin under still felt dehydrated. It took around 30 min – 1 hour for it to really absorb and it stayed slightly better, but I still had that uncomfortable feeling. Those that don't have dehydration issues or dry skin, I think won't have a problem with it. It seems like it would be great specifically for oily skin, because it is lightweight and you won't need to layer many products.
It does a good job at reducing inflammation and calming down the skin. I really liked its performance in this regard. It worked even better when used together with the PURITO Sea Buckthorn Vital 70 Cream. Both decreased the redness significantly. I was pleasantly surprised to see my face in the mirror after 1 hour or so and looked so bright with no trace of redness.
Unfortunately, the first time I used this serum it broke me out. I had 4-5 inflammed raised spots (closed comedones) on my face. I used it a couple more times and the breakouts didn't persist, so I continued using it. But, not a fan of the fact that it did cause those breakouts…
The scent is a bit strong, and although I don't mind it that much myself, it's something to consider if you're not into scented skincare. But I can see how it can be overwhelming for some people. Seeing how this sells more than the unscented version that the PURITO has released, it goes to show that most don't mind it. But if you care, you can opt for the unscented version and won't have to worry about it.
The serum works well with other skincare and doesn't affect makeup performance. Also, doesn't make sunscreen pill.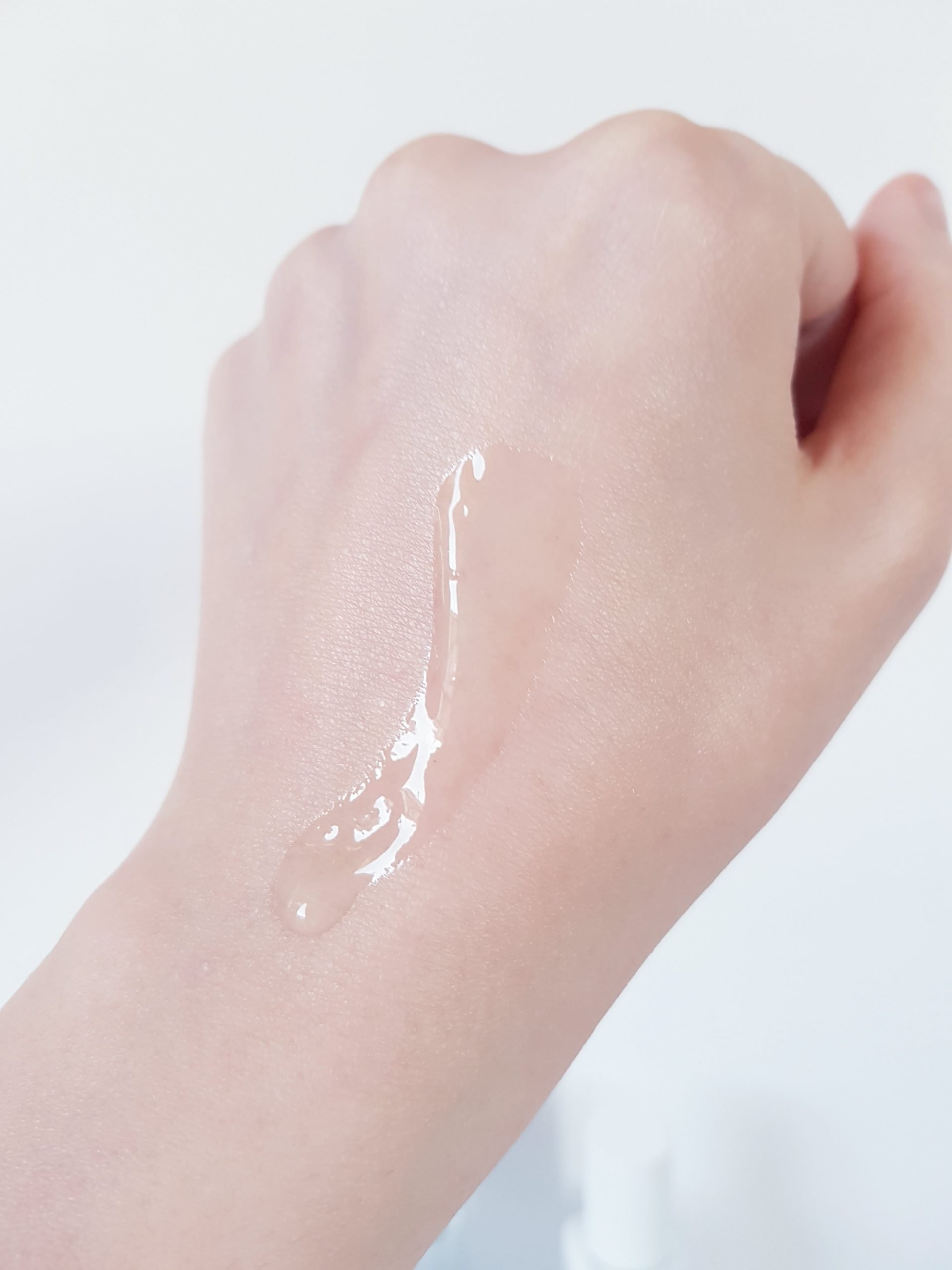 Ingredients
This is the most up to date ingredients list for this serum as posted on the Purito official website and on the packaging it came in. It's composed of 49% Centella Asiatica which is a well known anti-inflammatory agent. Very high up in the list it's niacinamide, one of my favorite skincare ingredients for acne! (too bad that something else might have initally caused acne for me).
It has great moisturizing ingredients such as Glycerin, Hyaluronic Acid and Hydrolyzed Collagen.
Just like the Purito Eye Cream, this serum contains 4 types of peptides: Palmitoyl Hexapeptide-12, Palmitoyl Tripeptide-1, Palmitoyl Tetrapeptide-7, Palmitoyl Dipeptide-10. They're supposed to provide antiageing benefits such as improve skin firmness and collagen production, as well as reduce inflammation.
Other great ingredients include: Green Tea (antioxidant), Arginine (moisturizing), Panthenol (skin protecting and soothing) and Ceramide NP (repair skin barrier and add hydration).
Free of alcohol but contains Essential Oils.
Centella Asiatica Extract (49%), Water, Dipropylene Glycol, Glycerin, Niacinamide, Butylene Glycol, 1,2-Hexanediol, Glycereth-26, Carbomer, Arginine, Sclerotium Gum, Hydrolyzed Jojoba Esters, Sodium Hyaluronate, Asiaticoside, Asiatic Acid, Madecassic Acid, Palmitoyl Hexapeptide-12, Palmitoyl Tripeptide-1, Palmitoyl Tetrapeptide-7, Palmitoyl Dipeptide-10, Caprylyl Glycol, Polyglyceryl-10 Myristate, Panthenol, Polyglyceryl-10 Laurate, Hydrogenated Lecithin, Camellia Sinensis Leaf Extract, Pancratium Maritimum Extract, Citrus Aurantium Bergamia (Bergamot) Fruit Oil, Dipotassium Glycyrrhizate, Disodium EDTA, Adenosine, Lavandula Angustifolia (Lavender) Oil, Ceramide NP.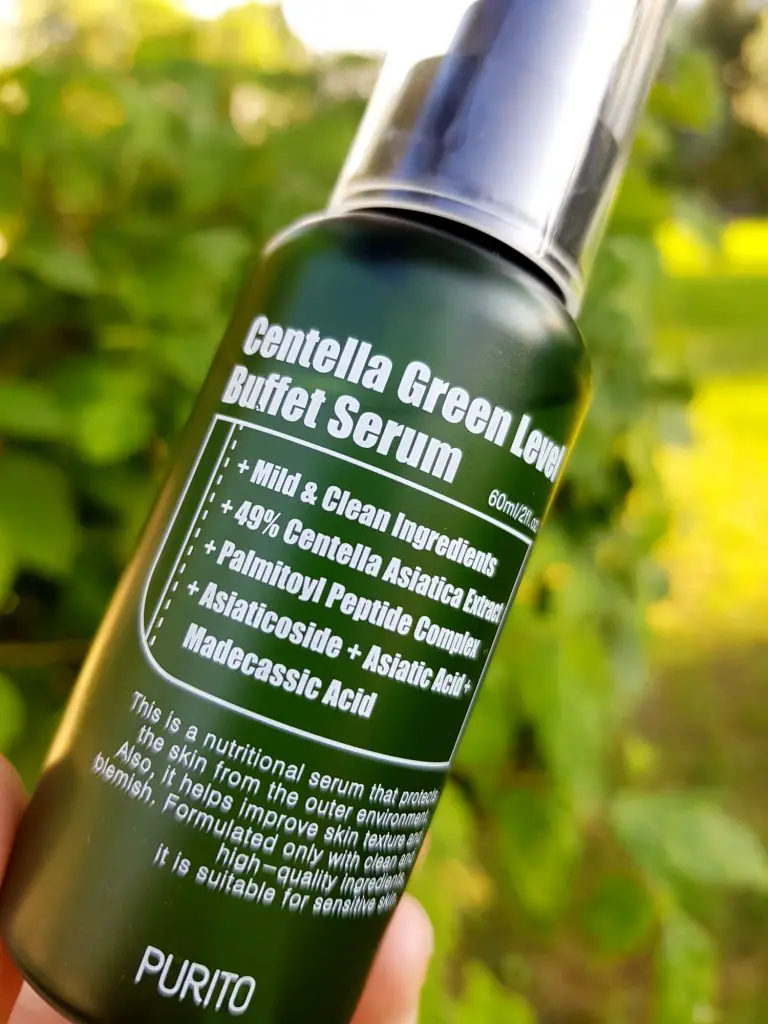 Final Verdict
Pros
Would be suitable especially for oily, normal, combo skin. Sensitive skin can opt for the unscented version.
Has a smooth finish once it dries down.
It calms down redness.
Works well with makeup and sunscreen.
Doesn't contain alcohol.
Cruelty-free & Vegan.
Cons
Not that hydrating for dehydrated/dry skin.
Broke me out the first time I used it.
It contains Bergamot and Lavender Oil for those that are sensitive to them.
Overall, this is a good serum but it didn't "wow" me. Probably, because there is so much hype around it that I was expecting too much? If it could feel as hydrating as it is when you just apply it, this would be amazing. Unfortunately, due to my skin condition right now I don't feel like this is enough. I can make it work though through layering my toner or essence as I always do anyway, but it feels a bit like an unnecessary step in my current routine. Those with oily, combo and normal skin types would most likely enjoy it and not have any issue with its hydrating power, especially if you also live in humid climate. It works great to combat inflammation and no wonder, since it contains 49% Centella Asiatica Extract. I believe that's why most people love this serum.

Would I repurchase this? We're also approaching winter so, at this point my skin needs products that feel very nourishing and moisturizing and this serum doesn't serve me right now. If I decide to get this sometime in the future I would personally buy it in summer and go with the unscented version just to see if it is any different.



Where to buy:
If you're interested in trying the PURITO Centella Green Level Buffet Serum, you can get it at Yesstyle*, Stylevana* and Jolse* where it's currently on sale on all 3 websites for less than $15 for the 60ml bottle.
Here are the links for the Unscented version of this serum if you'd like to get this one instead: Yesstyle – Purito Unscented Centella Green Level Buffet Serum*, Stylevana* and Jolse*.
Have you tried this serum before? What is your experience? Please share! <3


---

*Affiliate links. It means I earn a small commission when you purchase a product through the links I have provided. I've purchased the product with my own money and I will always share my honest opinion and experience. Sincerely thankful to all of you that support my blog! For more information, see Disclosure Policy.
Related posts
Follow blog via Email
Get the latest posts from this blog delivered to your inbox!
About Me
Hi and welcome to Kbeauty Notes! :) I'm Ledia and I'm very passionate about everything skincare. I created this blog to share my thoughts and experience with many amazing and not so great products out there, hoping to help you make better decisions regarding your skin. I'm very happy to bring you on this journey with me and I hope you enjoy it! <3

My Skin Type: Oily, acne prone, dehydrated, a little sensitive, large pores.

Skincare Concerns: hydration, pore care, anti-ageing, PIE (acne marks), brightening.

Contact: kbeautynotes@gmail.com