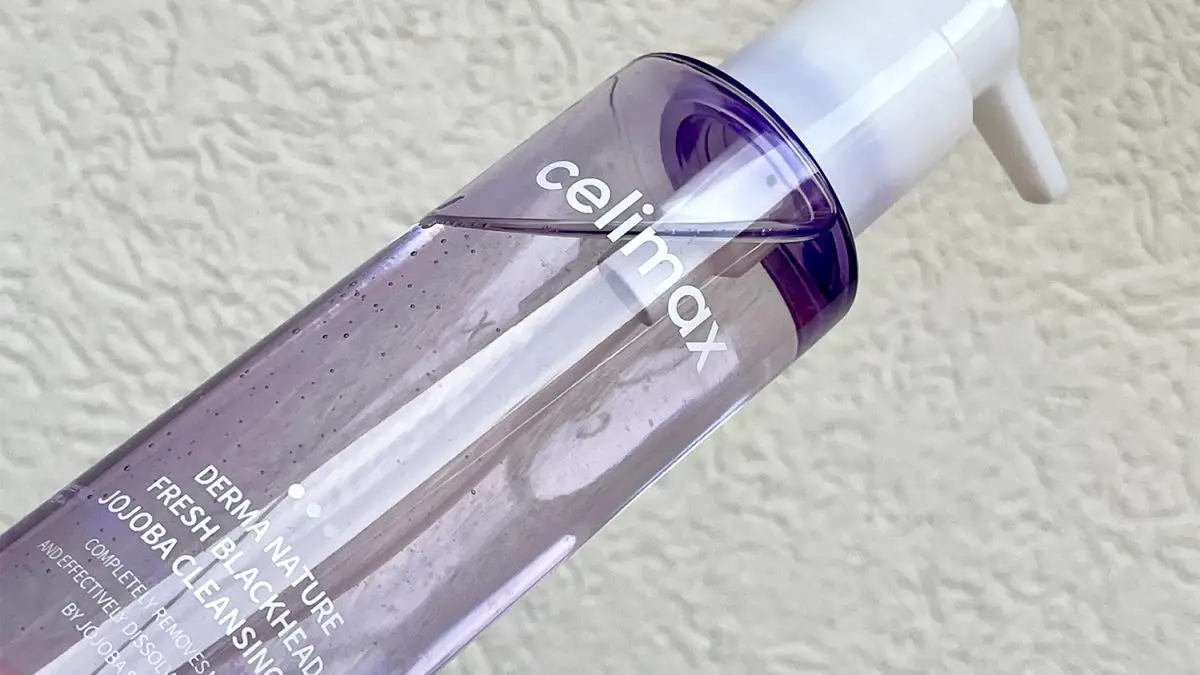 Celimax is a Korean skincare brand that is most known for its Noni and Derma Nature line. One of their most popular products is the Derma Nature Fresh Blackhead Jojoba Cleansing Oil, which has been highly rated on the Glowpick app. I've always used a balm cleanser, but I picked this up because I want to see how oil cleansers compare and it was on sale!
Where to buy: You can find this cleansing oil at Yesstyle* (use KBEAUTYNOTES for 2-5% off your order which can be combined with other coupons), Stylevana*, Stylekorean* and Jolse*.
Price: $10-$22 (Depends on the site and current sales).
Volume: 150ml (5.07 fl.oz.)


What is the Celimax Derma Nature Fresh Blackhead Jojoba Cleansing Oil
A light and non greasy hydrophilic cleansing oil that helps to remove makeup, blackheads, dirt and clean pores. Jojoba oil is the star ingredient due to its biomimetic function as it closely resembles human sebum (the skin's natural oil).
It comes in a purple plastic bottle with a pump. It may leak if you move it around too much, but if used carefully the leakage is minimal.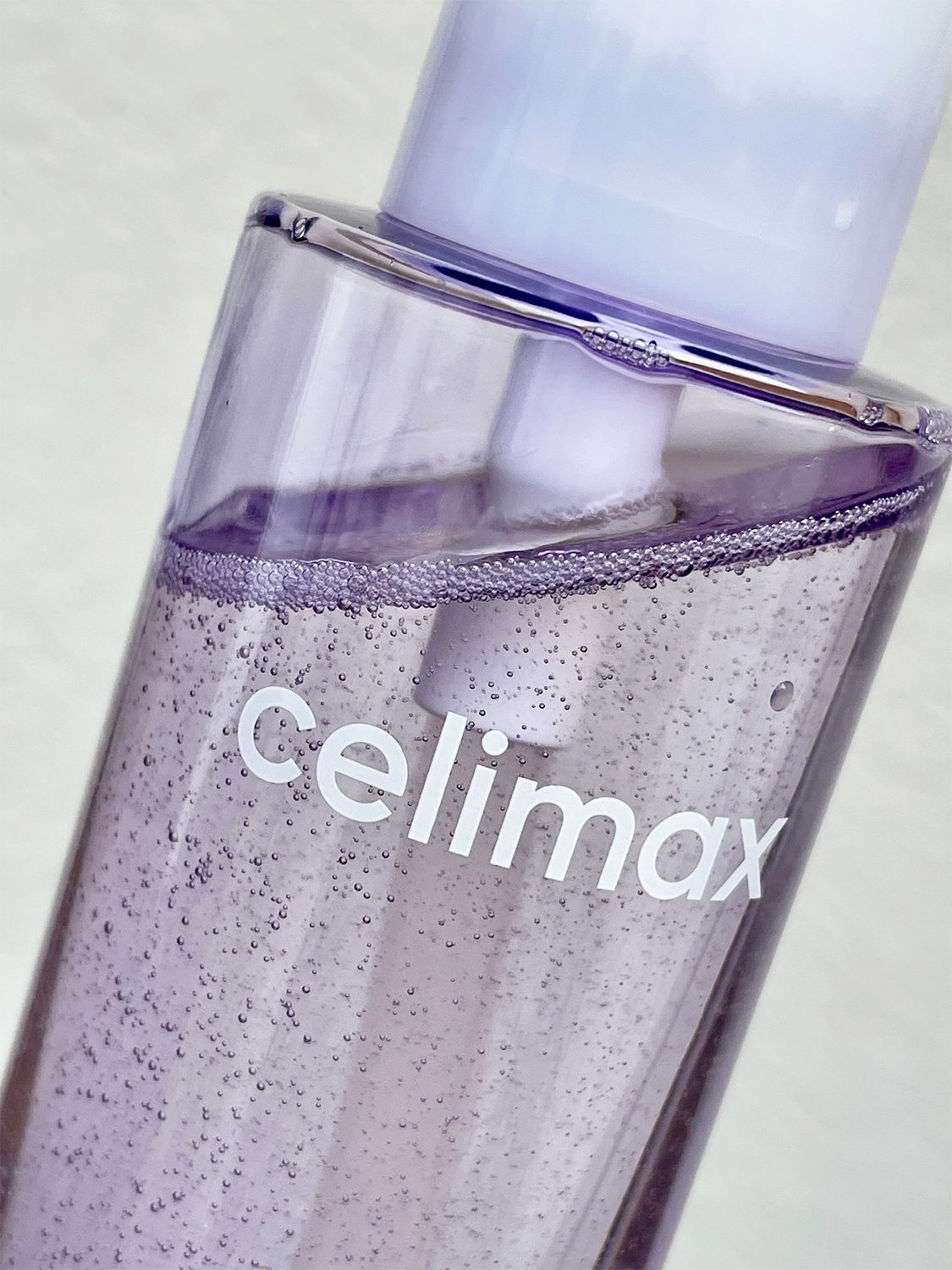 Application
Dispense 2-3 full pumps on the palm of your hand, and then rub your hands together. This way you will avoid the oil dripping and getting messy. It may seem like a lot, but the pump doesn't dispense a lot of product at once so for me it's the perfect amount. You can adjust as needed.
Proceed massaging your face until the makeup is fully disolved. Concentrate on the areas you may have blackheads a little longer for a deeper cleanse. Then add a bit of water to emulsify it, keep massaging and finally rinse thoroughly with lukewarm water.


Consistency
The consistency of the oil is runny, lightweight and spreads very easily. I love it! It's perfect especially for those with oily skin that usually may find other oil cleansers heavy and very greasy.


Scent
This oil cleanser is scented as it contains Bergamot essential oil high up in the ingredients list. I don't care a lot about fragrance in skincare and especially in a cleanser since it will be rinsed off. But it's something to note for those that are sensitive to fragrance/EOs.


Performance
As expected, very effective at breaking down makeup (see picture below) without having to rub the skin hard. With just a gentle massage you see everything melt effortlessly. This is one of the reasons why I love oil-based cleansers as there is no need to rub hard or tug the skin. Rubbing and tugging can cause loss of skin elasticity and result in more wrinkles. And we certainly don't want that.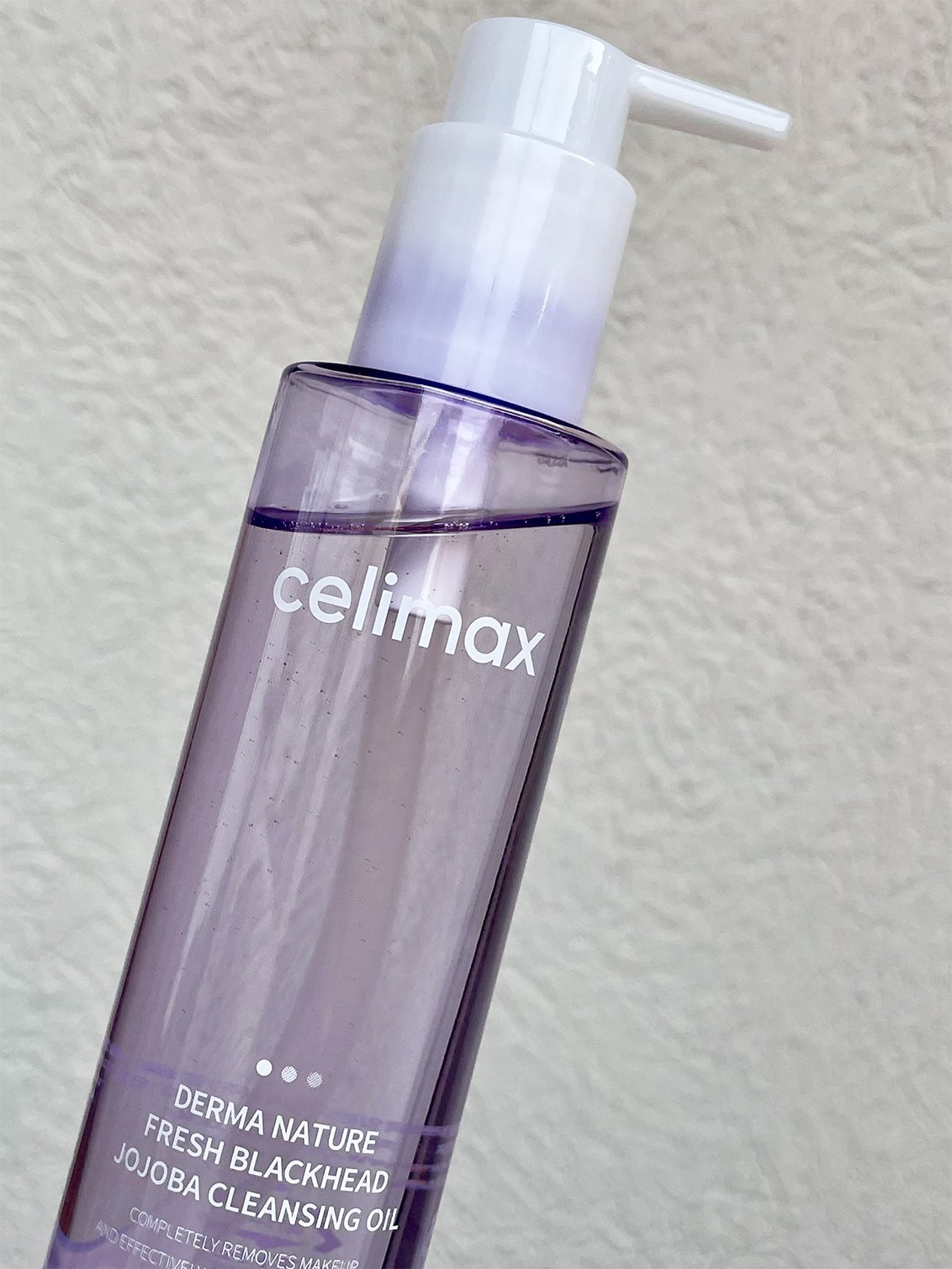 Second, it is effective on blackheads, too. You probably won't see a difference within a day, but I promise that with consistent use they're going to be kept under control. You will notice clearer pores and will get less congestion overall.
Immediate improvement in skin texture from removing excess oil and dead skin cells leaving the skin very smooth. Bye bye flaky skin! It does however leave an oily film even after rinsing it. It is by no way uncomfortable or greasy and barely noticeable, but it's there.
Although I like how soft my skin feels, since I'm prone to acne I always like following with a water-based cleanser. I don't always double cleanse when I use a cleansing balm, but with this I feel it's necessary also for another reason: Since it leaves this residue behind I'm not sure how well my other steps of skincare are being absorbed.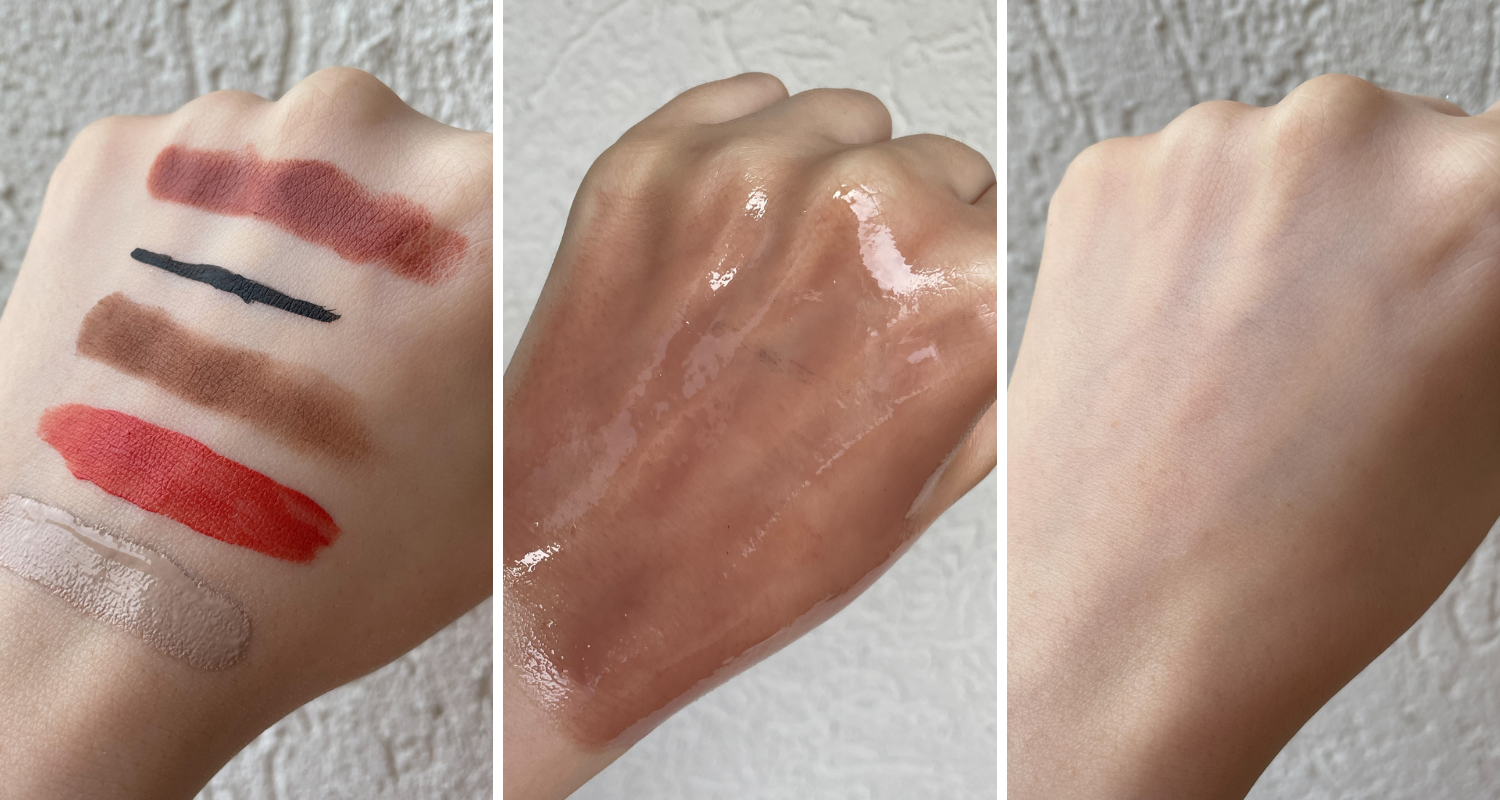 The oil goes on very thinly so it doesn't get in the eyes easily, which is a good thing. I've purposely tested it to see if it stings and it does a little, but it gets rinsed very quickly. Also blurry vision doesn't last long.
I didn't experience any acne or irritation while using this oil cleanser.
Please note that I don't use waterproof makeup. I've used bb cream, lip tint, eyeshadow, eyeliner and lipstick on the back of my hand. You may notice a little trace of eyeliner in the second picture but it was removed completely while rinsing off the cleanser.


Ingredients
Contains a blend of oils like Meadowfoam Seed Oil, Jojoba Seed Oil, Sunflower Seed Oil, Sweet Almond Oil, Olive Fruit Oil, Grape Seed Oil.
Jojoba oil is included because it is structurally and chemically similar to the sebum that our skin produces.
Camellia Sinensis Leaf Extract a.k.a Green Tea has both antioxidant and soothing properties.
It does contain alcohol which is added to create a cosmetically elegant formula. It doesn't feel drying in this cleanser. And Bergamot Fruit Oil – an essential oil.
Ethylhexyl Palmitate, Sorbeth-30 Tetraoleate, Citrus Aurantium Bergamia (Bergamot) Fruit Oil, Water, Limnanthes Alba (Meadowfoam) Seed Oil, Simmondsia Chinensis (Jojoba) Seed Oil (1500Ppm), Helianthus Annuus (Sunflower) Seed Oil, Prunus Amygdalus Dulcis (Sweet Almond) Oil, Olea Europaea (Olive) Fruit Oil, Vitis Vinifera (Grape) Seed Oil, Prunus Armeniaca (Apricot) Kernel Oil, Zanthoxylum Piperitum Fruit Extract, Pulsatilla Koreana Extract, Usnea Barbata (Lichen) Extract, Camellia Sinensis Leaf Extract, Alcohol, 1,2-Hexanediol, Limonene, Linalool

Final Verdict on the Celimax Cleansing Oil
Pros
Lightweight.
Emulsifies well.
Effective at removing makeup and blackheads.
Improves skin texture by removing excess oil/dead skin cells.
No tight feeling.
Didn't break me out or cause irritation.
Most suitable for oily, combo and normal skin types.
Cruelty-free & Vegan.
Cons
Leaves an oily film.
Contains EOs for those that are sensitive.
Although I prefer cleansing balms I enjoyed this cleansing oil a lot. First, I like the fact that it's lightweight, emulsifies well and spreads with ease. Very effective at removing all traces of makeup. It will be great to melt those annoying blackheads with daily use and reduce clogged pores. Maybe dry skin would enjoy the oily layer since it doesn't strip the skin, but I must double cleanse to remove oil buildup completely, otherwise it may lead to acne. Also, this would not be the best option for sensitive skin considering it contains EO very high up the list. Lastly, I love that it smooths out my skin texture.

Did you find the Celimax Derma Nature Fresh Blackhead Jojoba Cleansing Oil Review helpful?
---
This post contains affiliate links. It means I may earn a small commission when you purchase a product through the links I have provided at no extra cost to you. I've bought this product myself and I will always share my honest opinion and experience. Sincerely thankful to all of you that support my blog! For more information, see Disclosure Policy.


Related posts
Follow blog via Email
Get the latest posts from this blog delivered to your inbox!
About Me
Hi and welcome to Kbeauty Notes! :) I'm Ledia and I'm very passionate about everything skincare. I created this blog to share my thoughts and experience with many amazing and not so great products out there, hoping to help you make better decisions regarding your skin. I'm very happy to bring you on this journey with me and I hope you enjoy it! <3

My Skin Type: Oily, acne prone, dehydrated, a little sensitive, large pores.

Skincare Concerns: hydration, pore care, anti-ageing, PIE (acne marks), brightening.

Contact: kbeautynotes@gmail.com