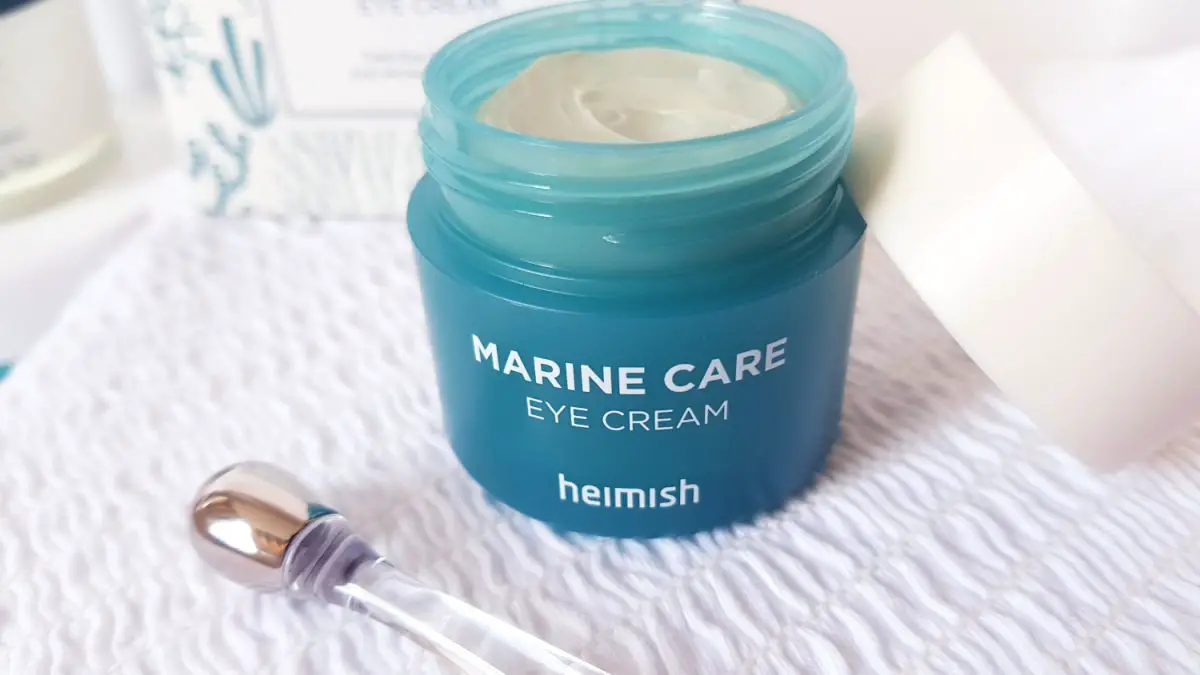 This is my first review for the #trymereviewme box that I received from Stylekorean: Heimish Marine Care Eye Cream! If you've read my blog before you know that I don't think that eye creams are absolutely necessary unless you're trying to tackle a specific problem or the skin under your eyes is particularly sensitive. However, they can be a nice addition to your skincare routine.


What is the Heimish Marine Care Eye Cream
The Marine Care Eye Cream from Heimish is formulated with 51% marine water and 2% Niacinamide to moisturize and brighten the under-eye area. It also contains Peptide and Adenosine to help minimize the appearance of wrinkles and fine lines. The cream is recommended to be used at night so it can help the skin appear more refreshed in the morning. Many refer to this cream as a dupe for The Eye Concentrate from La Mer.
It comes in a 30ml tub.


Application
You can scoop the cream with the flat end of the massager that comes with the product. I dot it under my eye area after I've applied toner or essence and spread it in a very thin layer. I do this because the skin under my eyes is prone to milia so I'd like to avoid applying skincare that can be too rich. Pat it gently using your ring fingers. Then you can use the other end of the applicator to massage the product into the skin.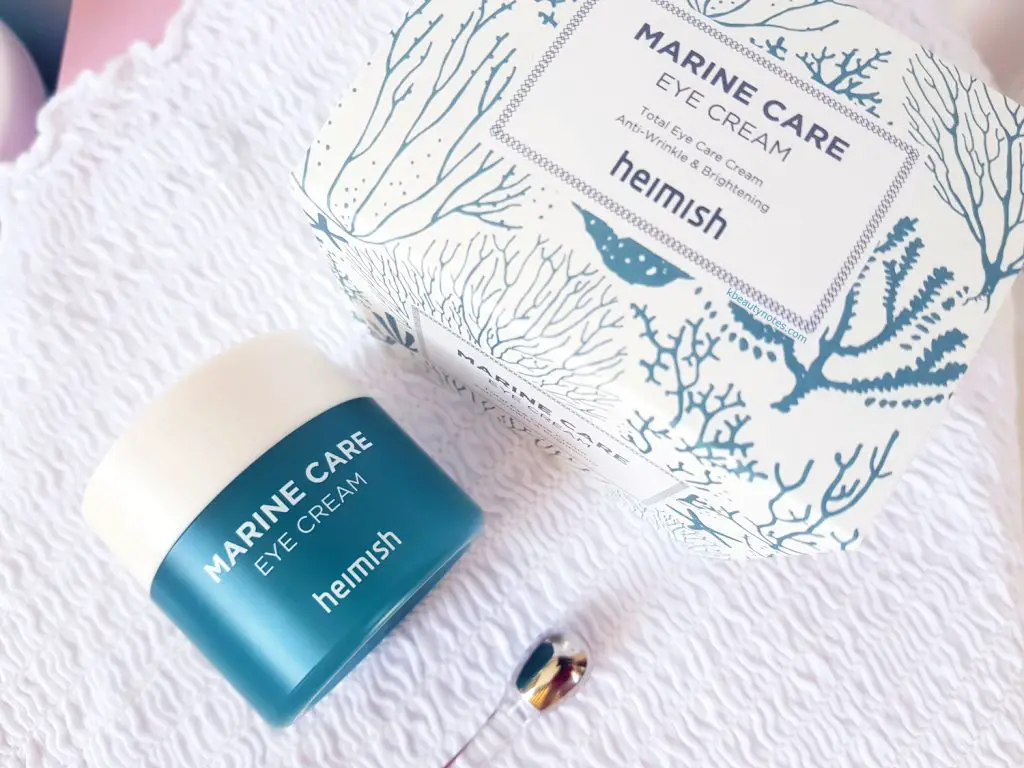 Consistency
The texture of the Heimish Marine Care Eye Cream is rich, buttery and feels very luxurious. It glides on beautifully on the skin. A little goes a long way, so this would last you for quite some time.


Scent
This cream does contain fragrance, so keep this in mind if you're sensitive to it or if you prefer your skincare products free of any scent. I personally really like how it smells and I haven't experienced any irritation. I use very little product anyway, so I don't feel that it's overpowering.


Performance
Although it may feel very rich upon application, the eye cream sets into a satin-like finish and doesn't feel greasy. However, now that the weather has gotten really warm, I personally use this only at night as I feel it may be a bit much during the day for my oily/dehydrated skin. I can't really do sunscreen and eye cream in the same routine! Hence, this would be more suitable for people with normal to drier skin types.
It moisturizes the eye area very well and leaves the skin feeling super soft. I'm seriously obsessed with the finish of this cream. It has such a luxurious feel and makes my routine much more enjoyable.
It fills in the fine lines creating a smoother appearance. My eyes do look more refreshed and less tired in the morning. I've been only using it for a few weeks so I can't say about its long term effect on wrinkles/lines. I think there is no miracle skincare product to get rid of them. However, keeping the skin around the eyes moisturized will definitely help with how they look and prevent/delay the formation of new ones.
I usually apply eye creams on my smile lines as well, and one day while I was rubing the area I did notice a very slight pilling which really surprised me. It could be due to Titanium Dioxide that's in the cream. You won't be rubbing the undereye area anyway, so realistically speaking that won't be a problem. It could possibly hinder the application of makeup. I have used it only at nighttime so I haven't been able to test it in this regard.
So far I have not noticed any milia caused by this, but I use just a tiny bit of product to avoid it. But keep in mind that the texture is very creamy, so it may not be the best choice for those that have this concern.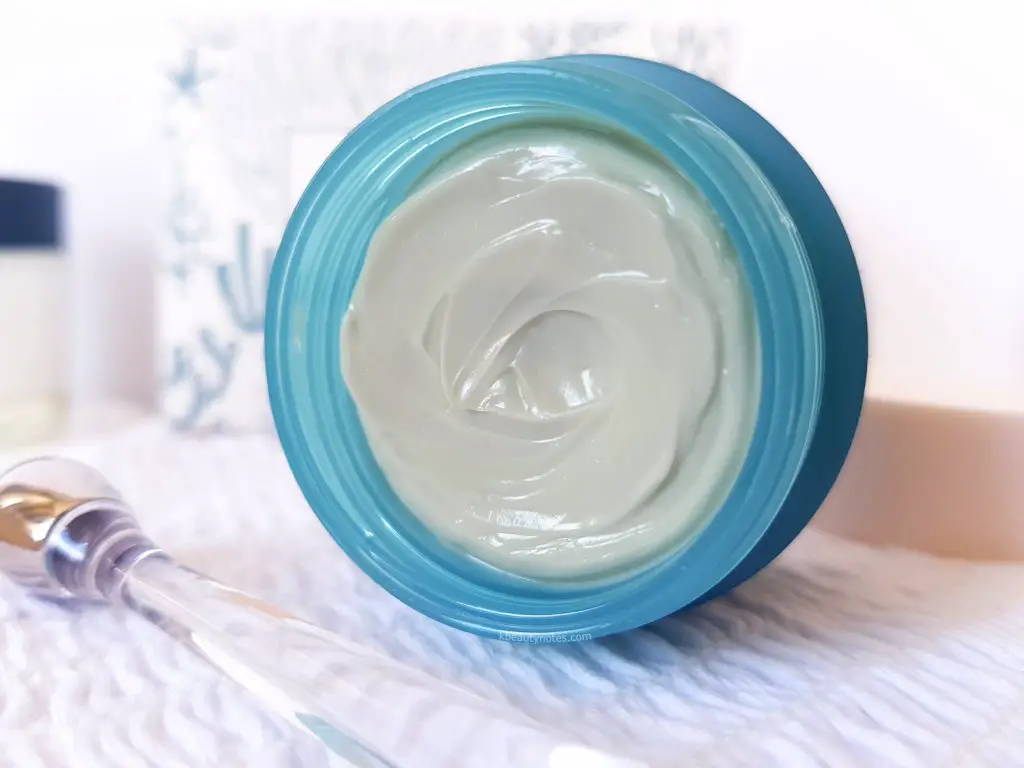 Ingredients
This formula is packed with goodies like Beta-Glucan ( A great soothing, moisturizing and anti-aging ingredient ), Copper Tripeptide-1 ( A copper-peptide complex with skin remodelling, anti-inflammatory and antioxidant properties ), Adenosine ( anti-wrinkle and helps repair the skin barrier ).
Glycerin and Sodium Hyaluronate – humectants which help with skin hydration.
Leontopodium Alpinum Callus Culture Extract – A plant stem cell extract which is thought to be effective on facial lifting, improving wrinkles and skin elasticity.
Niacinamide is one of my favorite ingredients to fight acne, reduce inflammation and brighten the overall complexion.
Macadamia Ternifolia Seed Oil ( emollient which gives the skin a soft feel ) and Butyrospermum Parkii (Shea) Butter ( emollient, moisturizer and antioxidant benefits )
Alcohol-free. It contains fragrance at the bottom of the ingredients list.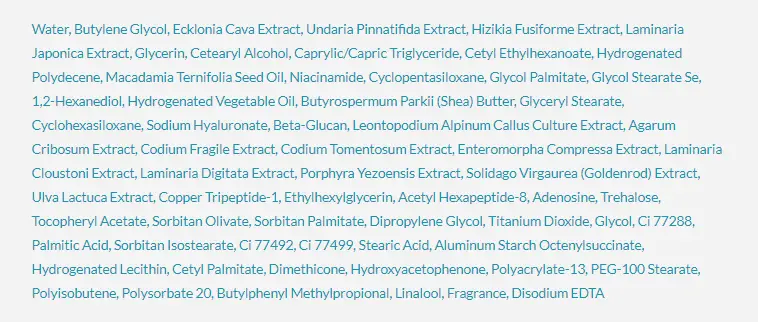 Final Verdict
Pros
Very moisturizing.
Smooth, satin-like finish.
Smoother appearance of fine lines and wrinkles.
Eyes look less tired and more refreshed.
More suitable for normal to drier skin types and mature skin.
Anti-ageing and soothing ingredients.
Cons
It may slightly pill if rubbed after it sets.
May be too rich for those who are prone to milia.
It contains fragrance (for those with very sensitive skin).
The rich texture feels so luxurious when applied. The cream glides on like a dream and it's very moisturizing which makes it perfect for those who experience dryness. So, I think that those with normal-dry skin types and mature skin will really like this eye cream. It leaves the skin feeling super soft and supple. The formula also contains anti-ageing ingredients which will benefit anyone whether you're concerned about wrinkles or not.


Where to buy: If you're interested in trying this cream, you can find it at Stylekorean:
[Heimish] Marine Care Eye Cream 30ml at currently $27.30. Check out their Shipping Info to make sure they ship to your country.


Did you find my Heimish Marine Care Eye Cream Review helpful? Do you use eye creams? If yes, which one is your favorite?


---
*PR Sample – kindly gifted, but opinions are completely my own.
*Affiliate links – For more information, see Disclosure Policy.


Related posts
Follow blog via Email
Get the latest posts from this blog delivered to your inbox!
About Me
Hi and welcome to Kbeauty Notes! :) I'm Ledia and I'm very passionate about everything skincare. I created this blog to share my thoughts and experience with many amazing and not so great products out there, hoping to help you make better decisions regarding your skin. I'm very happy to bring you on this journey with me and I hope you enjoy it! <3

My Skin Type: Oily, acne prone, dehydrated, a little sensitive, large pores.

Skincare Concerns: hydration, pore care, anti-ageing, PIE (acne marks), brightening.

Contact: kbeautynotes@gmail.com