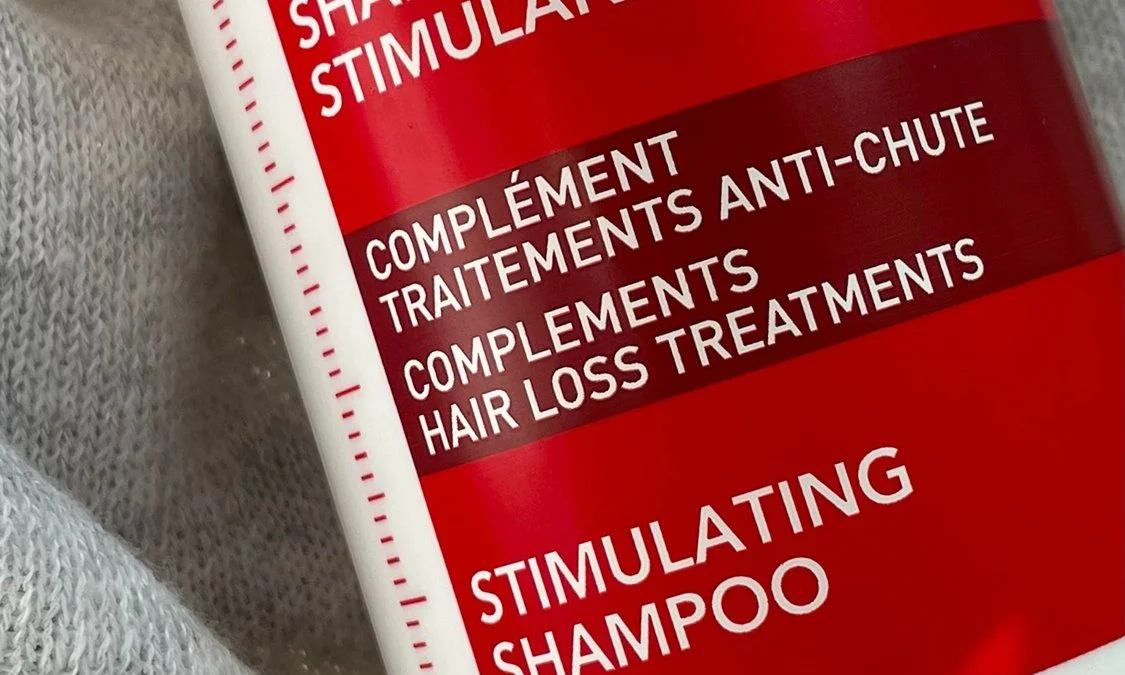 Here comes my first post on haircare! I admit that I don't take care of my hair as much as my skin and usually when I find hair products that work for me I usually stick to them. However now that I'm getting older I feel like my hair and scalp need more attention. Also, because I use a blow dryer very often and without proper care my hair can become dry and brittle.
I wanted to start with a product that I've used on and off for years that has proved to be very effective for me! And that is the Vichy Dercos Energising Stimulating Shampoo – the best hair loss shampoo I've tried to date.
Please keep in mind that if you're experiencing hair loss more than usual, to consult with a professional and run some tests to see if the cause is something internal like iron deficiency, hormonal changes etc.


What is the Vichy Dercos Energising Stimulating Shampoo
The Energising Stimulating Shampoo is designed to reduce the rate of hair loss and maintain the density of the hair. It's formulated with Aminexil, a patented ingredient which provides better blood flow to the hair follicles. This way it prevents hair loss and promotes re-growth at the same time. Reinforced with vitamin B3, B6 and Pro-vitamin B5 (Panthenol).
It is recommended to be used as a complement to the Dercos Aminexil Clinical 5 range for men and women.
Comes in a plastic bottle with a pump in two formats: 200ml and 400ml. I got mine in the bigger version.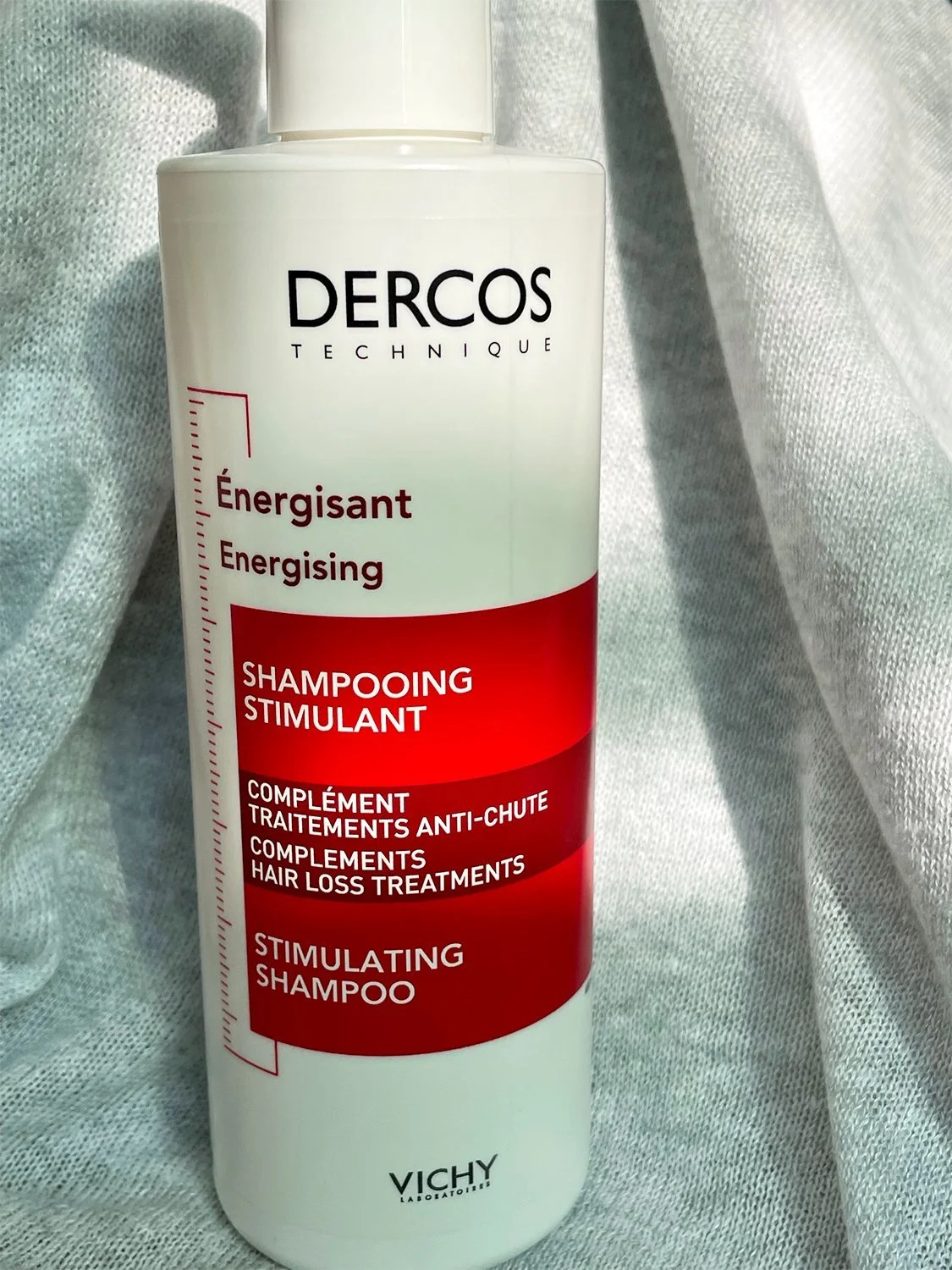 Application
Apply 1-2 pumps, massage your scalp and leave it on for at least 1 minute. I sometimes prefer to leave it a bit longer, around 5 minutes. Then rinse thoroughly and follow with the next steps in your haircare routine. It's okay to use daily if you wash your hair everyday.


Consistency
It lathers nicely to a rich foam and rinses completely without leaving any residue.


Performance
I've been using this shampoo for YEARS and have gone through numerous bottles. I have to mention that I actually have mild iron deficiency which contributes to hair loss in my case. Stress is a factor, too. However, this shampoo has been effective for me in reducing hair loss even when I have not been taking iron supplements!
Results have always been visibly noticeable from the third week of use, and sometimes even earlier. There's way less hair falling while washing and also when combing the hair. I've tried other anti-hair loss shampoos here and there, but nothing beats this so far. Moreover, it makes the hair more resistant to breakage!
Please note that if you stop using this without addressing the root cause, hair loss may start again at the same intesity as before.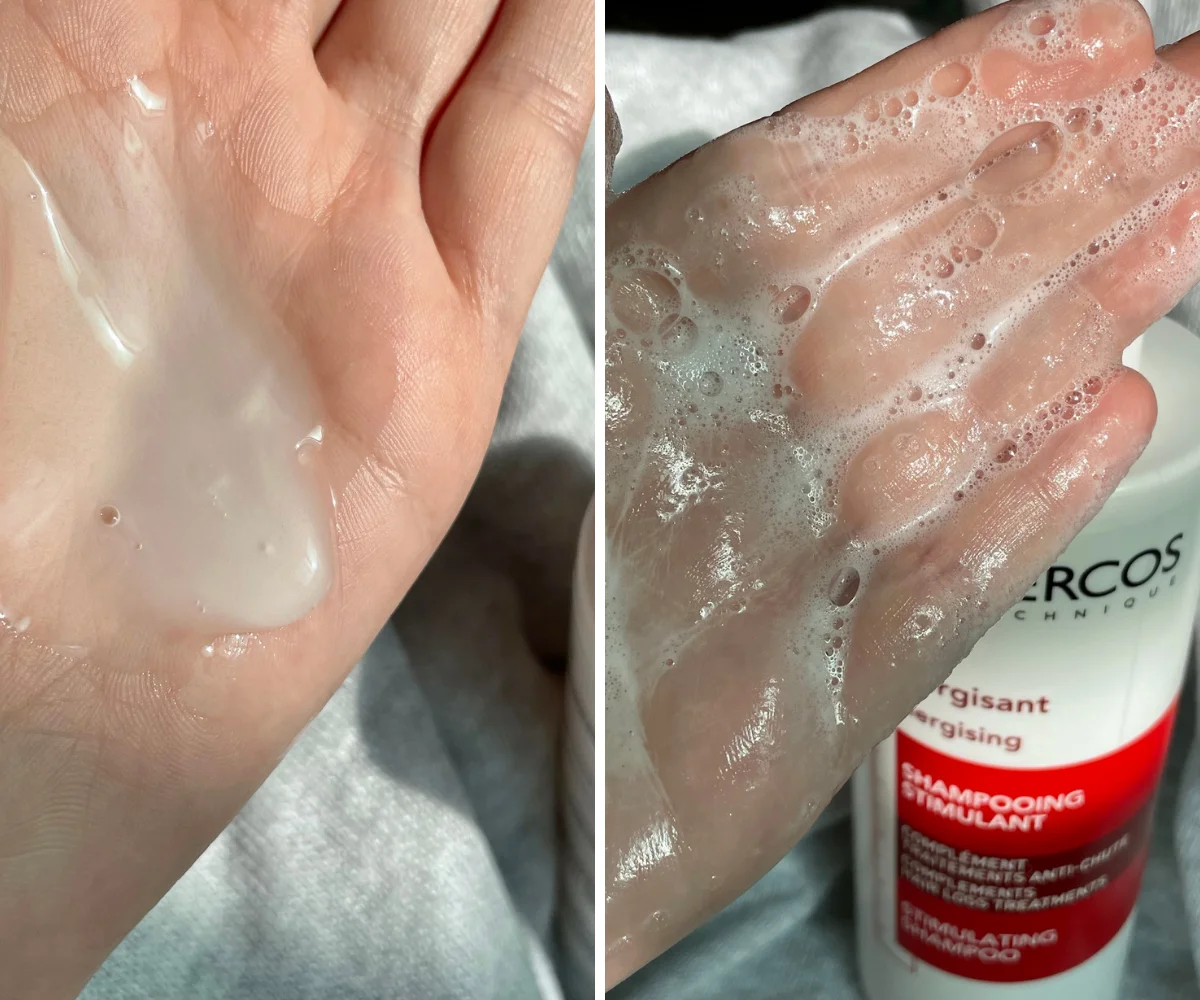 The fact that this does what it claims is great, but there are also other reasons why I love it.
First, this foams up so well and cleanses thoroughly without leaving any residue. I don't like shampoos that don't foam because my scalp is oily and I've found they don't do a good job at removing oil. But it's fine if I'm using them as a first cleanse or if they're meant as some sort of scalp treatment.
One might think that because of the foaming this can be drying, but actually, it leaves the hair very soft and manageable. And not only that, but the hair looks fuller which has surprised me because usually hair products that make the hair soft also weigh it down. I would highly recommend it if you have dry scalp/hair or damaged hair. Those with thin hair may find it useful, too.
Even if you have oily hair (scalp) like me you can use this. However, you're going to have to use another shampoo as the first step that can help you with extending days between washes. With using this alone I'd have to wash my hair every other day, but with another shampoo that may offer some oil-control, I could wash it once in 3 days.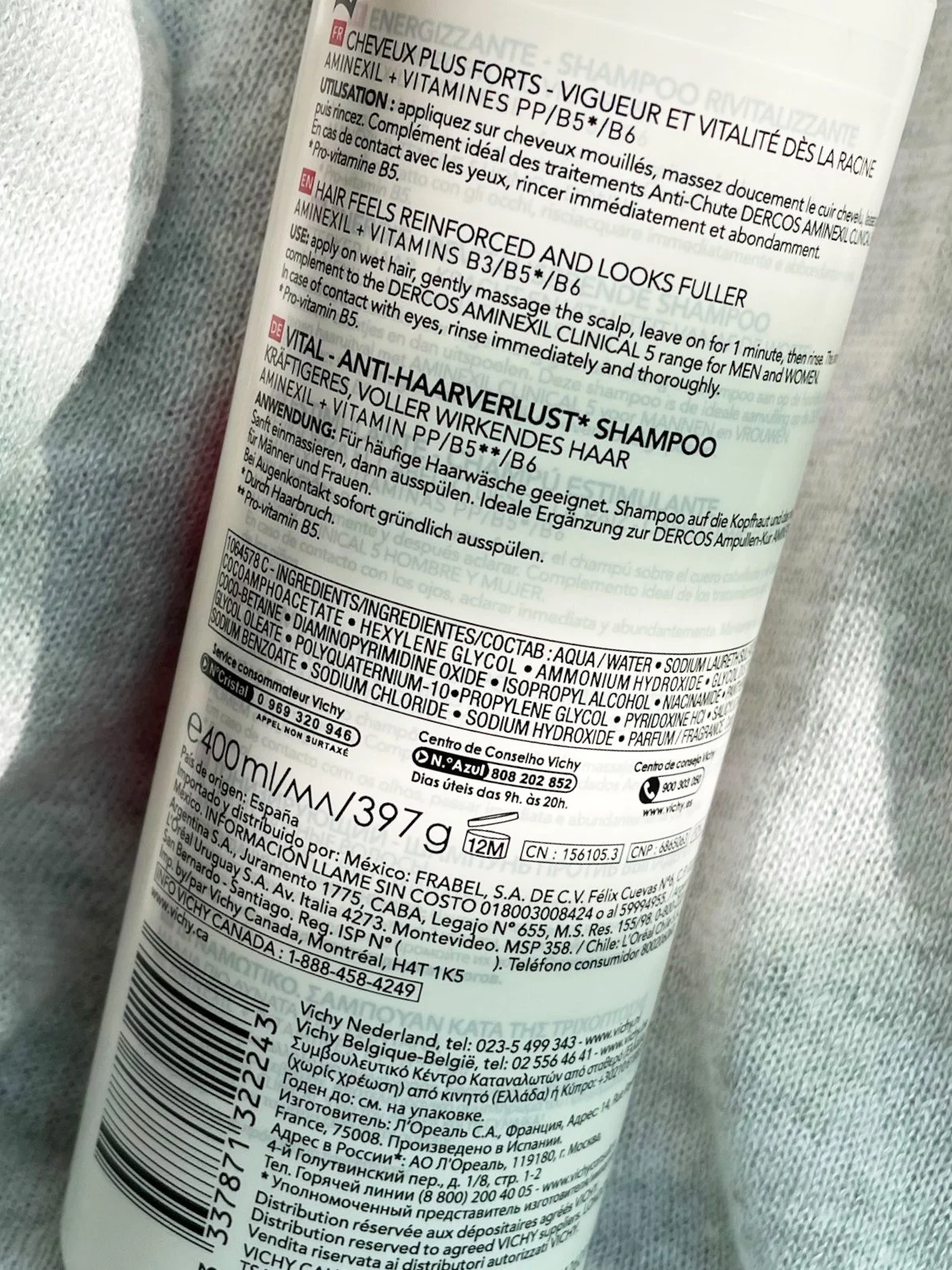 Adds a bit of shine and tames frizz a little, but I rely for this on my conditioner rather than the shampoo.
One thing I've noticed when I switch to this from drugstore shampoos is that my itchiness also stops. Long term use of drugstore shampoos really dries out my scalp which then becomes flaky and prone to itchiness. This brings it back to balance and I don't have any more flakes or inflammation.

Final Verdict on the Vichy Dercos Energising Shampoo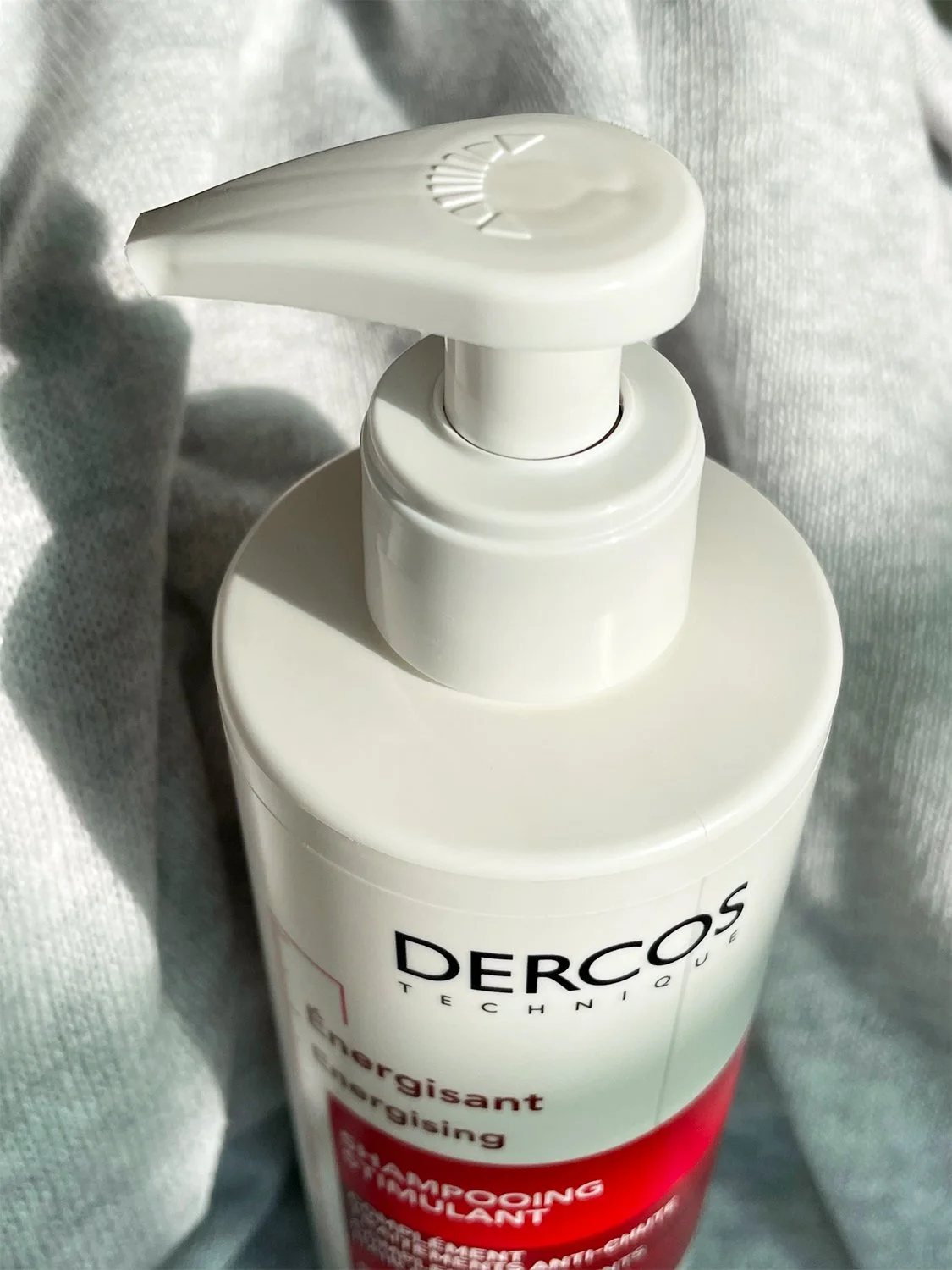 Pros
Effective on hair loss.
Foams up well.
Cleanses thoroughly.
Makes the hair look fuller.
Softens the hair and makes it more manageable.
Adds a bit of shine.
Reduces frizz to some extent.
Reduced itchiness and flaky scalp for me.
If it isn't obvious already – I love this shampoo. And I'm impressed that it works so well because you'd usually expect results like this from products like ampoules etc. Actually even the brand says it should be used to complement the hair loss treatments, so don't look at this as a cure. But I'm happy that for me it works on its own. In conclusion, I'd highly recommend it!

Did you find the Vichy Dercos Energising Stimulating Shampoo Review helpful? What's your favorite hair loss shampoo or treatment?

Also read: Vichy Idéal Soleil Anti-Ageing 3-in-1 Antioxidant Care SPF50 Review
---
I've bought this product myself and I will always share my honest opinion and experience. Sincerely thankful to all of you that support my blog! For more information, see Disclosure Policy.


Related posts
Follow blog via Email
Get the latest posts from this blog delivered to your inbox!
About Me
Hi and welcome to Kbeauty Notes! :) I'm Ledia and I'm very passionate about everything skincare. I created this blog to share my thoughts and experience with many amazing and not so great products out there, hoping to help you make better decisions regarding your skin. I'm very happy to bring you on this journey with me and I hope you enjoy it! <3

My Skin Type: Oily, acne prone, dehydrated, a little sensitive, large pores.

Skincare Concerns: hydration, pore care, anti-ageing, PIE (acne marks), brightening.

Contact: kbeautynotes@gmail.com