Does anyone else finish their products before getting new skincare? As much as I love skincare I think sometimes it can be a bit much. With all the new launches from brands that happen quite frequently, it's very tempting to go out and buy more. I try to use up all my skincare, unless the product breaks me out, irritates or has a weird texture that makes it impossible to apply. Although, it's not always easy! Haha. In this post I wanted to share another empty skincare product with you! It's the Klairs Midnight Blue Youth Activating Drop serum, which I have finished a few months ago but only now did I get around to review it.
If you've read my posts, you might have figured out that every Klairs product I've purchased and tried by now has been a hit for me. It's safe to say they've become one of my favorite Korean brands. My reviews on the Supple Preparation Facial Toner and the Freshly Juiced Vitamin C Drop will be linked at the end of this post, if you're curious to know more about those two.


What is the the Klairs Midnight Blue Youth Activating Drop?
This is a peptide anti-ageing serum from the Blue line of dear, Klairs that contains EGF and bFGF. It's designed to combat and reverse signs of ageing like fine lines, wrinkles and loss of elasticity. It claims to encourage collagen production and accelerate skin's renewal process. Its formula is comprised of 15 ingredients in total. It used to be only 10 but it seems that the brand has reformulated it. The Klairs Midnight Blue Youth Activating Drop serum comes in a dark tinted 20ml (0.67 fl oz) dropper bottle. The serum has a light blue color due to containing Guaiazulene and it's odorless. Sorry I don't have any pics to show you as I have already finished this.


What are growth factors EGF and bFGF? Do they really work in skincare?
Epidermal growth factor (EGF) is a polypeptide known to stimulate cell proliferation and speed up wound recovery. Likewise, bFGF (fibroblast growth factor) is also is involved in a variety of biological processes like cell growth and tissue repair. They can be natural or derived from plants. In brief, growth factors have been proven to have all these benefits on actual wounds. Whereas, fine lines and wrinkes are not wounds and it's debated whether the growth factors can penetrate that deep to the layer where the skin cells are produced. Studies that have been done so far have been conducted by the companies that actually make the products.
What's my stance on this? Do I like peptide serums and the idea of their potential benefits? Yes! There are plenty of people who say they've seen improvements on their skin from using growth factors / peptides. Should you spend a $100 on an EGF serum? Probably no. (I'd rather buy 5 tubes of sunscreen!) Well, first the benefits of EGF on skin still haven't been proven, but what if they actually work? Thankfully, there are more affordable options out there and you can choose one that fits your budget.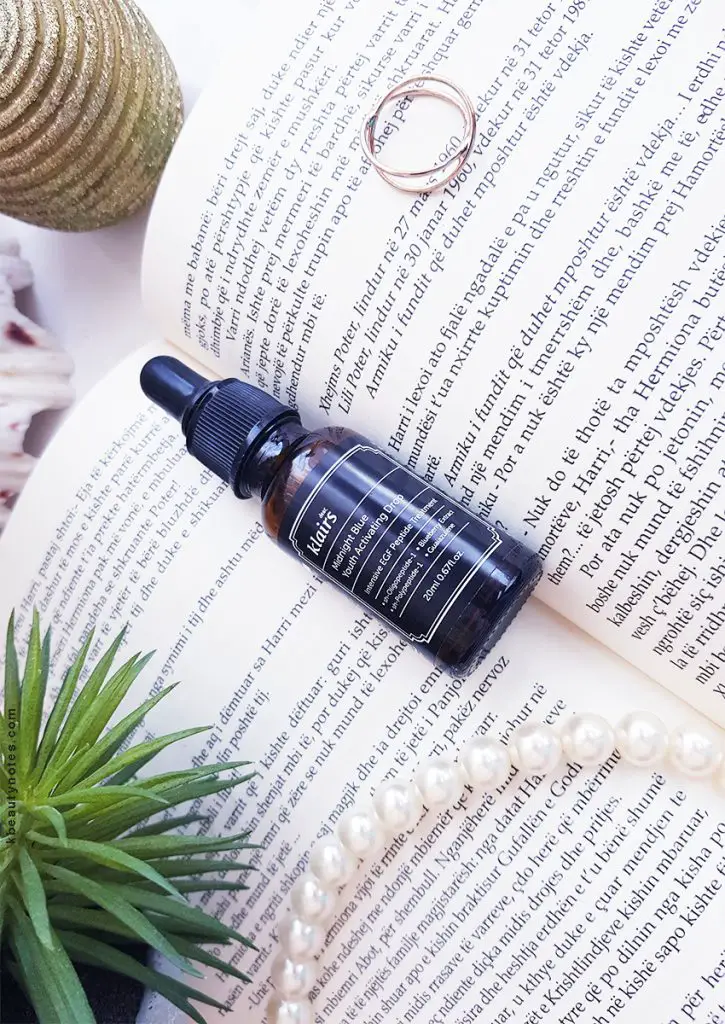 Application – How to use the Klairs Midnight Blue Youth Activating Drop
On the packaging it indicates that you can use the serum morning and night, but I prefer using it at night. After cleansing and before toner, place 4-5 drops on your face and gently spread and massage it with your fingerstips. Be quick, as the consistency is very watery. Let it absorb and hop to the next step. Note: This should not be used in the same routine with acids – Vitamin C / AHAs.


Consistency
The consistency of the Klairs Midnight Blue Youth Activating Drop is very watery and lightweight that absorbs really quickly into the skin.


Performance
Although the consistency of this serum is watery, it did surprisingly feel more hydrating than I was expecting. Moreover, it didn't leave any film and the skin felt hydrated from within. After a couple of minutes my face was left pretty smooth and plump. No doubt that for dry and dehydrated skin it will not be enough on its own, but this will be the first step in your routine anyway. I personally did feel that it makes a difference in this regard for my dehydration. Layers really nicely with my other skincare products. It's so lightweight that oily skin types would really enjoy its application and the feel on the skin.
This can be used both morning and night, but I preferred using it only at night. Please note that you should not mix EGF/peptides with acids (Vitamin C or AHAs). So if you're using Vitamin C in the morning, you'll need to incorporate this in your nighttime routine. You can try a peel beforehand or if you must use an AHA, I'd wait at least 30 minutes, rinse it and apply a pH balancing toner before the serum. Note that our skin naturally equalizes to its normal pH by itself usually within an hour.
It also felt calming on the areas where I had some inflamation or redness and helped tame it.
I've seen people say that they didn't notice any difference on their skin firmness, wrinkles or fine lines after using it for 2-3 weeks and calling it ineffective. We should all keep in mind that anti-ageing skincare won't make a noticable change within such a short time. Brands are also responsible to some extent for making big claims for their products, but I think otherwise they wouldn't sell.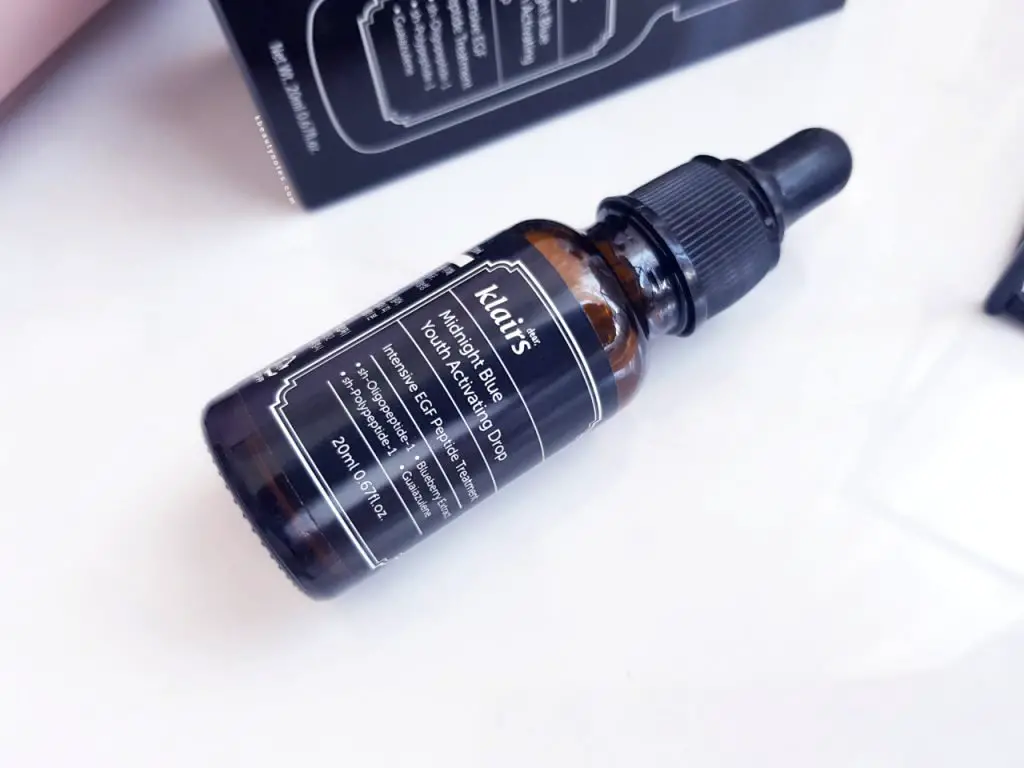 There won't be an overnight miracle fix for wrinkles that have taken years to form, so we should also keep our expectations reasonable. Having said this, after using only one bottle there hasn't been any noticeable difference in my fine lines as far as I can see. Besides I have very few fine lines as I'm only 28. I'd personally like to think of this serum more as a preventive treatment which will help delay ageing.


Ingredients
They've actually tweaked the formula as I can see it updated on the Wishtrend website and it now contains 15 ingredients instead of 10. They've included water and butylene glycol which is a penetration enhancer at the beginning of the ingredients list. Not sure why water has been added to the formula as the previous one was waterless.

Cell-communicating ingredients: EGF (sh-Oligopeptide-1) and bFGF (sh-Polypeptide-1). Glycerin as a humectant and Blueberry Extract for soothing. Guaiazulene is listed as an antimicrobial/antibacterial ingredient.
Free from alcohol, fragrance and essential oils.
Water, Butylene Glycol, sh-Oligopeptide-1, sh-Polypeptide-1, Vaccinium Angustifolium (Blueberry) Fruit Extract, Lecithin, Sorbitan Sesquioleate, 1,2-Hexanediol, Caprylyl Glycol, PEG-60 Hydrogenated Castor Oil, Glycerin, Chlorphenesin, Guaiazulene, Ethylhexylglycerin, Adenosine

Final Verdict
Pros
Weightless on the skin and absorbs fast.
Hydrating.
Improved skin texture.
Feels calming and reduces redness.
Suitable for all skin types.
Skin strengthening & antiageing.
Didn't irritate my skin or break me out.
Doesn't contain alcohol, fragrance or essential oils.
Vegan & Cruelty-free.
Who would the Klairs Midnight Blue Youth Activating Drop serum be for? 1. Anyone who is looking for an anti-ageing serum and wants to tackle fine lines, wrinkles and improve skin elasticity. 2. People with sensitive skin to calm redness and skin irritation. 3. Oily, dehydrated skin types would enjoy the added hydration without becoming greasy. It IS an anti ageing serum, so you can expect it to be somewhat expensive. However, if you think of other EGF serums that retail for more than $100, this seems pretty inexpensive in comparison.
For me, considering the price point for 20ml of product I won't repurchase this at the moment. If this weren't an issue for me, I would've liked to continue using it and see its long term effects. If you can afford it, by all means go for it! I'd like to get the Midnight Blue Calming Cream from the same line in the future.

Also a friendly advice if you're concerned about signs of ageing – Please make SPF a priority!

Where to buy: Want to purchase the Klairs Midnight Blue Youth Activating Drop serum? You can find it at Wishtrend* for the regular price of $30. It's also available at Stylevana* and Yesstyle*.
Have you tried this serum before? I'd love to hear your thoughts on it!


My other reviews of dear, Klairs:

Freshly Juiced Vitamin C Drop Review
Supple Preparation Facial Toner Review
Klairs Rich Moist Soothing Serum Review
Illuminating Supple Blemish Cream SPF40 PA++ Review
Creamy & Natural Fit Concealer Review



---

*Affiliate links. It means I earn a small commission when you purchase a product through the links I have provided. You will not be charged extra if choosing to do so. The product has been purchased with my own money and I will always share my honest opinion and experience. Sincerely thankful to all of you that support my blog! For more information, see Disclosure Policy.


Related posts
Follow blog via Email
Get the latest posts from this blog delivered to your inbox!
About Me
Hi and welcome to Kbeauty Notes! :) I'm Ledia and I'm very passionate about everything skincare. I created this blog to share my thoughts and experience with many amazing and not so great products out there, hoping to help you make better decisions regarding your skin. I'm very happy to bring you on this journey with me and I hope you enjoy it! <3

My Skin Type: Oily, acne prone, dehydrated, a little sensitive, large pores.

Skincare Concerns: hydration, pore care, anti-ageing, PIE (acne marks), brightening.

Contact: kbeautynotes@gmail.com