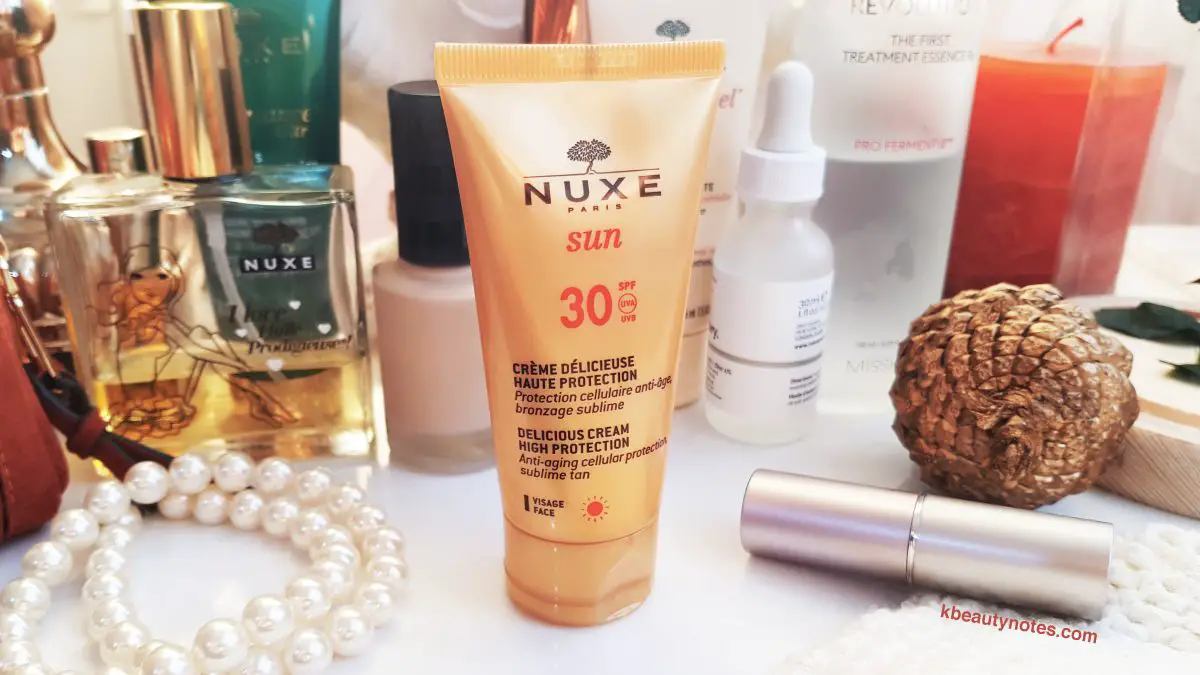 I don't know if you have noticed, but I like sunscreens. You can apply all the fancy and expensive skincare that you want, but sunscreen is crucial when it comes to wrinkle prevention and fighting signs of photoageing.
The NUXE Sun Delicious Cream High Protection SPF 30 is one of my latest additions to my sun creams. A completely chemical (organic) sunscreen that protects against UVA and UVB radiation. There is also an SPF 50 version, but I went for this because it was the only one available when I purchased it.


Description
NUXE Sun Delicious Cream High Protection for Face SPF30 is a facial sunscreen suitable for all skin types that boosts the natural tanning process while still protecting against harmful UVB/UVA radiation. This luxurious sun cream has an antiaging action that prevents premature photoaging signs from appearing and has a delicious smell that is one of the trademarks of this range. The skin is hydrated and protected, but still tans for a glowing summer look. With Kau Pe Flowers and Water Hyacinth to soothe the skin and moisturize. Volume: 50ml.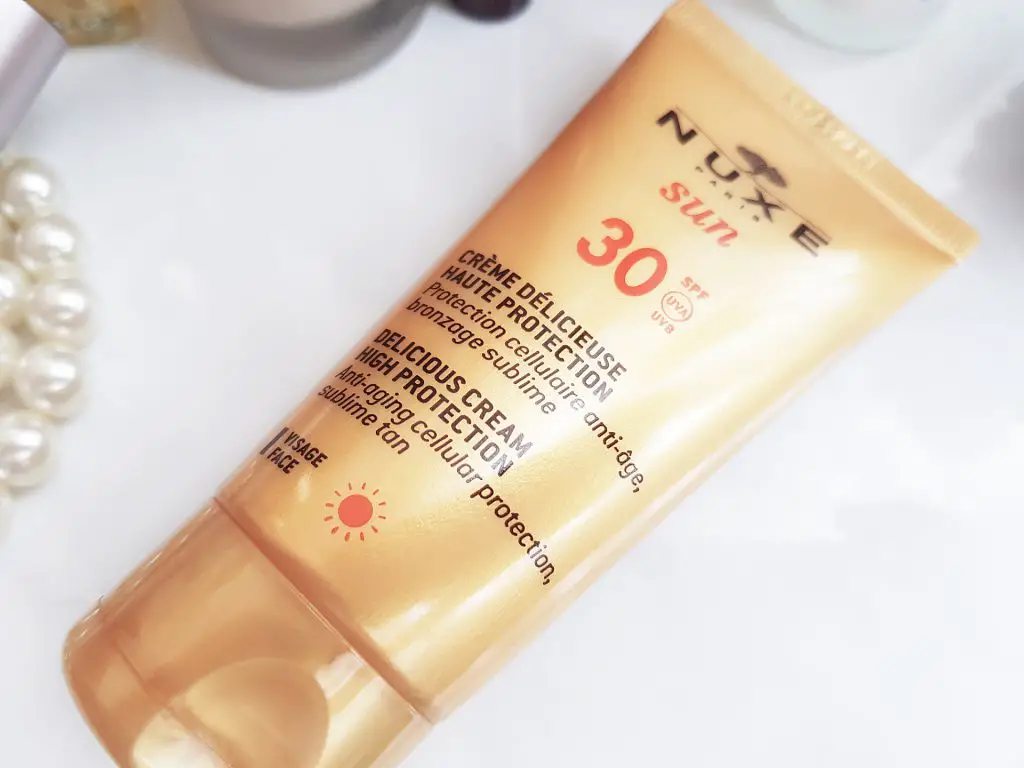 Application
Apply the NUXE Sun Cream on the face and neck 30 minutes before sun exposure, after your morning skincare routine. Reapply frequently, after swimming or towel-drying your skin.


Consistency
The consistency is so smooth, creamy and rich, but doesn't feel heavy at all. I was so pleasantly surprised the first time I applied this. Seeing it in the tube I had the impression it would have the texture of a heavy, occlusive cream. I'm glad I was wrong.


Performance
When it comes to texture, application and scent, there is one word that I can use to describe it: Luxurious! The scent is similar to the NUXE Huile Prodigieuse Dry Oil. Upon smelling it, I thought it would be overwhelming. However, the moment I applied this on the face I became obsessed. Usually, I prefer my skincare to smell fresh with subtle scents. (I also cannot stand to smell my own perfumes for too long.) But with this sunscreen, not only do I love the scent, but that's also one of the reasons why I love to use it!
I can only apply one layer of toner or essence and directly put this on top and I'm good to go. I can even skip any skincare steps if I want but I like my toners and essences. This will replace your daytime moisturizer. Removing the moisturizer, will make the sunscreen adhere better to the skin, so you will avoid reducing the sun protection.
I like the finish and smoothness of this so much, that I also use it in the evening as a base for my makeup. It is too dewy for my skin and my liking, but after application I use blotting paper to remove excess shine. You need to be very gentle and not rub the skin. (Important: Wait at least 10-20 minutes for it to set, to avoid removing the sunscreen).
I also slightly powder on my T-zone and cheeks, until I reach the level of glowy skin that I want. Usually the makeup on top shouldn't be on the dewy side to avoid adding more hydration and oil for oily skin. We want the skin to have a healthy glow, not look greasy.
Keep in mind that when the base products or skincare are too hydrating, makeup will not last as long and personally, I'm ok with that. What I love about this is that instead of my makeup creasing and breaking up, it just melts naturally into the skin. Also keeping the skin even toned and not patchy.
It says that it gives the skin a tan, but I don't notice my face becoming tan. Maybe when exposed to the sun for a longer period.
It doesn't sting the eyes due to the new UV filters. Despite the fragrance, didn't cause any irritation or breakouts. Very suitable for my sensitive skin. The scent is a blend of sweet orange, Tahitian gardenia (tiare flowers) and vanilla. Yum!

Look at that gorgeous sheen when the light reflects on my hand.


Ingredients
Nuxe sun cream contains the newer photostable filters: Octinoxate, Tinosorb-S, Uvinul-T.
It's water resistant and free of alcohol and parabens.


Final Verdict
Pros
Rich, creamy and moisturizing, but does not feel heavy/occlussive.
Amazing smooth and velvety texture.
Most suitable for normal, dry, dehydrated, mature and sensitive skin.
Sits well under makeup, doesn't pill.
No whitecast.
Doesn't sting the eyes.
Non-comedogenic, didn't cause breakouts.
Gorgeous scent.
Free of alcohol.
Photostable.
Water resistant.
Cons
Not the best option for oily or combination skin, especially during hot summer weather.
It contains fragrance (for those that are sensitive to it).
There is nothing I don't love about this sunscreen, except that it's more glowy than I'd like for my oily skin. But, that is something I can fix with blotting paper and powder. I love the texture, the way it applies and the finish. Zero whitecast since it's a chemical sunscreen. Despite being moisturizing, it's non-comedogenic and didn't break me out. Did I mention the scent? Just like its name, it's delicious!
It would be perfect for normal, dry, dehydrated, sensitive and mature skin (if you like a dewy finish). I can't wait to use this in the winter as well when my skin is less oily. I didn't expect that this would become one of my favorite sunscreens! Can't recommend it enough and would purchase this again.


Have you tried the NUXE Sun Delicious Cream High Protection sunscreen? Please share which are your favorite sunscreens in the comments!


Also Read:

Bioderma Photoderm MAX Cream spf 50+ Review
Neogen Dermalogy Day-Light Protection Sunscreen Review
Vichy Idéal Soleil Anti-Ageing 3-in-1 Antioxidant Care SPF50 Review


Related posts
Follow blog via Email
Get the latest posts from this blog delivered to your inbox!
About Me
Hi and welcome to Kbeauty Notes! :) I'm Ledia and I'm very passionate about everything skincare. I created this blog to share my thoughts and experience with many amazing and not so great products out there, hoping to help you make better decisions regarding your skin. I'm very happy to bring you on this journey with me and I hope you enjoy it! <3

My Skin Type: Oily, acne prone, dehydrated, a little sensitive, large pores.

Skincare Concerns: hydration, pore care, anti-ageing, PIE (acne marks), brightening.

Contact: kbeautynotes@gmail.com