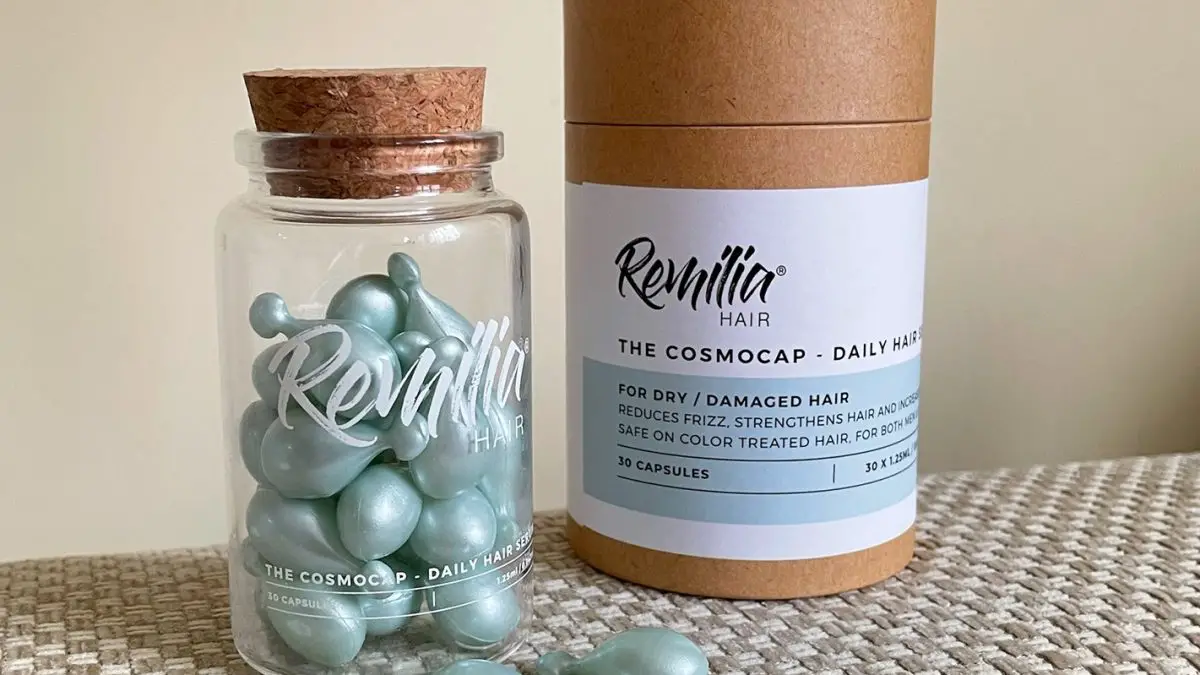 This year I've decided to take my haircare game seriously. I'm already 30 and my hair is not nearly as dense as it used to be. That's why I'll be in search of suitable products as well as try to understand what my hair needs better. Also, just like with skincare, a single product will not solve all your hair problems, so there needs to be a solid routine in place to achieve the desired results.
Recently, I've been enjoying these keratin hair serum capsules from Remilia Hair, and I've discovered that hair serum is an important step in my routine.


Where to buy: You can get these at their official website remiliahair.com (get 15% OFF entire order – code KBEAUTYNOTES). These also come in a refill bag when you want to re-purchase.
Price: $27
Volume: 30 capsules x 1.25ml ea (0.04 fl.oz.) / 37.5ml total (1.268 fl.oz.)
Packaging: The capsules are made with biodegradable material. They come in a beautiful glass bottle with a wooden cap.


What is the Remilia Hair Cosmocap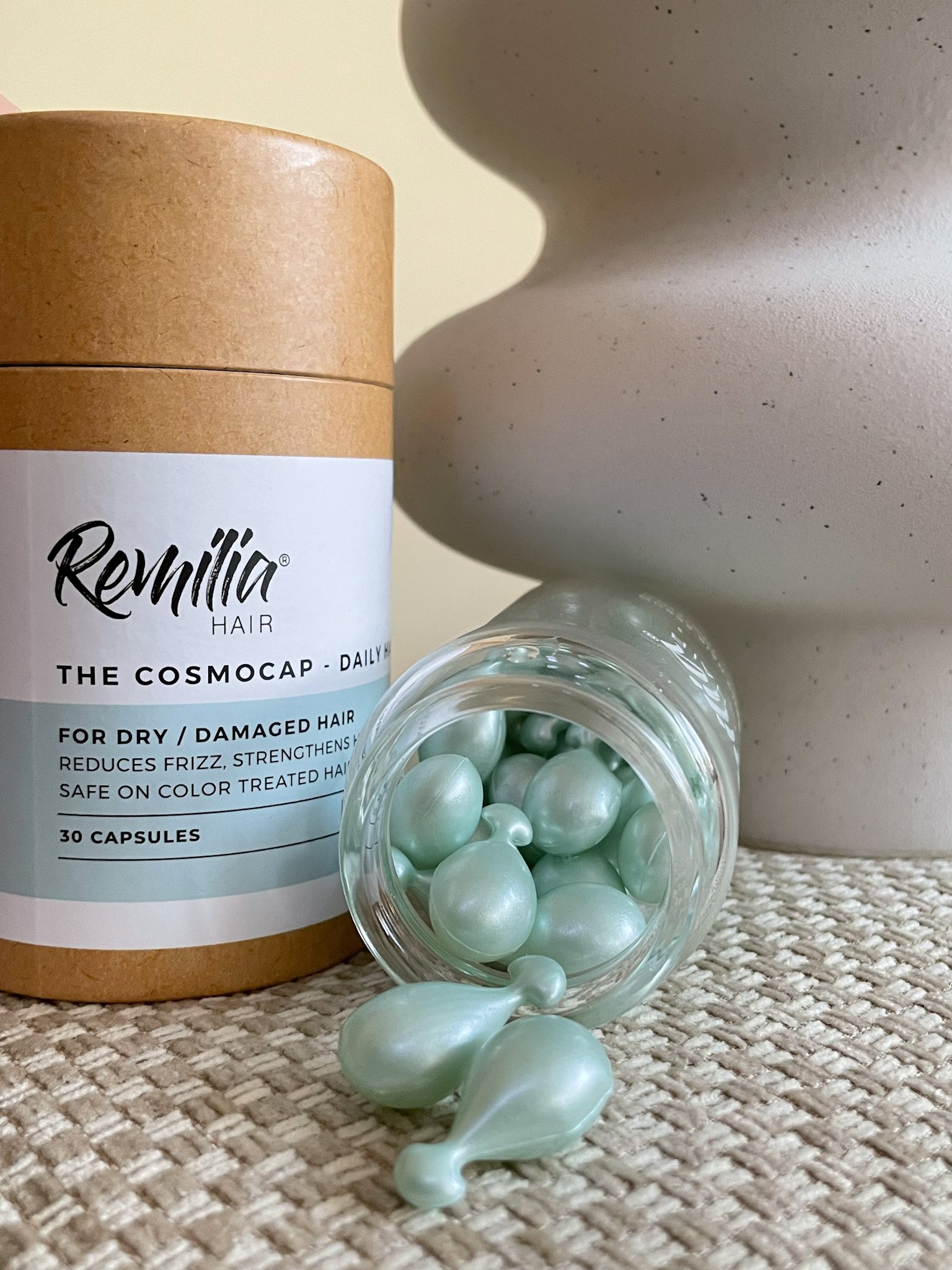 The Remilia Hair The Cosmocap is a lightweight keratin treatment designed to combat dry, damaged, and dull-looking hair by reducing frizz, strengthening the hair, and increasing shine. It contains Keratin amino acids (condition and strangthen), silk protein (condition, increase moisture and shine), and vitamin B5 (repair damage caused by sun exposure, styling).
Safe to use on color-treated and chemically treated hair.


How to use the Remilia Hair The Cosmocap Hair Serum
Pinch the top of the capsule with two fingers, twist and pull the top off. Distribute desired amount onto your hands and massage into hair. I start applying from mid-length to the ends. You can also start at the ends and make your way up if you're worried about applying a lot of product at once.
I have longer hair so usually I use a full capsule after towel drying it. Sometimes I use half of it on dry hair, so it adds more shine and smoothness. If your hair is shorter, you can actually get two uses out of one capsule.


Consistency
Viscous texture without being heavy for my hair type. It doesn't weight it down or make it look greasy.


Scent
I can't make what this smells like but I love the scent. It's subtle, a tad bit sweet and clean. Very pleasant!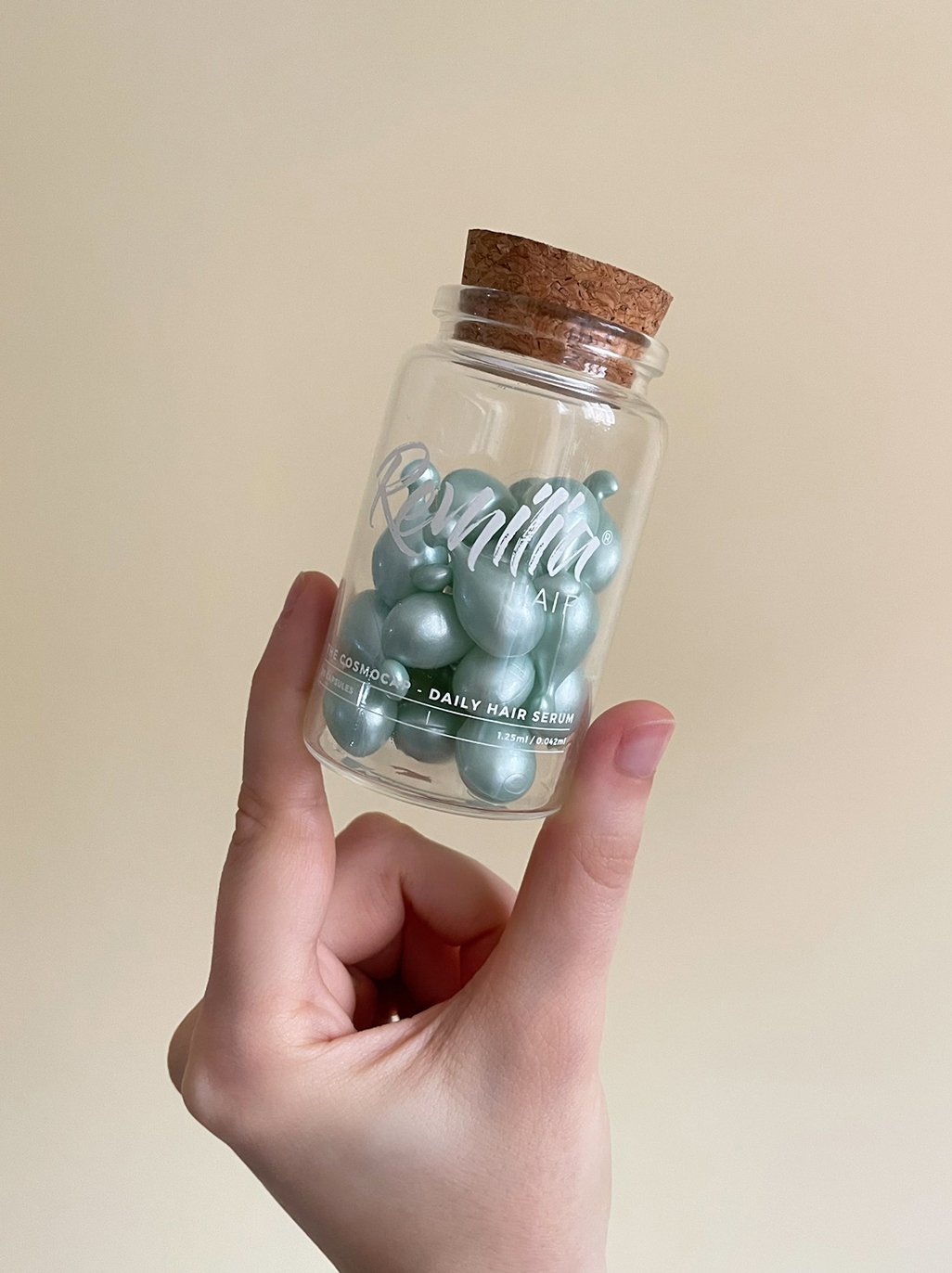 About my hair
Wavy – A 2B or 2C type (not entirely sure), medium-thickness and high porosity (difficulty retaining moisture). I use styling tools frequently which make my hair brittle, frizzy, dry and hard to detangle. Oily scalp that needs to be washed every 2-3 days.


Performance
The first thing I noticed about this serum is how well it detangles and the softness it provides. I can run the comb through my hair with ease which also helps reduce breakage. Frizz is reduced a lot, but even more so when I style the hair. The picture doesn't capture it clearly due to the bad lighting, but there's also a good amount of shine. Hair looks and feels very healthy!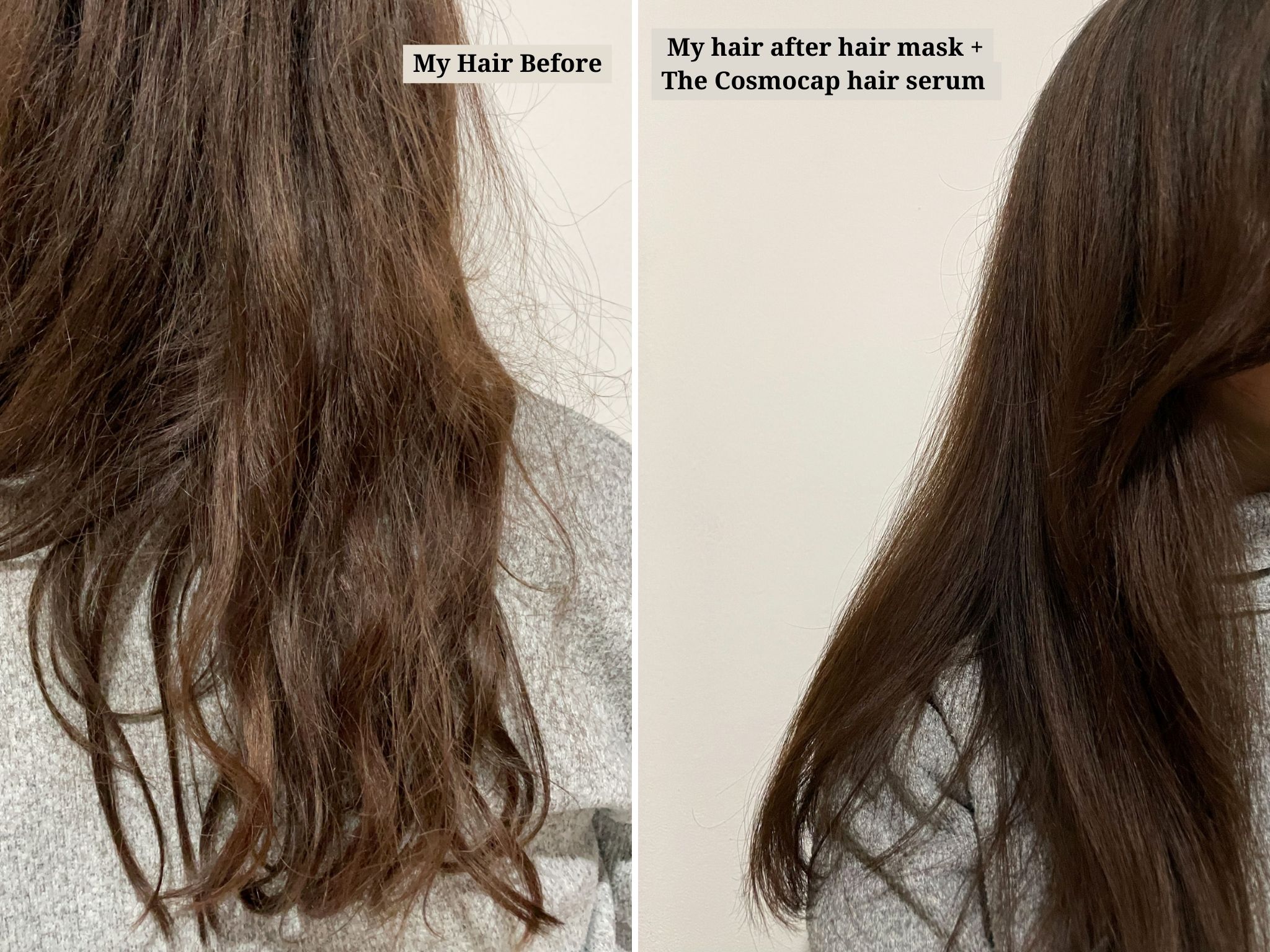 The results of the Cosmocap last 1 day to 1 day and a half for me before my ends start to slightly tangle again. There's still softness and shine though.
The first picture was taken on day 3 hair, and I had only used hair conditioner. It looks frizzier than it actually was, but this was due to the high humidity as it has been raining this whole week.
Which brings me to the fact that after using the serum, my hair remained frizz-free for hours even when it was raining! It didn't start to curl and become a hot mess like it usually does. This is a huge plus for me.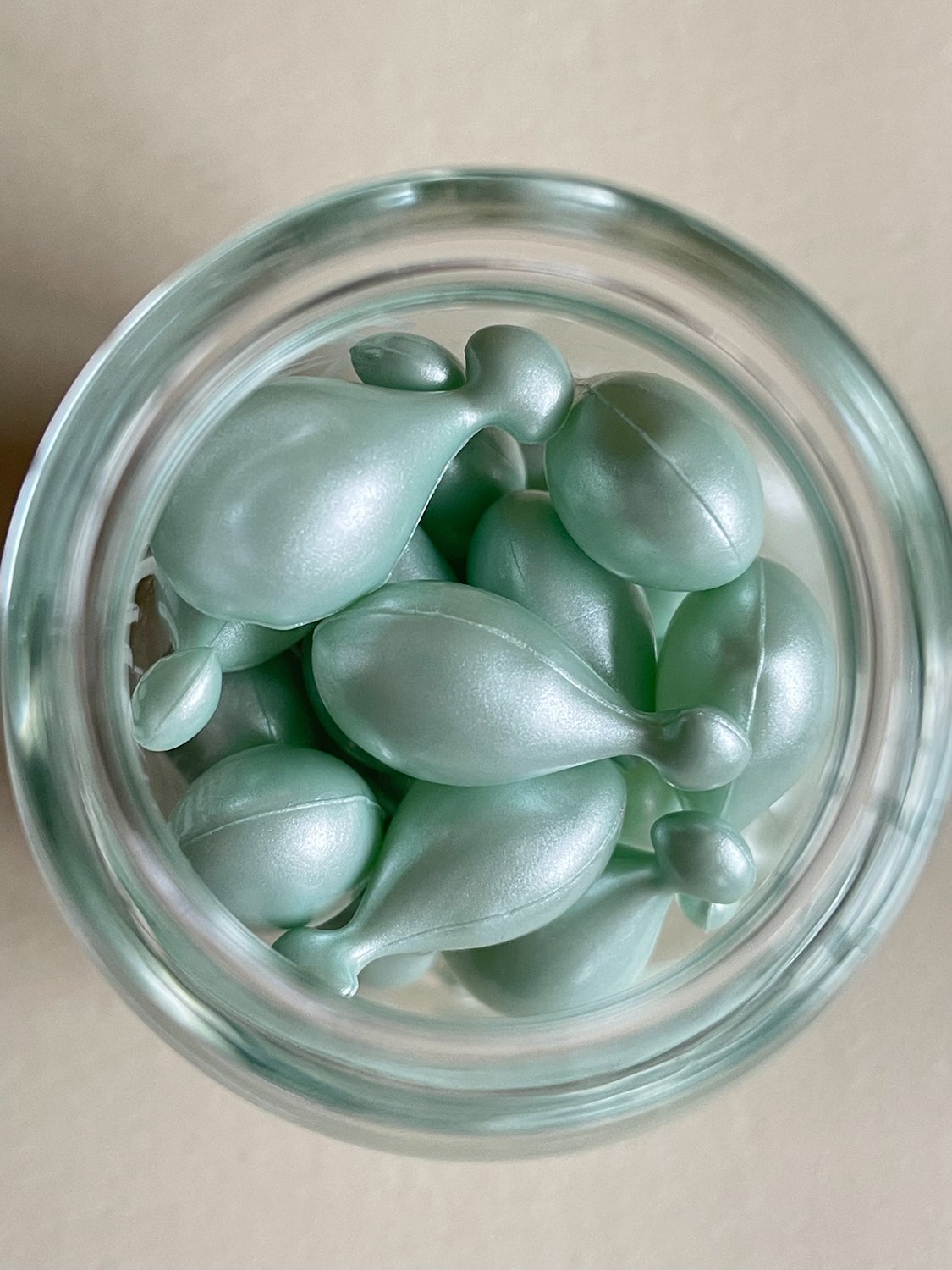 Ingredients
Keratin Amino Acids – Building blocks of the keratin protein that makes up our hair. Help condition, add sheen, and strengthen hair strands.
Hydrolyzed Silk Protein – Amazing water retaining properties and repairs damaged hair.
Pro Vitamin B5 – Repairs damage caused by heat and over-shampooing.
This product does contain silicones for those that don't prefer using them.
Cyclopentasiloxane, Dimethiconol, Fragrance, Polysilicone-15, Phenylpropyldimethylsiloxysilicate, Polysilicone-18, Cetyl Phosphate, Panthenyl Triacetate (Pro Vitamin B5), Phytantriol, Keratin Amino Acids, Hydrolyzed Silk (Silk Protein).

Final Verdict on The Cosmocap Hair Serum
Pros
Viscous serum-like texture.
Adds shine and softens hair strands.
Doesn't weigh down my hair.
Reduces frizz considerably.
Makes hair very easy to style and detangle.
Protects from heat damage.
Travel-friendly.
Cruelty-free.
Cons
It could be a bit heavy for fine hair due to the consistency.
I really like these keratin hair serum capsules! They're working so well for my hair now in the wintertime. Frizz reduced significantly, lots of softness and shine! They make my hair so manageable and a breeze to style. The packaging is also great for traveling! You don't need to worry about spilling the product.

Did you find the Remilia Hair The Cosmocap Hair Serum review helpful? Let me know your favorite hair product in the comments.

---
*Sponsored – by Remilia Hair, but opinions are completely my own.
*Affiliate Link – It means I may earn a small commission when you purchase a product through the links I have provided, at no extra cost to you.


Related posts
Follow blog via Email
Get the latest posts from this blog delivered to your inbox!
About Me
Hi and welcome to Kbeauty Notes! :) I'm Ledia and I'm very passionate about everything skincare. I created this blog to share my thoughts and experience with many amazing and not so great products out there, hoping to help you make better decisions regarding your skin. I'm very happy to bring you on this journey with me and I hope you enjoy it! <3

My Skin Type: Oily, acne prone, dehydrated, a little sensitive, large pores.

Skincare Concerns: hydration, pore care, anti-ageing, PIE (acne marks), brightening.

Contact: kbeautynotes@gmail.com