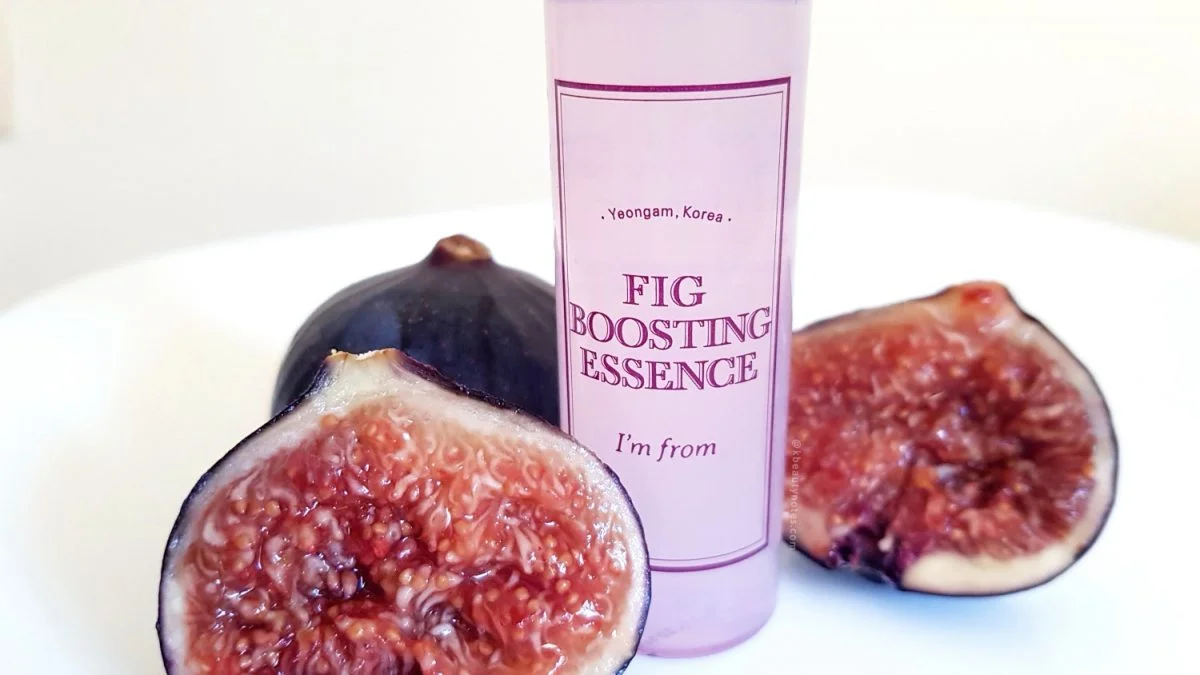 Finally, I'm reviewing the I'm From Fig Boosting Essence. I bought the mini version some time ago to try it out, together with their most known products, the Rice Toner and Mugwort Essence. I don't think I've ever tried skincare containing fig extract before, so this one seemed interesting.


What is the I'm From Fig Boosting Essence
Claims: I'M FROM Fig Boosting Essence contains 62.7% Fig Fruit Extract, from figs which are grown in a warm area called Yeong-am, South Korea. The extraction process is done through a patented technology "Vegelive" to obtain the nutrients from the cells of the fruit, like vitamins and polyphenols (antioxidants). It forms a moisture barrier on skin to prevent water loss and it's also supposed to offer mild exfoliation.
The mini size comes in 30ml and the full size comes in a 150ml glass bottle with an opening at the top where you can dispense the product.


Application
This is recommened to use as the first step in your routine using your hands or gliding a saturated cotton pad over the face. However, I am not able to use this as a first step for my oily (prone to dehydration) skin as it's more on the moisturizing side and I need to layer something lighter and hydrating under. So, don't worry too much and try to use it in whatever way works best for your skin. It could come as the last step in your routine if you have oilier skin or would probably need to be layered/followed with a thicker consistency product for drier skin.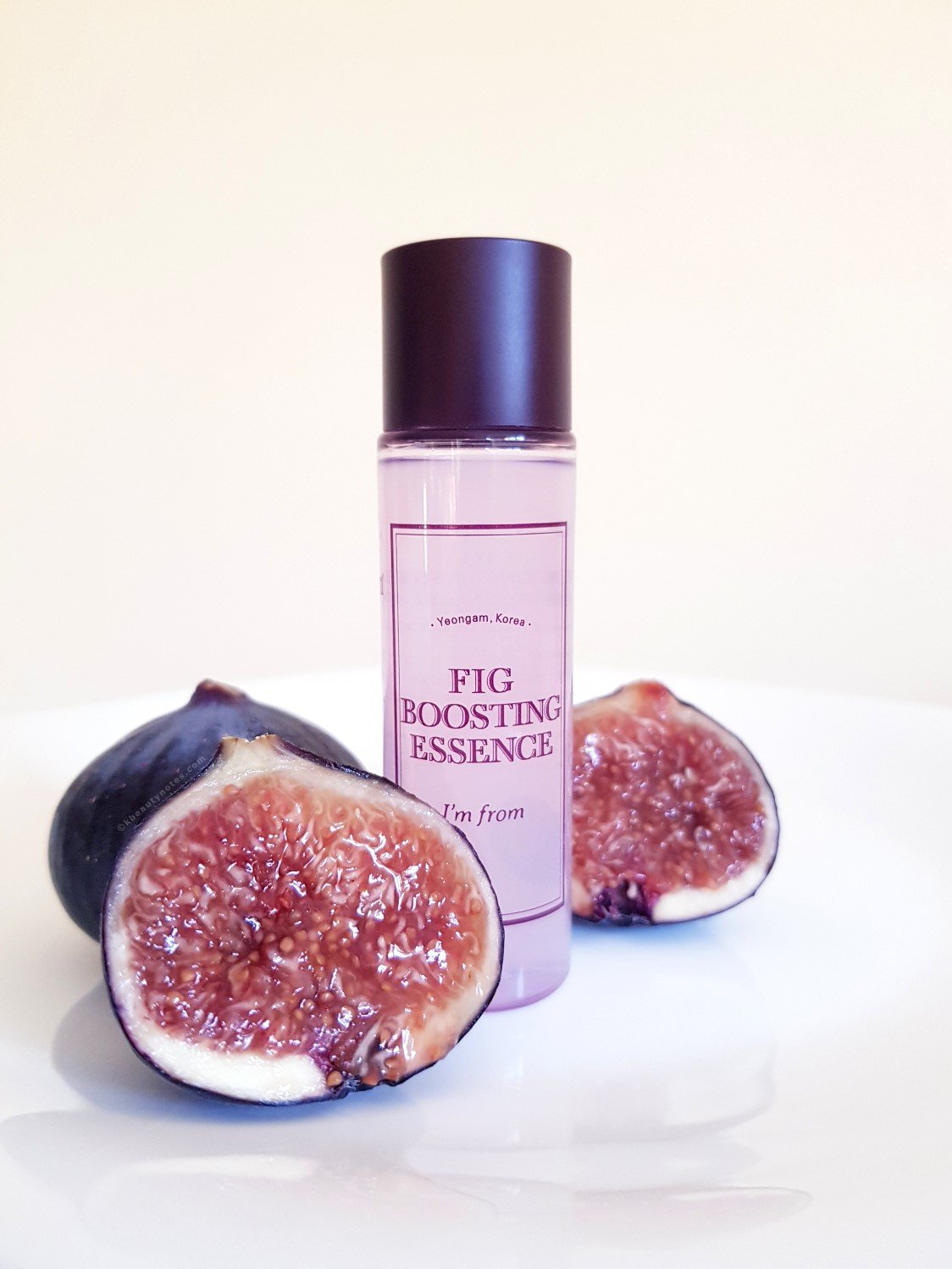 Consistency
The consistency is lightweight and runny, but just like the Rice Toner there's some good slip to it. I love applying this on the face as it's so easy to spread around. It is sticky at first, but the finish is satin-like. With more than 1 layer, it becomes quite dewy for me though.


Scent
The essence is odorless. It is formulated without any fragrance or essential oils. So, here's another option for those that don't prefer scented skincare or have very sensitive skin.


Performance
This essence is so similar to the Rice Toner in some aspects, but has some subtle differences, too. First, I feel like the Fig Essence is slightly more moisturizing, but the difference is not that noticeable or dramatic. Again, for oilier skin or if your skin is prone to dehydration, I'd recommend you use a hydrating product under as this would feel like it's sitting on top (kind of occlusive).
For me works great as the last step in my PM routine with 2 generous layers. My skin looks dewy and feels well moisturized after application. Another product on top would be too much and I'd end up looking super greasy. The moisturizing effect also lasts a little bit longer compared to the toner.
Whereas, the Rice Toner didn't feel sticky on my skin, the Fig Essence has some stickiness to it once applied. Depending on how many products or layers you've done, the sticky feeling takes some time to go away. In my case it lasted a good 10-15 minutes until it set completely. BUT, after it sets, the feel on the skin is so similar to the Rice Toner that it's so difficult for me to tell them apart! I actually applied each of them on each side of my face for a comparison.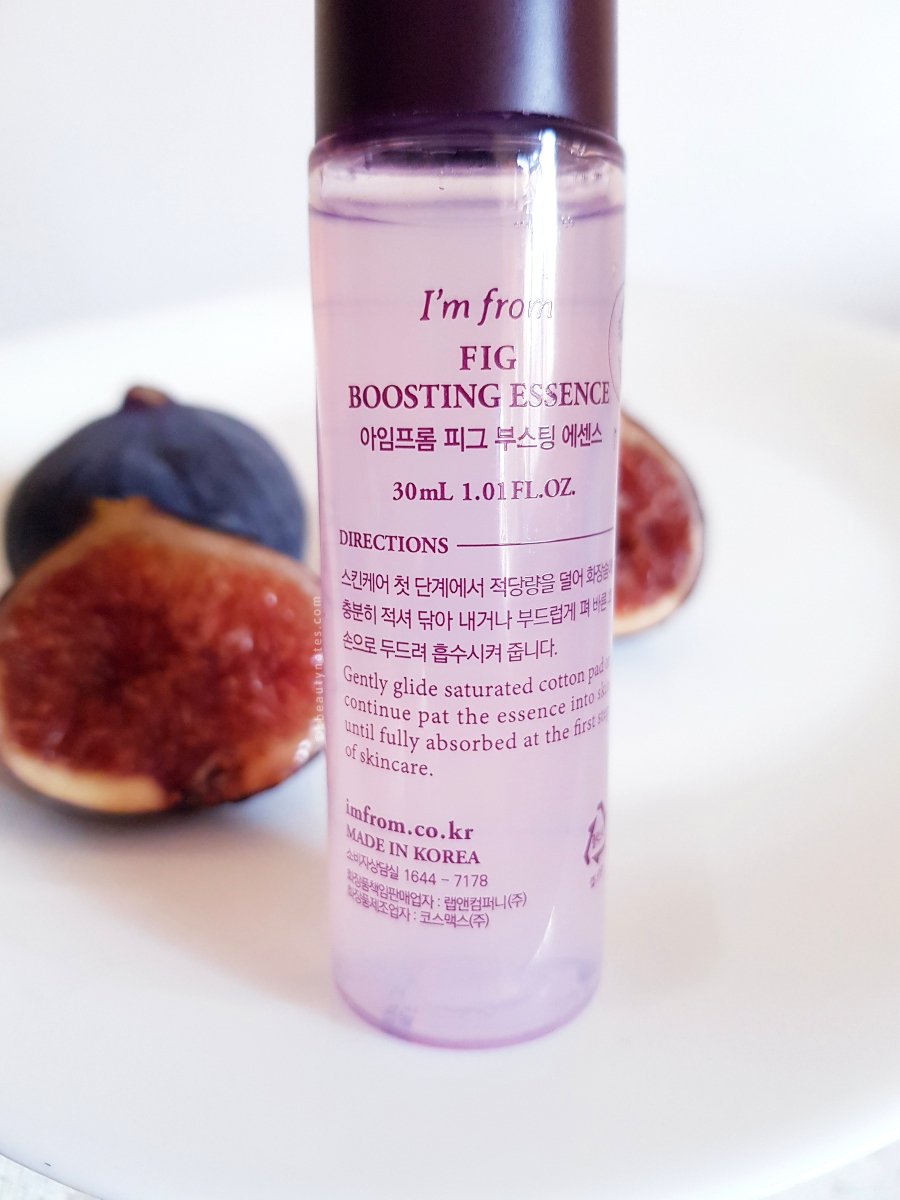 It makes the skin texture feel very smooth and velvety to the touch. Would work great if your barrier is compromised.
The essence will not feel the same on everyone's skin, but if you do experience a sticky feeling, following with another product like a cream or emulsion will do the trick. For oilier skin, I'd say this would be most suitable included in the evening routine. Also, the weather is getting colder, so it may be the perfect time to give it a try.
It hasn't broken me out and didn't cause any irritation. Not sure how this would work under makeup, but you'd most likely have to wait for the stickiness to subside. The same thing goes for sunscreen.

I didn't notice any difference in the redness of my skin.


Ingredients
This essence contains 62.7% Fig Fruit Extract which moisturizes and offers antioxidant benefits.
Other notable ingredients include: Glycine Soja (Soybean) Seed Extract – skin smoothing, brightening, and softening properties, and could potentially stimulate both elastin and collagen synthesis.
Betaine Salicylate – This is a combination of salicylic acid and betaine (moisturizer) to mildly exfoliate and smooth out the skin. I think its exfoliating property probably mostly comes from this rather than the enzymes in figs.
Soothing and skin protecting ingredients include: Panthenol and Allantoin.
Glycerin and Sodium Hyaluronate – humectants that help moisturize the skin.
Free of alcohol, fragrance & essential oils.
Ficus Carica (Fig) Fruit Extract 62.7%, Dipropylene Glycol, Glycerin, Propanediol, 1,2-Hexanediol, Water, Pentylene Glycol, Chlorella Vulgaris Extract, Sodium Hyaluronate, Glycine Soja (Soybean) Seed Extract, Polyglyceryl-10 Laurate, Glucose, Panthenol, Butylene Glycol, Ethylhexylglycerin, Diphenyl Dimethicone, Fructooligosaccharides, Fructose, Triethylhexanoin, Allantoin, Betaine Salicylate, Hydrogenated Lecithin, Octanediol, Tocopherol, Xanthan Gum, Disodium EDTA

Final Verdict on the I'm From Fig Boosting Essence
Pros
Feels moisturizing.
Makes the skin smooth and velvety to the touch.
Offers mild exfoliation and antioxidants.
Most suitable for normal, combo, dry and sensitive skin types (oily skin for PM).
Didn't break me out.
Free of alcohol, fragrance & essential oils.
Vegan and cruelty-free.
Cons
It's a bit sticky initially until it sets completely.
Overall, I really like this essence. It makes the skin feel soft and velvety and moisturizes pretty well. Suitable for most skin types, including sensitive skin. Oily skin would most likely not be able to use this in the AM. The only thing I'm not a fan of is the sticky feeling right after the application, but it's not a deal breaker for me in this case. If you're patient enough it'll go away once it sets or it could be fixed with the next step in your routine!
But, which one should you choose? The Rice Toner or the Fig Essence? In terms of finish these are similar, so it'll be up to your preference based on the differences I mentioned and their ingredients list. You certainly don't need both. Still not sure which one to go for?
I'd highly recommend you get the MINI versions to try and decide!
Personally, since my skin is on the oilier side I prefer the Rice Toner a bit better.



Where to buy:
🛒 If you're interested in purchasing the I'm From Fig Boosting Essence, you can find it at Yesstyle (use KBEAUTYNOTES for an extra 2-5% off) :
I'm From – Fig Boosting Essence MINI – 30ml
I'm From – Fig Boosting Essence Full Size – 150ml


The two other Minis:
I'm From – Mugwort Essence MINI – 30ml
I'm From – Rice Toner MINI – 30ml


🛒 You can also find them available at Wishtrend:
I'm From Minis (Mugwort Essence, Rice Toner, Fig Essence)
I'm From – Fig Boosting Essence Full Size – 150ml


Did you find this I'm From Fig Boosting Essence Review helpful? Have you tried this essence before or any other skincare product from the brand? Let me know your favorites.


---

This post contains affiliate links. It means I may earn a small commission when you purchase a product through the links I have provided at no extra cost to you. I've bought this product myself and I will always share my honest opinion and experience. Sincerely thankful to all of you that support my blog! For more information, see Disclosure Policy.


Related posts
Follow blog via Email
Get the latest posts from this blog delivered to your inbox!
About Me
Hi and welcome to Kbeauty Notes! :) I'm Ledia and I'm very passionate about everything skincare. I created this blog to share my thoughts and experience with many amazing and not so great products out there, hoping to help you make better decisions regarding your skin. I'm very happy to bring you on this journey with me and I hope you enjoy it! <3

My Skin Type: Oily, acne prone, dehydrated, a little sensitive, large pores.

Skincare Concerns: hydration, pore care, anti-ageing, PIE (acne marks), brightening.

Contact: kbeautynotes@gmail.com