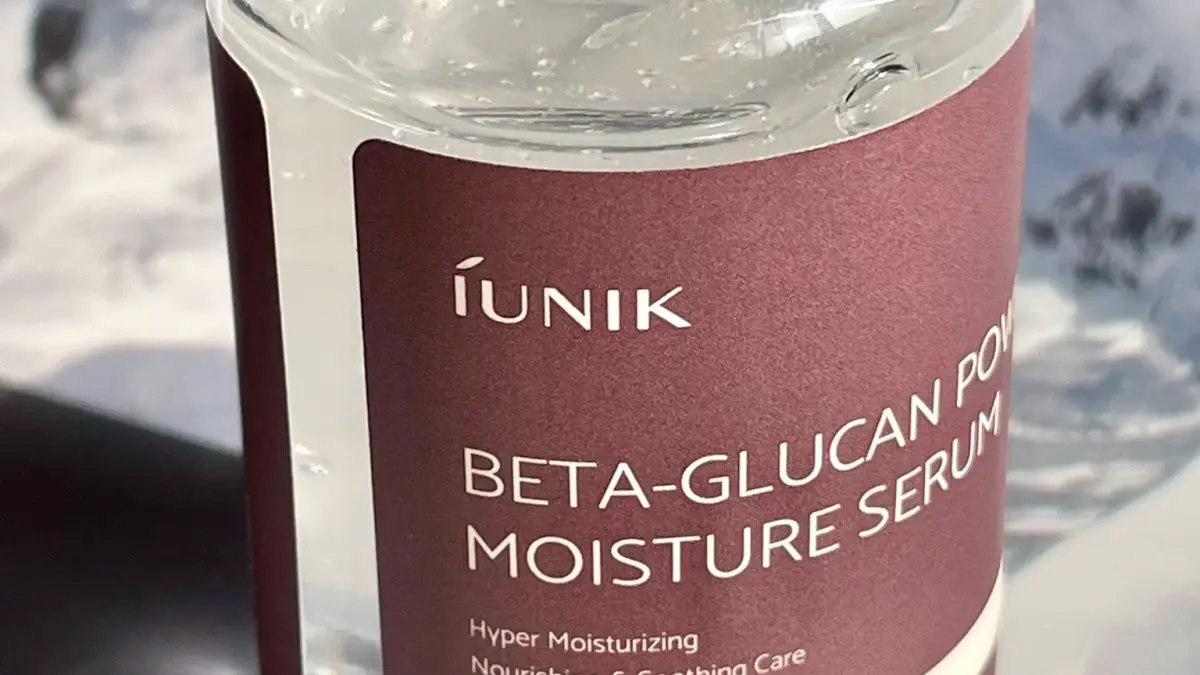 Beta-Glucan is an underrated ingredient that's not often talked about, but has some great benefits for the skin. Hyaluronic Acid doesn't play well with your skin type? Well, this may be a great alternative! Many Korean skincare products include it, but the iUNIK Beta-Glucan Power Moisture serum has it as its main ingredient. This is the first time I've seen such a product, which makes it very unique.
iUNIK has a interesting range of facial serums that cater to different skin types / concerns and are all named after their star ingredient. I will also be reviewing their best-selling Propolis Vitamin Synergy Serum in a future post.


Where to buy: You can find this serum at Yesstyle (You can use KBEAUTYNOTES for % off your order, can be used with other coupons), Stylevana US / Stylevana EU.
Price: 15$-25$ (depends on the site and sales)
Volume: 50ml (1.69 fl.oz.)
PAO: 12 months after opening.


What is the iUNIK Beta Glucan Power Moisture Serum
The iUNIK Beta Glucan serum has a minimalist formulation mainly focused on its star ingredient: Beta-Glucan, a polysaccharide that is extracted from mushrooms. It has a concentration of 40% (400,000 ppm) to help intensely hydrate the skin, strengthen the skin barrier and reduce wrinkles. Especially aimed for those that have issues with dryness, wrinkles and sensitive skin.
It comes in a glass bottle with a dropper.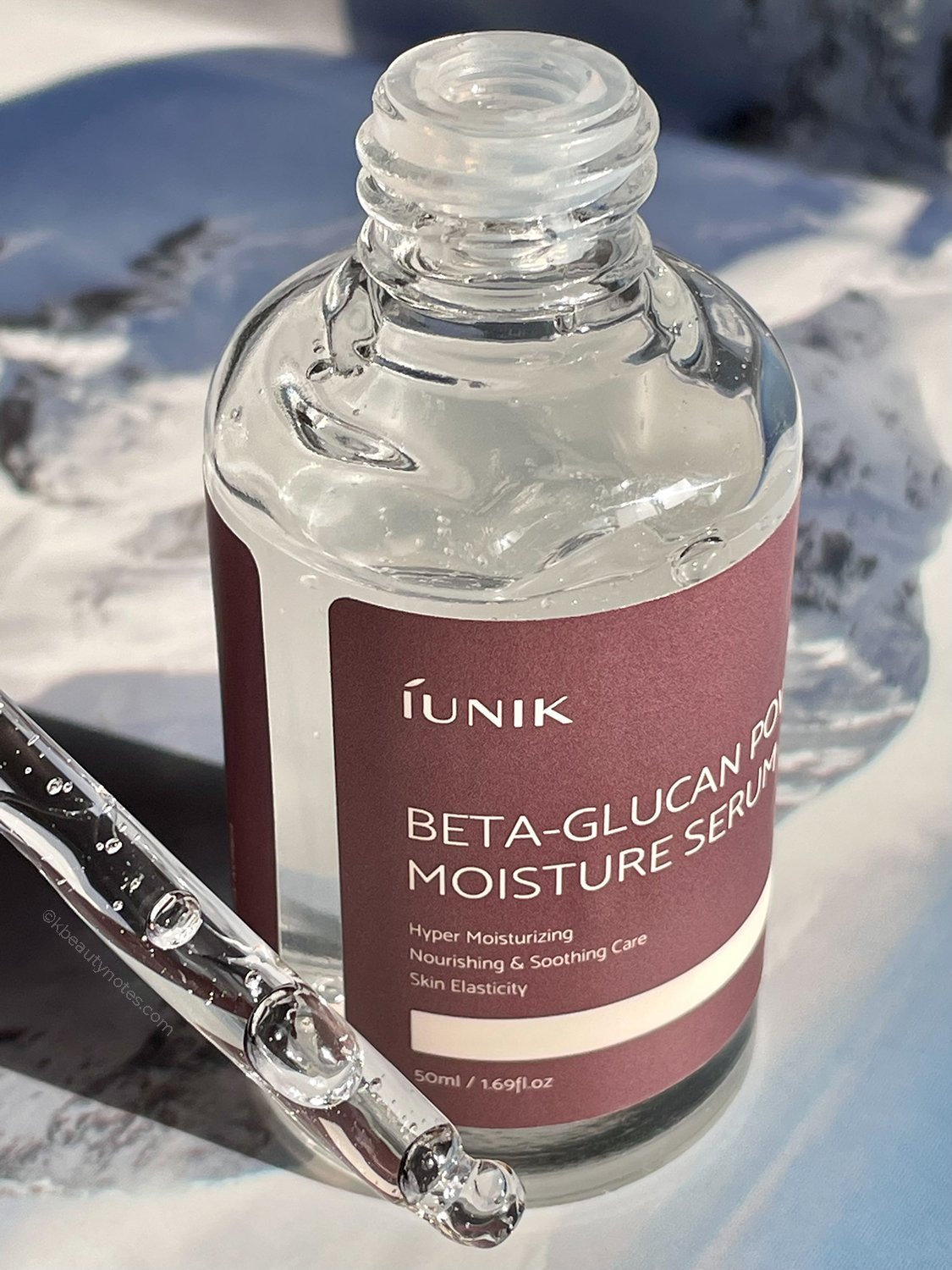 Application
You can apply this at the serum step or directly after cleansing. There are times when I skip a hydrating toner, because this does the job well on its own. But for winter I'd definitely include a toner/essence for maximum hydration. I use half a dropper or a bit less for my whole face. It can be used both morning and night.
Consistency
Not exactly a typical consistency for a serum. It has a very viscous gloopy texture, which may remind you of snail mucin, but once you start spreading it, feels light while having great slip to spread around easily. Minimal sticky feeling that goes away once it sets (sets quickly on my skin). Dry skin types won't feel it at all. It leaves a natural glow on the skin and a protective layer. Non-greasy.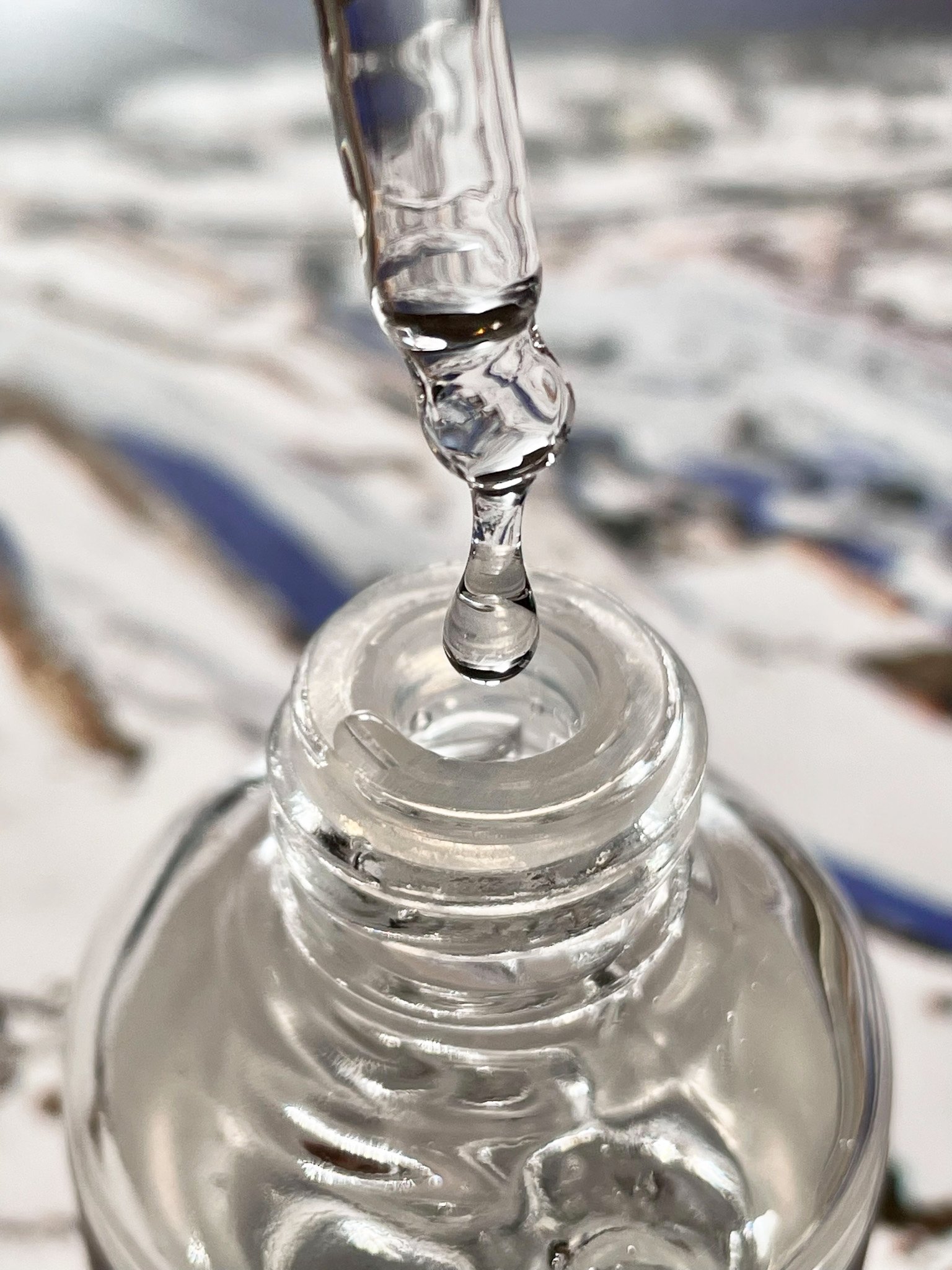 Scent
I don't feel any scent coming out of this. It's formulated without fragrance and essential oils.
My Experience
This serum lives up to its claims and you can notice results within the first few uses. I feel my face hydrated and moisturized applying just one layer and without even using a hydrating toner under. My fine lines become less visible and the skin feels and look bouncier. There is no greasy residue left behind, but you can feel a protective film on the skin.
This would be great to combat dehydration or dryness. For my oily dehydrated skin I prefer to use this in the PM routine now in summer. Due to the film, it can make my sunscreen look even more dewy because it won't be able to fully sink into the skin.
Also, great for those that experience peeling, flaky skin and dry patches. To get the best results, of course you must pair this with a good moisturizer. This is a no brainer, especially in cold weather. Would recommend for retinoid users too, to help strengthen and repair the skin barrier.
If you live in dry climate and Hyaluronic Acid hasn't worked out for you, then beta-glucan can be a great alternative to add hydration to your skin without having to worry that it will have the reverse effect as it can happen with HA.
It's not the most suitable choice for oily skin types due to the consistency of the serum. A big no for humid summer!
For me it didn't cause any irritation or breakouts. Also calms down my redness a bit. Because it doesn't contain fragrance, those that are sensitive to it will like it too.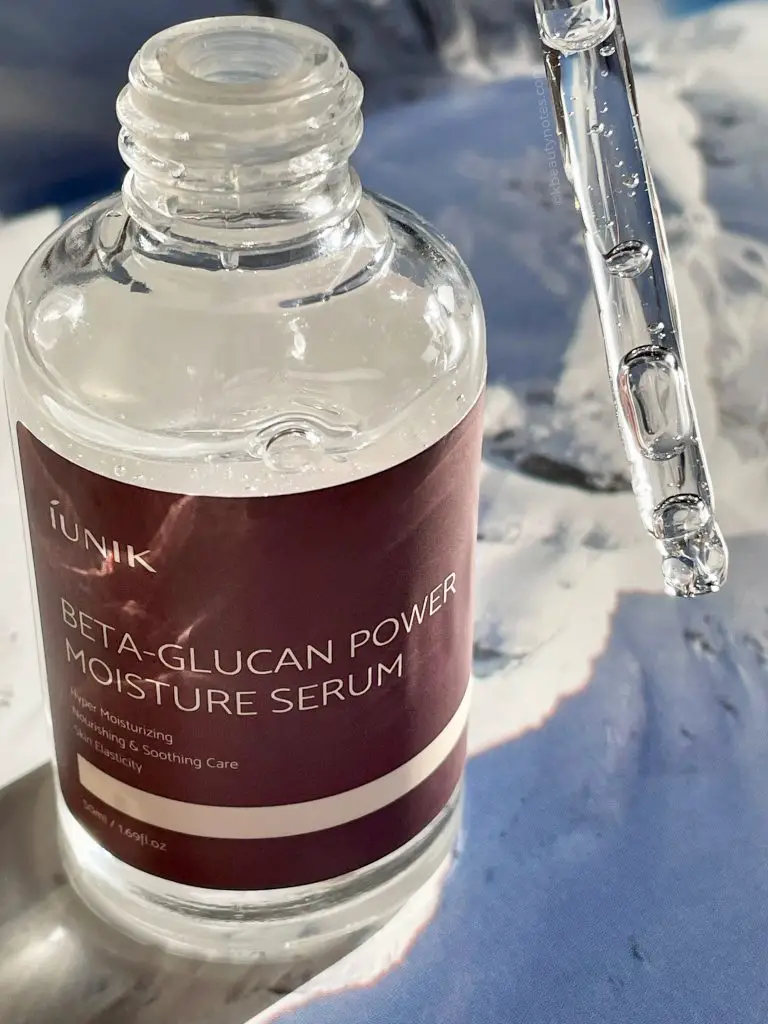 Ingredients
40% Beta-Glucan – Great ingredient with so many skin benefits. It has skin repairing & wound healing properties, works as an antioxidant, moisturizes and soothes the skin, and even shows promising anti-aging benefits.
Sodium PCA – Great natural moisturizer which helps skin to retain water and stay hydrated. PCA (Pyrrolidone Carboxylic Acid) is found naturally in our skin. Glycerin has the same function.
Adenosine – Anti-inflammatory and barrier repair properties.
Alcohol-free, fragrance and essential oil-free.
Beta-Glucan (400,000Ppm), Water, Glycerin, 1,2-Hexanediol, Butylene Glycol, Adenosine, Carbomer, Tromethamine, Sodium Polyacrylate, Sodium PCA

Final verdict on the iUNIK Beta Glucan Serum
Pros
Very hydrating and moisturizing.
Makes the skin look bouncy.
Smooths out skin texture.
Minimal to zero stickiness once it sets.
Calms redness a bit.
Most suitable for combo, normal, dry, mature, sensitive or dehydrated oily skin.
No alcohol, fragrance or EOs.
Cruelty-free and Vegan.
I love this serum every time I apply it. I think it's more of a nighttime product for combination and dehydrated oily skin in humid summer weather. It feels both hydrating and moisturizing for my skin, giving me a healthy glow and less visible lines. The moisturization also feels long-lasting. For some it may be too simple, but it's exactly what you need to include in a routine with active ingredients to help repair and protect the skin barrier. Great for sensitive skin types, and those that prefer a minimalistic formula without fragrance. The serum would suit mature skin as well since beta-glucan shows promising anti-aging benefits. In conclusion, I recommend it!


Did you find the iUNIK Beta-Glucan Power Moisture Serum Review helpful? What products have you tried from the brand?


---
*PR Sample – Product provided by iUNIK, but opinions are completely my own.
*Affiliate Links – It means I may earn a small commission when you purchase a product through the links I have provided at no extra cost to you. Sincerely thankful to all of you that support my blog! For more information, see Disclosure Policy.


Related posts
Follow blog via Email
Get the latest posts from this blog delivered to your inbox!
About Me
Hi and welcome to Kbeauty Notes! :) I'm Ledia and I'm very passionate about everything skincare. I created this blog to share my thoughts and experience with many amazing and not so great products out there, hoping to help you make better decisions regarding your skin. I'm very happy to bring you on this journey with me and I hope you enjoy it! <3

My Skin Type: Oily, acne prone, dehydrated, a little sensitive, large pores.

Skincare Concerns: hydration, pore care, anti-ageing, PIE (acne marks), brightening.

Contact: kbeautynotes@gmail.com