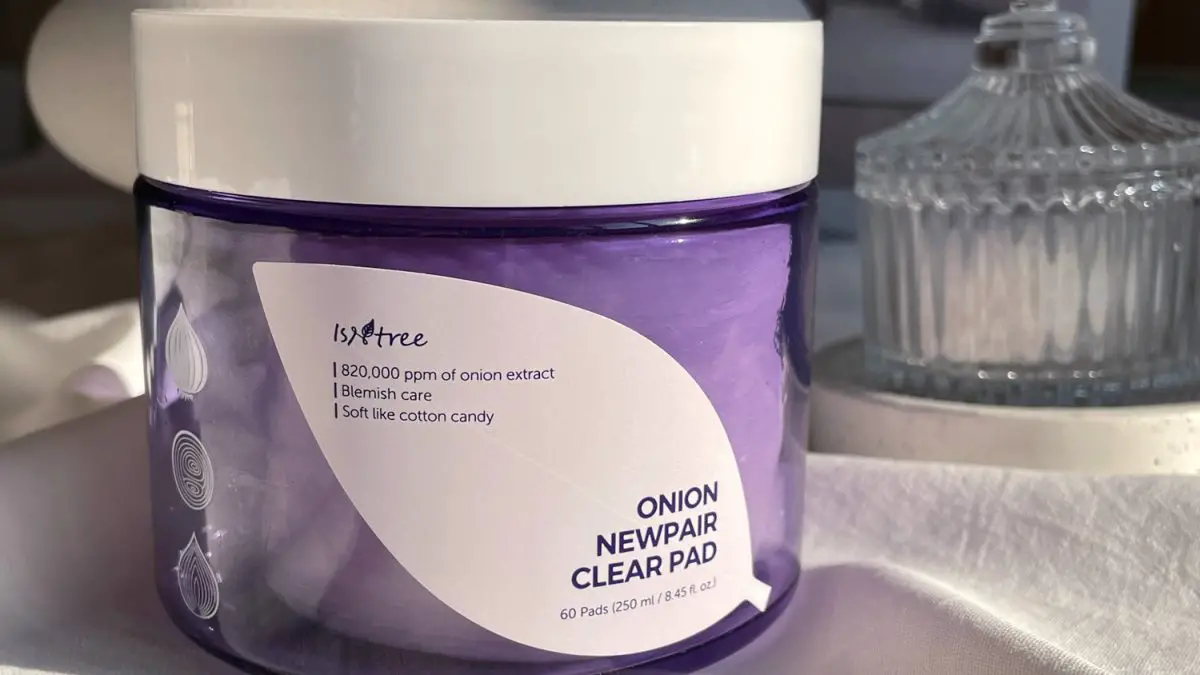 I've mentioned before that I wasn't particularly keen on toner pads. But now, I must admit that I've had a bit of a toner pad revelation. I used to consider them unnecessary and the ones I had tried were far from impressive. That was until I discovered a handful of gems, and the Isntree Onion Newpair Clear Pad is definitely one of them.


Where to buy: You can find these at Yesstyle (use reward code: KBEAUTYNOTES for an extra 2-5% OFF your order), Stylevana (discount code: INF10LED), and Stylekorean.
Price: $17-$28
Volume: 250 ml (8.45 fl.oz.) / 60 Pads
Packaging: These pads come in a standard tub-like container with a screw-on cap. It's worth noting that the packaging could be enhanced by the addition of a pair of tweezers. These tweezers would make it more convenient and hygienic to pick up the pads from the container.
About the Isntree Onion Newpair Clear Pad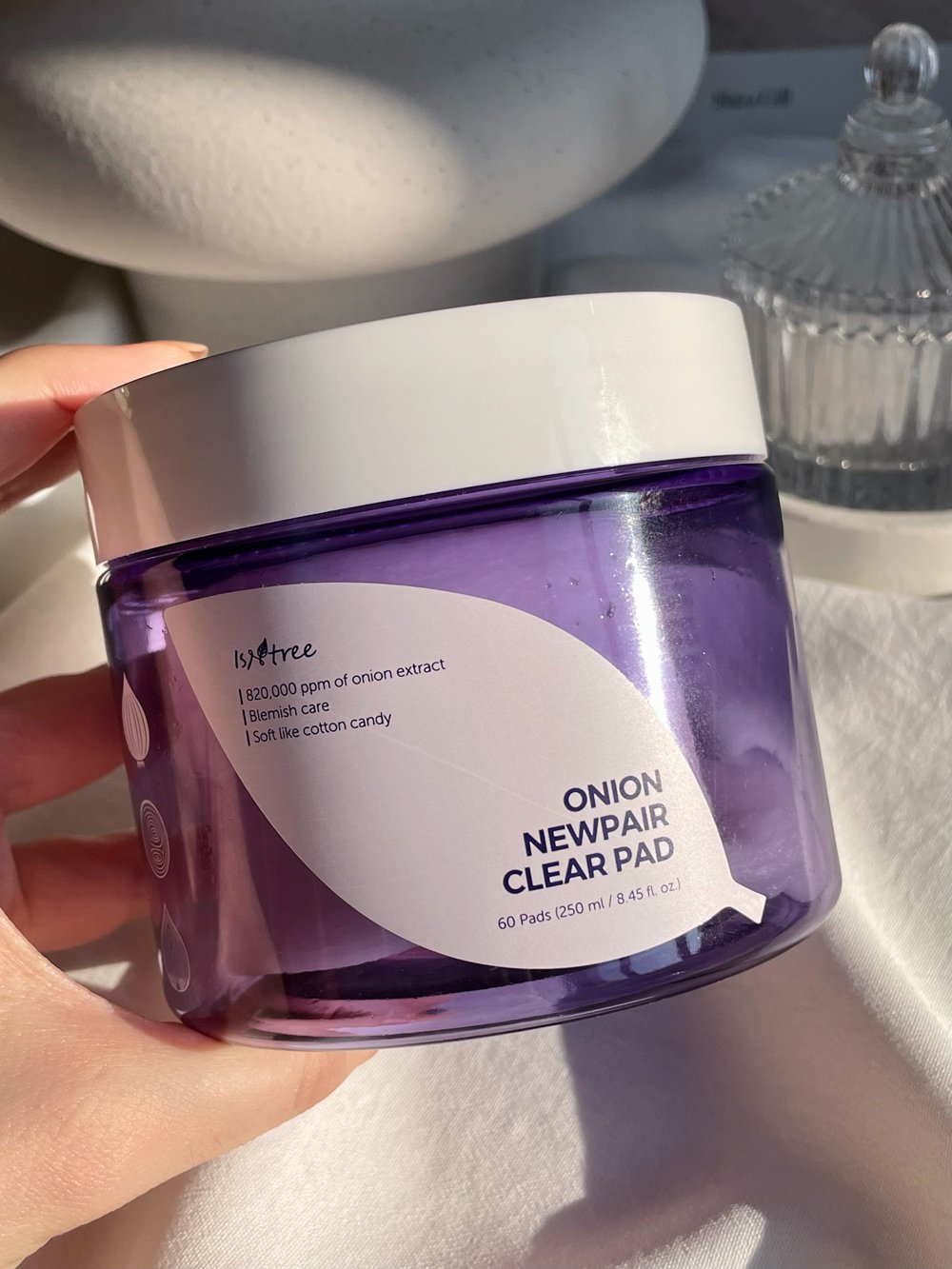 The Isntree Onion Newpair Clear Pad is a toner pad made for all skin types, especially for sensitive and acne-prone skin. It offers soothing and moisturizing benefits, with key ingredients like 82% Allium Cepa (Onion) Bulb Extract for calming effects, Sodium Heparin for anti-inflammatory benefits, and Beta-Glucan for hydration. It also contains Niacinamide for pore refinement and oil control, Tranexamic Acid for skin brightening, and a Vitamin C Derivative for antimicrobial action.
Application
These are used at the toner step, right after cleansing the skin. Gently wipe the face and neck area. Since the pad has a good amount of toner, I actually use it on my shoulders too, which is another area where I tend to break out.
It can also be used as a soothing mask and kept on for 5-10 minutes. These have a 7cm diameter which is slightly bigger than your standard toner pad. This larger size provides a bit more coverage.
Consistency
The consistency of these toner pads is notably lightweight, ensuring a comfortable application on the skin without any stickiness.
Scent
You might naturally be concerned about the scent when you hear that there is onion extract in the formula, but rest assured, there's no discernible smell at all. The formula is intentionally crafted to be fragrance-free and devoid of essential oils.
Performance
Now, let's delve into the most crucial aspect: performance. As I may have hinted earlier, these toner pads absolutely live up to the hype.
They come generously saturated with toner, ensuring deep and lasting hydration. I've had them for a while, and they haven't dried out in the least. The result? Skin that's not only well-hydrated but also boasts a radiant, refreshed, and plump appearance. I'm particularly fond of products that help reduce the visibility of fine lines and maintain the skin's plumpness, preventing those lines from becoming more pronounced.
Thanks to the abundant toner content, these pads are versatile. I not only use them on my face but also extend their benefits to my neck, décolletage area, and even my arms, continuing until the pad becomes completely dry.
Also Read: UNLEASHIA Satin Wear Healthy-Green Cushion Review
Moreover, they provide a soothing sensation, and I've observed a noticeable reduction in redness. This makes them an excellent choice for those with acne-prone skin too, as they effectively calm existing breakouts and contribute to blemish-free skin.
In terms of convenience, these toner pads shine. Their larger size is a significant advantage, especially when I use them as a mask for irritated skin. They cover a substantial portion of my cheeks, making the process all the more convenient and effective.
If I were to pinpoint a minor inconvenience, it would be the occasional challenge of separating the pads.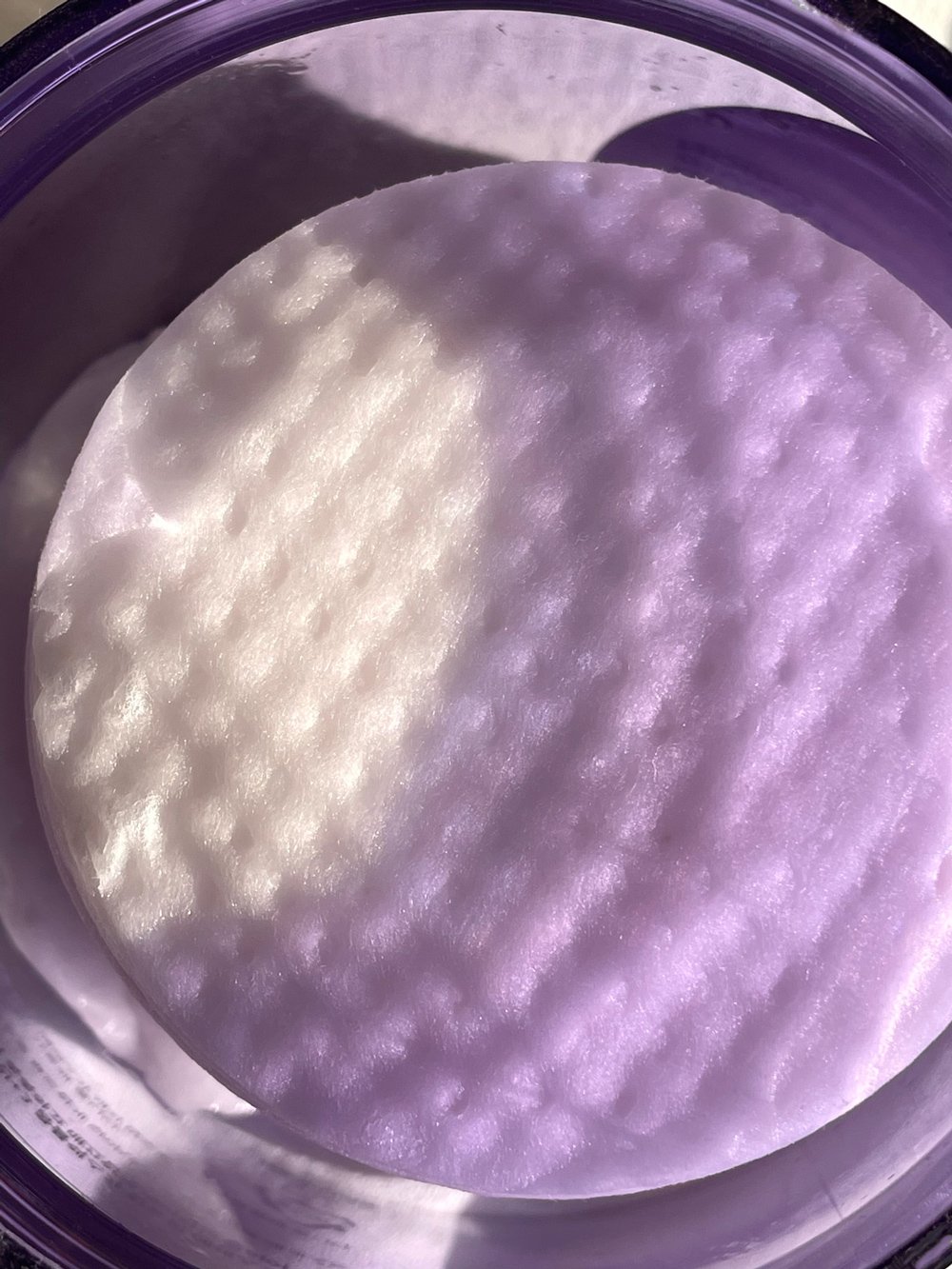 Ingredients
You may be wondering if the formula of these toner pads matches the ISNTREE Onion Newpair Essence Toner precisely, but they aren't an exact match, although they do contain several common ingredients that can deliver similar results.
The toner pads contain a higher concentration of Allium Cepa (Onion) Bulb Extract, with an impressive 820,000 Ppm, making up 82% of the formula, whereas the toner itself contains a slightly lower concentration at 75.8%.
Among the shared ingredients are Niacinamide, Sodium Heparin, Adenosine, Allantoin, Houttuynia Cordata Extract, Panthenol, Sodium Ascorbyl Phosphate, and Tranexamic Acid.
These work together to provide anti-acne, anti-inflammatory, and antioxidant benefits, which are especially beneficial for addressing the concerns of troubled and blemished skin.
Additionally, the toner pads feature Gluconolactone, which is a polyhydroxy acid (PHA) known for its gentle exfoliating properties. This ingredient adds an exfoliation aspect to the toner pads, contributing to skin renewal and promoting a smoother complexion, all while being gentle on the skin.
There is no alcohol, fragrance, or EOs.
Full ingredients list HERE.
Final Verdict on the Isntree Onion Newpair Clear Pad
Pros
Lightweight consistency.
Hydrating.
Plump up fine lines.
Improved skin texture.
Reduce redness and irritation.
Calm down breakouts.
Suitable for all skin types.
Free of alcohol, fragrance and EOs.
Cruelty-free & Vegan.
Isntree as a brand consistently delivers on its promises, and the Onion Newpair Clear Pads are no exception. I genuinely adore these toner pads, and they perform precisely as advertised. I recommend them to everyone, but especially to individuals with acne-prone and sensitive skin, as well as those dealing with dry or dehydrated skin.

Did you find the Isntree Onion Newpair Clear Pad Review helpful? Also, check out my latest review on the brand's Green Tea Fresh Toner.
---
*PR Sample – from Stylevana, but opinions are completely my own.
*Affiliate Links – It means I may earn a small commission when you purchase a product through the links I have provided at no extra cost to you.
Related posts
Follow blog via Email
Get the latest posts from this blog delivered to your inbox!
About Me
Hi and welcome to Kbeauty Notes! :) I'm Ledia and I'm very passionate about everything skincare. I created this blog to share my thoughts and experience with many amazing and not so great products out there, hoping to help you make better decisions regarding your skin. I'm very happy to bring you on this journey with me and I hope you enjoy it! <3

My Skin Type: Oily, acne prone, dehydrated, a little sensitive, large pores.

Skincare Concerns: hydration, pore care, anti-ageing, PIE (acne marks), brightening.

Contact: kbeautynotes@gmail.com