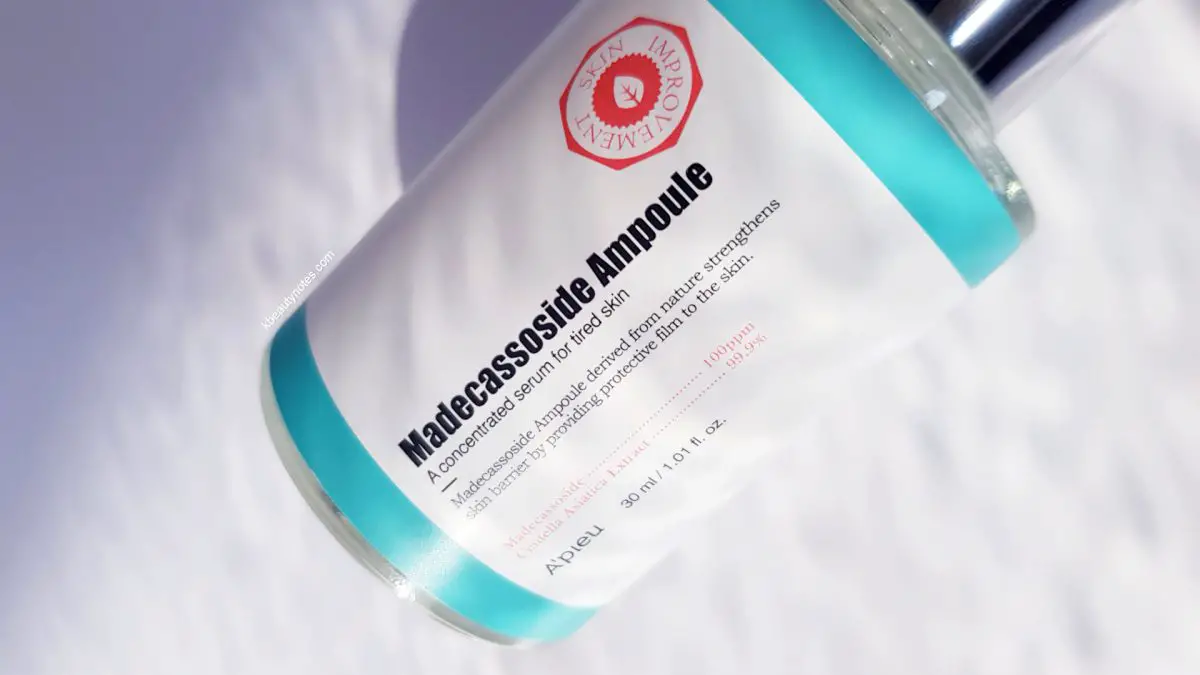 I mostly know A'PIEU for their makeup products, but when centella was all the rage, their Madecassoside Cream caught my attention as it had become super popular. I picked up the ampoule version instead, since creams are not exactly my favorite type of skincare product and I also wanted something with a light texture to target my dehydration issues. So, let's quickly jump to the A'PIEU Madecassoside Ampoule review.


Where to buy: This is available at Yesstyle (reward code: KBEAUTYNOTES for 5% off your order, can be used together with other coupons), Stylevana – Madecassoside Ampoule 30ml / Madecassoside Ampoule 50ml, and Jolse.
Price: $13-$25 (depends on the size of the product and seller)
Volume: It comes in 30ml (1.01 fl.oz.) and 50ml (1.69 fl.oz.).
Packaging: Glass bottle with a dropper.


What is the A'PIEU Madecassoside Ampoule
This is a simple ampoule formulated with 99.9% Centella Asiatica Extract and 0.01% (100 ppm) Madecassoside to help hydrate and soothe sensitive/irritated skin. It also forms a lightweight film on the skin to create a protective barrier.
The brand has recently "reformulated" this ampoule and has increased the concentration of Madecassoside to 0.1% (1000 ppm).


Application
I like applying this right after cleansing or after a hydrating toner depending on the toner's texture (lighter texture comes first). I also layer the ampoule 2-3 times if my skin is feeling dehydrated. Apply the ampoule directly onto the skin with the dropper since the texture is very runny. Massage it into the skin and don't let it dry down completely before proceeding with your next product.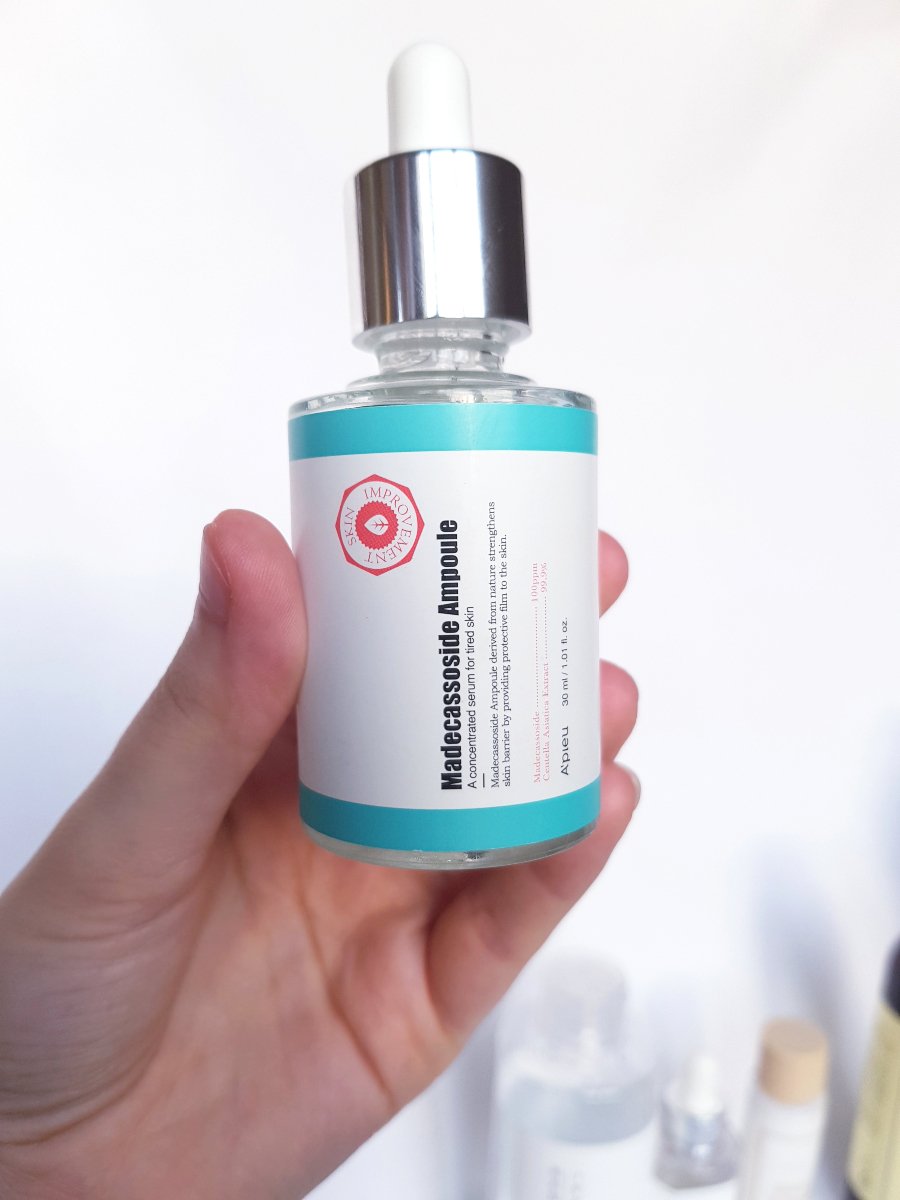 Consistency
The ampoule has a light runny texture. Spreads very easily on the skin and sinks in pretty fast. Also, there is no stickiness at all.


Scent
It doesn't smell like anything. The formula doesn't contain any fragrance or essential oils which makes it great for sensitive skin that reacts to them.


Performance
For me this is one of those products that you start using and you're unsure if it's doing anything for your skin. Then, you stop and pick it up again after some time and notice all the differences! First, this has worked so well for dehydration. It deeply hydrates and absorbs fast. It reminds me of the Be Plain Cicaful Ampoule, but it's more watery in texture.
If I'm not using anything else except this ampoule in my routine, I'd need to do 3-4 layers for my skin to feel fully hydrated. The great thing is that it doesn't get neither sticky nor greasy! It makes the skin feel soft and plumps the fine lines under my eyes.
This will be more suitable for oilier skin types and combination skin, but I think dry skin that's sensitive will also benefit from it.
Something that I was very impressed with this ampoule is how well it works on the lips! Yes, the LIPS! For some reason, my lips got really dry and crusty and nothing was working at the time. Lip balm would soften them a bit and then they went back to being dry. I was trying all my skincare on my lips because I got desperate, and this was the only one that got rid of the crust and made them super soft. Now, I always apply this before using my lip products!
It does feel calming and soothing on the skin. I can see it reduces my redness by half. It doesn't break me out or cause congestion. Layers well with other skincare, makeup and sunscreen.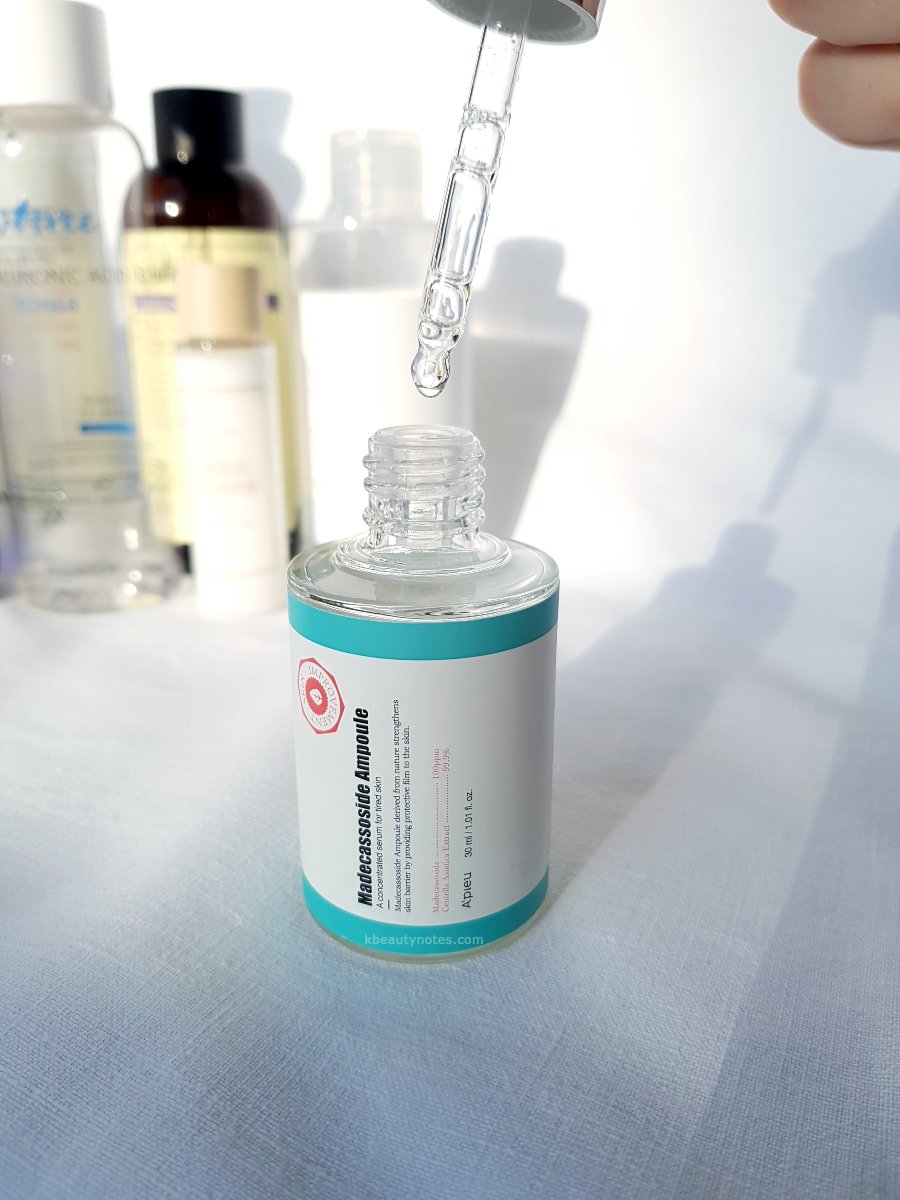 Ingredients
Centella Asiatica Extract and Madecassoside – antioxidant and soothing properties.
Water, Centella Asiatica Extract, Sodium Carboxymethyl Beta-Glucan, 1,2-Hexanediol, Ethylhexylglycerin, Madecassoside

Final Verdict
Pros
Hydrating and calming.
Light watery texture that gets absorbed completely into the skin.
No sticky feeling.
Most suited for sensitive, oily, dehydrated and combination skin in the summer.
Didn't break me out.
Layers well with other skincare, makeup and sunscreen.
Free of alcohol, fragrance and EOs.
This is a simple centella ampoule, great for those with dehydrated and/or sensitive skin types. It's lightweight, aborbs well into the skin without becoming sticky or greasy. Relieves the tight skin feel and improves overall skin texture, although I DO have to layer it. I love how it makes the lines under my eyes less visible and worked so well to combat the dryness on my lips! I've read that people who use actives in their routine like retinol or tretinoin have found this pretty helpful. It doesn't contain anything else other than centella, but if you like centella in skincare, you will really like this ampoule, too. I'd recommend this and would go for the 50ml version since it's better value!

Did you find my A'PIEU Madecassoside Ampoule review helpful? Have you tried this ampoule before? Please share how this worked out for you or your favorite products from A'PIEU!


---
This post contains affiliate links. It means I may earn a small commission when you purchase a product through the links I have provided. I've bought this product myself and I will always share my honest opinion and experience. Sincerely thankful to all of you that support my blog! For more information, see Disclosure Policy.
Related posts
Follow blog via Email
Get the latest posts from this blog delivered to your inbox!
About Me
Hi and welcome to Kbeauty Notes! :) I'm Ledia and I'm very passionate about everything skincare. I created this blog to share my thoughts and experience with many amazing and not so great products out there, hoping to help you make better decisions regarding your skin. I'm very happy to bring you on this journey with me and I hope you enjoy it! <3

My Skin Type: Oily, acne prone, dehydrated, a little sensitive, large pores.

Skincare Concerns: hydration, pore care, anti-ageing, PIE (acne marks), brightening.

Contact: kbeautynotes@gmail.com