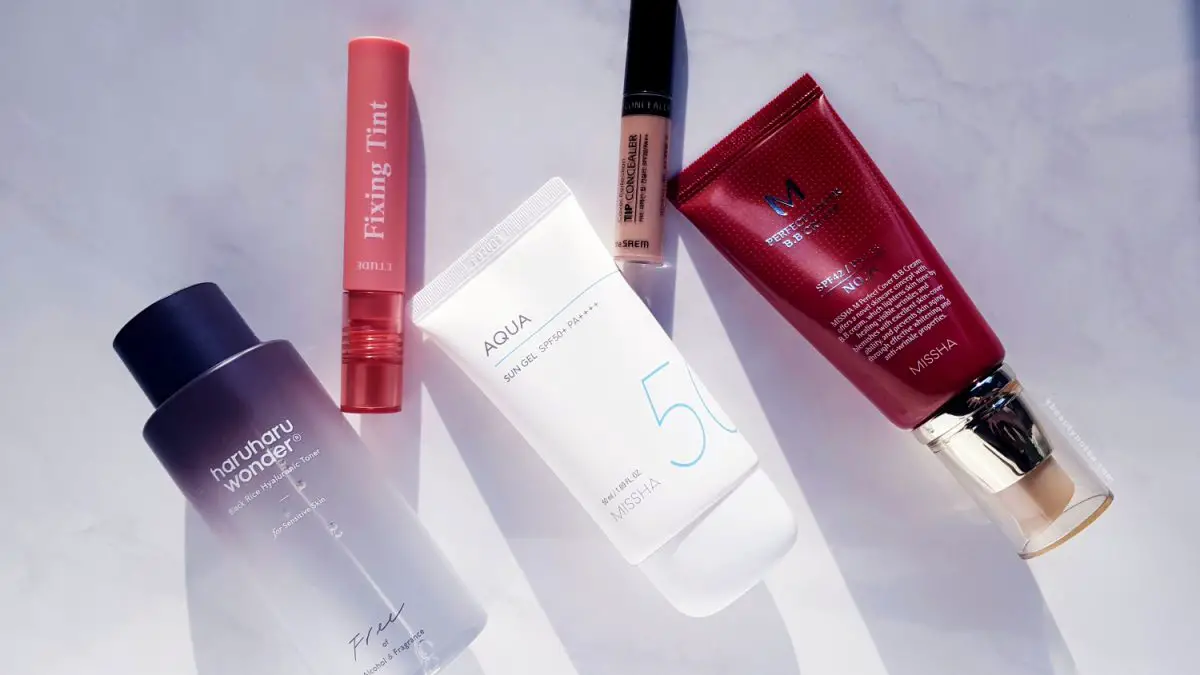 Hi lovelies! Here comes my latest Korean skincare and makeup haul. I don't remember when was the last time I purchased some K-Beauty. I have a lot of skincare to go through, so this time I focused mostly on some makeup goodies. Reviews of these K-Beauty products will be coming soon! I've already reviewed the cleansing balm, so I'm not including it here.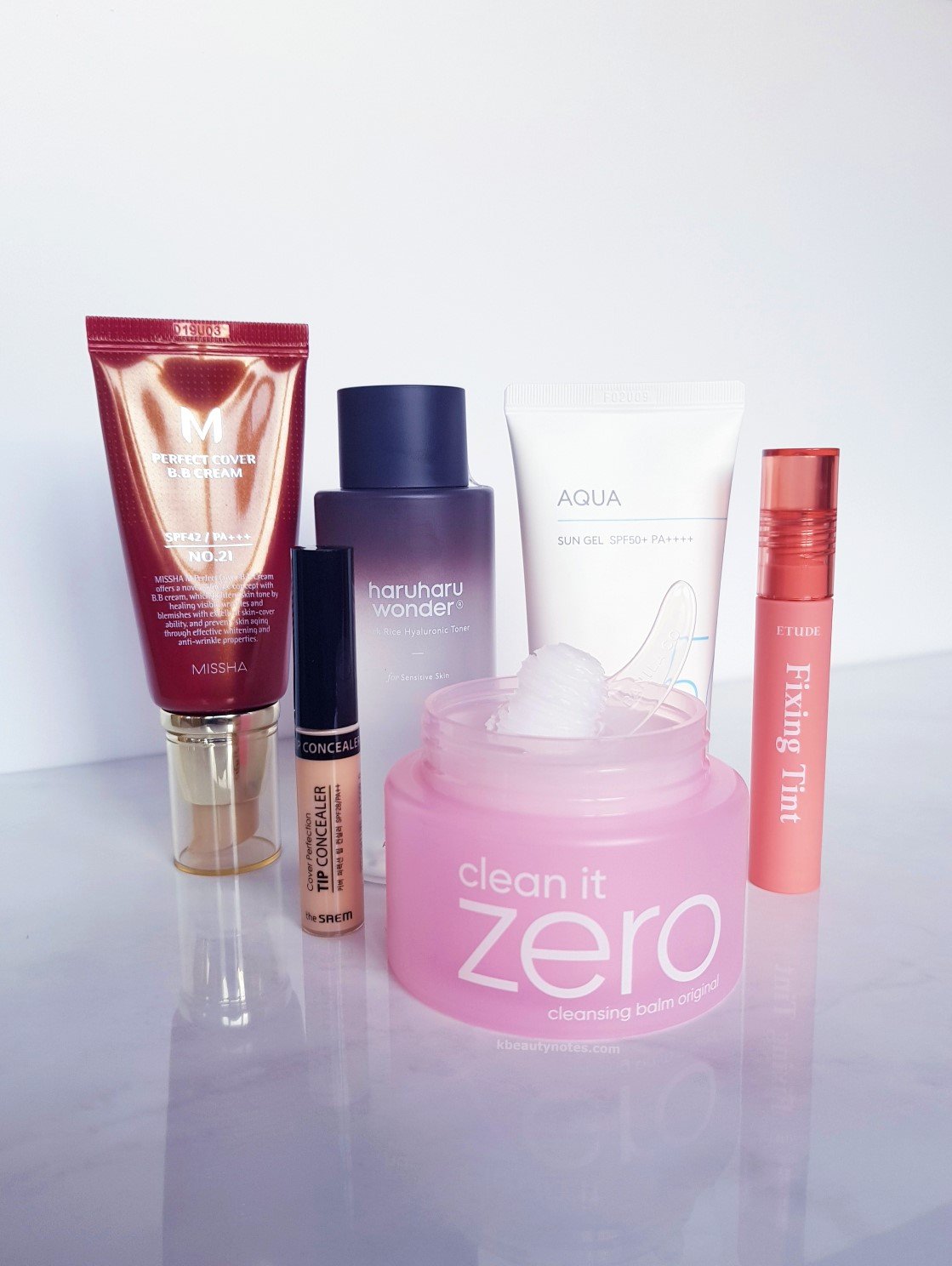 1. MISSHA M Perfect Cover BB Cream SPF 42 PA+++ (Review)
I got the MISSHA M Perfect Cover BB Cream SPF 42 PA+++ in #21 Light Beige. Ok, as you may know this bb cream has been out for years. The reason I never got the chance to try it up until now is because I always went for the SKIN79 Hot Pink Super Plus Beblesh Balm SPF30. Who else remembers it? That bb cream has been my go to for years and I couldn't bring myself to replace it! The only issue with it for many people was the greyish undertone, which is also a bit present in this MISSHA bb cream. It could be because of the high SPF, but it really brightens up your skin. For me, this shade would be more suitable for the colder months. Those who are pale with neutral or cool undertones can make this work great for their skin.
This bb cream combines skincare and makeup for a flawless foundation. Claims to offer medium to high coverage, while providing sun protection and moisturizing the skin.
Volume: 50ml
Price: $16-$22
Where to buy: YESSTYLE | MISSHA US (For Yesstyle, you can use my code KBEAUTYNOTES for an extra 2-5% off)


2. MISSHA All Around Safe Block Aqua Sun Gel SPF 50+
The first korean sunscreen that I've tried was the MISSHA All Around Safe Block Essence Sun in the pink packaging. Recently, I've been enjoying the Etude House watery light, but wanted to give the Aqua Sun Gel SPF50+ PA++++ a try since there is so much hype around it. This sunscreen comes in a lightweight and non-sticky gel formulation that feels refreshing on skin. It is a chemical (organic) sunscreen and the UV filters are: Octocrylene, Avobenzone, Tinosorb S, Amiloxate, Octisalate, and Homosalate.
Volume: 50ml
Price: $12-$14
Where to buy: YESSTYLE


3. The Saem Cover Perfection Tip Concealer SPF28 PA++ in #1.5 Natural Beige
The only concealer I've been using for a very long time it's The Saem Cover Perfection Pot Concealer. Initially, it didn't work that well for me, but when I switched the application to using a brush, it made all the difference. The Saem Cover Perfection Tip Concealer, is even more popular, so I had to pick this up and see how it compares. It has a rating of 4.5 stars and 8,600+ reviews on Yesstyle! I got mine in the shade #1.5 Natural Beige (It's a bit on the warmer side). This comes in 5 different shades and I love that it is super affordable. It also has SPF!
Volume: 6.5g
Price: $6
Where to buy: YESSTYLE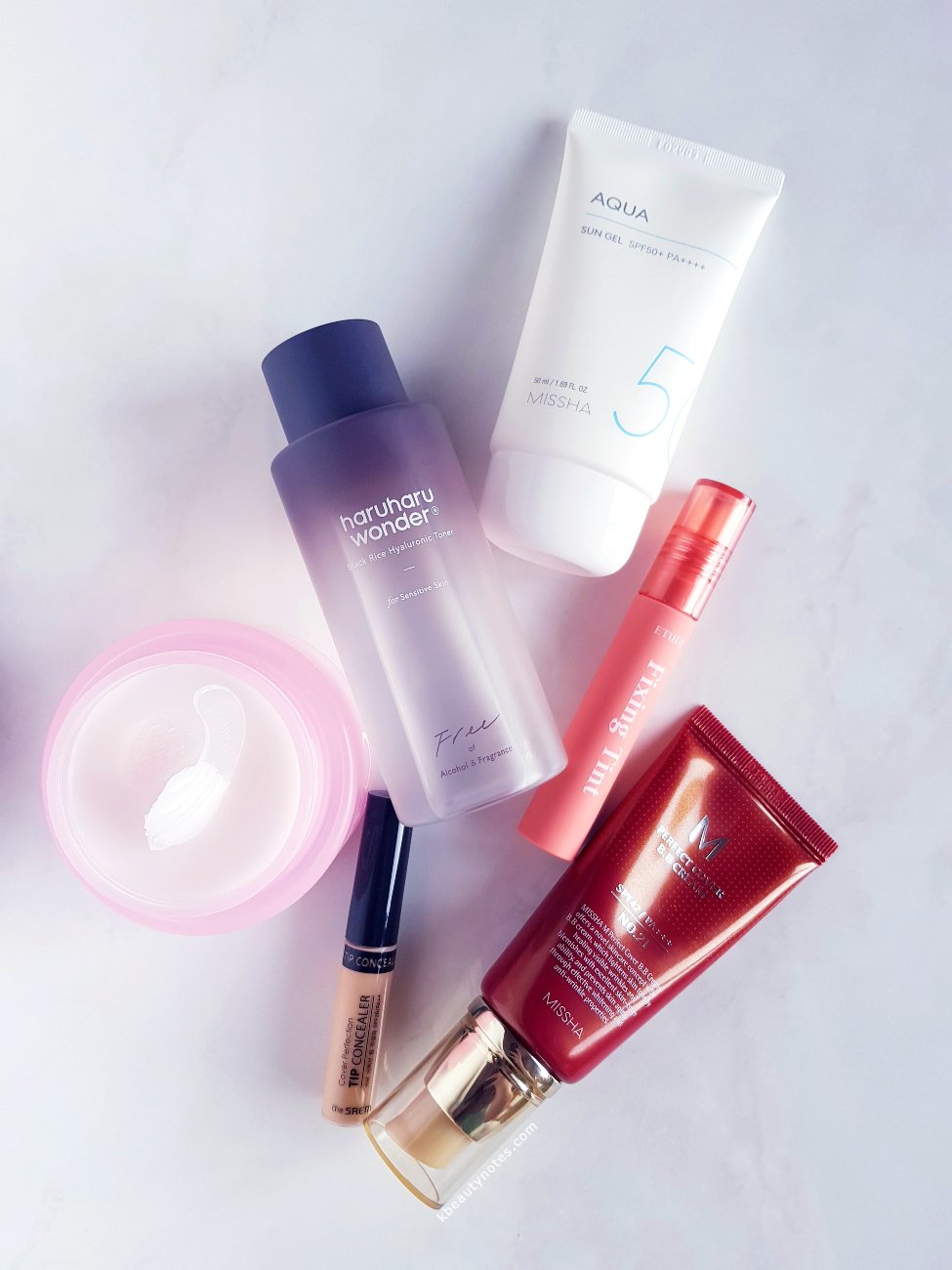 4. Etude House Fixing Tint in #03 Mellow Peach
Usually, I'm hesitant to buy lip products online because the shades never turn out how you expect them to. Even when you take a look at the swatches, most of the time there is some kind of filter or the camera doesn't pick it up as it really is. These tints were sold out completely when they first came out. The formula is truly weightless and the finish is matte but non drying! This shade, #03 Mellow Peach, is not as muted as seen on the pictures. However, it's still very pretty. I like fading it a little using my fingers. Also, it's suited better for those with warm undertones. On my skin I notice a bit of a unnatural contrast since I'm not warm toned, so keep this in mind. Otherwise, it's such a beautiful tint.
Volume: 4g
Price: $12
Where to buy: YESSTYLE


5. HaruHaru WONDER Black Rice Hyaluronic Toner for Sensitive Skin (Review)
Toners are actually one of my favorite type of skincare products beside essences. I love their lightweight formulas and my skin seems to absorb them so well. They're also very versatile and can have various functions and benefits. This Black Rice Hyaluronic Toner stood out to me, because it contains fermented black rice, hyaluronic acid, ginseng and bamboo shoot extracts. It's supposed to help restore skin elasticity and offer deep hydration through a patented technology – Ultra Deep Technology. This would be ideal for those with sensitive skin.
Volume: 150ml
Price: $12-$20
Where to buy: YESSTYLE | YS – Regular Version


Have you tried any of these before? Let me know your experience below. Would love to hear your thoughts. Feel free to browse the blog for more K-Beauty products reviews.


---
This post contains affiliate links. It means I may earn a small commission when you purchase a product through the links I have provided. I've bought all these products myself. Sincerely thankful to all of you that support my blog! For more information, see Disclosure Policy.


Related posts
Follow blog via Email
Get the latest posts from this blog delivered to your inbox!
About Me
Hi and welcome to Kbeauty Notes! :) I'm Ledia and I'm very passionate about everything skincare. I created this blog to share my thoughts and experience with many amazing and not so great products out there, hoping to help you make better decisions regarding your skin. I'm very happy to bring you on this journey with me and I hope you enjoy it! <3

My Skin Type: Oily, acne prone, dehydrated, a little sensitive, large pores.

Skincare Concerns: hydration, pore care, anti-ageing, PIE (acne marks), brightening.

Contact: kbeautynotes@gmail.com