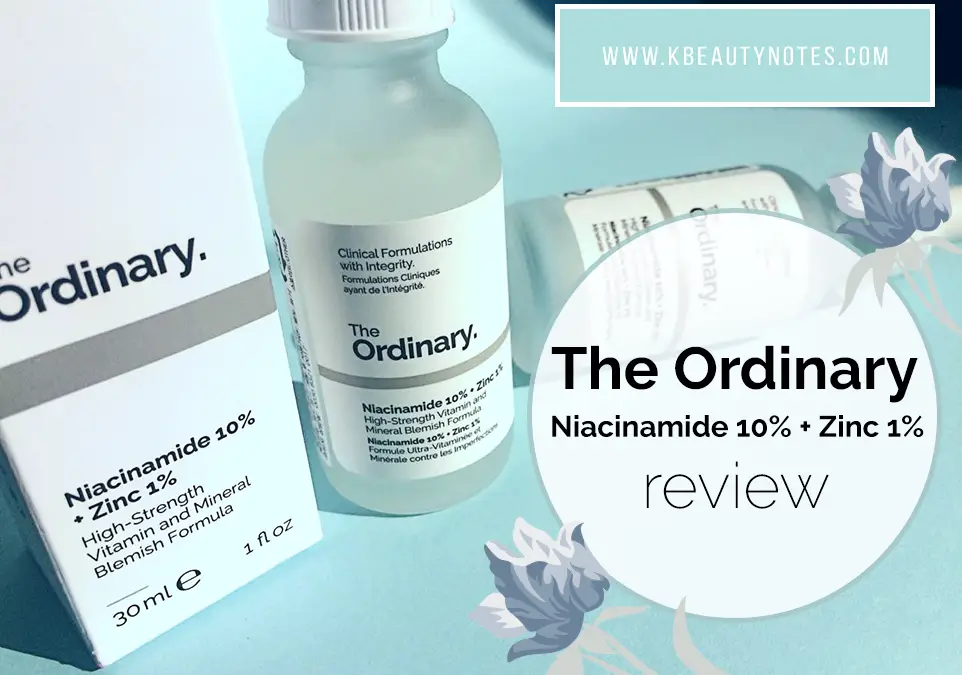 The Ordinary is a brand from 'The Abnormal Beauty Company' – Deciem, and The Ordinary Niacinamide 10% + Zinc 1% serum is one of their most raved products, so I had to get my hands on it. The brand has been so popular in the last two years for two good reasons:

Simple & concentrated formulas. Each product is formulated around one key ingredient and named after it.
Reasonably priced.


Where to buy: This is available at Stylevana in both 30ml format and 60ml format.
Yesstyle (reward code: KBEAUTYNOTES for 5% off your order, can be used together with other coupons), and Jolse.
Volume: 30ml (1.01 fl.oz.) and 60ml (2.02 fl.oz.)
PAO: 12 months after opening.
Packaging: Glass bottle with a dropper.
---
What is The Ordinary Niacinamide serum?
One of the first products that caught my eye from this line was the Niacinamide 10% + Zinc 1% serum.
Niacinamide, also known as Vitamin B3, has anti-inflammatory properties (helps manage acne, blemishes, rosacea), surpresses melanin production, reduces the appearance of enlarged pores and prevents wrinkles and fine lines. It is effective at a concentration of 5% and up.
Zinc also helps heal and prevent acne and regulates sebum secretion.
Considering that most of the above are my skin concerns I knew I had to get this. I am currently on my second bottle now, so keep reading my review on The Ordinary Niacinamide to find out how it performs and what the benefits are.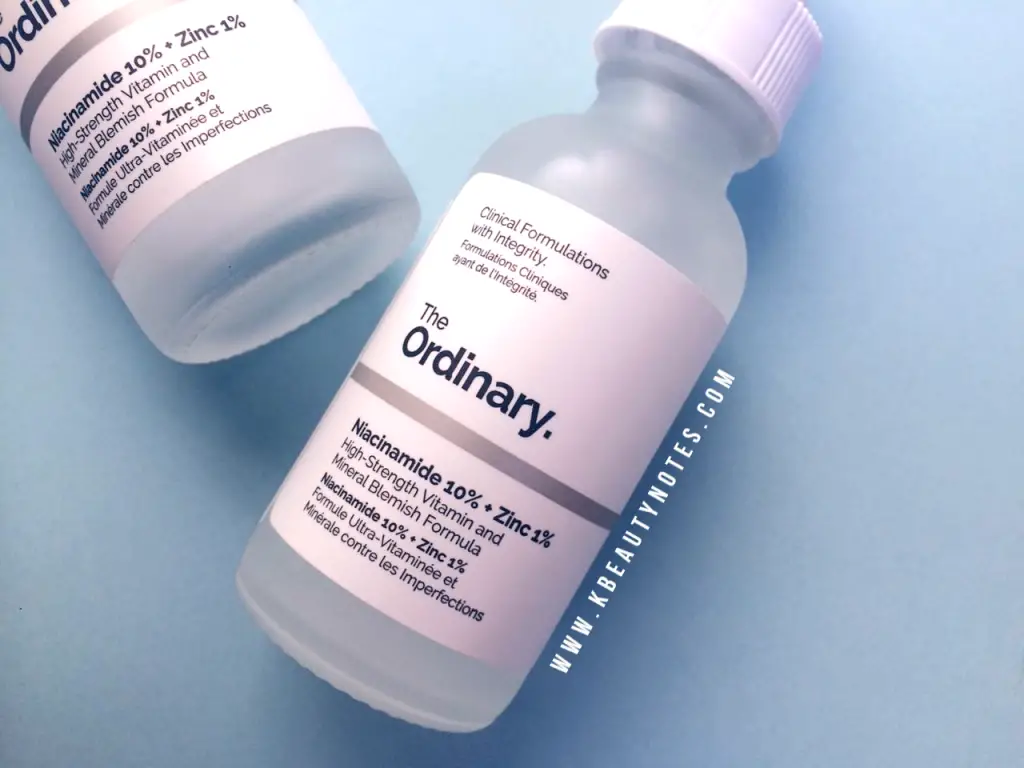 Application – How to use it
Apply 4-5 small drops in total on your forehead, cheeks, nose and chin. Then start spreading it fast on the entire face.

Those that have dehydrated skin must keep in mind that this is not that hydrating ( Although Niacinamide is a moisturizing agent I don't find that it provides moisture to my skin in this formula ), so make sure to use a toner before applying it and a hydrating serum and moisturizer after. I tried using it directly after cleansing a couple of times and it didn't turn out to be a good idea.

On days when my skin is feeling like it needs extra hydration I layer my toner. I let the toner absorb completely between layering, except for the last layer. After the last one absorbs 50-60% and while the skin is still somewhat wet, I apply the Niacinamide 10% + Zinc 1% serum. I find that the serum dries out fast this way and it can be a little difficult to spread on the face if you don't do it quickly.
Some people have said that it pills, and the only time when I have experienced piling is when I used an oil on top. Didn't experience such thing when I applied makeup. So this is just something you need to be aware of and you can simply try to use it only at nighttime if pilling occurs. Perhaps reducing the number of skincare products that you layer on can also be helpful.
The Ordinary Niacinamide 10% + Zinc 1% serum can be used day and night.


Performance
Inhibits the production of sebum. I have noticed my skin becomes less oily and congested whenever I use it. And as I result it helps prevent future breakouts. Pores do appear a little smaller. Although nothing dramatic, it is noticable and it makes a slight difference.
Ever since I started using this serum my skin has become clearer and I rarely break out now. Even when I break out sometimes when I'm not using it or when I get a couple of hormonal acne during that time of the month, applying this helps to get rid of the acne and the blemishes so much faster! I've been really impressed with the performance, especially considering that it's so affordable. (Yet so effective!)

And because I was impressed I actually tested it – When I try to extract a blackhead, my skin ALWAYS becomes irritated and the next day I have a pimple there. One time, after unsuccessfully trying to extract one, I applied the serum on that spot. Next day there was no pimple! Worked like a charm. You could imagine the sheer joy on my face!
Niacinamide also helps with evening out your skin tone. As far as hyperpigmentation goes, it takes Niacinamide a little longer to produce results than other actives. But it can work in conjunction with other actives to help you with hyperpigmentation spots (like alpha arbutin – TIAM Vita B3 Source). Or you can use Vitamin C during the day and Niacinamide at night.
Niacinamide can also increase the production of ceramides which help maintain the protective barrier of the skin. Therefore, not only it's non irritating, but helps repair the skin barrier if you're incorporating other active ingredients in your routine like retinol.


Consistency & Scent
The serum is almost transparent and has a gel like consistency. It has a light scent, which is not exactly pleasant, but it goes away fast.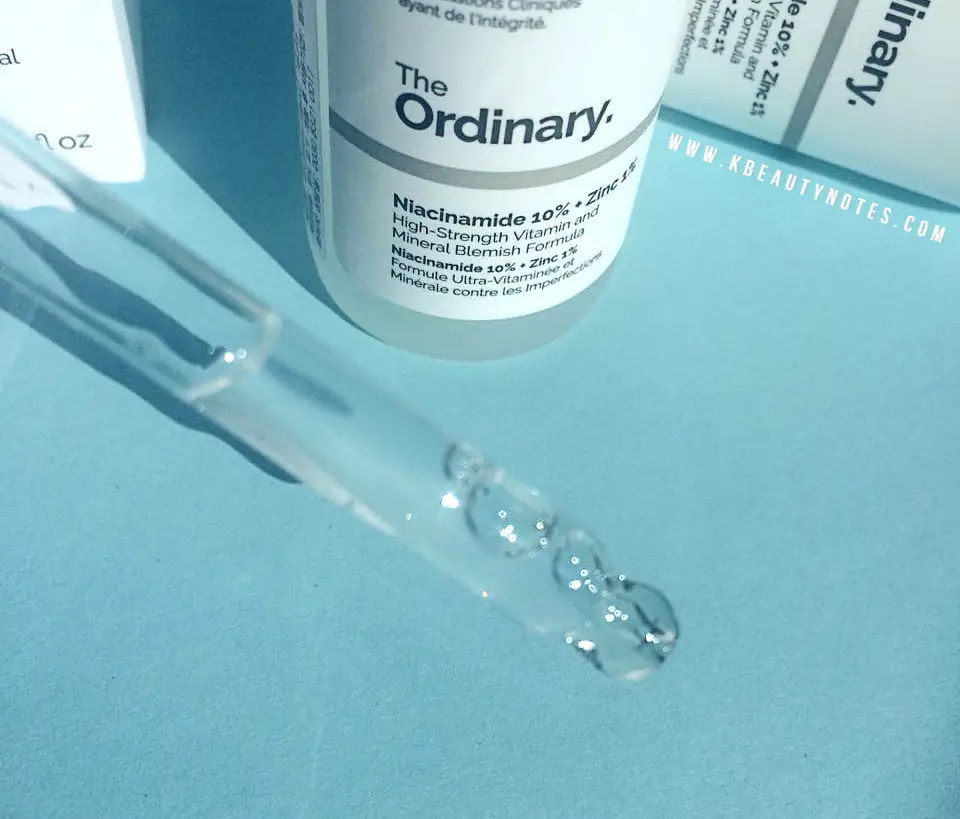 Ingredients
Has a pH of 5.50-6.50, so it is well-tolerated by most skin types. The formula is alcohol-free, oil-free, silicone-free, nut-free, vegan, gluten-free.
Aqua (Water), Niacinamide, Pentylene Glycol, Zinc PCA, Dimethyl Isosorbide, Tamarindus Indica Seed Gum, Xanthan gum, Isoceteth-20, Ethoxydiglycol, Phenoxyethanol, Chlorphenesin.

Final Verdict on The Ordinary Niacinamide serum
Pros
Oil control.
Prevents/controls (mild to moderate) acne and fades blemishes faster.
Brightens and evens out skin complexion.
Slightly minimizes pores.
Non-irritating.
Affordable.
Cons
Not that hydrating.
Dries out fast which makes it a bit difficult to spread
(can be easily fixed by applying it quickly or while your toner has not been completely absorbed).
Can pill if you apply oils or many layers on top.
Despite the cons I have stated above I want to say that this is a great product which can make such a difference for your skin, especially if you have the skin concerns I have covered in this post. I think oily & acne prone skin types will benefit the most! The benefits outweigh the cons which can very easily be fixed. It's an effective product at an ubeatable price, so I recommend it and I will keep repurchasing it.


Did you find my review on the The Ordinary Niacinamide and Zinc serum helpful? Have you tried other products from The Ordinary? How did they work for your skin?

Also read:
The Ordinary Buffet Review
The Ordinary Rose Hip Oil Review


Related posts
Follow blog via Email
Get the latest posts from this blog delivered to your inbox!
About Me
Hi and welcome to Kbeauty Notes! :) I'm Ledia and I'm very passionate about everything skincare. I created this blog to share my thoughts and experience with many amazing and not so great products out there, hoping to help you make better decisions regarding your skin. I'm very happy to bring you on this journey with me and I hope you enjoy it! <3

My Skin Type: Oily, acne prone, dehydrated, a little sensitive, large pores.

Skincare Concerns: hydration, pore care, anti-ageing, PIE (acne marks), brightening.

Contact: kbeautynotes@gmail.com